Nigeria @62: Ikwerre, Ogu/Bolo, Tai LG Bosses Harp On Inclusivity, Justice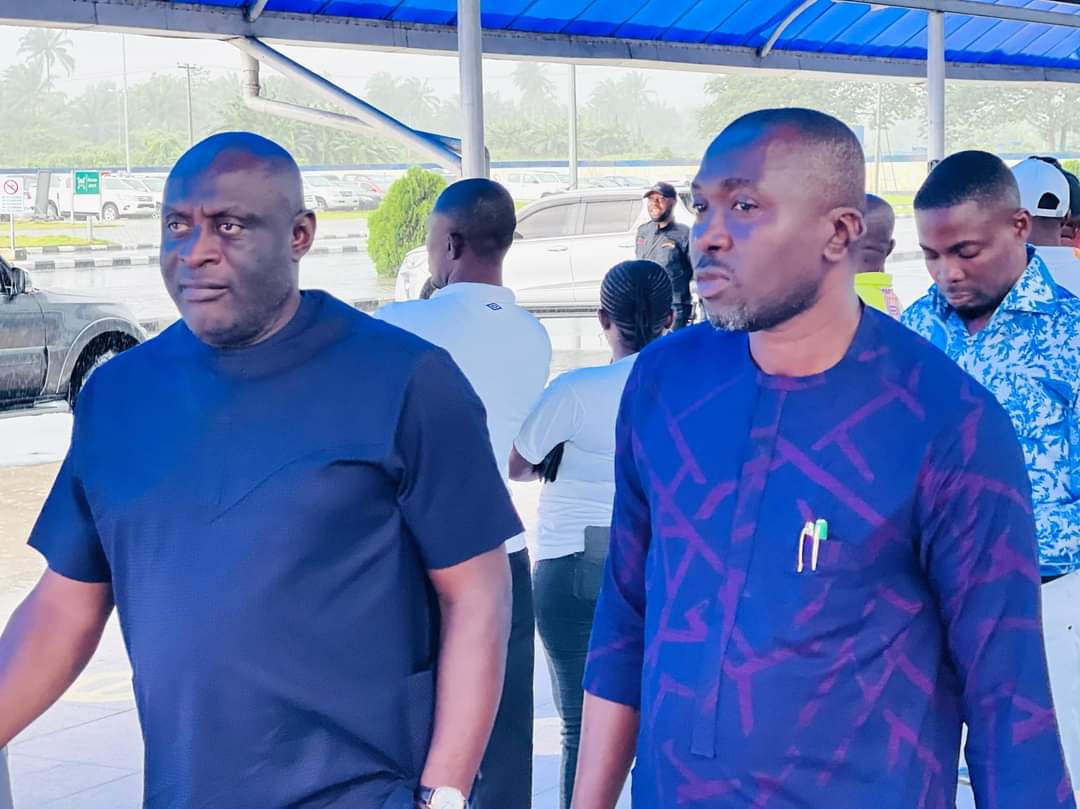 As Nigerians marked the 62nd Independence Day anniversary of the country, last Saturday, the chairmen of Ikwerre, Ogu/Bolo and Tai local government councils in Rivers State, Engr Samuel Nwanosike; Barrister Vincent Nemieboka; and Sir Friday Mbakpone Okpe; vowed that the nation can only develop if everyone recognises that it belongs to nobody, and harped on the urgency for the adoption inclusive, just and equitable policies as a deliberate strategy to move the nation forward.
They made their positions known, last Saturday while speaking during the celebration of Nigeria's 62nd Independence anniversary at the councils' headquarters in Isiokpo, Ogu and Saakpenwa, respectively.
According to Nwanosike, "If we want to build this nation, start from your little corner where you find opportunity.
"Nigeria can only be built if all recognise that this nation belongs to nobody other than us and there is nowhere under the planet earth that we can call home other than Nigeria".
The Ikwerre council chairman pleaded with the people to disabuse their minds from the insinuation that Nigeria belongs to certain set of persons, saying that it belongs to everyone.
He urged Nigerians to use the forthcoming elections in 2023 to select leaders that would refrain from storytelling, while calling on those who stereotyped themselves as unifiers to start unifying from their homes and political parties before talking about Nigeria.
While describing every October 1 as significant in the lives of Nigerians, Nwanosikesaid the day reminded Nigerians of their political liberation.
"To us as a government, it is a very important ceremony because it reminds us that the time we as Nigerians have started to take the mantle of affairs after our colonial masters departed the shores of this country. It is 62 years today", he said.
Nwanosike, however, lamented that Nigeria was still bedevilled with insecurity and hunger 62 years after Independence.
According to him, "And that brings to my attention the state of our country, today, 62 years of providing leadership and management of our resources in all spheres without interruption from any external force. Nigeria is bedevilled with insecurity, hunger in our land, attack of our independence from all other spheres of our country, a lot of our local government areas being taken over by criminal elements and non-state actors who have now grown so wild and have made it clear that we as a country do no more have the monopoly of violence which is supposed to be controlled by our security agencies".
He charged Nigerians not to be dampened by the situations of the country, but should rather be more committed in developing a great nation.
"I want to remind all of us seated here, today, that we are all equals before the laws of our land. There is no special Nigerian; there is no Nigerian that is a slave in his father's land.
"So, we all must contribute our quota in every angle we find ourselves, whether in public service or in the private service or in the security service or even in the community service".
The 62nd Independence Day celebration by the authority of Ikwerre Local Government Council witnessed cultural dances, march-past from corps members, military and paramilitary personnel, and some secondary schools, amongst others.
It was attended by traditional rulers, politicians, civil servants, and members of the public.
In his remarks, Ogu/Bolo Local Government Council Chairman, Barrister Vincent Nemieboka,said he was proud to be a Nigerian because it was a great nation despite the numerous challenges that the country was pass through.
He said that, "we are still striving and growing incrementally".
Nemieboka said this at a thanksgiving service organised to commemorate Nigeria's 62nd Independence anniversary held at St Martin's Anglican Church, Ogu.
The first Bible reading was taken from 1st Chronicles 16: 20-26, by Barrister Vincent Nemieboka while the second reading was taken by the Vice Chairman of council, Hon Eunice Alabo from Philippians 4: 10-19.
Giving his goodwill message, Nemieboka said he considered it necessary to organise the thanksgiving service instead of a parade because of the efficacy of prayers.
According to him, "the faith we have that God will help us succeed, no matter our strength", and the promise he had made that we would annually mark the creation of the LGA in the presence of God.
He said when he started his campaign; he had envisaged that without God, it would be impossible for anyone to succeed in life, which was why his campaign slogan was "It will end in Praise".
Nemieboka said "despite our modest size and financial allocation Ogu/Bolo Local Government Area is the richest LGA, and for this reason, I am proud that we have a LGA of our own".
He said the people of Ogu/Bolo should always give thanks to God because the creation of the LGA had fostered unity, "and we should key into that unity, and live as one indivisible people.
"The creation of the LGA has put our name in the Constitution of the Federal Republic of Nigeria, and we don't need to lobby for appointments as it is now our right to be given fair share in political appointments".
Nemieboka said that since he assumed office 16 months ago, he has been able to invest substantial resources in conflict resolution, unity among the people, and infrastructure development in all the communities to advance the development of the area.
Currently, he said the council was embarking on massive skills acquisition programme with over 2,000 youths who have been enrolled for the programme.
The first batch of the programme has begun and would end by the end of October, giving way for the second batch, he said.
Nemieboka also said that as the campaigns for 2023 elections commence, political parties should not malign or be violent to one another.
He appealed that the process should be done peaceful, and called on political leaders of the various political parties to caution their members from indulging in practices that may upset the existing peace in the area.
He said as chairman of the council, he would ensure that peace and security was maintained.
The message for the day was given by the Bishop of Anglican Communion, Dioceses of Okrika, Rt Rev Enoch Atuboyedia, who admonished Christians to eschew pride and be faithful followers of Christ.
Atuboyedia used the story of Job as an illustration.
In attendance were the Amanyanabo of Bolo, King Acheseinimie Micha Frank; chiefs from the area, councillors, political party leaders, CDCs, staff of Ogu/Bolo Local Government Council, school children and others.
Similarly, the Chairman of Tai Local Government Council, Sir Friday Mbakpone Okpe, used the Independence Day celebration to roll out series of activities and policies his administration plans to implement in the coming days.
Okpe unveiled the policies and activities while addressing leaders and students of Tai Local Government Area after reviewing parades/march pass at the council headquarters, Saakpenwa.
He stated that the 62nd Independence Day of Nigeria also marked the 26th anniversary of Tai Local Government Area as an administrative unit in the country.
Okpe enjoined the people of Tai to be resilient in their various responsibilities, and stick to the purpose for the creation of Tai Local Government.
He further disclosed that his administration had already put in place measures to cope with the unabated vacuum created in the education system due to lack of teachers, adding that the council was ready to assign volunteer teachers and health workers to close the manpower gaps in the coming week.
Saddened by the poor nature of the education system, Okpe, however, declared that his administration would commence the distribution of free exercise books to all primary and secondary schools in Tai Local Government in November, 2022.
He also promised to procure Joint Admissions and Matriculation Board (JAMB) forms for all students in SS3 in Tai secondary schools.
These, according to him, would encourage the children and youths to embrace education,while also easing some educational responsibilities on parents.
Okpe further streamlined the development achievements of his administration, and announced that all ongoing projects would be commissioned by November, 2022, adding that more projects would be flagged off at the same time.
By: Nelson Chukwudi
Ikwerre Set To Deliver Two Projects Per Ward
The Chairman of Ikwerre Local Government Area of Rivers State, Engr. Samuel Nwanosike, has noted that his administration was ready to commission two projects in every ward before the end of January, 2023.
Nwanosike stated this when he received in audience the Rumuepirikom Kingdom Council Executive at his office, Isiokpo.
According to him, "My President did mention that we have done projects in all the political wards. I can announce to Mr. President that before the end of January, it will be clear that we have completed two projects in each of the 13 political wards.
"So, we have passed the stage of saying one project per political ward. As we speak, if not that we have entered the electioneering period, we would have had five projects lined up for commissioning".
Nwanosike, while describing the courtesy visit as the most important since he assumed office on June 18, 2018, as chairman of Ikwerre LGA, thanked Governor NyesomWike for grooming and giving him and his team the opportunity to change the narrative of their people by managing their affairs.
He, however, narrated the achievements of his administration via the five-point agenda unveiled during his campaigns to the executive members of Rumuepirikom Kingdom Council.
The Ikwerre LGA chairman listed the achievements as building and furnishing of health centres, return of peace and sanity through the help of the Governor of the state, Chief NyesomWike, and the security agents, sending the farmers back to farm, sending the youths back to school, building of police station at Ubima, building of markets at Elele, Omerelu and Apani, construction of more than 1.5km drainage at Elele, building of town halls at Isiokpo and Omagwa, building and furnishing of schools at Aluu and Omademe, among others.
He added that many more projects were under construction and would be delivered in due time, especially NYSC members Lodge at Isiokpo, etc.
"We don't just talk; we do what we say we will do. Because if you don't do it, the people will not understand that there is work to be done", he said.
On the other hand, Nwanosike praised Wike for choosing a technocrat like Sir SiminialayiFubara to succeed him and continue the NEW Rivers Vision, reiterating that Ikwerre Local Government was already SIMplified.
He promised to assist in the renovation of Rumuepirikom Kingdom Civic Centre by giving his entire December imprest.
Speakingearlier, the Chairman of Rumuepirikom Kingdom Council Executive, Chief Emma Okas-Wike, said they were in Ikwerre to pay the chairman a courtesy visit on behalf of the Paramount Ruler and Nyewe Eli Rumuepirikom, Eze Barry OparaOwabie, in order to identify with him as one of their own and specially thank him for always supporting their son, ChiefNyesomWike.
Okas-Wike said, "It might not be easy for somebody to talk about the footsoldiers of our leader, the Governor of Rivers State, Chief NyesomWike, without mentioning your name because when this fight started about 2007, we did the first fight, did the second fight, you were one of those that were inside caucus, inner caucus of those fights.
"I want to thank you that you did not abandon our leader and our brother and our son. That's why we felt that it is proper for us to come and pay you this courtesy call".
He used the opportunity to congratulate Nwanosike on his infrastructural development, political and academic achievements, especially the acquisition of doctorate degree.
"Information available to us, not just us but to the public, shows that you have, just like the governor is doing, you have affected almost all the whole wards in Ikwerre Local Government. And when we look at the record, we find out that the projects you are executing are not just minor projects that will just be something that somebody will say what is this one, is it not what somebody can do? No. These are landmark projects and we want to commend you for that", the chairman of Rumuepirikom Kingdom Council Executive avowed.
While saying that Nwanosikewas part of Rumuepirikom Kingdom, Okas-Wike encouraged him to do more in order for his name to be spoken more within and outside Rivers State.
He appealed for his financial assistance in the renovation of Rumuepirikom Kingdom Civic Centre.
Those present during the courtesy visit were the Vice Chairman of Rumuepirikom Kingdom Council Executive, Chief Raymond Owabie; the Secretary, Sir Chief AllwellEgwurugwu; the PRO, Engr. Kingdom A. Johnson; the Legal Adviser, BarristerAmadi G. Nyebuchi; the Rumuepirikom Youth President, Engr. Samuel John Amadi; amongst others.
Highlight of the visit was a tour of some projects, including the NYSC Lodge being constructed by his administration at Isiokpo.
CDC Chairman Warns On Likely Crisis In Rumuagholu
Community Development Committee (CDC) Chairman of Rumuagholu in Obio/Akpor Local Government Area of Rivers State, Comrade Amadi Okechukwu, has warned that there could be a breakdown of law and order in the community if the actions and utterances of certain individuals were not checked.
Okechukwu, who gave the hint while addressing journalists in Port Harcourt, yesterday, called on the Rivers State Governor,Chief Nyesom Wike, and security agents to call one NyegwaKiniganwo, to order to avoid breakdown of law and order in Rumuagholu.
Amadi said this had become necessary following recent radio announcement wherein Nyegwa addressed himself as Rumuagholu paramount ruler, while the matter was still pending in court.
The CDC chairman noted emphatically that Nyegwa's actions could create serious crisis, if not checked.
Amadi said on no account should Nyegwa parade himself as a chief, let alone Rumuagholu paramount ruler.
He hinted that Nyegwa's recent falsehood and blatant lies followed steps taken by the three communities that make up Rumuagholu to share some part of their land.
Amadi said the three communities: Rumuochukwuoke, Rumuowolu, and Rumuochukwualu, as a sign of indivisible entity, decided to work together to dispose some of their ancestral land.
The CDC chairman reiterated that Nyegwa's action amounted to contempt of court, having been served court document to stop parading himself forthwith as a paramount ruler.
He said there was a court order instituted by Eze Bekwele Atam, stopping the accused from parading himself as paramount ruler, adding that until such orders are vacated, his actions and activities in respect of the land amounted to contempt of court.
Amadi warned the general public to desist from transacting business concerning the community with Nyegwa forthwith, and pointed out that anybody who transacted with him on behalf of the community did so at his peril.
He further hinted that such businesses should be channeled to him as the constitution empowered him as the CDC chairman to oversee the affairs of the community, including land issues.
He said Rumuagholu people were peace-loving but warned that such should not be taken for granted by Nyegwa and his cohorts, especially during this annual wrestling season which holds this week.
By: Chidi Enyie
FG Saves $300m Annually From Ban On Barite Imports
The Federal Government has said its ban on importation of Barite, an essential mineral in oil drilling, has saved the country $300million (about N195billion) annually.
The Minister of Mines and Steel Development, Mr Olamilekan Adegbite, disclosed this in Abuja at the ninth edition of the President Muhammadu Buhari's Administration Scorecard 2015 to 2023 series organised by the Ministry of Information and Culture.
The scorecard series was launched as part of the efforts of the ministry to showcase the numerous achievements of the administration.
Presenting the scorecards of his ministry, Adegbite said the ban on barite importation was part of the efforts of the Federal Government to ensure the downstream mineral policies took effect.
"When we came into office in 2019, we realised that the oil and gas industry use barite in their oil drilling and they were importing the mineral from Morocco to the tune of $300million every year.
"We also realised that the country has abundance of barite deposits but the problem was that we were not processing it.
"So, the ministry took it upon itself as a project and in 2021, we were able to produce made in Nigeria Barite with American Petroleum Institute (API) standard.
"Now, nobody is importing barite in to Nigeria anymore saving the country $300million annually that was being spent on imports of barite to the country,'' he said.
The minister said within a year of production, Nigeria had attained excess capacity of barite and making plans to export the mineral into places like Ghana and South Africa.
"These are places that have just discovered oil and of course they need barite as well.
"We will ensure they can get it cheaper to buy from Nigeria than to go to northern part of Africa,'' he said.
The minister also disclosed that his ministry had discovered new minerals that they did not know existed in the country.
According to him, the minerals included nickel, cobalt chromium and tracks of lithium.
He said the newly discovered minerals were called the "Future metals'', adding "this is where the whole world is headed''.
The minister also disclosed that they were auctioning bitumen blocks to 26 serious investors which had shown interest in its mining.
Adegbite said the process would culminate in concession of some of the blocks to the investors which would be given fairly limited time to start producing in Nigeria.
He said the process would make the country sufficient in bitumen, lower the cost of building roads and create import substitution.
According to the minister, Nigeria has sufficient quantity of bitumen deposit in Edo, OgunOndo and Lagos states.