Obi: You Can't Speak For Afenifere, Tinubu Campaign Slams Adebanjo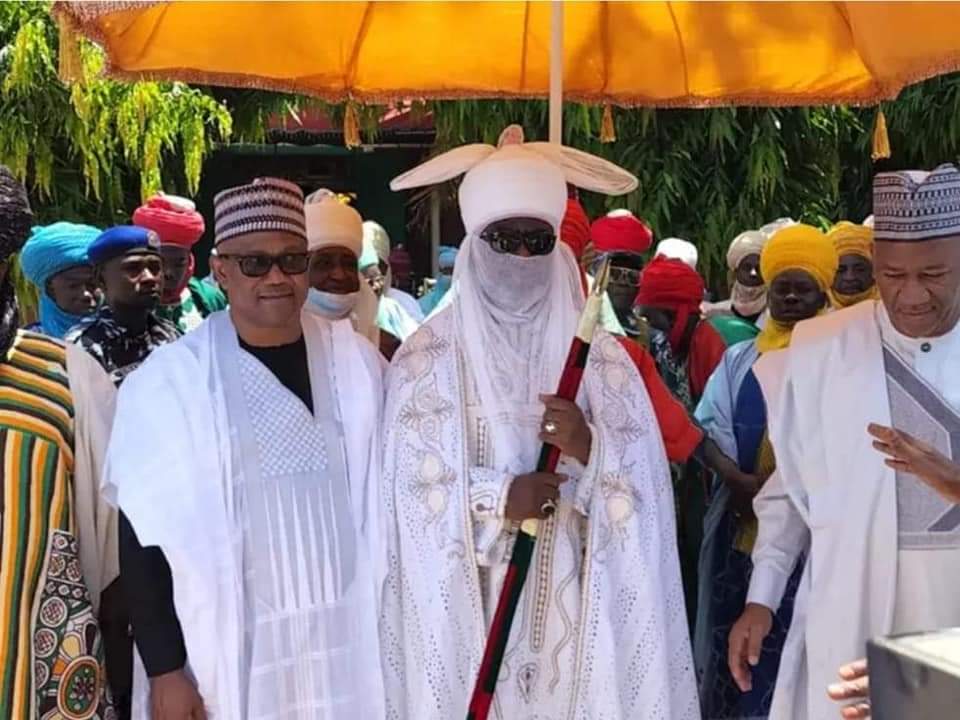 The All Progressives Congress APC Presidential Campaign Council has slammed Afenifere leader, Pa Ayo Adebanjo for attempting to turn the pan-Yoruba sociocultural association into his personal estate and using same to canvass support for the Labour Party LP presidential candidate, Mr Peter Obi.
Director, Media and Publicity of the council, Mr Bayo Onanuga in a statement on Saturday titled "Our Reaction to Baba Ayo Adebanjo and his new Ohanifere Venture", said "Papa Adebanjo does not speak for Afenifere".
According to the council, Pa Adebanjo is free as an individual to support anyone he likes, in furtherance of his democratic rights.
"We know for a fact that Baba has turned Afenifere into his personal estate as Acting Leader. We are also certain that there was nowhere Afenifere, as we know it, met and took a decision to adopt Mr. Peter Obi as a candidate for 2023 presidential election.
"We respect the age of Baba Adebanjo but he can not turn Afenifere into his personal franchise for any political alliance.
"We are very much aware that Baba Reuben Fasoranti, the real leader of Afenifere had stated clearly that Pa Adebanjo has always been speaking for himself on many national issues using the name of the group.
"It is our well considered position that Pa Adebanjo cannot appropriate Afenifere. Baba is just an individual who is free to support any politician of his choice. As an individual, he cannot equate himself with the socio-cultural and socio-political organisation", the council stated.
2023: May 29 Handover Sacrosant – Buhari
President Muhammadu Buhari, Monday reiterated his commitment to handing over leadership to an elected president on May 29 next year, saying that his term in office will end on that day in line with the constitution of the Federal Republic of Nigeria.
In a brief remark tothe Minister of National Education, Pre-School and Sports of the Kingdom of Morocco Mr. Shakib Ben Musa, who visited the State House as Special Envoy of King Mohammed the VI, President Buhari said his term of office will end with the inauguration of a new president in May next year.
He, however, said that he will study the message sent and respond accordingly, giving assurances at the same time that he will continue to cherish and strengthen the very warm and cordial relations between the two countries.
Accompanied by the resident representative of the Kingdom in Nigeria, Mr. Moha Ou Ali Tagma, the Special Envoy reiterated to the President the friendship and solidarity of the King, the government and people of Morocco with Nigeria.
NNPP Blasts Tinubu Over Absence At Town Hall Meeting
Ahead of the 2023 general elections, the New Nigeria Peoples Party, NNPP, has taken a swipe at the Presidential candidate of the All Progressives Congress (APC), Asiwaju Bola Tinubu, for refusing to honour invitations on debate, saying that it was an indication that he has nothing to tell Nigerians or he does not have the power to rule the country.
Addressing journalists on Monday in Abuja, the NNPP National Chairman, Professor Rufai Ahmed Alkali said that the APC Presidential candidate should endeavor to appear for Nigerians to hear him and his blueprint for the country, asking  him to come for  debates and  say something, even if it may not be clear.
According to him, the media should interrogate all the presidential candidates as we inch closer to the 2023 Presidential election, adding, that "the NNPP would continue to engage patriotic individuals and organisations that share our vision and mission to rescue Nigeria and save democracy in the country. For the avoidance of doubt, our Party, the New Nigeria Peoples Party will not in any way be coerced or blackmailed to fulfill somebody's inordinate ambition to rule Nigeria by all means."
Recall that the Presidential Candidate of the Peoples Democratic Party, PDP, Atiku Abubakar; the NNPP candidate, Rabiu Musa Kwakwanso and that of Labour Party, LP, Peter Obi had featured on Sunday night at a town hall meeting organised by Arise TV, Centre for Democracy and Development, CDD, in partnership with Vanguard Newspapers, Premium Times, Daily Trust, Nigerian Guild of Editors, NGE, and Nigeria Union of Journalists, NUJ, in Abuja, where Tinubu was conspicuously absent again.
According to him, the NNPP as the Third Force has finally arrived against the backdrop that Nigerians were tired of excuses and the culture of blame games by the APC, adding, "like what happened yesterday, the 4th of Dec 2022. Apart from Arise TV, the CDD, highly respectable organisation and virtually all the media organisation in the country, so this is an open forum. It's very clear. So why can't you go and talk, say something, even if it's not clear, people will get something out of you but you preferred to jet out of the country.
"So this is a different issue. This is not the first time, not the second time, it has been like that. You can assume that most of them do not have the power to rule the country. Two, they are also ashamed of what they have done. You can't call yourself the leader of a party for eight years and now you want to rule the country, you cannot come and tell Nigerians what you have done during the eight years. You are the leader of the party because, you have, for the first time, in the history of the country, a President is different, and the leader of the party different.
"Now the person who is invited is the person who is the leader of the party, come forward, you say no, he is out of the country. So people are waiting for him, if he doesn't come for debate, he will come for election."
Police Arrest Four Over Attempt On Senator's Life
The Niger State Police Command, on Monday, said that additional facts had emerged following the arrest of four suspects in Minna, the State capital, over the failed assassination attempt on the Chairman,  Senate Services Committee, Senator Sani Musa, All Progressives Congress, APC, Niger East.
In a statement, the Police Public Relations Officer, PPRO, DSP Wasiu Abiodun, on behalf of the Commissioner of Police, Niger State Command, explained that one of the suspects confessed further that the hoodlums led by the said Sherrif, presently at large, trailed the Senator to his home in Minna.
Recall that Senator Sani Musa on Saturday narrowly escaped assassination by unknown gunmen in his Minna residence, and four suspects were immediately arrested in connection with the incident.
It was gathered that the incident happened on Saturday night, just as the  suspected assailants were said to have trailed the Senator, who is seeking his second term into the Senate in 2023, from Abuja to his residence along the popular Old Alheri Clinic Road, Tunga area in Minna.
Unknown to the assailants, Senator Musa had returned to Abuja in the afternoon before they invaded the house in the night.
DSP Wasiu Abiodun said, "Reference to the Commands' earlier press release on the unfortunate invasion of  Senator Sani Musa residence, Senator representing Niger East Senatorial District.
"Niger State Police Command wishes to state that additional facts emerged in the course of investigation, as one of the suspects confessed further that the hoodlums led by the said Sherrif, presently at large targeted the Senator to his home in Minna.
"The hoodlums suspected that he could be at home, having attended a coronation ceremony at Kagara on the same date and to possibly kidnap him.
"Fortunately, the gang met his absence, broke into the house and ransacked the residence in the pretence of the purported search execution in the residence.
"However, investigation is in progress, as effort is on top gear to apprehend other members of the gang and further development will be made public."