New HIV Infections Down by 45% – UNAIDS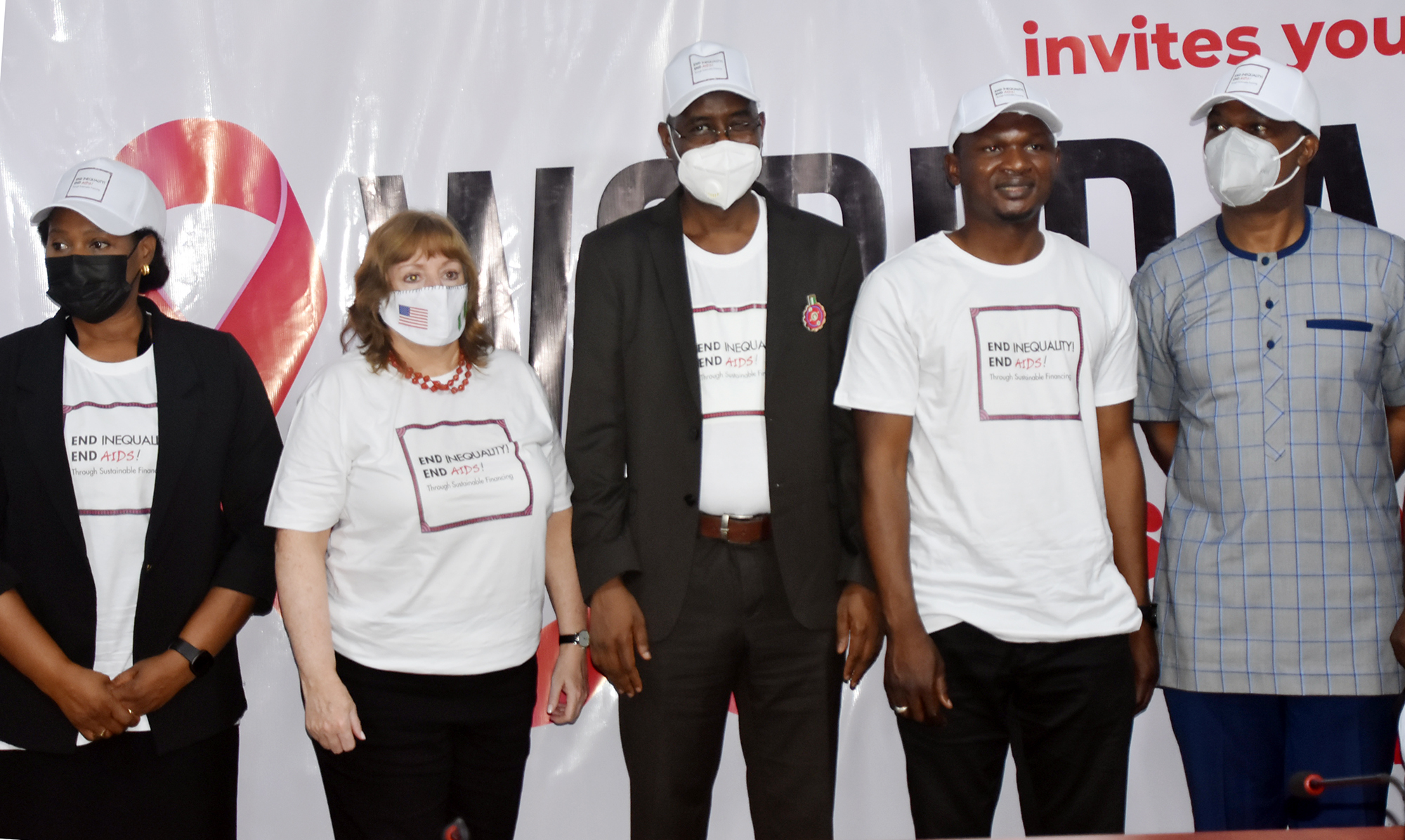 Country Director, UN Joints Action Against HIV/AIDS (UNAIDS), Dr Leo Zekeng, says the intervention of Global Fund has helped to reduce new HIV infections globally by 45 per cent.
Zekeng said during the 7th replenishment preconference on Saturday in Abuja that Global Fund was indispensable in the fight against HIV.
"Global Fund matters to UNAIDS and the HIV response, and is one of the key players in our collective response to AIDS as a public health threat by 2030.
"Global Fund provides funding to over 100 countries to plan and respond to AIDS epidemic and represents 25 per cent of the international funding for the HIIV response," he said.
The UNAIDS' Chief commended the Fund for saving lives globally and achieving what was once thought to be impossible.
According to him, with the impact of GF, total AIDS related deaths have dropped by 65 per cent.
He added that with access to treatment, HIV positive persons have become free to enyoy life just like any HIV negative person.
Zekeng expressed UNAIDS' commitment to continuous collaboration with GF, so as to develop health infrastructure, strengthen health systems and build capacity of health personnel.
The Country Director expressed ooptimism that the world will provide at least the 18 billion dollars GF needed to tackle the AIDS scourge and other deadly diseases by 2030.
He called on donors and recipient countries to stand in solidarity in fighting for what counted through successful 7th GF replenishment.
The Tide's source reports that the GF's 7th Replenishment conference will hold later in September in the United States.
It is expected that the world will take bold action to protect everyone and everywhere from deadliest infectious diseases such as TB, Malaria and HIV.
The intervention will build resilient and sustainable health systems and strengthen pandemic preparedness, so as to make the world more equitable and safer from future threats.
NIMASA Boss Bags OFR National Honour
The Director General of the Nigerian Maritime Administration and Safety Agency (NIMASA), Dr Bashir Jamoh, is set to be honoured by His Excellency, President Muhammadu Buhari with the conferment of the Officer of the Order of the Federal Republic (OFR).
According to a statement from the Head of Public Relations, NIMASA, Osagie Edwards, this was disclosed in a conveyance letter to Dr. Jamoh from the Office of the Honourable Minister, Ministry of Special Duties and Inter-Governmental Affairs, Senator George Akume.
The investiture ceremony, the statement said, is scheduled to hold at the International Conference Center (ICC), Abuja on Monday, 10th October, 2022.
Recall that Dr. Jamoh had served the Nigerian maritime sector as an administrator for over 30 years before he was appointed by President Buhari as the NIMASA DG in March 2020.
Since then, he has overseen the successful deployment of the Integrated National Security and Waterways Protection Infrastructure, otherwise known as the Deep Blue Project, which has played a major role in achieving a reduction of piracy in the Gulf of Guinea to its barest minimum since 1994.
This has  culminated in Nigeria being removed from the infamous piracy red list by the International Maritime Bureau, (IMB).
A hallmark of his tenure at the helm of NIMASA has been his institutionalization of collaboration among stakeholders, within and outside the country, to achieve major milestones in the sector.
One notable example of this has been his initiation of the Gulf of Guinea Maritime Collaboration Forum/Shared Awareness and De-confliction (GOG-MCF/SHADE), which has yielded the positive outcomes derived from information sharing among regional and non-regional military forces in achieving a secure maritime space.
Reacting to the news on his social media handle, Jamoh expressed gratitude for being considered for the honour.
"Words cannot express how humbled I feel to be so considered for the National Honour as an Officer of the Federal Republic (OFR).
"When I began my maritime journey 30 years ago, little did I know that I would be so favored by Almighty Allah to rise to the position of NIMASA DG, let alone to be considered for one of the highest honours in the land", he said.
Dr Jamoh especially thanked His Excellency, President Muhammadu Buhari, and the Standing Committee on National Honours Award for deeming him worthy of the honour while also appreciating everyone who had supported him throughout his tenure as NIMASA Director General, especially the maritime stakeholders.
Nation-Building, A Collective Responsibility -Group
The Nigeria National Christian Coalition (NNCC) says no tribe or religion can build the country alone, adding that nation building is a collective responsibility.
NNCC said this in a communiqué at the end of the annual "Meet the Church" summit by its Convener, Pastor Titi Oluwadare, yesterday in Abuja.
According to Oluwadare, working together and investing wisdom are key to nation building.
The programme, which had more than 700 participants, had the theme: "The Role of the Church in Nation Building."
Oluwadare called on the Church to fight for justice for everyone, including Christians and adherents of other religions.
She said that the indivisibility of justice, and being vigilant to protect the rights of humans as enshrined in the constitution would go a long way.
"No tribe or religion can build the country alone, thus all must work together and invest wisdom which is the application of the right knowledge.
"Equal opportunities and access to wealth to every Nigerian and inclusion of youth and women in all national calculations must be treated with the sense of urgency that it deserves.
"There should be counterpart equity in all policies that will be passed into law.
"The banking sector, sharing of political and government offices or ambassadorial positions must recognise all interests identified in Nigeria," she said.
She called for selfless and visionary leadership, and a trans-generational process of producing leaders with requisite character, competence and conscious of the consequences of their actions and inactions.
She said the creation and development of strong institutions, structures, policies and strategies were applicable to everyone, adding that there was the need to realise previous mistakes and usher in a new Nigeria.
"To establish credible elections, the Federal Government must derive their governance from the governed.
"It is of utmost importance that there is a national vision, a national dream and nationhood premised on national shared core values.
"Furthermore, we need to put in place, a national strategic purpose and the national will to pursue and enforce the purpose," she said.
According to the former Deputy Governor of Taraba State, Dr Danjuma Gani, the decisions made today and the actions that follow will greatly affect Nigeria and Nigerians.
Gani called on Christians to participate in electoral processes come 2023.
"A nation is built upon the vision and values of the founding fathers which, more often than not, are a God-given ideal to see to the business of nation building, national transformation and prosperity.
"Whatever we do must be accomplished with a clear vision, strong value systems rational thinking with a critical mass of information populace fully engaged in the project of nation building," he said.
The Tide source reports that the summit comprised three plenary sessions and four interactive group sessions.
The conversations were aimed at identifying the role of the Church in nation building and charting a new course for credible elections with the critical inclusion of all stakeholders in the nation.
EEDC Nabs, Hands Over Eight Vandals To Police 
Enugu Electricity Distri bution Company (EEDC), has apprehended eight suspected vandals of electrical installations and handed them over to the Police. The Head, Corporate Communications, EEDC, Mr Emeka Ezeh, who disclosed this in a statement issued in Enugu, stated that the vandals were apprehended within a period of one month in different states in the South-East. Ezeh, therefore, attributed service disruptions experienced in some parts of its network to activities of vandals, expressing regret that the increasing rate of vandalism had adversely affected the company's service delivery to its customers in the affected states.   He, however commended the support of critical stakeholders and the various vigilante groups in nipping trend in the bud, even as he confirmed that most of the arrests were made by the vigilant groups. According to him, this recent citizens' arrest of vandals can be attributed to the consistent engagement with stakeholders on the need to ensure that the electrical installations sited within their neighbourhoods are protected.   His words: "Over the weekend, a suspected vandal identified as Nonso Nwajonta, was arrested in possession of aluminum conductors (cables) by the youths of Ulakwo Community in Owerri West Local Government Area of Imo State. "Within the same period, with the assistance of security men attached to Nnamdi Azikiwe University (UNIZIK), Awka, Anambra State, two suspects, feanyi Onwe and Anthony Oselebe, were arrested for vandalising a substation belonging to EEDC, situated along Enugu-Onitsha Expressway, by Pioneer Students Hostel. "Earlier in the month, at Uzuakoli, Abia State, the Ngwu relief distribution substation belonging to EEDC was attacked by vandals, and the up-riser cable carted away. "But with the intervention of Uzuakoli vigilante group, one of the vandals identified as Henry Nwachukwu was arrested, while three of his partners in crime took to their heels. Efforts are being made by the Police to arrest the fleeing suspects. "At Eziafor in Abia State, some members of vigilante group also arrested the duo of Kingsley Agwu and Ebere Uchendu, while vandalising a feeder panel, property of EEDC," he stated.  The EEDC spokesman also recalled that toward the end of August this year, one Chukwuka Ogayi was arrested by members of Umuoru Amaechi Community electricity committee in Ohaukwu Local Government Area of Ebonyi State while vandalising a distribution transformer belonging to EEDC. According to him, items recovered from the suspect, Ogayi, include 100mm 2 aluminum conductor with 20mm and 50mm double copper conductor measuring 5 meters.    "Similarly, the Nkpor vigilante group arrested one Ubaka Okafor for vandalising Umusiome distribution substation in Onitsha, Anambra State,  carting away three intermediate cables as well as the up-riser cable property of EEDC.  "Customers being fed by the attacked substations are currently subjected to blackout and untold inconveniences, and as a result, EEDC has not been able to live up to its responsibility owing to these acts perpetrated by the suspects", he said.  He also encouraged customers to be more vigilant in ensuring that the electricity infrastructures within their environment are safe from vandals, so that the services EEDC offers to them would not be disrupted.
By: Canice Amadi, Enugu