Reps' Subsidy Probe Uncovers 23 'Ghost' Oil Firms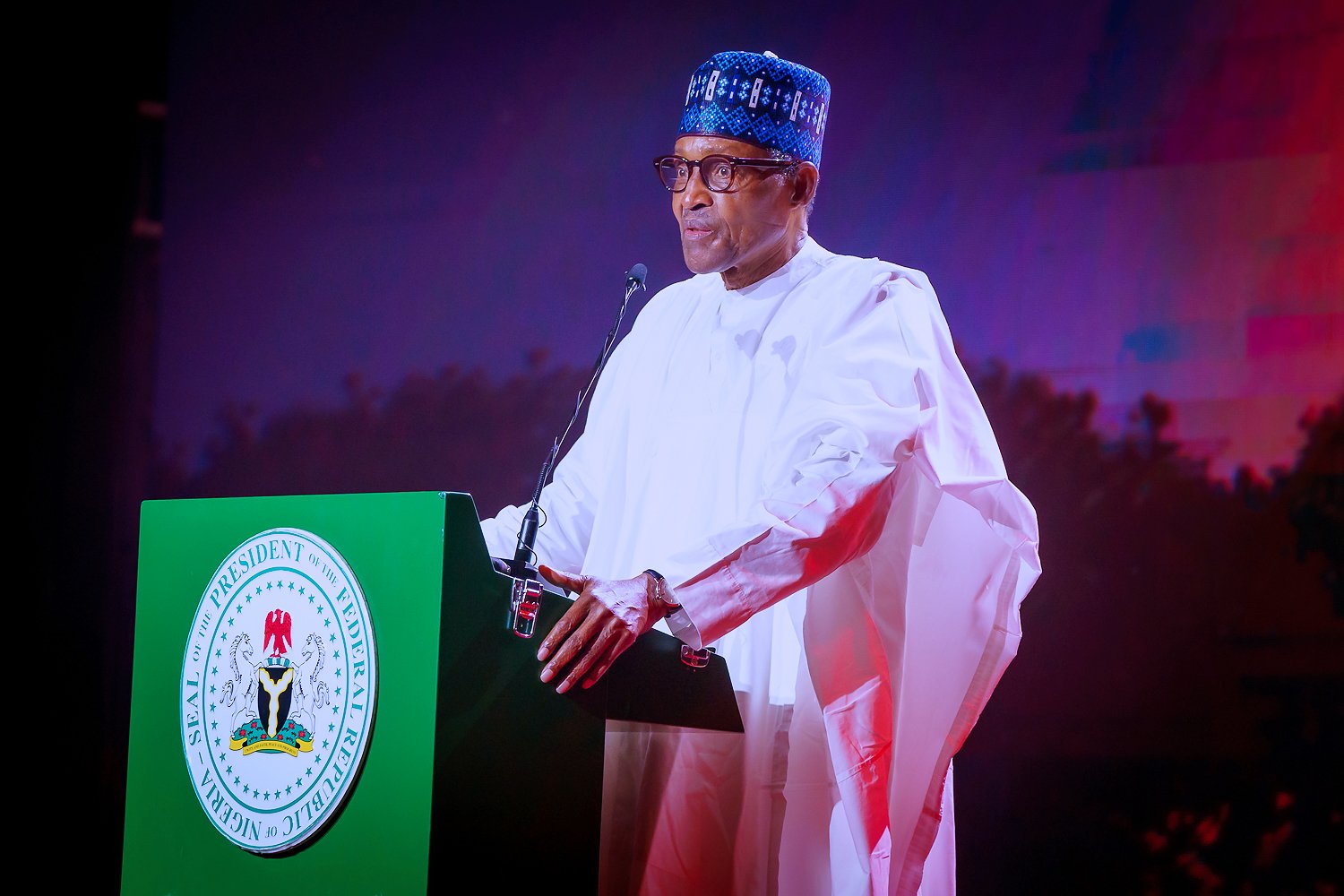 The House of Representatives' Ad-Hoc Committee to Investigate the Petroleum Products Subsidy Regime from 2013 to 2021 has said it does not know the profile of 23 oil and gas companies trading in Nigeria.
The panel is investigating payments made by the Federal Government through the Nigerian National Petroleum Corporation (now Nigerian National Petroleum Company Limited) for the subsidy on Premium Motor Spirit, popularly known as petrol, within eight years.
The Chairman of the committee, Hon Ibrahim Aliyu, at the resumption of the investigative hearing on subsidy payments, last Wednesday, stated that the firms had major serious questions to answer.
Aliyu read part of a communication from the Corporate Affairs Commission (CAC), in response to the committee's request for the profile of the companies, said there were no details on the firms.
The lawmaker stated that the committee would be forced to write to the embassies of the countries where the companies are based for information on them.
The communication from the CAC, a copy of which our correspondent sighted, was dated July 13, 2022, with Reference Number RGO/SU/VOL.5/2022/0248 and was signed by one Maimunat Hamu on behalf of the Registrar-General.
It read, "Kindly refer to your letter Ref: NASS/QHR/AHC/PPSRIM1/1H/01/051 dated July 1, 2022, on the subject matter above.
"Please, be informed that we could not readily find information on the exact name of the following companies as provided in our record.
"Emadeb Consortium; Britannia-U Nig. Limited; Totsa Total Oil Tradings SA; Petroleum Trading Nigeria Limited; Mocoh S.A; Socer Worldwide; Calson Bermuda Ltd; Hyson; Litasco S.A; Mercuria Energy; Cepsa Lubricant; Trafigura Pte; Vitol S.A; Oceanbed Trading Limited; Bonno Energy; West Africa Gas Limited; Petrogas; Matrix; Masters Energy; Amg; Barbedos; Hindustan and Patermina.
"However, you may wish to provide the registration numbers or any other available documents at your disposal to enable us to investigate further."
An earlier communication from the CAC was referenced NASS/9HR/AHC/PPSR/14/iH/01/051 and dated July 1, 2022, had the list of some of the oil firms under probe by the committee.
They are Heyden Petroleum Limited RC: 433175; Graton Oil Limited KC: 644074; Duke Oil and Gas. Limited RC; 64456145; Matrix Energy Limited RC: 612026; MRS Companies Limited RC: 241,013; Sahara Trade Nigeria Limited RC: 352,443; Essar Exploration And Production Limited RC: 692910; Sahara Group Limited RC: 668626; Rainoil Limited RC: 257,444; Casiva Limited RC: 1091598; Petroleum Trading and Supplies Company Limited RC: 506113.
No Party Can Win Election Fighting Itself, Wike Warns …Inaugurates Government VIP Lounge For FAAN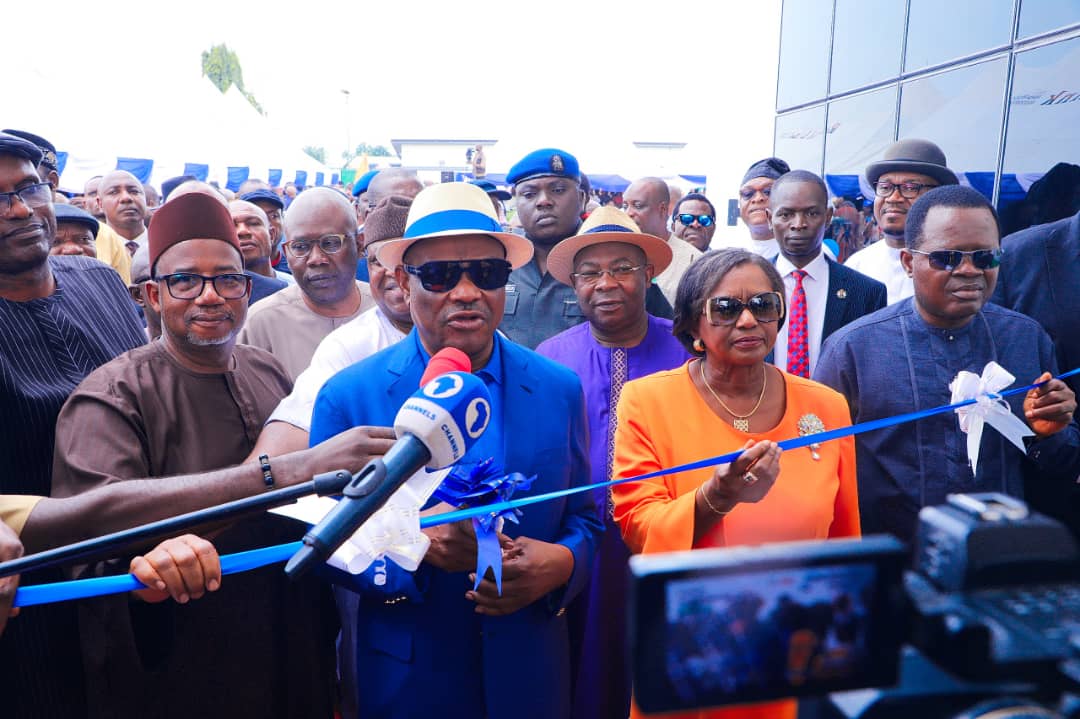 Rivers State Governor, Chief Nyesom Wike, has described as inconsequential confession of support by some politicians for Atiku Abubakar, if they are not working to mobilise grassroots voters to secure electoral victory for the Peoples Democratic Party (PDP).
Wike said it was the quantum of individual votes from units, local governments and states that would determine victory for the presidential candidate of the PDP, Atiku Abubukar, in 2023 and not rumour peddlers.
He spoke, yesterday, at the inauguration of the new Government VIP Lounge at the Port Harcourt International Airport, Omagwa in Ikwerre Local Government Area, built by the Rivers State Government.
Wike said it was unfortunate that some politicians now based in Abuja, derive pleasure insinuating something against him to curry favour from the PDP presidential candidate.
"We are busy campaigning with our projects on how our party will win election in the state. Other people are busy in Abuja carrying rumours and gossips. We are busy here (Rivers) from Monday, Tuesday, Wednesday, Thursday, Friday, and Saturday. We'll start Monday again, flagging off projects, commissioning projects that will sell our party.
"Every day in the newspapers, Wike did this, Wike did that, then, they will call the candidate, you see what I said about Wike today. Rent seekers. No job. Instead of you to do something that will make your party to win 2023 elections, you're only busy, everyday Wike said this. When you heard from Wike I do not know. Maybe in your dream.
"You want to support the candidate, you're not at home, and you're in Abuja. Come home and campaign and work for the party. Stop this Abuja politics of carrying rumours to the candidate."
Wike, who asserted that he was a practical and practicing politician, admonished that any party that wants to win election cannot be fighting itself.
"I think a party that wants to win election cannot, on their own, be causing problem for themselves."
Wike pointed to how his administration has continued to flag-off and inaugurate projects that serve as evidence of fulfilled electoral promises, which have sustained the trust that the people have for the PDP in the state.
The governor expressed the belief that it is the services and projects that his administration has done that would sell the PDP to the electorate.
"We have said that whatever promise we have made, we are going to fulfil them before we leave office on May 29, 2023.
"And let me say; only one person can be a minister from the state. I would not be a minister. I am not a liability. Rivers State is an asset. If you don't want to win election it is your business.
"I am not running for election. He who wears the shoe knows where it pinches. So, allow Rivers State to continue to do what they are doing by using our projects to campaign to our people."
Wike explained that though the Port Harcourt International Airport is owned by the Federal Government, his administration decided to build the VIP lounge in order to offer Rivers people the best.
He assured that the Rivers State government would cater to the maintenance of the building so that it can serve the people for a long time.
Wike also commended the indigenous contractor that handled the project for the tasteful structural work that was accomplished.
"And let me commend the contractor. Of course, he is an indigenous contractor from Rivers State and of Port Harcourt Local Government Area. This is a good job well done. See the quality of what has been done. You can see that the difference is clear.
"We are willing to support our own. But you must also give us that assurance that when the job is given to you, you will complete it without any problem."
Wike directed the Commissioner for Works to ensure the immediate arrest of a contractor handling a road project for the Rivers State Government in Trans Amadi Industrial Layout in Port Harcourt.
The governor accused the contractor of having collected 100percent of the project sum, but has failed to deliver the job.
In a brief, Rivers State Commissioner for Special Projects, Deinma Iyalla, said the edifice depicts the detribalised nature of Wike, and also serves to market the state positively.
According to him, the entire project comprises of a one storey building that has main lounge, bar, kitchen and administrative section on the ground floor.
He added, on the storey floor, there are Presidential Lounge, Governor's Lounge and Executive Lounge.
Iyalla further added that there was a screening building that has installed screening and scanning machines with office space for FAAN, and a security house that would serve as waiting place for drivers.
Buhari Signs Bills On Electoral Act, Money Laundering, Terrorism, Others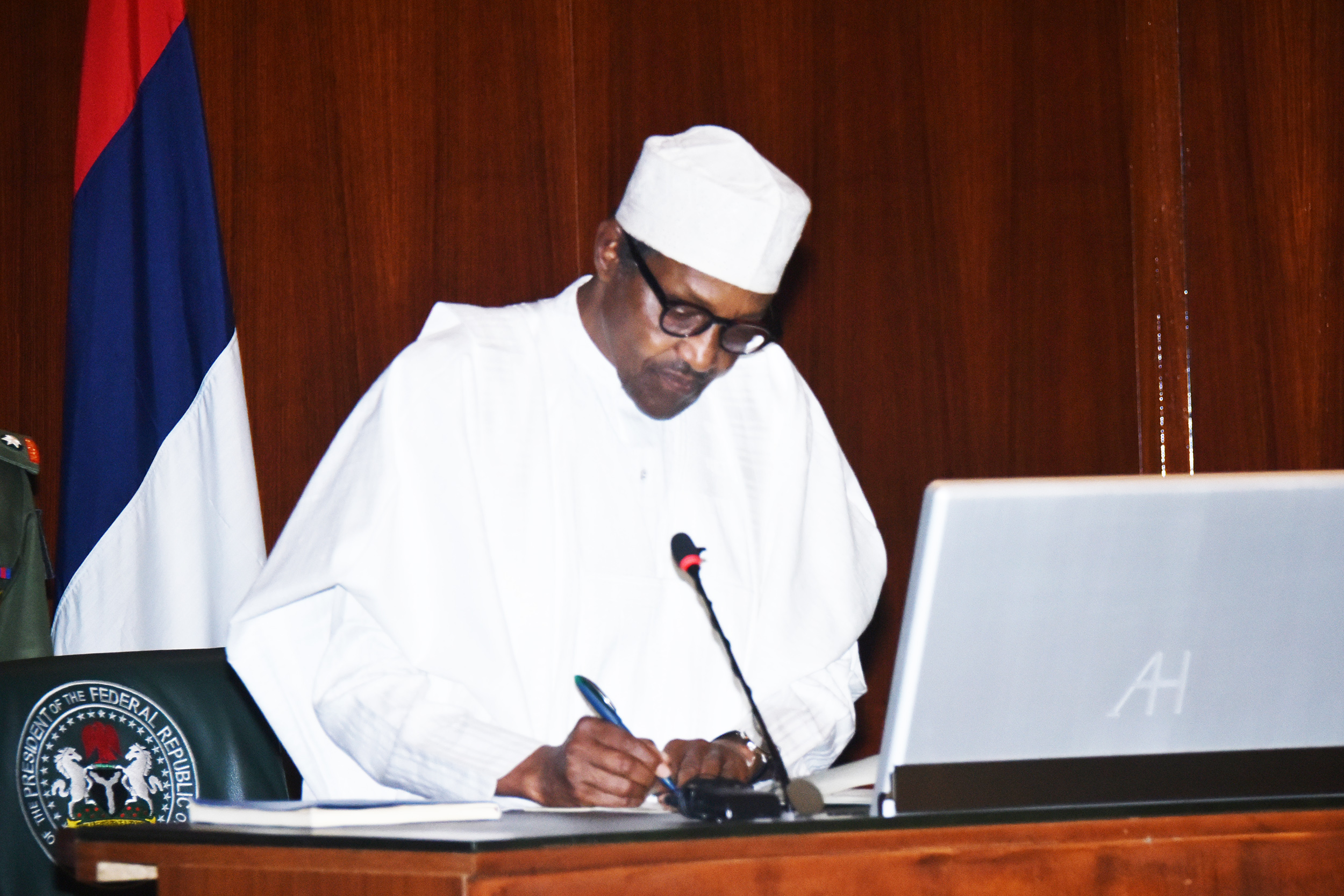 President Muhammadu Buhari has given assent to some major bills. The bills include: Electoral Act (Amendment) Bill, 2022; Money Laundering (Prevention and Prohibition) Bill, 2022, repealing the Money Laundering (Prohibition) Act, 2011 as amended; Terrorism (Prevention and Prohibition) Bill, 2022, which repeals the Terrorism (Prevention) Act, 2011 as amended in 2013.
Others are, Deep Offshore and Inland Basin Production Sharing Contracts Act, 1993 (Amendment) Act, 2019, for increased revenue; Asset Management Corporation of Nigeria (AMCON) Amendment Acts of 2019 and 2021; Proceeds of Crime (Recovery and Management) Bill, 2022, which approves the seizure, confiscation and forfeiture of properties derived from unlawful activity.
The rest include, Federal Competition and Consumer Protection Commission (FCCPC) Bill, the first legislation focused on curbing anti-competition practices, establishing the FCCPC; Nigeria Centre for Disease Control (NCDC) Establishment Act, 2018; The Plant Variety Protection (PVP) Act 2021; Mutual Assistance in Criminal Matters Bill, 2019.
The bill facilitates the identification, tracing, freezing, restraining, recovery, forfeiture and confiscation of proceeds, property, and other instrumentalities of crime as well as the prosecution of offenders in criminal cases regardless of where in the world they might be;
The president also signed an Act establishing the Police Trust Fund, which will improve funding for the Nigeria Police Force (2019). " Nigeria Police Act, 2020 – the first comprehensive reform of Police legislation since the Police Act of 1943.
He also signed the Repeal and Re-Enactment of the Companies & Allied Matters Act (CAMA), 2020, the first comprehensive reform since 1990; Not Too Young to Run Bill (2018), a Constitution Amendment Bill to reduce the age of eligibility for running for elective office in Nigeria; Nigerian Correctional Services Bill, 2019, the first comprehensive reform of prison legislation in close to five decades; Suppression of Piracy and other Maritime Offences Bill, 2019 – the first anti-piracy legislation in West Africa.
TCN Begs Electricity Workers To Suspend Planned Strike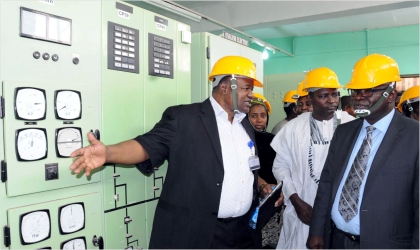 The Transmission Company of Nigeria (TCN) has appealed to the electricity workers to suspend their proposed strike billed to begin, today.
The Managing Director, TCN, Dr Sule Abdulaziz, made the appeal in a letter to the workers, yesterday, following their threat to embark on strike to drive home their demands.
The workers under the aegis of the National Union of Electricity Employees (NUEE) had on August 15 directed its members to picket TCN offices nationwide on August 16, after which they would embark on strike on August 17.
The General Secretary, NUEE, Comrade Joe Ajaero, had in a statement, said the picketing was to protest the directive by the TCN board that all principal managers in acting capacity going to acting general manager must appear for a promotion interview.
Ajaero said the directive was in contravention of the workers' conditions of service and career progression paths and alleged that it was unilaterally done without the relevant stakeholders.
Other issues raised include stigmatisation of staff from the office of the Head of Service of the Federation from working in other areas in the power sector and non-payment of the December 2019 entitlement of ex-PHCN staff.
Abdulaziz said: "We are pleased to inform you that management has suspended the said proposed interview for those on acting appointment of assistant general managers and general managers while we conclude discussion with the board.
"On the other two issues: circular from the office of Head of Service on the stigmatisation of the defunct PHCN staff; payment of entitlement of ex-PHCN staff by market operator, the management has contacted the Honourable Minister of Power for his further action.
"In view of this development, we appeal to your union to stay in action; please accept the assurances of our highest regards."
Also, the Federal Minister of State for Power, Mr Goddy Jedy-Agba, in a letter dated August 15, 2022, to the union, said that the ministry was committed to proffering solutions that would be acceptable to all parties concerned.
"May we appeal to your great union to allow us two weeks from the date of this letter to address the issues and come up with proposals toward acceptable resolution of all issues," he said.