Take PVC Message To Opposition, Fubara Tells GDI Members …As Sensitisation Moves To Obio/Akpor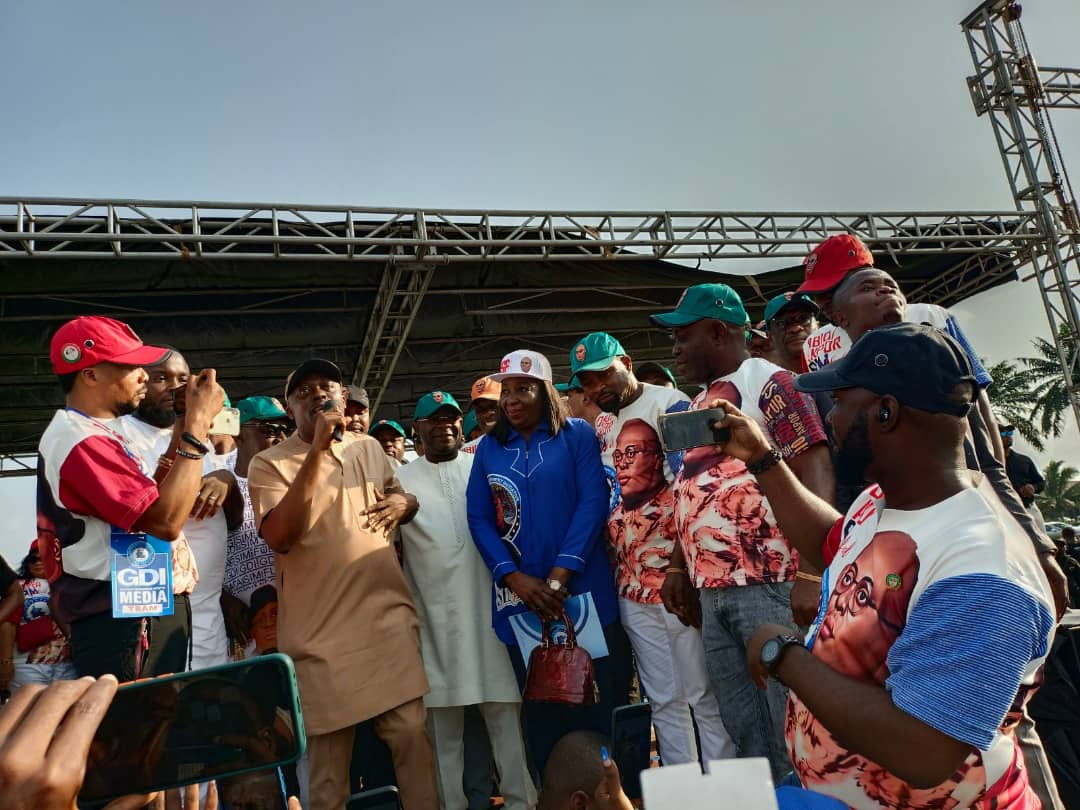 As the Grassroot Development Initiative (GDI)sensitisation rally anchored at Obio/Akpor Local Government Area, the Governorship candidate of the Peoples Democratic Party (PDP) in Rivers State, Sir Siminialayi Fubara, has charged members of the GDI to step up the PVC sensitisation message by taking it to the opposition, whom he referred to as "enemies" in the state.
Addressing GDI members and supporters, who assembled at the Captain Elechi Amadi Polytechnic, Rumuola, Port Harcourt, for the sensitisation rally, last Saturday, Fubara, hinted that with what had been demonstrated so far during the rally, it was evident that almost all GDI members have their PVC.
He, therefore, advised them to direct the message to "our enemies" who will become our "friends" tomorrow.
He said the evangelism should be to encourage everyone residing in the state, including those with opposing political leaning who may become our friends tomorrow.
Fubara also stated that due to the limited time left for the Continuous Voter Registration (CVR) exercise, it had become expedient that the programme be taken to another level.
"This PVC sensitisation will end on the 31st of this month, so, we have limited time left; and because we have limited time, this sensitisation has to move to another level. The programme has to be aggressive, high and forceful", Fubara said.
He commended the people of Obio/Akpor for their massive turn out for the programme, and solicited their continuous support.
He added that the support was not only for him but for their son, who is also the Governor of the state as well as leader and grand patron of GDI, Chief NyesomWike.
Earlier, the State Chairman of the Peoples Democratic Party (PDP), Amb Desmond Akawor, had thanked the leadership of GDI for the very good work they were doing in mobilising and educating the people of the state on the need to register and obtain their Permanent Voters Cards, which he noted,was the only instrument through which they could exercise their voting right.
"When we were at Ikwerre, I thought it was just a 'Tsunami'. We went to Ahoada West, and I saw 'intercontinental ballistic missiles'. Today, I am seeing in Obio/Akpor, a repetition of 'Hiroshima'. I don't know what will happen in Ahoada East", Akawor said.
Welcoming the governorship candidate and his running mate to the LGA, the Chairman of Obio/Akpor Local Government Council, Barrister George Ariolu, noted that it has become necessary to continue the voters' education to enable the area retain its position of having the highest number of registered voters in any local government council in the Niger Delta.
Speaking also, the President General of GDI, Chief Bright Amewhule, used the occasion to call on INEC to investigate the alleged discovery of buried PVCs in a politician's compound in the area and ensure that the outcome was made public.
The Obio/Akpor PVC sensitisation rally featured solidarity messages from leaders and stakeholders from the area, including, Hon KingsleyChinda;Hon Martins Amaewhule; GDI President-General, Chief Bright Amaewhule;chairmen of Obio/Akpor and Emohua local governments, Barrister George Ariolu; and Dr Chidi Lloyd; Prince WeliWosu; Chief AnugbumOnuoha; Rivers East Senatorial candidate, Chief AllwellOnyesoh; among others, who underscored the importance of the Permanent Voters Cards (PVCs).
The event attended by a cream of political juggernauts from within and without Obio/Akpor LGA, including the PDP Deputy Governorship candidate, Prof NgoziOrdu; members of the National Assembly and State House of Assembly, local government chairmen; PDP State Exco, led by the State Secretary, Dr Benibo George; former commissioners; and special advisers; as well as women, youth and students groups also featured ward-by-ward gyration with PVCs on display.
By: Nelson Chukwudi
Lloyd Lambasts Meeba For Attacking Wike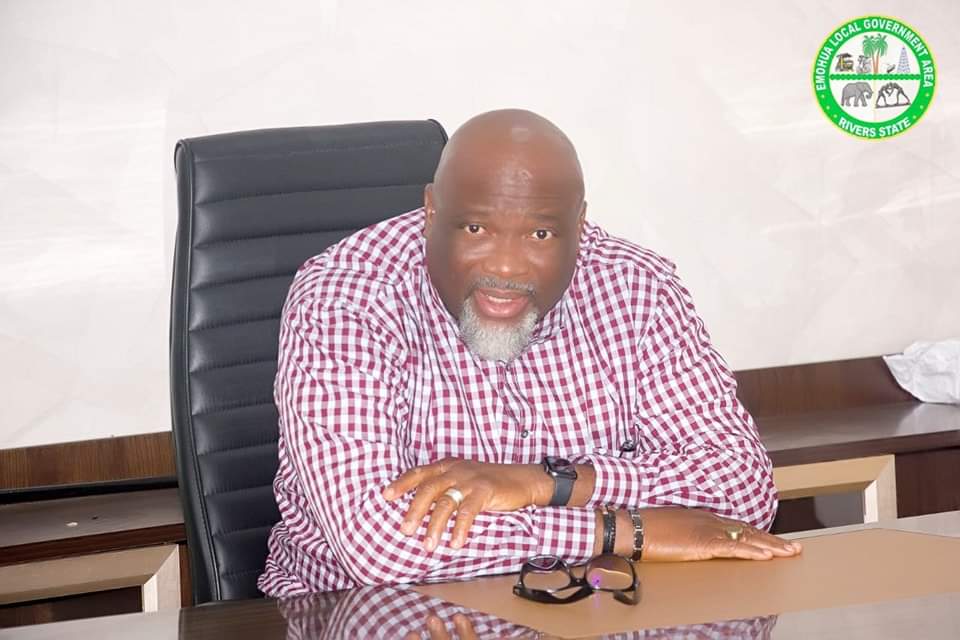 The Chairman of Emohua Local Government Area, Rivers State, Dr. Chidi Lloyd, has taken a swipe at Senator Lee Meeba for his recent outburst against the state Governor, Chief Nyesom Wike.
Meeba, who is supporting the Presidential Candidate of the Peoples Democratic Party (PDP), Alhaji Atiku Abubakar, had accused Wike of political dictatorship, and claimed that Wike vowed to stop them from campaigning for Atiku in the state without his expressed permission, lamenting that the governor frustrated his bid to contest the governorship primary of the party.
The former senator, who was recently sacked as the chairman of the Governing Council of the Captain Elechi Amadi Polytechnic, Port Harcourt by the governor, alleged that Wike did not allow him employ anybody in the institution, and refused to fund the polytechnic because of him.
He said the governor was also furious that he and some PDP leaders met with Atiku, recently, and promised him that Rivers would vote a PDP candidate in 2023.
But Lloyd, in his response, flayed Meeba, describing him as a coward without electoral value.
He said it was cowardice elevated to the national level for Meeba, a two-time senator, to claim that Wike ordered him not to run for governorship election.
Lloyd said Meeba displayed his cowardice again by remaining as a council chair of a polytechnic he claimed Wike refused to fund for over seven years without resigning his position.
He said: "I can only describe Lee Meeba as a coward. It is very unfortunate that he has taken his cowardice to the national level. For Lee, two-time senator to come out on a national TV to say that Wike ordered him not to run an election, and that was why he didn't win, is a sign of his cowardice.
"He also said that he sat as a chairman of the Governing Council of the Captain Elechi Amadi Polytechnic but that the governor refused him from employing anybody, and didn't fund the school. But he remained there without resigning. These are not human beings".
Lloyd said Meeba lacked decency for reporting outcome of a meeting he was not in attendance because, according to Meeba, who is Ogoni, Wike met with Ikwerre elite.
He said: "He had no decency to report events that happened in a meeting that he didn't attend. He said in his interview that it was a meeting of Ikwerre elite. How did they lose it that Governor Wike can cow all of them?
"Will he (Meeba) have been crying foul if he was given the governorship ticket? He opened his mouth to say that the governor hates Ogoni. This is the same man that has dualised the road from Saakpenwa to Kono where Lee comes from. Maybe, the governor didn't give Lee's company, New Tiger Head, the construction of overhead bridge that will fall and kill Rivers people.
"They have nothing to say about Governor Wike. Let him leave Abuja and come to Rivers to grant interviews. Let him come home. We are here. These are 'food is ready' politicians. They think that going to Atiku and casting aspersions on Governor Wike will make Atiku take them seriously.
"He has also shown that he can't give Atiku one vote. Between Wike and Lee, who should Atiku go for, the man who called you and say you would not get one vote, and it happened that way? Let Lee Meeba point at one Ogoni he had made all through his foray in the Senate. How on earth do you think that a state like Rivers would not matter with over 3.6million votes?"
On Atiku, he said: "It is obvious that Atiku wasn't destined to be president with his body language. As a Catholic, I will tell you that clearly. I haven't seen a man, who is given delicious food, and he pushes it down.
"Nobody abdicates his pulpit to intruders. Atiku came back to the PDP from the APC, contested the 2019 election, lost and proceeded to Dubai. He was on that long vacation until the election period. He came back.
"This is somebody the former President told us that if he had handed over to him, God wouldn't have forgiven him. Do they think that we don't have memory? It is in Obasanjo's book. Rather than look for ways and means to pull everybody together on a table, the likes of Lee are running to Abuja. Is that where the election will hold?
"I want to remind Lee that his school, the secondary school he attended in his community is leaking. He attended Government Secondary School, Rumueme. No roof".
Lloyd insisted that the plot by Atiku and those loyal to him to create crisis in Rivers PDP was an exercise in futility because the party's leaders were solidly behind Wike.
He said: "There is no crisis in Rivers PDP. Governor Wike is in charge. We are satisfied with Governor Wike. That was why some of us who went to APC came back to join forces with him. Can't you see what is happening that there is no other political party in Rivers? We are solidly behind Wike.
"Lee opened his mouth and said that Wike said he should not buy form: Forms sold at the national secretariat. Former Vice-President, Alhaji Atiku Abubakar, should not allow these characters to mess up this chance that he has. These people only profit from crisis. We know Ledogo Meeba. He has no pedigree to cast aspersions on Wike".
By: Akujobi Amadi
Three Nigerians Face $5m Cyber Fraud Charges In US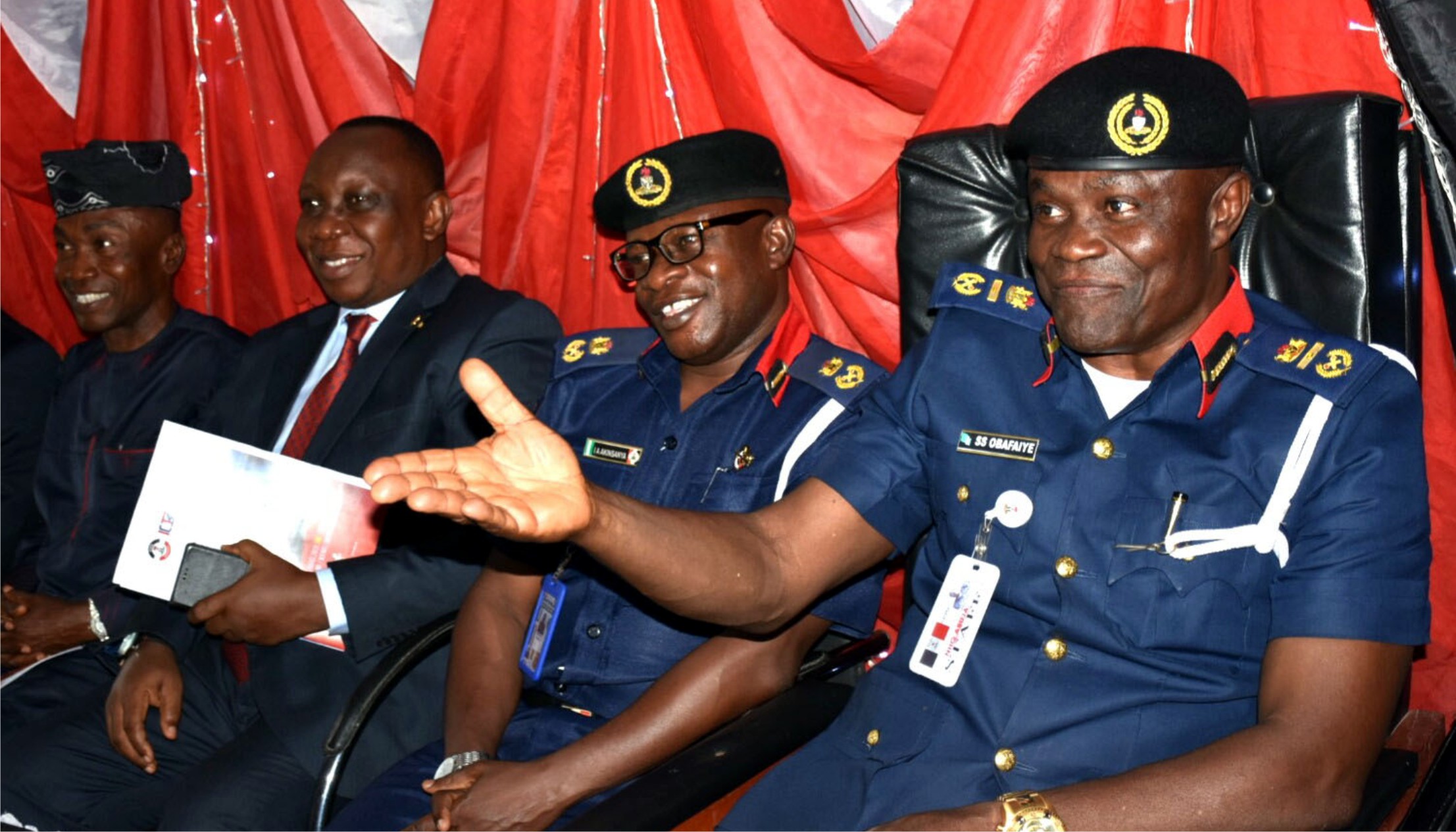 Three Nigerian citizens were extradited from the United Kingdom and arrived in the United States over an alleged participation in multi-million dollar cyber fraud schemes.
According to the US Department of Justice, last Wednesday, the defendants are Oludayo Kolawole John Adeagbo also known as John Edwards or John Dayo, a 43-year-old Nigerian citizen and UK resident, Donald Ikenna Echeazu who also bears Donald Smith or Donald Dodient and Olabanji Egbinola,
They engaged in cyber-enabled business email compromise (BEC) fraud schemes in the Western District of North Carolina, Southern District of Texas and Eastern District of Virginia.
The scams allegedly perpetrated by the defendants targeted unsuspecting victims including universities in North Carolina, Texas and Virginia, and attempted to cause more than $5million in losses.
Adeagbo and Echeazu are charged with wire fraud conspiracy, money laundering conspiracy and aggravated identity theft for defrauding a North Carolina university (the University) of more than $1.9million via a business email compromise scheme.
The summons was returned by a federal grand jury in the Western District of North Carolina on April 17, 2019, and was unsealed on Tuesday following Echeazu's initial appearance in federal court in Charlotte.
According to allegations contained in the indictment, from August 30, 2016 to January 12, 2017, Adeagbo and Echeazu colluded with other individuals to obtain information about significant construction projects occurring throughout the United States, including an ongoing multi-million-dollar project at the victim university.
They went ahead to execute the scheme as they allegedly registered a domain name similar to that of the legitimate construction company in charge of the university's project and created an email address that closely resembled that of an employee of the construction company.
They used a fake email address to allegedly deceive and direct the university to wire a fund of more than $1.9million to a bank account controlled by an individual working under the direction of defendants.
Upon receiving the payment, the accomplices allegedly laundered the stolen proceeds through a series of financial transactions designed to conceal the fraud.
The wire fraud conspiracy charge and the money laundering conspiracy charge each carries a maximum statutory sentence of 20 years in prison.
The aggravated identity theft charge carries a mandatory two-year prison sentence consecutive to any other term imposed.
The FBI Charlotte Field Office conducted the investigation. Assistant U.S. Attorney Graham Billings of the Western District of North Carolina is prosecuting the case.
Adeagbo was also charged in the Southern District of Texas with conspiracy to commit wire fraud and wire fraud and the report said he faces up to 20 years in prison, if convicted on the charges.
The FBI Houston Cyber Task Force conducted the investigation with the assistance of the FBI Cyber and Criminal Investigative Divisions with other security agencies.
Also, Egbinola, a 42-year-old man is charged with wire fraud, conspiracy to commit wire fraud, money laundering, and conspiracy to commit money laundering.
According to a criminal complaint issued by the US District Court for the Eastern District of Virginia, from September 26, 2018 to December 26, 2018.
Egbinola is alleged to have conspired with others to defraud a Virginia-based university. He and co-conspirators created and used a fraudulent email account that incorporated the name of a construction company that had a large, ongoing contract with the university.
Using this email account, Egbinola and collaborators deceived the university into transferring $469,819.49 to a bank account controlled by Egbinola and his accomplices.
That money was quickly laundered and transferred overseas through numerous transactions. Evidence obtained during the investigation showed that Egbinola repeatedly accessed the email account used to defraud Virginia University.
All three defendants were arrested April 23, 2020, by UK authorities at the request of the United States and ordered extradited on September 3, 2021.
All three defendants filed appeals, all of which were rejected by the UK High Court on July 12, 2022.
NLNG Dismisses $1.2bn Crude Oil, Gas Theft Report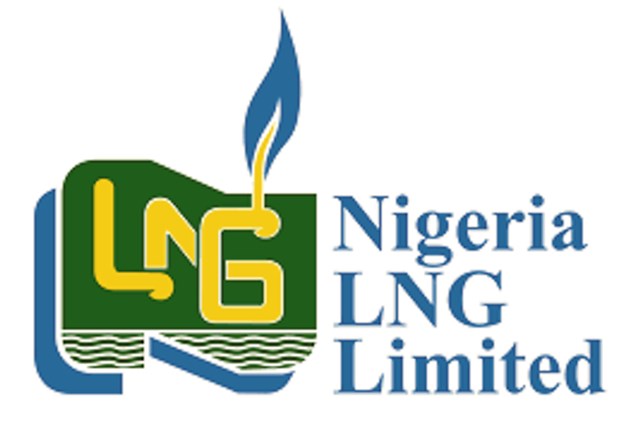 The Nigerian Liquefied Natural Gas (NLNG) has dismissed, as false and spurious, insinuations in some media reports that the company's officials, in any way, facilitated the illegal sale of crude oil and natural gas to certain buyers without authorisation.
The company, in a statement by its General Manager, External Relations and Sustainable Development, Andy Odeh, yesterday, said the report was only a figment of the imagination of its purveyors, and demanded a retraction.
The statement reads in full: "The attention of Nigeria LNG Limited (NLNG) has been drawn to a publication in the Vanguard Online of 10th August 2022 under the caption: "How govt officials facilitated $1.2bn crude oil, gas theft – Source.
The report is false, malicious and deliberate as it is a rehash of fallacious claims reported in an online media channel in January 2022. NLNG had responded to the allegations, clearly stating the facts, yet Vanguard Online published the same allegations with no prior opportunity offered to the Company to react or respond to the assertions.
"The rehash in Vanguard Online is obviously calculated to cast the Company and its leadership in bad light.
"To again set the records straight, NLNG wishes to clearly state that: Deliveries of LNG from its Bonny Terminal complies with all regulatory requirements for the export of its products and are made under various LNG sales contracts s to destinations not limited to Europe, but also to the Far East, Greater Middle East, North America and South America, thus ensuring NLNG's position as a significant competitive global LNG supplier, promoting the Nigerian Brand.
"NLNG is a responsible corporate citizen operating its business according to strong business principles and ethics in accordance with requirements of relevant Nigerian and global laws and regulations.
"From the commencement of its operations in October 1999, NLNG has never, and does not, engage in "illegal" exportation of LNG or any of its products, nor is NLNG involved in any international cartel, as alleged. It is simply not true that "… the illegal exportation is still ongoing with the backing of some top officials of government".
"The LNG trade undertaken by the company is bound by strict protocols and controls, hence not amenable to the kind of illegitimate schemes alleged in the report.
"Contrary to the allegation of export of LNG without paperwork, records exist for every single cargo of product loaded by the company since it commenced operations, together with fully accurate accounts of destinations, quantities loaded and unloaded and related earnings on each cargo, and these are demonstrable.
"For each of the past financial years which are periodically audited, including the periods alluded to in the report, the Shareholders of NLNG, which includes NNPC and three IOCs, never reported that any cargo or product of the company was lost or unaccounted for. Indeed, the possibility of such happening is beyond comprehension.
"For the avoidance of doubt, NLNG restates that the report paints a very incorrect picture of the company's business and its LNG trade and is at complete variance with the company's Vision as a globally competitive LNG Company helping to build a better Nigeria.
"NLNG demands an immediate retraction of the false and malicious report in its entirety, in addition to an apology, which must be given as much prominence as the original report. The legal rights of NLNG and its impacted personnel are fully reserved."