Bishop Bemoans Killing Of Priests Across Nigeria, Blames FG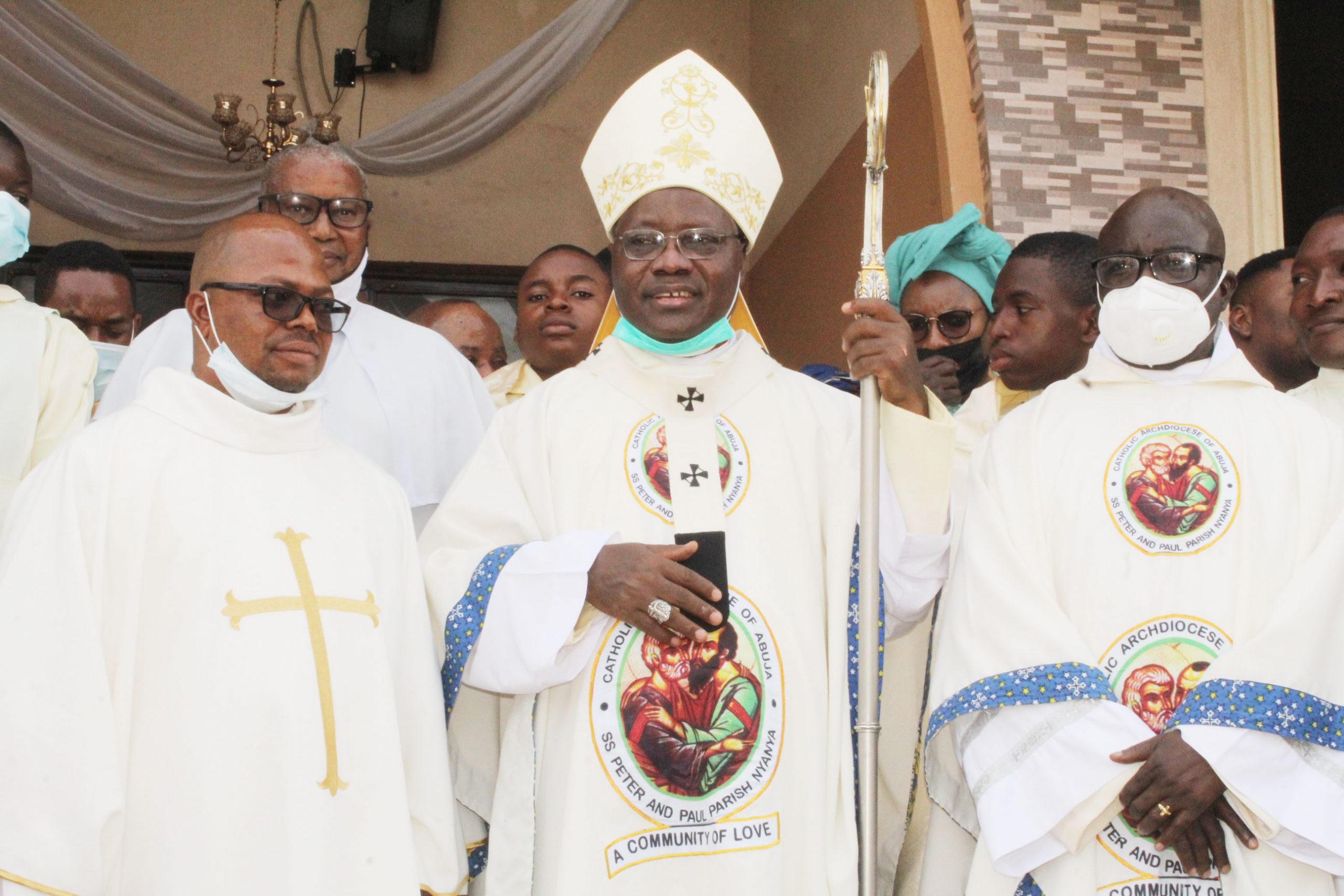 The Catholic Bishop of Awka Diocese, Most Reverend Paulinus Ezeokafor, has bemoaned the abduction and killing of priests in Nigeria.
Ezeokafor, who spoke to journalists, yesterday, expressed dismay over the rampancy of such news across the country, emphasising that anyone who kills a priest, has killed Christ a second time.
He said it was clear that some unscrupulous elements were behind the act, noting that war had been tacitly declared against the Catholic Church with her priests, religious and laity, as their major targets.
"Catholic priests are Christ's representatives on earth: Killing them amounts to killing Christ a second time. Catholic priests should be respected. They made the greatest sacrifice here: no wife, no children, and no heir, nobody to succeed them when they are gone. What other sacrifice is greater or costlier than that?
"You are abducting and killing them because they are doing Christ's work on earth? What wrong have they done? It is really abominable to maim a priest. Why go after a hapless servant of God? Someone who has left everything for the sake of God's people! Priests deserve to be protected, encouraged and motivated.
"Their cries will reach the heavens and the heavens will fight their battles. Nigeria's Government should be very careful. Their usual silence over these killings and abduction of Catholic priests simply shows that they are enjoying it. They should remember that God's anger will definitely descend on Nigeria's government if it continues to play the ostrich.
"I am seriously troubled. I am pained. I cannot keep quiet. I will continue to talk. Catholic priests should be appreciated for leading in everything good. They sacrificed their all. They are not after ministerial appointments or contracts. Why go after them?" Ezeokafor queried.
Speaking on the decision to field a Muslim-Muslim ticket by the ruling All Progressives Congress (APC), Ezeokafor said it was unacceptable in a secular state like Nigeria, describing it as height of insensitivity and wickedness.
"You cannot come to a state like Nigeria with many different religions and be talking about Muslim-Muslim ticket. Are they saying that there is no competent Christian in the north? I'm sure there are many of them, even the Secretary of the Government of the Federation (SGF), Boss Mustapha, is a Christian. They choose to ignore him and many other Christians in the North.
"There must be balance in everything. These are some of the things that are causing so much agitation here and there. Nigerians should rise and condemn it. Nigeria is not a Moslem country. We have two major religions; Christianity and Islam. There are others too. Why settle for one religion if you do not have a hidden agenda?," he queried.
RSHA: Amaewhule-Led Lawmakers Defy Court Order, Elect New Leaders
The crisis rocking the Rivers State House of Assembly took a new twist on Wednesday as lawmakers loyal to the former Speaker, Martin Amaewhule, sat under tight security in the complex.
This is contrary to the court order asking the two factions of the State House of Assembly to maintain the status quo pending the determination of a suit filed by the Edison Ehie faction.
Recall that Ehie faction had obtained a court order that parties should maintain the status quo pending the determination of a suit seeking to sack Amaewhule as the House Speaker.
The Rivers Assembly had become factionalised following an unsuccessful move to impeach Governor Siminialayi Fubara.
The Amaewhule-led lawmakers are believed to be loyal to Fubara's predecessor and political godfather, Nyesom Wike.
It was learnt that ahead of Wednesday's sitting, cleaners had on Tuesday been deployed to clean up the Assembly complex, which had been under locks, since October 29, following an explosion in the complex the night before.
One of the cleaners said they were instructed to tidy up the complex ahead of a sitting on Wednesday.
It was gathered that the Wednesday sitting was held for about two hours as a team of riot policemen and security vans were stationed in front of the House to prevent any breaches.
It was gathered that the lawmakers elected a former Chief Whip as the new Majority Leader of the Assembly.
The member, representing Ogba/Egbema/Ndoni Constituency 1, Frankline Nwabochi, was named the new Chief Whip.
An unsigned statement sent to the Assembly Press Corps obtained by The Tide said the two new principal officers accordingly took their oath of office.
Amaewhule congratulated them, charging them to be committed to their new responsibilities.
According to the statement, the lawmakers also passed the first reading of a Bill seeking to amend the Rivers State Local Government Law, No. 5 of 2018.
They also debated on the Rivers State House of Assembly Funds Management (Financial Autonomy) Bill, 2023, which passed second reading on Wednesday.
Amaewhule who described the Bill as important, expressed his conviction that Governor Fubara would assent to it after the lawmakers finally pass it.
He hinted that the governor had withheld funds meant for the Assembly for the month of November.
He said the lawmakers were determined to perform their constitutional duties despite the distractions.
He thereafter referred the Bill to the House Committee on Public Accounts for public hearing and further legislative scrutiny.
The other faction of the Assembly led by Ehie, and loyal to Fubara, had yet to react to the Wednesday development as of the time of filing this report.
Ogoni Group Mulls Recall Of Lawmakers Over Foiled Fubara's Impeachment
An Advocacy group in Rivers State, Ogoni Development Drive (ODD), says it has begun the process to recall four Ogoni lawmakers from the Rivers House of Assembly over their alleged roles in the botched impeachment of Governor Similanayi Fubara.
The lawmakers are Dumle Maol (PDP, Gokana constituency), Barile Nwakoh (PDP, Khana), Aforji Igwe (PDP, Eleme) and Bernard Ngba (PDP, Tai).
The group's Convener, Comrade Solomon Lenu, made this known at a news conference in Port Harcourt, yesterday.
Recall that Fubara survived an alleged impeachment plot on October 30.
ODD said it had on November 10 issued a seven-day ultimatum to the four Ogoni lawmakers who partook in the plot that attempted to serve an impeachment notice to Governor Fubara.
The four lawmakers, now suspended, were asked to apologise to the Ogoni people whom they represent and to Gov. Fubara for denigrating his exalted office or risk being recalled.
"Instead of heeding this advice and embracing the olive branch extended to them, they rather embarked on an egocentric escapade," the group said.
Lenu further said the lawmakers rather than heed to the advice by ODD, engaged in various meetings that purportedly plotted to unseat the governor.
"Governor Fubara was collectively voted for by the entire Rivers people, and as such, the action by the lawmakers has not gone well with all men and women of conscience.
"It is illogical for the erring assembly members to think it is right to impeach an innocent governor for no just cause but wrong to recall them for erring against their constituents.
"The suspended lawmakers called a bluff of ODD ultimatum, and so, we have decided to carry out this recall process in earnest, to put our democracy aright," he said.
Lenu said the group had already reached an advanced level in sensitising and mobilising the lawmaker's constituents to recall them.
He said that ODD had also obtained the comprehensive voters' register of all voters in the four local government areas and constituencies.
According to him, an electronic capture form has also been created to make the petition process easier for students at various tertiary school campuses and those on holiday to sign the petition.
"So far, the response from the aggrieved constituents has been very impressive, and we shall in a few weeks' time complete the compilation of the required signatures.
"The signatures are required for INEC to call for a referendum, which shall be carried out in branches with strict security guidance, to abort any sinister counterplot against democracy.
"We know this process is not going to be easy, but we are ready to go all the way, to create a sense of responsibility in our elected leaders," he said.
Lenu said instilling a sense of responsibility in politicians and elected leaders would further entrench democratic tenets in the country.
The ODD convener called on the people of Ogoni to come forward and sign the petition, to end political "jamboree and illicit godfatherism" in the state.
The Tide reports that 26 lawmakers on Oct. 30 proceeded to impeach Fubara but were stopped by four pro-Fubara lawmakers led by Ehie Edison (PDP-Ahoada East II).
Mr Martins Amaewhule (Obio Akpor constituency), a close ally of a former governor, was later ousted as Speaker and Ehie sworn in as the new Speaker.
However, Amaewhule insists that he is still the Speaker of the House of Assembly, resulting in some form of confusion over the office of the Speaker.
FRSC Commander Faces Sanction Over Unauthorised Comments
The Federal Road Safety Corps (FRSC), yesterday, disowned the Unit Commander, Central Business District Unit Command, Assistant Corps Commander IL Ibrahim, over his recent statement on Vehicle Inspection Officers, otherwise known as Directorate of Road Traffic Services.
Ibrahim was quoted to have said that VIO officials did not have the right to arrest road traffic violators, including overloaded vehicles and motorists caught using phones while driving.
But Deputy Corps Marshal, Bisi Kazeem, in a statement, yesterday, said Ibrahim's comment was not the position of the Corps.
Kazeem added that the concerned official had been recalled to the national headquarters for necessary disciplinary action.
The statement read, "The Federal Road Safety Corps wishes to make a pertinent clarification regarding the pronouncement by the Unit Commander, Central Business District Unit Command, Assistant Corps Commander IL Ibrahim, that Vehicle Inspection Officers, otherwise known as Directorate of Road Traffic Services, do not have the right to arrest road traffic violators, including overloaded vehicles and motorists caught using phones while driving.
"The general public is advised to disregard the statement as it had no approval of the Corps Marshal, Dauda Ali Biu, and does not in anyway reflect the corporate or general position of the Corps.
"It is important for the public know that the laws establishing VIOs/State Traffic Management Agencies give them the statutory mandate to make arrests on different offences depending on the state within which they operate. As such, the agencies should be given the maximum cooperation for the enhancement of safety on our roads.
"On this note and in line with sustaining the Corps' resolve that road safety is a collective responsibility, and in acknowledgement of the roles the State Traffic Management Agencies like the Vehicle Inspection Officers play in complementing the statutory responsibilities of the FRSC through enforcement of traffic laws, the Corps Marshal has ordered the immediate withdrawal of the Unit Commander to the national headquarters for necessary administrative and disciplinary actions.
"The public is admonished to always comply with all established traffic regulations and cooperate with security agencies deployed to maintain law and order on the highways, irrespective of their corporate mandate."