Wike Passionate About Dev Of Rivers Youths -Banigo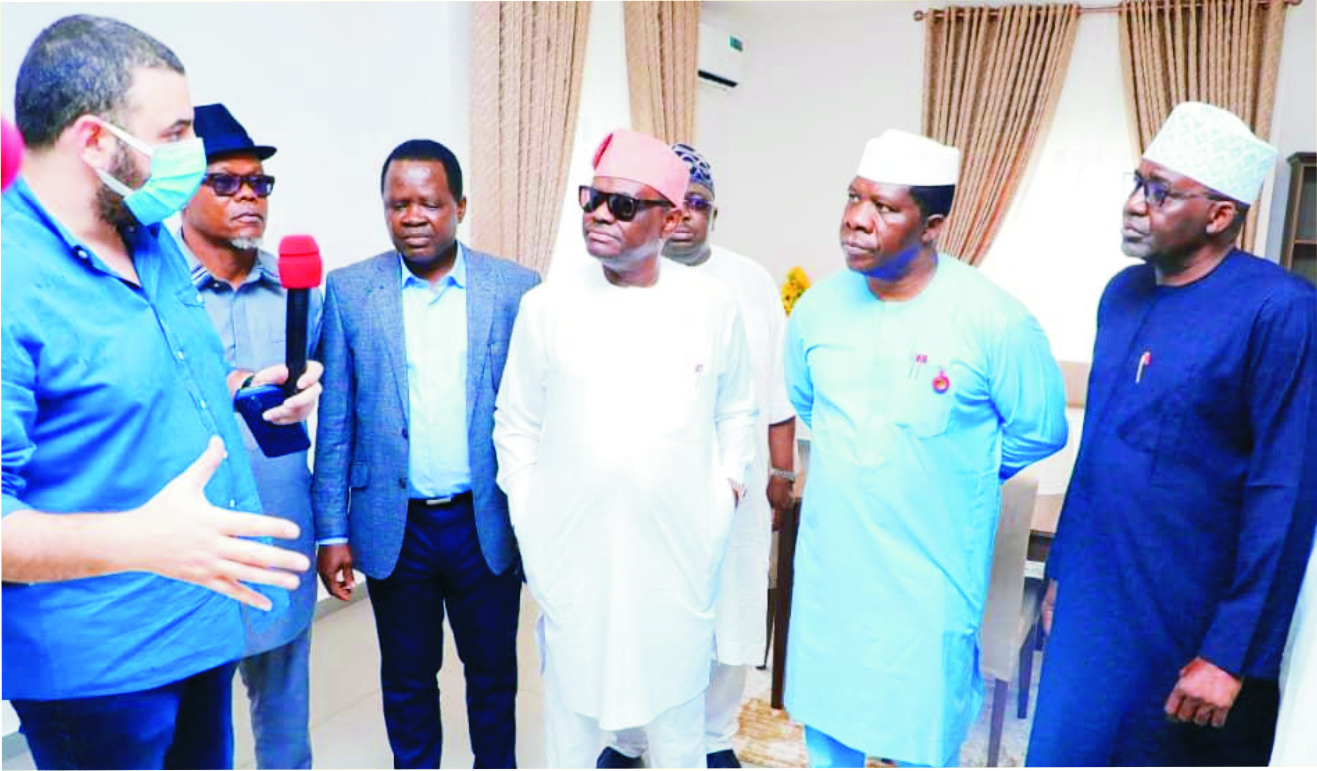 Rivers State Deputy Governor, Dr. Ipalibo Harry Banigo, has said that the Governor Nyesom Wike-led administration was very passionate about the development of Rivers youths.
Banigo stated this while playing host to a delegation of registered women of the Ijaw National Congress Eastern Zone, at the Government House in Port Harcourt, yesterday.
Banigo said the youths would be encouraged to fulfill their God-given roles in society because they have a lot to do, adding that they are our future generation.
"They are our future generation, if we lose them we have lost so many generations and what legacy have we left behind, we need to have youths that have a conscience and are robust in their thinking and creativity that will take over from us as leaders",Banigo stressed.
The deputy governor, who revealed that the state chief executive was committed to education, noted that education remains the bedrock of our society.
She stressed that from the primary, secondary, and tertiary levels all the educational institutions have been attended to with great vigour in the state.
"All our secondary schools are free and we have banned the issue of levies to make sure our children and parents are not extorted, so they can have access to education, no single child should be deprived of education, and there should not be any child on the street, they should be properly schooled in our public schools.
"In our tertiary institutions, as you have noticed we encourage and empower our lecturers', none of them is going on strike, there is no ASUU strike because we take care of the welfare of our lecturers and make sure that the environment is safe and secure", the deputy governor further stressed.
Banigo, who insisted that skills acquisition was important, said that most of our tertiary institutions now add skills along with the primary degrees, which are being awarded to them.
She said teaching our children about the digital economy was key so that they would not be left behind when the rest of the world is moving forward.
The deputy governor, who said contact with children is key, insisted that mothers must spend quality time with their children.
"We need to send this message to our Ijaw women to spend quality time with their children, the Ijaw woman is multi-tasking, and she is a mother, teacher, and a breadwinner".
In her response, the Women Affairs Secretary of the Ijaw National Congress Eastern Zone, Mrs. Gift Amangi Kalio, said women were primary shapers of children's character, adding that the women of the Eastern zone of the Ijaw National Congress intended to visit the 20 clans of the zone, to educate mothers on the need to pay more attention to the upbringing of their children.
She said effective communication with children from a tender age can sustain a good relationship between the children and the mothers, stressing that character growth is the main goal of child upbringing.
We've Collapsed Other Parties Into PDP In Rivers, Wike Affirms
Rivers State Governor, Chief Nyesom Wike, has said that more politicians in the state were renouncing membership of their political parties in droves, and joining the Peoples Democratic Party (PDP).
They are doing so, he enthused, because they were delighted at ongoing infrastructure development by his administration, and believed the PDP was a better party to associate with.
Wike spoke, yesterday, at the flag-off of the 11th flyover project, which was performed by former Governor of Cross River State, Donald Duke, at the Rumuola-Ikwerre Road-Rumuokwuta Roundabout in Obio/Akpor Local Government Area of the state.
The Rivers State governor explained that the ongoing collapse of the membership strength of other political parties in the state was definitely an electoral advantage for the PDP.
"We have collapsed every other party. Every day people from All Progressives Congress (APC) are joining our party. We are here doing that and some people are in Abuja; ask them how many persons have they brought to the party.
"It's not to say I'm supporting our candidate. How many people have you brought to help your candidate?. We are here every day bringing people to join our party and you are there following your candidate from Abuja to Adamawa. Is it there you'll win the votes? Come back home."
Wike stressed that Rivers State is too strategic politically to be ignored by any serious minded politician who wants to win election.
He stated the futility of the claims by those who professed that they know the PDP presidential candidate, yet they are not at home where votes can be mobilised to secure electoral victory.
"This local government alone, Obio/Akpor, where I come from, we registered not less than 600,000 voters. This local government beats two states in their electoral strength.
"So, we are not a state that you can take for granted, not to talk about the local government where I come from.
"I believe that they must know us here because we have what it takes to deliver. They must come and know us. I'm not going to find anybody. You must come here. You can't take 600 and something thousand votes away from my local government. You can't take 3.2million votes from my state just like that."
Wike emphasised that the days are gone when supporters and electorate offer their votes and do nothing in return.
"If we were Father Christmas before, we won't be Father Christmas again? You must tell me what is there for me if I should vote. So, nobody should bother himself. At the appropriate time we will talk to our people and our people will understand.
"If you say we don't exist, we will tell you that you don't exits. I am not a son to anybody. I am a son of Rivers State. I am working to attract what will benefit Rivers State."
Wike said the infrastructural projects are evidences of how Rivers money has been expended by his administration to solving critical socioeconomic problems.
He noted that the 12 flyovers, in the next three years, would be more appreciated because they will sufficiently address traffic related problems.
Wike explained that everything has been done to ensure that funds are available so that every project started by his administration is not abandoned but completed.
"As at yesterday (Wednesday), I have released the money for the compensation of every property that will be affected here.
"We have paid for the relocation of the electric poles and property from Mgbuoba to Ozuoba. We have paid for the relocation of electric poles and property on Azikwe-Iloabuchi Road. So, the total compensation we have paid is N4.3billion.
The governor also informed that Julius Berger Nigeria Plc has started, in July, the deduction of N2billion from the Internally Generated Revenue (IGR) account of the state, and would do so for the next 10 months, to execute the 11th and 12th flyovers.
He also explained that 80percent of the contract sum has been paid to Julius Berger Nigeria Plc for the Azikwe-Iloabuchi Road construction.
Wike emphasised that his administration was determined to complete the Andoni section of the Ogoni-Opobo-Andoni Unity Road, and has charged the contractor to expedite work.
"Andoni must get road before I go there to campaign. I have told the contractor, Opobo has gotten road, Andoni people must drive by road before the administration ends.
"The Trans-Kalabari road, we have paid 100percent, that is over N13billion, we have paid and I believe by the grace of God, by this September, the first phase of Trans-Kalabari road will be completed.
"The one of Bori to Kono that CCECC is doing, which we have paid over N14billion, and finished paying."
Performing the flag-off, former Governor of Cross River, Donald Duke, said the leadership capacity demonstrated by Wike assures that there was hope for Nigeria.
Duke commended Wike for executing projects, particularly the flyovers that have made Port Harcourt liveable city.
He also noted the medical succour the Dr. Peter Odili Cancer and Cardiologist Disease Diagnostic Centre would offer cancer patients, because of the terminal nature of the disease.
Providing a description of the project, Rivers State Commissioner for Works, Dr. Dakorinama George-Kelly said the 11th flyover is 1007.5 meters long, stretching from the Ebony Junction on Rumuola Road to the Seventh Day Adventist Church on Ikwerre Road.
Police Raid IPOB, ESN Camps In Enugu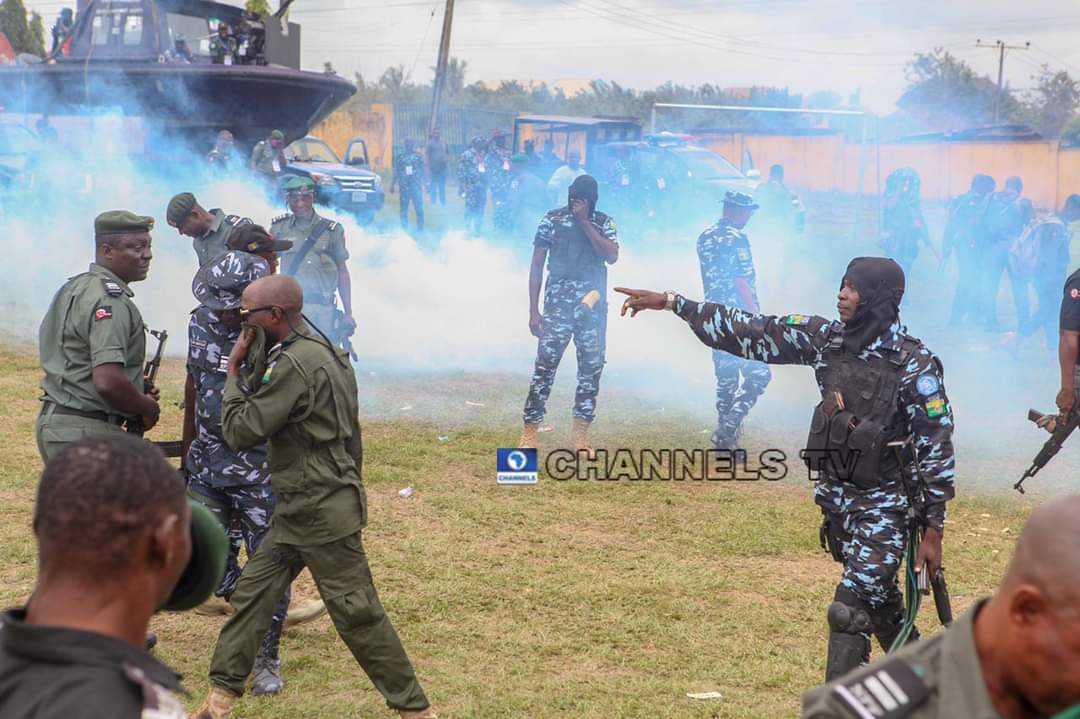 Operatives of Enugu State Police Command have carried out a raid on the camp and hide out of Indigenous People of Biafra (IPOB)/Eastern Security Network (ESN) in Agu-Ibeje forest within Enugu-Ezike Community of Igbo-Eze North Local Government Area of Enugu State.
This was contained in a statement issued by the Police Public Relations Officer (PPRO), DSP Daniel Ndukwe,  yesterday. in Enugu.
Ndukwe said police operatives of the Command drawn from Tactical Squads and Operation Restore Peace carried out a tactical and intelligence-driven dusk to dawn raid on the IPOB/ESN camp between August 11 and 12, this year.
According to him, the raid is in pursuance of the crime fighting strategies devised by the statte Commissioner of Police, Mr Abubakar Lawal.
He said the hoodlums, on sighting the police operatives, engaged them in a gun duel, which led to the neutralisation of one of them.
The police spokesman said several others escaped with varying degrees of fatal gunshot wounds, due to the superior firepower of the operatives.
"The operation led to the discovery and exhumation from a shallow grave in the camp, the corpse of their victim identified as Johnson Okpanachi, a Police Officer serving in Igbo-Eze North Police Division.
"Okpanachi had gone missing on July 30, with all effort made to trace his whereabouts proving abortive.
"Items recovered at the Camp include 12 firearms, one AR-K2 Assault rifle, six pump action guns, one locally-made Berretta-like pistol and five locally-fabricated double-barreled guns.
The operatives also recovered 98 live cartridges; two machetes, one digger, one battle axe and one hacksaw; five motor vehicles, which include  three Toyota Sienna minivans, one Honda Pilot Jeep and one Hiace (Hummer) bus loaded with assorted Ankara fabrics.
Ndukwe further stated that all the items reported recovered were snatched from their owners at different times within the area by the hoodlums.
He added that 20 different brands of motorcycles with their plate numbers removed; one police bullet-proof vest; one pair of police camouflage uniform; one pair of military camouflage uniform with a cap and military singlet were also recovered from the hoodlums.
He said: "Other items recovered in the raid include one piece of red-black-green coloured clothing identified as Biafra flag and another five pieces of masquerade-like attires of the said flag colours.
"One HP laptop with its bag; 22 different brands of mobile phones; six different brands of Mp3 players; one canon camera, six torch lights; three rolls of cello-tapes; one air pumping machine and one small yellow-coloured generating set.
"15 fabric arm-less and five plastic chairs; seven school bags; one camp bed and 21 pieces of table spoons and a set of musical equipment, including band set, piano, guiter and speakers, the hoodlums allegedly stolen after invading a church in the area."
Ndukwe said the Commissioner commended police operatives for the successful execution of the operations without any casualty recorded by the Command.
The Police spokesman said the CP also charged them to remain focused on actualising the overall goal of ridding the state of unrepentant criminal elements.
The PPRO said the State Police boss called on residents to remain law-abiding, vigilant and support the command with credible information or intelligence it requires to combat criminals and their activities.
"I enjoin individuals and owners of medical facilities to quickly report anyone sighted with gunshot injuries to the nearest police station or personnel," he added.
By: Canice Amadi, Enugu
Emirates Suspends Flights To Nigeria From Sept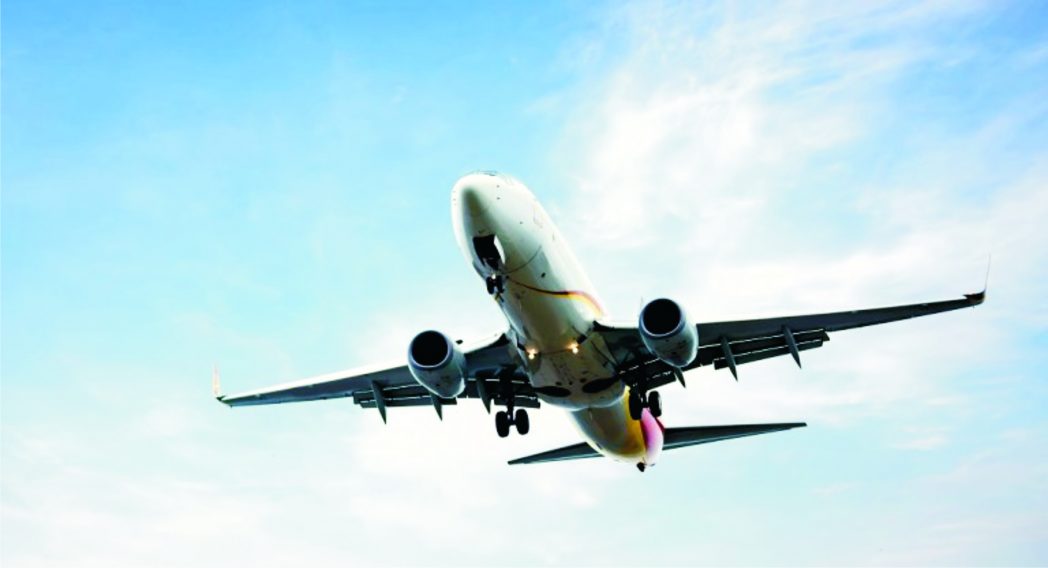 Emirates Airlines, yesterday, announced the suspension of its flight operations in Nigeria from September 1, 2022.
It said the suspension became necessary following its inability to repatriate its funds from Nigeria.
International carriers operating in Nigeria have repeatedly complained about their inability to repatriate funds to their home countries.
They have raised this concern on many occasions with officials of the Federal Ministry of Aviation, as well as those at the finance ministry.
Blocked funds belonging to these airlines have risen to about $600million, as this is due to the inability of the Central Bank of Nigeria (CBN) to make the United States dollar available for the carriers to repatriate.
In its statement, yesterday, Emirates Airlines stated that it "has tried every avenue to address our ongoing challenges in repatriating funds from Nigeria, and we have made considerable efforts to initiate dialogue with the relevant authorities for their urgent intervention to help find a viable solution."
It added, "Regrettably there has been no progress. Therefore, Emirates has taken the difficult decision to suspend all flights to and from Nigeria, effective September 1, 2022, to limit further losses and impact on our operational costs that continue to accumulate in the market.
"We sincerely regret the inconvenience caused to our customers, however, the circumstances are beyond our control at this stage. We will be working to help impacted customers make alternative travel arrangements wherever possible."
It, however, noted that should there be any positive developments in the coming days regarding Emirates' blocked funds in Nigeria, the airline would, of course, re-evaluate its decision.
"We remain keen to serve Nigeria, and our operations provide much-needed connectivity for Nigerian travellers, providing access to trade and tourism opportunities to Dubai, and to our broader network of over 130 destinations," the global carrier stated.