Varsity Students Lament As ASUU Strike Continues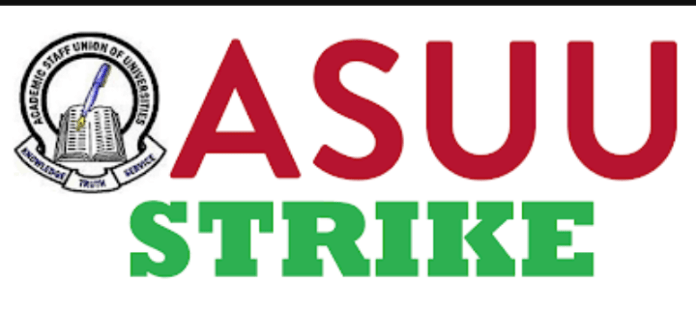 Some students of Nigerian public universities have expressed frustration over the lingering strike by the Academic Staff Union of Universities (ASUU).
In an interview with newsmen in Port Harcourt last Friday, these students are appealing to Federal Government (FG) to at least meet 50 per cent of ASUU demands so as to put an end to the incessant strikes.
Greatness Nnamdi-Ikpo, a third year student of the University of Port Harcourt, who is studying gas engineering, said that the ongoing strike was impacting negatively on the future plans of Nigerian students.
He said although he enrolled for a five-year programme in 2017, he was still in the first semester of the third year because of ASUU constant strike and the outbreak of COVID-19 pandemic in the country.
"My mates who left Nigeria to study abroad have graduated, some are in their final year and it seems those of us in Nigeria are forgotten.
"You don't expect students who spent most of their time on strike and who also studied without properly equipped laboratories to come out with good grades or become experts in their fields.
"I am appealing to the Federal Government to bring back hope to Nigerian youths by putting in some efforts to meet some of the demands of ASUU, at least 50 per cent and this will also make the lecturers not to depend on students for their upkeep.
"I also plead with the government to employ young graduates to teach new technologies and innovations in our universities," Nnamdi-Ikpo said.
Similarly, Ms Gift Nwafor, a student of the University of Calabar, who is studying education psychology, stated that the ongoing strike had caused students lots of harm than good as such she feels frustrated, adding that the strike action was leading some students into crime.
"Honestly, I am very sad and frustrated. My two siblings and I have been at home since February 14, 2022 and our rent for this year would soon expire without being in school.
"My greatest fear is that some of us have gone into crimes. They are into theft, raping and consumption of hard drugs, among others.
"I am appealing to the Federal Government and ASUU to consider our future and call off the strike so that we can go back to school," Nwafor said.
Enugu Govt License To Establish University Of Medical Sciences
The National Universities Commission, NUC, has granted license to Enugu State Government, recognising the establishment of the State University of Medical and Applied Sciences, SUMAS, Igbo-Eno, Enugu State.
The license, issued to Governor Ifeanyi Ugwuanyi of Enugu State, at NUC headquarters, Abuja, yesterday, was sequel to the enactment of the State University of Medical and Applied Sciences, SUMAS, Law, Igbo-Eno, Enugu State, on April 13, 2022.
Presenting the license, the Executive Secretary, NUC, Prof. Abubakar Adamu Rasheed, congratulated Gov. Ugwuanyi and the people of the state "on the establishment of the State University of Medical and Applied Sciences to be located in Igbo-Eno of Enugu State".
The Law establishing SUMAS was presented to NUC by Enugu State government alongside the Academic brief and Master Plan of the new university.
The License recognized SUMAS as the second Enugu State owned University.
With the final stage of granting the license, Enugu State will now have a brand new, full-fledged, State-owned University of Medical and Applied Sciences (SUMAS), Igbo-Eno, Enugu State.
SUMAS, Igbo-Eno has become the 59th State University in Nigeria. Enugu State with two state-owned universities has now joined the league of states with more than one state university.
Reacting, the Deputy Chief of Staff, Government House, Enugu, Prof. Malachy Okwueze, who witnessed the presentation of the license to Gov. Ugwuanyi at the NUC headquarters, Abuja, said that "We can't thank Governor Ifeanyi Ugwuanyi of Enugu State enough for achieving this goal of providing the platform for increased access to quality university education for our teeming youths who struggle year after year to gain admission into the university without fulfilling their desires and  dreams for university education".
According to him "This is especially so for professional courses such as medicine."
U.S Pledges To Boost Cultural Preservation, Promote Learning Among Nigerian Students
The United States government has pledged to support initiatives that promote learning and provide students with opportunity to share ideas in an engaging environment and promote cultural preservation efforts.
Acting U.S. Consul General, James Suor, said modern educational space would stimulate curiosity in the minds of children, support learning, facilitate reflection and promote common ideals between United States and Nigeria.
Strike: We're Waiting For Govt's Reply To Our Presentation — ASUU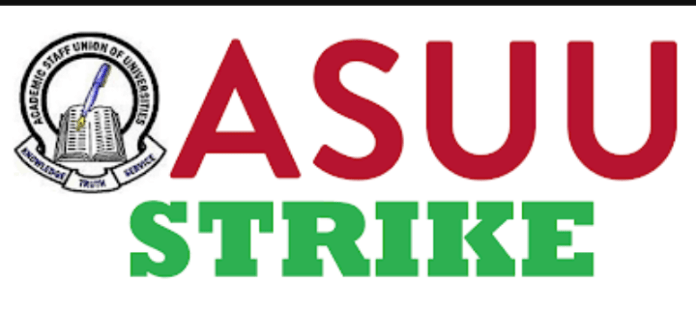 The Academic Staff Union of Universities, ASUU, has said it was waiting for the Federal Government to respond to its presentation, so it could determine whether to call off the over four months strike its members embarked on to press home their demands.
According to the union, calling off the strike soon rests squarely on government responding to its presentation made through a committee set up by the government to negotiate with it.
Checks by newsmen, last Friday, showed that the national leadership of ASUU had made its presentation to the Prof. Nimi Briggs-led committee set up to renegotiate the 2009 agreement signed by the two sides.
Speaking in a telephone chat with The Tide Newspaper, National President of ASUU, Prof. Emmanuel Osodeke, said his union had done its best in the circumstance.
"We have made our presentation to the committee and there is nothing more to add," Osodeke said.
On when the feedback was expected from government, he said: "They promised to get back to us within a short time."
Though he did not say anything about what the union's presentation contained, it was gathered that the union could give the government more time to meet some demands that had financial implications.
When contacted, Briggs said his committee had met with ASUU and had done its assignment.
"We have met and ASUU have made their presentation. Some people sent me on an errand and I have to report to them. The committee is not the final authority on this matter. We are not the ones to determine what will be done," he stated.
It would be recalled that ASUU went on a four-week warning strike on February 14 this year and had extended the strike twice, first, by eight weeks and second, by 12 weeks.
Lagos Solicit Stronger Partnership For Equitable Education
The Governor of Lagos State, Mr. Babajide Olusola Sanwo-Olu has stated that collective committment and political will of government is required to advance quality and equitable education in the State.
The Governor who stated that the ultimate aim of government is to ensure all students in Lagos State receive quality education in a conducive environment confirmed that his administration paid 1.1billion for WAEC students in 2022 as it continue to ensure yearly increment in budgetary allocation for the sector.
The Governor who was represented by the Deputy Governor, Dr. Kadri Obafemi Hamzat at the Y2022 Equal Summit held at Eko Hotel and Suites, Victoria Island stated that the past three years has witnessed tremendous improvement in the overall value chain of the education ecosystem.
His words, "Our model of investment is informed by the desire to entrench 21st century technology into the sector.  This huge investment will ultimately result in significant improvement in learning outcomes''.
Expressing the desire of the state government in taking the education sector into an enviable height, Sanwo-Olu said the education summit is an opportunity to present the education score card and inform Stakeholders of the government's future plans and needs of the industry.
He said the initiative organised by the Ministry of Education in collaboration with the Office of Sustainable Development Goals and Investment will continue to open up opportunities for public private partnership interventions and mutually beneficial investments.
According to him: "Our administration also seeks to recognise and appreciate the tremendous contribution and donations of various private partners who supported the State Government's Education Transformation Plan, most especially during the COVID-19 pandemic and lockdown of schools.
Group Gives WAEC Scholarships To 35 Indigent Students In Imo
The Old Peers of Owerri Development Initiative, a non-governmental organisation based in Abuja, Saturday awarded WAEC scholarships to 35 indigent students from seven schools in the Owerri Municipal Council of Imo.
The award is the second edition following the maiden project in 2021.
Presenting the scholarships in Owerri, the Interim National President of the organisation, Dr Nina Nwulu, urged the beneficiaries to show determination in succeeding in life.
"Under no circumstance should you joke with your education or indulge in drugs.
"The mentality that education is a scam should be jettisoned because in Nigeria, your certificate counts," she said.
Nwulu, who described education as the "hallmark to every development," urged the Federal Government to do the needful in resolving its impasse with the Academic Staff Union of Universities (ASUU).
"The issue is not about salary but about the government putting in place all the infrastructure that would make reading and learning conducive for students.
"We want our students to be exposed to every facility needed to learn properly; the lecturers are equally going through hell in terms of their packages.
"If politicians taught by teachers can be comfortable, why not the teachers," Nwulu, a senior lecturer at the Federal University of Technology, Owerri (FUTO), asked.
The Coordinator of the organisation, Mr Jasper Opara, said the body aimed to assist the beneficiaries fulfill their academic pursuit.
According to him, if the students miss it at this stage of their major examination, they can lose it from there.
Opara, who explained that 25 students were sponsored in 2021, expressed delight that most of them performed excellently in the WAEC examinations.
He explained that the organisation, with different chapters in seven states and some countries, was made up of people from different tribes, who grew up and schooled in Owerri.
Also, the Secretary of the organisation, Mrs Olaedo Ike-Godson, said the body was passionate about helping government and doing charitable work, literacy, health programs, economic empowerment and sanitation.
One of the beneficiaries, Franklin Igwe from Emmanuel College, commended the organisation for the gesture.
"It will spur me to focus more on education so that when I grow up, I will be able to sponsor those around me," another beneficiary, Miss Precious Onyemuche, said. (NAN)