'Expect High LNG Prices For Years To Come'
Since Russia's invasion of Ukraine upended global energy markets, the LNG industry has been grappling with many uncertainties.
In fact, the only real certainty is that spot LNG prices will remain elevated for years to come, even if they don't hit the most recent record highs again.
Key demand centers in Europe and Asia are facing their own set of uncertainties at the end of the heating season and ahead of next winter, the peak demand period in the northern hemisphere.
Uncertainties range from how much Europe will have managed to fill its storage capacity by next November, to how much Asia will buy on the spot market to stock for the winter after lackluster demand so far this year.
LNG supply and demand will also depend on whether Russia will cut off supply to more EU customers after halting deliveries to Poland, Bulgaria, and Finland, and on how cold next winter will be in Europe and Asia.
"We have massive uncertainty over what will happen next," Steve Hill, Executive Vice President at Shell Energy, said at this week's World Gas Conference in South Korea.
"If we convert the Russian pipeline gas volume into Europe in 2021 into an LNG equivalent, and add on the LNG volumes delivered into Europe in 2021, that's 200 million tonnes of LNG equivalent. That's half the size of the current (global) LNG industry," Hill said, as carried byReuters.
It's clear that Europe will not be able to replace all the Russian pipeline gas with LNG soon. The world just doesn't have that much supply capacity and will not have it until some point in the middle of this decade. Larger volumes of LNG are expected to hit the market in 2026 and afterward, when the U.S. projects under development and Qatar's expanded capacity come on stream.
Since the energy crisis of last autumn, Europe has displaced Asia as the growth driver of LNG demand and is no longer "the market of last resort" for LNG cargoes.
"The Russian invasion of Ukraine has further spurred Europe to start reducing its heavy reliance on Russia's piped gas, without which the continent currently risks a severe industrial slowdown and a rush to secure heating for next winter.
As of May 26, gas storage capacity in the EU was 44.45% full, while in the UK, this capacity is over 91% full, according to data from Gas Infrastructure Europe.
Storage levels in Europe are back to normal levels for this time of the year, but there is nothing normal in the global energy market this year, so LNG demand in Europe is expected to remain high through the start of the next winter season.
Moreover, the EU member states are now required to reach a minimum 80% gas storage level by November 1 to protect against potential interruptions to supply. From 2023, the target will be raised to 90% full gas storage by November 1.
"Filling the EU's gas storage before the next winter is crucial for ensuring our security of supply," European Commissioner for Energy Kadri Simson said last week.
While Europe will continue to race to buy much higher volumes of LNG compared to last year, the demand outlook in Asia is less certain. Asian LNG imports fell 10% year-on-year in Q1 2022, with Chinese, Japanese, and Indian imports down 11%, 14%, and 25%, respectively, Wood Mackenzie has estimated.
Overall Asian LNG demand is now expected to be flat this year compared to 2021, WoodMac says.
High spot LNG prices have priced out Asian buyers, while market volatility and uncertainties, and concerns about energy security have prompted a growing number of buyers to seek long-term contracts.
The race for LNG supply could give rise to the second wave of U.S. LNG projects, but new supply will take time to develop, Kateryna Filippenko, Principal Analyst, Global Gas Supply, at Wood Mackenzie, said last week.
But much of this new LNG supply, including from projects that have taken FIDs in previous years, is likely to come only after 2026.
Until around 2026, "Europe will have to compete with Asia for the marginal LNG molecule to satisfy demand – just as it is right now," Filippenko noted.
"Competition between Europe and Asia for limited LNG will be intense until a new supply wave arrives after 2026. Prices will inevitably remain elevated until then."
Paraskova reports for Oilprice.com.
By: Reward Akwu
Since the return of the democratic rule in Nigeria on May 29, 1999, which birthed the 5th Republic, Rivers State as a federating unit in Nigeria has recorded substantial progress from successive administrations in various sectors of governance.
Nevertheless, every human activity, including governance, cannot be entirely satisfactory given the imperfection of man. But what is very crucial is the commitment of a leader to the well-being of the people who have entrusted him with their mandate for a given period.
While I appreciate the laudable contributions of the past governors of Rivers State to both infrastructure and human capital development of the state,  I shall confine myself  in this write-up to what Governor Nyesom Wike has done to make life more meaningful for Rivers people and other Nigerians who are resident in the state.
A fair and objective appraisal of Governor Wike's government from May 29, 2015 to date will reveal a definitive testimony of dedicated, visionary and progressive leadership that has made Rivers State a destination of choice.
The weeks of prejects inauguration, which often witnessed an array of dignitaries such as the Vice President of the Federal Republic of Nigeria, Prof. Yemi Osibanjo, governors, elder statesmen and traditional rulers had been rightly regarded as the most exciting and audacious defining moments of the last seven years.
The accolades showered on Governor Wike by these eminent Nigerians coupled with a robust display of the rich cultural heritage of the communities visited to commission projects have become a reference point in projects inauguration in the country.
In line with his urban renewal programme, the capital territory of Port Harcourt and Obio/Akpor is undergoing massive construction works which include dualisation of roads, underground drains, sidewalks, in Old and New Government Reservation Areas (GRAs).
Also, works are ongoing with the Rumuepirikom, Nkpolu-Oroworukwo, Orochiri-Worukwo and Elimgbu-Rumuokurusi flyover projects after the commissioning of Rebisi, Rumuogba, Okoro-nu-Odo, Abali, Rumuola and GRA flyover bridges some months ago.
Apart from the on-going projects within the capital territory, the governor had completed and commissioned a large number of projects during his first tenure which earned him the sobriquet, Mr Projects, from no less a personality than the Vice President of the Federal Republic of Nigeria, Prof. Yemi Osibanjo.
Among the projects were Trans-Amadi Road, Justice Iche Ndu Road, Patience Jonathan Road, Ogbogoro Road, Choba-Rumuparaeli Road, Alakahia Road, Rumuosi Road, Prof. Tam David West Boulevard, Okoro-nu-Odo Motor Park/Market, etc.
The governor is not oblivious of the fact that the resources of the state are meant for the generality of the people of Rivers State. Therefore, he has also given attention to the rural dwellers by embarking on projects that would improve their standard of living.
The Opobo-Andoni Road that will link the coastal communities with the upland is work in progress. In fact, for the first time in centuries the indigenes of the ancient kingdom of Opobo, last year, drove home in their vehicles.
The second phase of Isiokpo internal roads in Ikwerre Local Government Area has been completed and commissioned as well as the Rumuji – Ibaa – Isiokpo Road in Emuoha and Ikwerre Local Government Areas.
Also, the Omoku-Egbema Road in Ogba/Egbema/Ndoni Local Government Area, Bolo internal roads in Ogu/Bolo Local Government Area, Isiodu Road in Emuoha Local Government Area, Aluu-Rumuekini Road in Ikwerre Local Government Area, Real Madrid Academy have been completed and commissioned.
The first phase of the Kira-Saakpenwa-Bori-Kono dual carriage highway that cuts across three Local Government Areas in Ogoni land has been completed while work is on-going with the second phase of the project.
Similarly, the Ehuda-Odioku-Anwunugboko-Ubeta-Ihuechi- Odiereke Road, Odioku internal roads in Ahaoda West Local Government Area have been completed.
The Sime-Eteo-Nonwa Road linking Tai and Eleme Local Government Areas and the Omuma Road in Omuma Local Government Area have also been completed.
Governor Wike has equally made a tremendous impact in Health sector. Last year, the Rivers State Government commissioned the state-of-the-art Government House Clinic that has been rated highly by many dignitaries that visited the state, including former Governor of Imo State who is also a serving senator, Rochas Okorocha, former Governor of Kano State, Rabiu Musa Kwankwaso; former Senate President, Senator Bukola Saraki; and the Chief Whip of the Senate, Dr Orji Uzor Kalu.
Unveiling the Government House Clinic, Senator Saraki commended Governor Wike for his massive investment in critical infrastructure to jump-start sustainable transformation of the state.
He said that the governor's decision to build the world-class clinic was a demonstration of his commitment to make Rivers State the infrastructure hub of Nigeria.
According to him, with such bold initiative, the state would reclaim its status as the destination of choice for investments in key sectors of the nation's economy.
He advised other governors to emulate Governor Wike on the delivery of quality infrastructure projects in their respective states as a means of ensuring good governance to Nigerians.
The immediate past Commissioner for Health, Professor Princewill Chike, gave a summary of the impressive components of the clinic with the following words.
"The clinic is fully equipped with Operating Theater, with a Monitored Recovery Room; C-Arm for Fluoroscopy; Top End Anesthesia Ventilator and Equipment; One Fully Equipped ICU Room with isolation requirements; latest ventilator and monitoring system; two Emergency Rooms, with oxygen and compressed air outlets, monitoring defibrillator and portable ventilator; Consultation Rooms; fully equipped Endoscopy Suite for intervention in all endoscopes (gastroscopy, colonoscopy, and bronchoscopy), with Electrocautery and Argon Gas and coagulation; fully Automated Cleaning and Drying of Scopes, to minimize infections and prolong longevity.
"The new clinic also boasts of the latest 1.5 Tesla MRI General Electric; 64 slice CT scan General Electric; Ultrasound with different probes (cardiology, abdominal, vascular, OBS); Digital X-Ray; fully equipped Laboratory, independent with high tech machines for haematology, chemistry, hormonal studies ELISA and chromatography, cultures, microscope, blood bank and many other tasks.
"It also has a well stocked Pharmacy with medication storage area; friendly facility for disabled/physically challenged people; sterilization autoclave machines; automated water treatment machine UV and De-ionizer; One OBS room; 4 double bed rooms (total 8 beds), all equipped with a portable monitor with telemetry realtime transmission of all patient's vitals to the central nurse station in the ward; One VIP lounge and room with continuous monitoring Wi-Fi as well 24 hours ambulance service.
"All the equipment, monitors and desktops are connected through a computerized integrated system linking the Radiology with the Laboratory and the Electronic Patient Records, that can be checked and managed on-site, but also remotely, anywhere in the world, using an authorized access.
"Finally, the new clinic, parades a dedicated team and personnel that has undergone orientation/training on the use and working of the facility/available equipment"
Before the commissioning of the clinic, Governor Wike had also made available 16.6 billion naira to the Rivers State University, out of which about 7.6 billion naira was earmarked for the establishment of College of Medical Science, Faculty of Basic Medicines, Clinical Science and Pathology building at the institution.
Owing to this plausible development, this college has fully commenced its programme for the award of Bachelor of Medicine and Bachelor of Surgery (MBBS) and also strengthened accreditation at the Rivers State University Teaching Hospital (RSUTH).
The Rivers State Government had also established a scholarship scheme for Rivers indigenes studying at PAMO University of Medical Sciences to facilitate the access to medical education, which in turn will reduce the gaps in doctor-to-patient ratio in the state.
The Rivers State Executive Council in October, 2020, gave approval for the reactivation of Kelsey Harrison Hospital and Dental and Maxillofacial Hospital in addition to the renovations and upgrades of major hospital structures and facilities that have been going on from time to time.
Again, the Wike administration has completed and commissioned the 250-bed space Mother and Child Specialist Hospital.
Indeed, Governor Wike has turned the state into a huge construction site so much so that whichever direction one is coming from, massive development projects are either going on or have been completed.
Repeatedly, the governor has made it clear that he will continue to deliver the dividends of democracy to the people of the state until the last day of his tenure. He has also assured that he will not leave abandoned projects for his successor.
"Nobody that will succeed me will complete any of my projects, because I will complete all my projects before I go. I won't leave any project burden for my successor. When the new person comes, let him initiate his projects.
"Before now, APC said we are doing roads only in Port Harcourt and Obio/Akpor Local Government Areas. Now, they can't talk again. We have commissioned projects in Khana, Gokana, Eleme. The other day we were in Akuku-Toru, yesterday, we were in Emuoha. We are government for every Rivers person and every local government", Governor Wike said.
Inaugurating the Rumuekini-Aluu Road, former Secretary to the Government of Federation, Senator Pius Anyim, said he was delighted to associate with Wike because he had demonstrated through his projects that he was truly bonded with Rivers people and knew their needs.
According to Anyim, it is this level of leadership that has enabled Wike to conceive projects that were tailored to meeting those needs, and eliminate the possibility of having white elephant projects.
"Governor Wike, because you commission project, it is certain no project will be abandoned. I am proud to identify with the progress that you have made.
"I am proud to belong to the PDP family. It is the spirit of PDP that is at work in your government and that spirit of PDP will come to work in Nigeria.
"When I was invited for this commissioning, I did not really appreciate the magnitude of the work, the real impact of the governance Governor Wike has brought to Rivers State.
"But as we drove down here, the impression I have is that Port Harcourt has expanded. It is only the government of the people that can expand a city to the extent that Port Harcourt has expanded".
The Wike administration has, without doubt, performed exceptionally well in the promotion of security and protection of lives and property in the state, with the launching of operational security outfits such as C4I, Operation Sting and Neighborhood Watch.
Governor Wike has instituted financial incentives for the officers and men of security agencies, including well meaning donations to the families of those who lost their lives in the line of duty, as a further step in the robust, pragmatic strategy and holistic approach of the administration to strengthen the security architecture of the state.
At the tail end of last year, Governor Wike took a decisive step to end artisanal refineries also known as "kpofire" in the state in a bid to check criminality, fire explosions and the emission of sooth. He personally stormed the forests in Ogbodo and Ibaa communities (in Ikwerre and Emohoa Local Government Areas respectively) and ensured that the illegal crude oil refining sites were destroyed.
Obviously, Rivers State has gained so much under the leadership of Governor Wike. His determination to leave the state better than he met it underscores his undying love for the people of the state who gave him the mandate to administer their affairs for two consecutive tenures.
Customs Foils Smuggling Attempt Seizes Goods Worth N1.48bn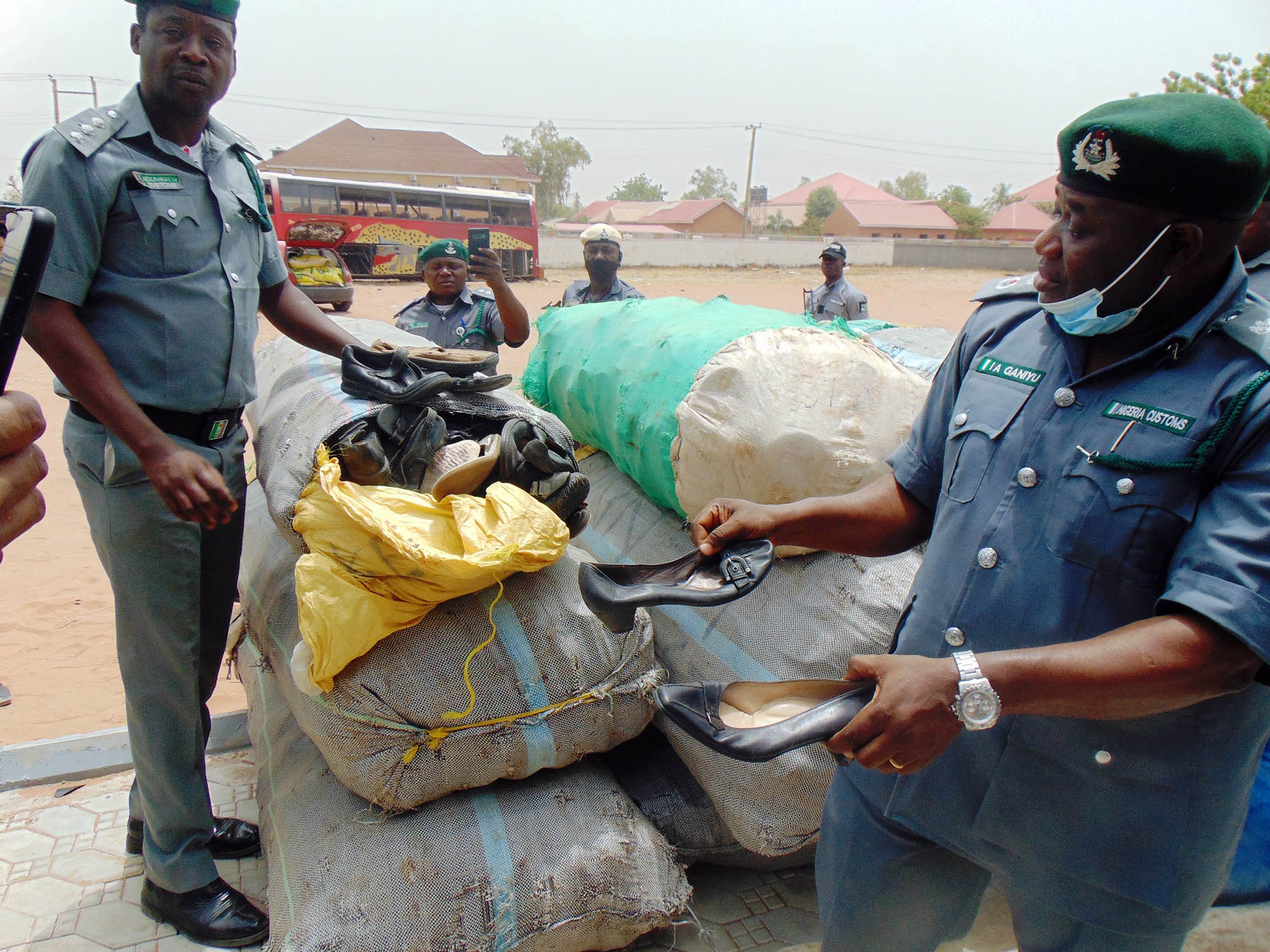 Seme Command of the Nigeria Customs Service (NCS), says it has intercepted a total of139 cartons of expired soft drinks the command also stated that it intercepted a total of 325,950 litres of Premium Motor Spirit (PMS), otherwise locally known as petrol, estimated at over 10 tankers of 33,000 litres each.
The Customs Area Controller, Compt. Mohammed Jibo, during a press conference on Friday, said aside the 139 cartons of expired soft drinks intercepted, it also impounded some consignments of illicit and restricted medicaments.
Speaking on the war against smuggling of petroleum products, with respect to a recent offensive by his officers and men, Jibo said, "The continuous surveillance of the beaches and creeks by our men has yet recorded another huge interception of 1,600 jerry cans of petroleum product of 30 litres each.
"The arrest was made at the late hours of Tuesday, 7 June, 2022, along Seme- Badagry waterways".
He listed the illicit drugs to include 100 cartons of gabadol/tramadol, 120 milligrams, 2.8 kilograms, 306 parcels of cannabis sativa and 132 packets of tramadol capsules; with a combined Duty Paid Value (DPV) of N1, 481,107,671.00.
He explained that the seized petrol alone intercepted along the Badagry and Seme creeks has DPV of N65.6million.
The customs boss said other items seized are 86 pieces of Apetamin syrup; 302 prices of Dynewell Syrup; 50 pieces of Baba Yellow Syrup; three sachets of Rofhymol, 32 bottles of Cough Syrup; 99 cartons of fearless Energy Drinks and 139 cartons of Soft Drinks with a DPV of N1.48billion.
Jibo further disclosed that two suspects were arrested in connection with some of the seizures, adding that the seized petroleum products would be auctioned in line with Standard Operating Procedure (SOP) relating to seized perishable items.
He attributed the impressive performance of the Command, officers and men to renewed strategies and the uncommon support of the CGC's led management.
"Professionalism, discipline, good working relationship with our stakeholders, cordial relationship with the host communities, and collaboration with other security agencies, were part of strategies responsible for this scorecard" he said.
By: Nkpemenyie Micdominic, Lagos
Fighting Insecurity In A Democracy
By: Nelson Chukwudi
The birth of the Fourth Republic on May 29, 1999, ushered in a new democratic experiment after many years of military dictatorship. This journey actually began with the Third Republic's botched June 12, 1993 election, which was presumably won by the then Social Democratic Convention (SDC) Presidential Candidate, Chief MKO Abiola, whose running mate was Babagana Kingibe. Both had defeated a Kano son, Bashir Tofa, in a landslide victory adjudged by the international community as the most acceptable democratic election in Nigeria's history. But the Northern cabal would not agree.
That epochal event brought to the fore the high level of injustice and the skewed political foundation that have since shaped the social, political and economic direction of Nigeria. The consequential upheavals which enveloped the country in the aftermath of the annulment of the most free, fair and credible election have yet to eclipse. No doubt, June 12 unleashed new security architecture, and changed the nation's security order.
The new security order began to take root in June, 1993, even in the face of brutal repressive tactics orchestrated by the military. The glaring threat to Nigeria's security, majorly forced the formation of an Interim National Government by the Gen Ibrahim Babangida regime. In a clear move to douse tension, he appointed Abiola's kinsman, Chief Ernest Shonekan as head. But in a coup led by Gen Sani Abacha, that appeasement option was jettisoned for a democratic transition process that was marred by turbulent hic-cups.
With many ethnic nationalities in the South obviously disenchanted by the denial of their right to govern the nation by the North, as exemplified by the manoeuvres and intrigues surrounding the annulment of the election, various groups resorted to arms struggle to push their political interests. Just as the National Democratic Coalition (NADECO), Ijaw National Congress (INC), Ohanaeze Ndigbo, and others were working to achieve political inclusion and participation through non-violent, intellectual engagements; some other more youthful wings of their communities were reticent and bellicose, like the Odua Peoples Congress (OPC), Ijaw Youth Council (IYC) and some militant cells across the Niger Delta fighting for resource control.
Even though the Abacha regime deployed crude force to quell the agitations, the movement dislocated the social order and entrenched harbingers of insecurity that amassed large swathe of illegal arms and ammunition in the hands of non-state actors, who used them against government assets and perceived agents. Then, Abacha died, leaving behind a nation riddled by disturbing security challenges.
However, seeing that the agitations would not just fizzle out without any clear attempt to remedy the grievances of the South with the Presidency of the country, the Gen Abdulsalami Abubakar regime, which took over after the sudden death of Abacha, contrived a transition programme that gave the Yorubas the opportunity to produce the president in a national election. Even so, pressure from the Southern agitators, indeed, contributed to the emergence of the Fourth Republic on May 29, 1999, but their activities no doubt laid the foundation for insecurity in Nigeria today.
To extinguish the Southern agitation, the Abdulsalami Abubakar regime, in a compromise deal, released Gen Olusegun Obasanjo from prison, and gave him the ticket of the newly formed Peoples Democratic Party (PDP) to contest for the presidency against his Yoruba brother, Olu Falae. Although Obasanjo's victory in that election significantly acted as a soothing balm to calm frayed nerves in the South, the seed of discord and militarisation of social fabric in the communities have remained untamed, and therefore, a dangerous cancer and monster threatening the peace and unity of the country.
The Odi and Zaki Ibiam massacres, the Zango Kataf and Jos killings on the Plateau, among other fratricidal pogroms were indicators that the culture of hate and intolerance has been assimilated, and therefore, wittingly or unwittingly internalised across many hitherto friendly neighbours along religious, ethnic, tribal and cultural lines. Little wonder that during the eight years of Obasanjo presidency, militancy in the Niger Delta laced with kidnapping and hostage taking, attacks on oil and gas facilities and crass sabotage of pipelines, flowstations and power plants, including killings were commonplace. Elsewhere in the South-East and South-West, uneasy calm pervaded the atmosphere, with the military on red alert to crush any ugly uprising.
In the North, Obasanjo's deployment of iron fist rather than engagements and dialogue in quelling social disorders in Kaduna and Plateau, just as was also the case in the South resulted in the springing up of armed religious fundamentalists and Islamists. It emboldened the likes of Sheikh Mohammed Yusuf, the progenitor of Boko Haram, to intensify his exploitation of the mass of illiterate and ignorant amaljiris, extending to Bauchi and Yobe, some of whom he helped travel to Libya and Sudan for combat military training in alliance with underground foreign collaborators. His admirer and co-traveller, Sheikh Ibrahim El-Zakzaky also clandestinely continued the push to broaden his access to radical Iranian fundamentalists to import, promote and spread extreme Islamic traits and cultures in Kaduna and neighbouring states, including Zamfara, Kano and Jigawa.
The unwholesome activities of these elements, to a very large extent, created the atmosphere of insecurity in the North as a counterforce to the agitations in the South. The extrajudicial killing of Yusuf in police custody and the repressive tactics of Obasanjo aided and abated the surge of insecurity in the North, just as the South was already terrorised by disoriented but armed restive youths. Thus, the exit of Obasanjo after eight years in the saddle in 2007 without engaging the distraught armed youths across all regions in dialogue and negotiation was, by the assessment of many experts, a disservice to the fatherland. This is because, in a democracy, honest engagement, strategic dialogue and guided negotiations are embedded tools for resolving disagreements and fashioning more defined path to social peace, political stability and economic growth and development.
Therefore, Obasanjo's arranged handover to Katsina-born Umaru Ya'Adua as a way of returning political power to the North may, to the PDP and the cabal, have been the best option to achieving justice and equity. But it obviously was not the most potent answer to the question of insecurity in the land. Indeed, Ya'Adua's subtle approach to reconciliation, reintegration, rehabilitation, and resettlement, which was the cornerstone of the Presidential Amnesty Programme (PAP) designed for Niger Delta militants, was applauded as meeting global benchmark for peace building; the strategy was not religiously implemented to achieve the desired goal, thereby leaving certain armed youths behind.
Ya'Adua's death after a protracted illness, and Dr Goodluck Jonathan's assumption of the Office of the President in 2010, and his eventual election to serve full four-year tenure in 2011 was definitely a tonic for the Niger Delta renaissance. But the seed of anger and hate already showed in the North over the circumstances of Ya'Adua's death did not help the peace and stability of the country. Instead, it exacerbated the crisis of confidence in the polity, and triggered the resurgence of Boko Haram as a full-blown terrorist operation, first in the central axis of Kogi, Nasarawa, Abuja, Kaduna, Kano, Katsina, Zamfara, and Jigawa, before moving North-East to Yobe, Borno and Adamawa with the aim of linking its transnational collaborators in Chad, Cameroon, and Niger. Those splinter groups and their admirers are still enjoying, though illegally, the resources of the commonwealth, unleashing severe environmental devastation and pollution on the Niger Delta.
The murderous events of the spread of Al-Qaeda from Afghanistan's Taliban to the Middle East, and its transmutation to Islamic State (ISIS) and desperate attempts to establish a Caliphate in Iraq are well documented by history. Similarly, the fall of Libyan leader, Col Muammar Gaddafi in 2011, and the convergence of Islamic fundamentalist fighters in the Sahel, as well as their movements to certain West African countries to cause instability have not helped promote peace and security of harmonious communities in the North, particularly in those communities at the fringe of the borders with Niger, Chad and Cameroon. Their push to settle in hitherto peaceful communities has not been welcoming to many, thereby leading to bloody attacks in efforts to subjugate the people.
Of course, the use of armed and murderous herdsmen to penetrate the communities in North-Central, South-South, South-West, and South-East, and moves to replicate the Caliphate's spectre of Raqqa in Iraq and Syria through acts of terrorism in Northern Nigeria, have unleashed unceasing momentum of insecurity, bloodletting and kidnapping, sometimes, for ransom to fund their operation. The terrorists, whether they are bandits, Boka Haram or Islamic State in West African Province (ISWAP), have also used revenues from drug trafficking to fund their heinous enterprise. They have been fighting endlessly to create an atmosphere of fear, tension and instability in Nigeria.
Muhammau Buhari's election in 2015 on a commitment to end insurgency and insecurity, and the trust Nigerians bestowed on him as a former military General, has not resulted in the resolution of the crisis as insecurity still festers. The setting up of the North-East development Commission (NEDC) in the framework of the Niger Delta Development Commission (NDDC) was a deliberate response to appease the North. Although certain experts argue that Boko Haram has been weakened and greatly neutralised in the North-East, its activities could still be felt once in a while in vulnerable communities, including Maiduguri. The resettlement efforts in Chibok, Damboa, Dapchi, Michika, Monguno, among others in the North-East, have not been executed smoothly without attempts to truncate the process.
In the North-West, the terrorists masquerading as bandits have not toned down their dastardly and barbaric activities. The orgy of kidnapping and killings, including of school children and worshippers in the house of God, has been relentless. Even Islamic leaders, such as Sheikh Abubakar Gumi and others, have canvassed negotiation and amnesty for terrorists as a panacea to the insecurity. The National Assembly has even gone ahead to pass bills creating development commissions across all the zones of the country as a political weapon to douse the tension and restore peace and order in the society.
In the South-East, promoters of Biafra have also taken up arms to assert their resolve to defend their cause for self-determination. The wanton killings and horrific bloodletting in Igbo communities have remained a cause for concern to genuine stakeholders and advocates of peace and unity of Nigeria. The arrest and prosecution of the leader of Indigenous Peoples of Biafra (IPOB), Nnamdi Kanu, has not also helped the peace building process.
In all these, the trillions of Naira and billions of Dollars invested in arms and ammunition procurement, including fighter jets, such as the American Tucano war-machines, armoured personnel carriers, among others, have not resulted in clear victory for the Armed Forces against the harbingers of terrorism and insecurity in Nigeria. Also, the massive weapons, both light and heavy, procured for the security agencies and other morale boosters, have not resulted in the resolution of the security infractions across the country. The deployment of thousands of tactical military personnel to the frontlines have been sustained and consolidated. But the peace has yet to be achieved!
Therefore, like military experts and technocrats often say, 'military operations and actions alone do not end wars, diplomacy does'. They argue that no war in history has ended through military exploits. They insist instead, that all military conflicts have ended at the negotiating tables where thorny and complex issues were extensively diagnosed, analysed and remedied for the greater good of the larger population, not the politicians and military generals.
While this concept is understandably germane in some aspects of the Nigerian security crisis, such as the Biafra, Yoruba Nation, and Niger Delta agitators simply because of the clarity and consistency of their objectives; the ISWAP, Boko Haram and bandits' goals are inconsistent and not clear-cut. Therefore, while fighting insecurity and winning the war in the South through dialogue and diplomacy may be plausible, the same cannot be projected in the case of the North until a clear pattern and objective is identified.
Like Rivers State Governor, Chief Nyesom Wike said during his inaugural address on May 29, 2015, "No government is worth any value if it cannot guarantee the security of lives and property. I assure you that never for a moment will our administration be a captive of politics, when it comes to public security. We have the political will to fight, defeat crimes and criminality in Rivers State. There will be effective coordination, collaboration and synergy with the Federal Government, the law enforcement agencies and our community leaders in the prosecution of the war against cultism, kidnapping and armed robbery. We urge our people to fully co-operate with us in this direction".
Buhari, in 2019, declared June 12 every year as public holiday to celebrate the success of Nigerian democracy and the forces behind it. This, to many, was another conduit for appeasement of dissatisfied politicians and individuals in the nation's body polity. But whether this step has crystallised in promoting peaceful co-existence and religious harmony among the divergent ethnic groups is not certain.
Therefore, as Nigerians celebrate June 12, it is important to appeal that since the cardinal responsibility of any government is the protection of lives and property of every citizen, fighting insecurity in a democracy, should be carefully thought through. Different benchmarks should be adopted in addressing the various challenges, including strategic engagements and dialogue. In the same vein, where negotiations fail, tactical military approach, including mercenaries and clandestine sabotage operations should be deployed to consistently destabilise the terrorists' leadership structures, and subjugate them to submission to Nigerian political authority and sovereignty. This may be a window to winning the fight against insecurity in a democracy such as ours.
But honestly, fighting and winning the war against insecurity in a democracy goes beyond military and security operatives' arms confrontation with the elements of destabilisation. In fact, various tools must be employed. These include building a resilient economy capable of sustaining strong employment profile for the youths, building vibrant revenue windows for all strata of the society. It also encompasses the building of strong corporate institutions and agencies in both private and public sectors to withstand shocks in the social, political and economic system. It further involves entrenching justice and equity as natural principles of governance, just as freedoms and liberty must form bedrocks for human interactions in all spheres of life.
To win the fight against insecurity, political leaders must provide enabling legislation and implement policies that promote justice and inclusion for all, including those with disabilities. The political class must also work in concert with the private sector to establish drivers of an economy that is strong and capable of sustaining and accommodating the labour force, and providing wages that encourage merit-based work environment that is productive. Indeed, labour must be properly compensated with commensurate wages. Seniors and veterans must be paid their pensions, and social security valves must be provided for the vulnerable ones in the society.
Fighting insecurity in a democracy is beyond procuring arms and ammunition for the Armed Forces and the security agencies. It must include building consensus and buy-in for communities, which must be seen to be working as equal stakeholders in governance, so they can furnish security agencies with critical intelligence to fight crime and criminality. Political leaders must deliver people-oriented governance, investing in infrastructure, human capacity development, and promoting justice, equity, freedom and liberty for all.
They must eschew corruption in the management of public resources, and ensure prudent and equitable distribution of resources to alleviate poverty. In fact, leaders at all levels must ensure that levers of social unrest and discontent are addressed early enough to avoid escalating grievances in conflicts and crisis in any form. These are the ways to fight insecurity in a democracy. Rhetoric and grandstanding, brute force and miscarriage of justice, and other actions that deny people their legitimate rights, freedoms and liberties as well as access to available opportunities to achieve their potentials must be jettisoned.
Democracy thrives in an atmosphere of justice, equity, freedom and inclusion. The opposite brings about insecurity and instability.
Happy Democracy Day to Nigerians!