3,000 Hunters Seek Light Weapons To Fight Kidnappers
Over 3,000 hunters in Emohua Local Government Area of Rivers State, have entreated the state government to provide light weapons, communication gadgets, patrol vehicles and funding to enable them battle kidnappers and other criminals terrorising their communities in the area.
The hunters under the auspices of Professional Hunters of Nigeria, PHN, made the demand following reports of mounting abductions and robbery activities on parts of the East-West, Emohua-Kalabari roads, Obelle and Ibaa communities of Emohua.
Director of Intelligence and Community Relations Officer in the zone, Romanus Amadi, said: "If you listen, every minute of the day you hear kidnapping, killings, raping and other social vices. Professional Hunters is formed and registered by the Corporate Affairs Commission, CAC, and Federal Government is aware of our existence. We are not indulging in any crime, but we are working to curtail crimes.
"Where we hear crimes happening, we will move to that area to arrest the situation. We have the capacity to fight crime. We are not just in Rivers State alone. We are brave enough to battle insecurity. We cannot do it without the support of government.
"If government will back us up, we will deliver. We are not demanding for sophisticated weapons, at least small arms that we can use to face this issue, then we are ready. We are over 3,000 persons.
"Without communication you cannot work effectively. We need communication gadgets. We need patrol vehicles. We also need money to run our operations. If government can support us with finance, all is settled.
"We are trained by the military and police, we attended the training at Nonwa, (Tai Local Government) which government is aware of. We are fit enough, all we need now are light weapons, not sophisticated weapons so that we can guard ourselves.
"What you should understand is that hunters mean those who know the in-and-out of the bush. They know everywhere in the bush. It is no longer for those who are trained to shoot and kill animals.
"We want to apply the knowledge we use in the bush in the community. Most of us know the environment very well. So if kidnapping happens now within this area and the information gets to the hunters, we will surround the area and get the victims out.
"This organisation has rules and regulations binding us because we are a government- recognised organisation. We are guided by rules in all we are doing. None of us will do more than he is expected to do.
"Once you, as a member of hunters misbehave, we hand you over to the police immediately. Police has the power to detain you and send you to court for prosecution. We do not have the right to prosecute, but we have the power to send you to the police," he said.
General Commander, PHN, Emohua, Samuel Okereke, stated: "Our target is to eradicate crime, wipe away insecurity in our communities and the local government. Secondly, to bring back respect to men because everybody is living in fear of particular persons using their offices to disturb the peace of the communities.
"These are not supposed to be, so that the elderly ones in the community will have their peace. These are the reasons we are on ground to make sure there is security in all communities as part of community policing.
"Last time in Rumuodogo 1, there was a kidnap case and my men went and apprehended four suspects and they were handed over to the police. These are the things we are planning to do. We want to ensure that our young ones will not be involved in kidnapping and robbery. Anytime crime happens, we know the nooks and crannies of communities. We are perfect hunters who know places in the forest, there is no hiding place for criminals," he said.
Rivers Gets New NCoS Controller
A new Controller of Rivers State Correctional Centre, Felix Lawrence, has assumed duty in Rivers Command following an administrative reshuffle within the Nigerian Correctional Service (NCoS) nationwide.
This is contained in a statement made available to newsmen, the Command's Public Relations Officer, DSC Juliet Ofoni.
According to the statement, Lawrence took over from the Assistant Controller General of Corrections, Alex Oditah, on June 24 at a handover ceremony in Port Harcourt.
The statement added that Oditah had similarly been deployed as Desk Officer ACG Restorative Justice at National Headquarters, Abuja.
It also stated that Oditah, at the occasion, urged all staff to give the new Controller the maximum cooperation to achieve "necessary positive change and the mandate of the service''.
Oditah also expressed appreciation to staff for their diligence to work, adding that he appreciated any action taken to move the State Command forward.
Also, Controller Felix Lawrence, at the occasion, thanked God and the Controller General of Corrections, Haliru Nabab, for his posting to Rivers Command.
He urged all staff to give him maximum cooperation, adding that truancy would not be tolerated.
The statement added that Lawrence had served successfully in various capacities, including State Headquarters, Lagos Command, and State Headquarters, Asaba, Delta.
He also served at Medium Security Custodial Centre, Shendam, Plateau; Medium Security Custodial Centre, Kuje; Medium Security Custodial Centre, Kano; and Medium Security Custodial Centre, Ikoyi.
Woji Community Unveils Cars for Transport Company …Awards Chieftaincy Titles To Former Andoni LG Chairman, Others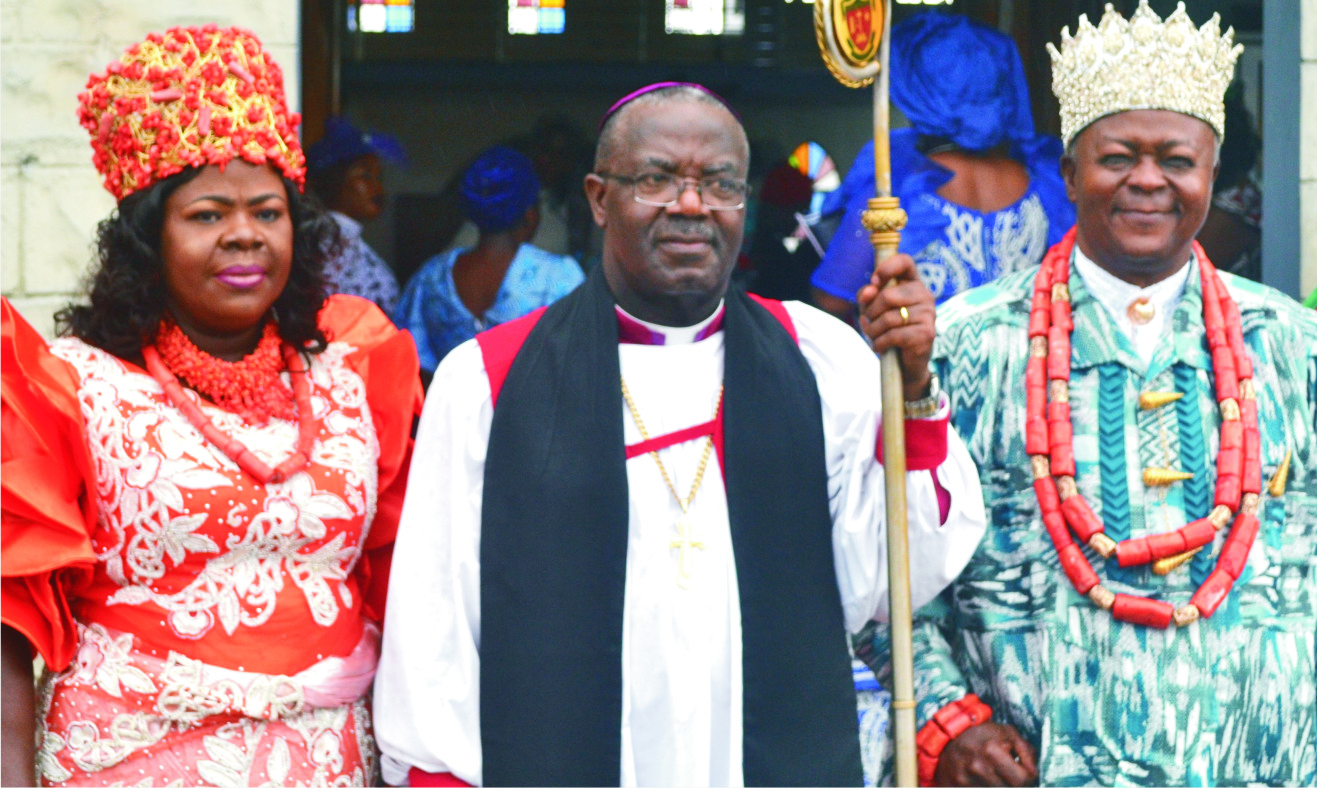 Woji Community in Obio/Akpor Local Government Area of Rivers State, yesterday, unveiled three vehicles to kick-start its transport company.
The community also conferred chieftaincy titles on a former chairman of Andoni Local Government Area, Hon. Orom Nte Ereforokuma; Mr Ani Anthonio Onu and Engr. Andrew Aligbe.
Unveiling the vehicles yesterday during the thanksgiving service at St. Nicholas' Anglican Church, Woji, to mark his seventh year anniversary as paramount ruler and Nyenwe-Eli Woji, Eze Emeka Ihunwo, said the community set up the transport company to generate funds for community development and provide employment for deserving persons.
He announced that the fleet of three Toyota Sienna vehicles would be integrated into the transport firm floated by the Diocese of Evo, Church of Nigeria for easy management.
He highlighted several development projects executed in the community since his coronation seven years ago to include scholarships to indigent students, manpower development programmes for the youth, and support for indigent women of the community, among others.
Speaking while dedicating the cars, the Bishop of the Diocese of Evo, Church of Nigeria (Anglican Communion), Rt. Rev. Innocent Ordu, commended Woji community for its sense of unity and for setting the pace in community development since Eze Emeka ascended the throne of Eze Woji.
He urged neighbouring communities top borrow a leaf from Woji to ensure peace and development in their areas.
He prayed for God to sustain the leadership of the community and grant them the wisdom to continually maintain peace and development of the community.
In his sermon, the Vicar of St. Nicholas Anglican Church, Woji, Rev. Canon Kingsley Ohajianya, called on the people to put their trust in God always to ensure their unity and progress.
The cleric, who spoke on the topic "Obtain Help from Sanctuary" during his sermon, said God does not fail those who put their trust in him as the only place one can get help is from God.
The man of God said nobody should go to the occult world to seek for help as any power outside God has expiry dates.
On Saturday, Eze Emeka Ihunwo had conferred chieftaincy titles on three non-indigenes of the community. He conferred the title of Eze Chituru of Woji on Orom Nte. Ani Anthonio Onu was conferred with Eze Obanya obi of Woji while Engr Aligbe bagged Eze Chigozilemma of Woji.
Eze Woji charged the awardees to be good ambassadors of Woji Kingdom, adding that the kingdom does not sell its chieftaincy titles but will give to deserving persons who have excelled in their contribution to the development of the community.
Ihunwo said it has been the custom of woji to recognise non- indigenes living with them, adding that even foreigners have in the past been recognised awarded titles.
He said the community has also extended its scholarship programmes and employment opportunities to non-indigenes in the community, and urged others to reciprocate same in their communities as no community can be built by only indigenes.
He urged the inducted chiefs to build synergy with the community with a view to fast tracking its development and charged them to take the titles as one of those good fortunes of life.
The awardees who spoke to newsmen thanked the Paramount Ruler and the Woji Council of Chiefs for the honour, promising to remain law-abidding as well as support the development of the community.
By: John Bibor
VC Charges Tertiary Institutions On Research
Acting Vice Chancellor of Ignatius Ajuru University of Education (IAUE), Prof. Okechuku Onuchuku, has called on tertiary institutions in Nigeria to move away from the principles of "publish or perish" and focus more on research results and outcomes that would attract industries for funding.
Onuchuku gave the advice recently when he received the Local Organising committee members of the Fifth Annual International Conference of the Society of Agriculture, Environmental Resource and Management (SAEREM) on a courtesy visit in his office.
Noting that the outcomes and results of such research would not only solve societal problems, but also help the university to generate funds from its commercialisation and capitalisation, the Acting VC said "industries and private individuals that invest in such research project would also reap from their investment with government regulating".
He encouraged lecturers to make their research work visible for citing, emphasizing that such activities would increase the popularity of the scholar and the rankings of the University.Onuchuku commended the Committee for making IAUE their choice destination for the forth-coming conference with the theme, "Impacts of Climate Change and Oil Pollution on Environmental Resources, Food Production, Biodiversity and Economy Growth", stressing that the conference would provide avenue for cross fertilization of ideas and showcase the institution.
He also stated that participants would gain from the interactions and presentations that would enhance their academic growth.
The Chief Executive hinted that the agricultural sector remains the largest employer of the labour force in the country and encouraged the Committee to come up with ideas, best practices and break-throughs that can improve food production, promote sustainable food solution, increase food security and eradicate hunger and poverty.
Earlier, the Chairman of the Local Organising Committee of the Fifth Annual International Conference of SAEREM, Professor Godfrey Kalio, expressed appreciation to the Vice Chancellor for the support towards the hosting of the conference, saying that the conference would impact globally on the rankings and visibility index of the University.
In his vote of thanks, Dr. John Chukwumati of the University of PortHarcourt thanked the Vice Chancellor for the opportunity to visit.