Embrace Wike's Think Home Philosophy, Monarch Urges Rivers Indigenes
Indigenes of Rivers State, especially those in the diaspora have been urged to embrace Governor Nyesom Wike's "think home" philosophy and attract development to their various communities.
Addressing journalists recently on the fate of Rivers State and 2023 elections, a monarch and Amanyanabo of Okochiri Kingdom in Wakirike Local Government Area of the State, King Ateke Tom, reminded the people of the importance of wooing investors to come in and invest to create employment for the citizenry.
Tom, the Sekuru 1 of Okochiri Kingdom, said it is time for sons and daughters both at home and in the diaspora to come together to create more development for their communities for posterity.
According to the monarch, "we look at the dire need for more investments in our communities on jobs to be created and peaceful co-existence sustained, it becomes necessary for our people to put heads together on how to drag development via investment in order to bring socio-cultural, physical, economic and human capital investment.
"Also, our people overseas should use this conviviality to know themselve better," Tom advised.
The Okochiri monarch said it was high time Rivers people remembered their roots, by contributing their quota through investments in the state.
He stressed that home coming of Rivers' prominent sons and daughters from abroad "would promote many produce results as they woo investors, no matter whose ox is gored.
He noted that for development to be sustained in Rivers communities, there must be respect to constituted authorities.
Meanwhile, King Ateke Tom has admonished the youth to shun money-bag politicians ahead of the 2023 general elections, whose interest is to use them as canon fodders to unleash mayhem in the State, adding that they should disregard the antics of such politicians for their own betterment.
By: Theresa Ebizimor
Fubara/Ordu Ticket'll Sustain Wike's Legacies -Tobin
By: Wokoma Emmanuel
The Chairman, Okrika Local Government Council, Hon. Akuro Tobin, has expressed delight at the emergence of Dr. Ngozi Ordu as the running mate to the governorship flagbearer of the Peoples Democratic Party (PDP), Amaopusenibo Siminialayi Fubara. He said that the joint ticket would guarantee the sustenance of the enviable legacies of Governor Nyesom Wike's administration anchored on peace, security and good governance.
Thanking the governor for what he called his leadership role, which, he said, was instrumental to the peaceful conduct of the PDP primaries in the State, Hon. Tobin stated his conviction that guber aspirant is capable of continuing the development f the State.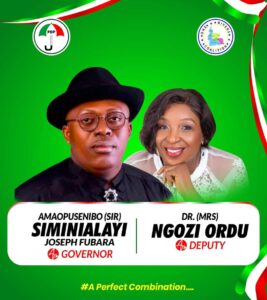 "Fubara as a humble, peaceful, visionary and Godfearing man, will sustain the worthy legacies of Governor Nyesom Ezenwo Wike, the Dean of quality projects, who has done alot to entrench peace and good governance in Rivers State.
"As a technocrat, brilliant accountant, and dedicated party man, he will uphold the manifesto of the party and the policy thrust of the present administration, if elected Governor of Rivers State come 2023", he said.
Recalling that Sim Fubara in his acceptance speech as the PDP governorship candidate promised to build on the achievements of the governor, the Council boss called on Rivers people to give him their support, saying "it's what we owe not just to ourselves, but to our generations.
"Knowing that development is the bedrock of leadership, it's only right that we give him the opportunity to continue in the development pace set by the Governor," he urged.
Tobin expressed appreciation to Gov. Wike for his "effective leadership role and enhanced democratic process that gave level playing ground to all aspirants throughout the party primaries".
NDE Trains 50 Goat Farmers In Rivers
The National Directorate of Employment (NDE), has commenced a five-day training of 50 farmers on Small Stock Goat Production in Rivers State.
Inaugurating the training in Port Harcourt, Director-General, NDE, Mallam Nuhu Fikpo, who was represented by the Director, Rural Employment Promotion (REP), Mr Edem Duke, said the Federal Government was anxious to roll out more agricultural programmes to enhance food security in the country.
Noting that Rivers State was one of the 18 states that were chosen for the five-day training, Fikpo said the programme had an empowerment component, adding, "we are going to train 50 people, but will resettle those who are serious with the training.
"We believe that at the end of this programme, you will be able to take your destiny in your own hands and start a new life for your good and that of your environment.
"We have a model revolving loan seed. We are going to empower you through the model revolving where you will be given two goats, one male and one female.
"You will pay in kind by giving back a kid reproduced by the goats after three months which we will put together to settle other trainees that will be coming after you.
"We will also teach you how to know the types of breed to train, so that you will make choice of the breed you want after training," he said.
Fikpo commended NDE in Rivers State for carrying the Federal and State Ministry of Agriculture along in its programmes.
Earlier in her speech, the Rivers State Coordinator of the directorate, Mrs Maureen Okeji, said, "agriculture has taken over the test of time globally as the world works seriously towards food security."
Okeji urged the participants to focus on the training to enable them to benefit from the empowerment programme at the end.
Similarly, the representative of the Federal Ministry of Agriculture, Mr Sokari Christain, advised the beneficiaries to take the training seriously.
Christian warned the participants against selling the seeds that would be given to them at the end of the programme.
He assured them that the ministry would add the names of the genuine farmers who were participating in the programme in the compendium of farmers in the ministry.
Also speaking, the Permanent Secretary of Rivers State Ministry of Agriculture, Mr Maurice Ogolo, said, "agriculture is a very good profitable business and cannot be over-emphasised.
"If we don't embrace agriculture today, it will be very dangerous, because it has the capacity to employ high number of Nigerians."
He stated that the state ministry of agriculture was desirous to collaborate with NDE.
Ariolu, Others Hail Wike's Commitment Towards NIESV's Success
Chairman of Obio/Akpor Local Government Council in Rivers State, Barrister George Ariolu, and several other prominent personalities in the area have commended the immediate past President of Nigerian Institution of Estate Surveyors and Valuers (NIESV), Chief Emma Okas Wike, for his dedication and commitment towards the success of NIESV over the last couple of years.
They made the commendation during the thanksgiving reception of the immediate past President of Nigerian Institution of Estate Surveyors and Valuers, Chief Emma Okas Wike in Rumuepirikom.
He commended Okas Wike for his dedication and commitment towards the success of his tenure as president and for the successful hosting of the 52nd Annual Conference of NIESV, bringing to bear his knowledge and experience to transform the industry.
Ariolu also spoke at the thanksgiving service of Dame Chinyeru Agbara at Holy Trinity Anglican Church, Choba in Obio/Akpor Local Government Area.
Chinyeru, who is the vice chairman of Obio/Akpor Local Government Area, organised the special thanksgiving to appreciate God for her investiture as a Knight of St. Mary, at St. Paul's Cathedral, Diobu, Port Harcourt, the Rivers State capital.
In his sermon, Rev. Canon Sola Ayesuwa, called on Christians to do what was right and acceptable in the sight of God.
He urged Christians to accept Jesus Christ as their saviour and live in peace with their neighbours.
According to him, Christians should make integrity their watchword at all times, and advised the congregation to always respect and regard those in authority.
He further enjoined them to be proactive and take responsibility while also being bold to confront evil.
Also speaking, Archdeacon/Vicar of Holy Trinity Anglican Church, Choba,Dr S. T. Nbete, admonished the congregation to troop out en masses and register for their Permanent Voters' Cards (PVCs), as they prepare to vote credible and competent leaders ahead of the 2023 general election.
He also prayed God to bless Dame Chinyeru Agbara as she journeys through her Knighthood.
Ariolu, during a visit to the residence of former Chairman of Rivers State Primary Healthcare Board, Dr Innocent Green Kinikanwo, who was also installed a Knight of St. Christopher alongside Dame Agbara, congratulated him on his investiture at St. Paul's Cathedral, Diobu.
He further encouraged him to use the period of Knighthood for the benefit of the people.