Insecurity: Nigeria Now Worse Than Syria, Obi Laments
Former governor of Anambra State, and presidential aspirant, under the Peoples Democratic Party (PDP), Peter Obi, yesterday, said with the level of insecurity in the country, that Syria has now become better than Nigeria.
Obi stated this when he visited the leadership and delegates of the PDP, in Imo State, to inform them of his presidential ambition, at the party's secretariat along Okigwe Road in Owerri.
The presidential aspirant said the cause of the insecurity was due to failure of governance under ruling All Progressives Congress (APC).
He also noted that the problems of Nigeria were becoming worse because the APC government was running an economy based on sharing formula and not a production-based economy.
According to Obi, "You wake up every morning in Nigeria you hear killings, things that happen in Afghanistan, Pakistan. Even though Syria is now better than Nigeria, it is going to get worse. Tell them I said so with the way things are going because we have a failed government.
"Nigeria is owing more debt and there is no how in the next three years the government would be able to survive the debt. No country survives it. The only way out is to have a production economy and not sharing economy.
"The only formula this government of APC has is how to share the money and not how to produce something. The first way to fight insecurity in the country is to create a means of livelihood.
"We have borrowed over $100billion and this country cannot generate power. When we look at this whole thing, we have come to change the economy from sharing economy to a production economy."
Also, the Imo State Chairman of the Peoples Democratic Party (PDP), Charles Ugwu, told Obi, "Your desire is our desire, your hope for Nigeria is our hope to rebuild Nigeria. We pray for you to succeed and help in achieving the Nigeria of our dream. Igbos are the rejected Nigerian that Nigeria needs to rebuild this country."
Fubara Set To Create New Cities In Rivers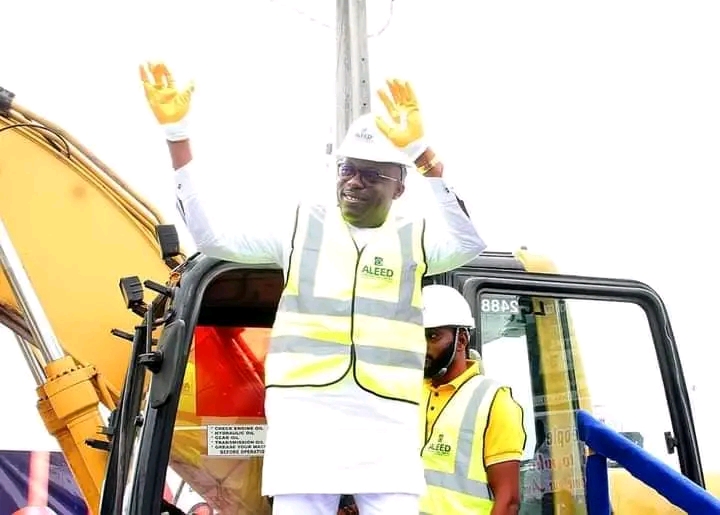 Rivers State Governor, Sir Siminalayi Fubara, has disclosed that arrangements are at advanced stages to achieve the development of new cities in the state that would help to decongest Port Harcourt and Obio/Akpor Local Government Areas.
Fubara said that the new cities would end the one city status of Rivers State and attract more investors into the state.
The governor stated this when he inspected the Greater Port Harcourt City Development Authority's (GPHCDA) office and project sites in Ikwerre Local Government Area of the state.
Fubara said: "I can assure you that in our time, we might not achieve the dream of that big city in four years, but we will add a few things that would also help us in getting at that target.
"This is because, we are thinking of decongesting the present one city state that we have, which is Port Harcourt and Obio/Akpor. We are thinking of developing other parts of the state and our coming here is to see what the agency has been doing, what you have done already and what we can also do to make us achieve more new cities in our state."
Fubara noted that despite the challenges the agency has been facing, there would be remarkable difference in what it would achieve within his tenure if the agency's development ideals are aligned with those of the state government.
He, however, charged the agency to be self-sustaining by attracting investors as outlined by its establishment law.
Also speaking, the Sole Administrator of GPHCDA, Amb Desmond Akawor, said that since its establishment in 2009 by the Greater Port Harcourt Law, the agency has been slowed down in creating more cities because of its operational structure and the nature of the Public-Private Partnership it adopted.
Akawor, who is the Rivers State chairman of the Peoples Democratic Party (PDP), explained that a new legal framework has been fine-tuned by the last GPHDA board, which the current management would present to the governor.
He said: "I am sure that with your directives, we will be able to reschedule some of the projects so that we can move forward with all of our partners, especially in the area of reforming or strengthening the public private partnership arrangements."
Majority Leader Seeks Immortalisation Of Slain DPO
The Majority Leader of the Rivers State House of Assembly, Hon Edison Ehie, has appealed to the Police High Command to consider the immortalisation of the murdered Divisional Police Officer(DPO) in charge of Ahoada East Divisional Headquarters, SP Bako Angbashim, and commiserated with the State Commissioner of Police, CP Emeka Nwonyi; officers and men of the Police Force; and the family of the deceased over the brutal murder of the DPO.
Ehie, who made the appeal in a statement said the slain DPO deserves to be immortalised as he was a gallant, fearless and courageous police officer who distinguished himself in the fight against criminals and bandits in the State, adding that the calamitous killing and decapitation of the DPO by Mr Gift David Okpara Okpolowu, alias 2 Baba and his criminal gang is "an unprecedented low which shocked me beyond words and threw my constituents into an endless mourning circle".
As the Honourable member representing Constituency 2 at the Rivers State House of Assembly and the incumbent Leader of the House, Ehie said he is using this medium to unreservedly condemn the senseless killing and decapitation of the DPO, and also to reiterate the call for the immediate apprehension and prosecution of his killers and everyone associated with the condemnable act.
Describing SP Angbashim as a gallant, fearless and courageous police officer who distinguished himself in the fight against criminals and bandits in the State, the lawmaker said the slain DPO was the one who single-handedly restored peace and order in Ogoniland.
"Even within the few months he spent in Ahoada East Local Government Area, the results of his gallantry were visible for all to see and appreciate.This is why his killing is not only calamitous and lamentable, but an affront to the government of the day in the State", he said, adding that no government worths its salt will fold it's arms and allow criminals and bandits to freely prey on its citizenry in order to make the State ungovernable.
On this score, therefore, Ehie thanked the Governor of the State, Sir SiminalayiFubara for prompt response to the situation which he said has already started yielding wonderful fruits, with some of the criminals associated with the killing of the DPO now under police detention and interrogation.
He also thanked and commend the officers and men of the Police Force as well as operatives of other sister security agencies in the State for their uniquely stellar efforts in fishing out the killers of the DPO.
The Majority Leader, however, called on all Ekpeye people, traditional rulers, chiefs, political elites and the general public to gratuitously assist and work with the police and other security agencies in ensuring that the killers of SP Angbashim are fished out, apprehended and made to face the full weight of the law, saying, "May our State never again witness this type of murderous orgy and life wastage".
Ehie also appealed to the Police High Command in the State to consider the immortalisation of the slain DPO, while also appealing for meaningful and deserving support to his family and dependants.
While conveying his heart-felt condolences to the Nigerian Police, especially the officers and men of the Rivers State Police Command, the lawmaker prayed the Almighty God to grant them the fortitude to bear the monumental loss. He equally extended his deepest condolences to the family of the DPO, and prayed God to console them and heal their wounds.
Ehie further noted that "the biggest debt we collectively owe SP Bako Angbashim is to redress his killing by arresting his killers and subjecting them to justice."
Appeal Court Upholds Banigo's Senatorial Election Victory
The Court of Appeal sitting in Abuja, yesterday, upheld the judgment of the Rivers State National Assembly Election Petition Tribunal that declared Dr. Ipalibo Harry Banigo of the Peoples Democratic Party (PDP) winner of the Rivers West Senatorial District Election held on February 25, 2023.
The Appellant Court, in her judgment, dismissed the appeal filed by the All Progressives Congress (APC) Senatorial Candidate, Hon. Asita O. Asita as "lacking in merit".
In her reaction shortly after the verdict at the court premises, the Banigo hailed the judgment, describing it as an "incontrovertible victory of irreversible Senate seat".
She expressed gratitude to the Almighty God, the leaders/stakeholders of the PDP and the entire members of the Rivers West Senatorial District for their unflinching support.
Banigo assured them of her loyalty and total commitment towards realising the tenets of her Kingdom Mandate.