2023 Presidency: C'River Agog As Wike Consults PDP Delegates …Blasts Advocates Of Consensus Candidate …Says I'm Not Running For President To Negotiate VP Ticket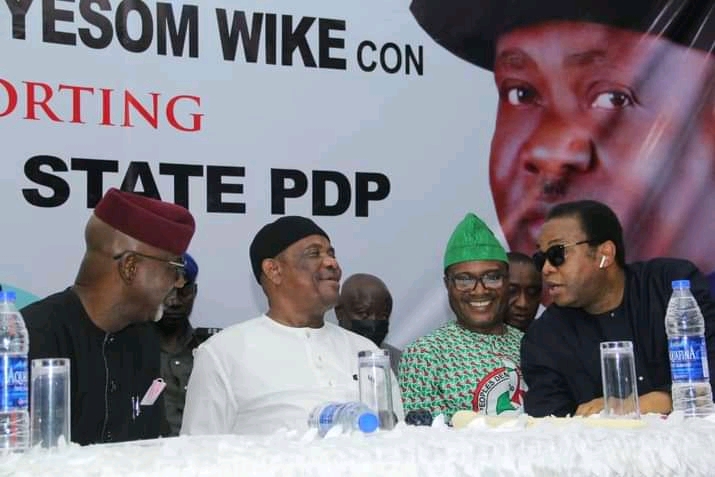 Members of the opposition Peoples Democratic Party (PDP) in Cross River State rolled out the drums and laid the red carpet to celebrate the coming of Rivers State Governor, Chief Nyesom Wike to the state in continuation of his consultation visit across the country on his presidential ambition.
Thousands of ecstatic and excited party bigwigs and supporters, donning PDP hats, insignias, regalia and attires flooded the streets and roads, with their drums and trumpets to receive the leading PDP Presidential aspirant in the state capital, Calabar, last Wednesday.
Also, as a way of appreciating his efforts to boost the party in the state, officials of PDP displayed life-sized flex banners in strategic places to welcome the Rivers State governor.
One of the banners says: "We all say Thank You to His Excellency, Barrister Nyesom Ezenwo Wike for supporting Cross River PDP".
An official, Ernest Effiom said, "Wike has done well for PDP not only for Cross River State but he has a special interest in our party in this state. Don't forget he is the leader of the party, at least, in the South-South."
He disclosed that Wike was visiting them as part of his aspiration to succeed President Muhammadu Buhari of APC next year, and to address some internal PDP issues bordering on governorship aspirants.
On whether, the state Governor, Prof Ben Ayade was aware of the coming of his colleague into his state since there were some ripples in February when he entered Calabar, reportedly without informing Ayade, Chief Press Secretary and Media Adviser to Governor Ben Ayade, Mr Christian Ita said Wike was coming in his personal capacity to consult on his presidential aspiration.
"I would not know whether Wike has reached out to his counterpart, my principal on a personal level that he is visiting Cross River State. But his coming cannot cause any implosion whatever.
"Wike is going round states to consult for his interest to seek for PDP ticket for next year's presidential election."
Addressing PDP delegates and leaders in Calabar, Governor Nyesom Wike faulted the arrangement for a consensus presidential candidate in the PDP.
Wike described the consensus arrangement as rubbish and fake news used in deceiving PDP members.
He said consensus could only happen through equity, justice, and fairness, and recalled telling a former Senate president that he would not support a consensus arraignment in PDP.
According to Wike: "I am not here for any consensus rubbish. I have told people not to deceive our party members with fake news about consensus. We all believe in consensus, but it must come with equity, justice, and fairness.
"When some of my colleagues led by the former Senate president came to me, I told them I would not fall into the consensus trap. If you want to run for election, please run, and if you are not ready, please go home.
"They want somebody who would come and bow down for them. But what the country needs now is fearless and courageous somebody."
Wike further said his decision to run for the Presidency was not to negotiate the vice presidential ticket of the PDP.
The PDP presidential aspirant said he was in the state to meet party members and signify his seriousness to be Nigeria's next president.
Wike also dismissed claims of picking the senatorial forms like other aspirants of the party have done secretly.
He said: "I am here to introduce myself to you. We have started the process, and I have made myself available to the people of Cross River State. I am running for the president, and I am not running for running sake. I will win the party's ticket and win the Presidency of this country.
"I am not running to negotiate for vice president or for anything. I have not collected Senate form or any form in case I fail. Some people have sent in their cronies to collect Senate forms on their behalf in case there is a consensus.
"I came here for you to see me face to face. Some are sending people to talk to them. I have too much energy, and I am ready to go to every nook and cranny of this country. Trust people with energy and I have it."
The likes of former Senate President, Dr Bukola Saraki, former vice president, Alhaji Atiku Abubakar, Sokoto State Governor, Aminu Tambuwal, Bauchi State Governor, Senator Bala Mohammed, and some other aspirants have been clamouring for a consensus presidential candidate for the PDP.
2023: Southern PDP Leaders Consider Fresh Option
Leaders of the Peoples Democratic Party (PDP) in the Southern 17 states have begun move to ensure that the presidential ticket is secured by an aspirant from one of the three geo-political zones.
In the alternative, they are also looking at a northerner with strong roots in the South.
The plan, according to sources, is to have a second strategy or an Option B, as it has become obvious that the party leadership will not yield to the demand for the presidential ticket to be specifically zoned to the South.
The Southern leaders are moving to ensure that their delegates vote only for either a particular southern aspirant or to adopt a northern candidate, who is not from the far North.
The strategy of the southern PDP leaders behind this plot is to ensure that the outcome of the PDP primary produces a win-win situation for the South, irrespective of where the candidates come from.
A chieftain, who spoke on phone, said: "We want to ensure that the South converts the disadvantage of the PDP refusing to zone the presidential position to the South in line with the rotation arrangement in the party's constitution becomes a benefit to us.
"We will work to ensure that the South decides who the presidential candidate is, even if he is not from our zone.
"Southern delegates may come together and choose a northern candidate who has strong roots in the South. He must be somebody who has a close affinity and filial relationship with us. He must be somebody who understands the challenges facing the South and can run a government that is based on equity, justice and inclusiveness, and knows what it is to suffer injustice or the pains of the minority."
"It is the reason why we will not support aspirants from the far North. We will rather support an aspirant whose zone has not produced any of the two positions in the Presidency. An ideal candidate for the PDP is somebody from either the South or the Northern minority.
"It is the only way we can show that without having a southern candidate; we can have a president who believes he owes the South and that the support of the southern delegates is instrumental to his victory. That means that if the South plays its card very well, it can produce a southern candidate from the North."
Buhari To Determine Malami,Other Returning Ministers' Fate – Lai Mohammed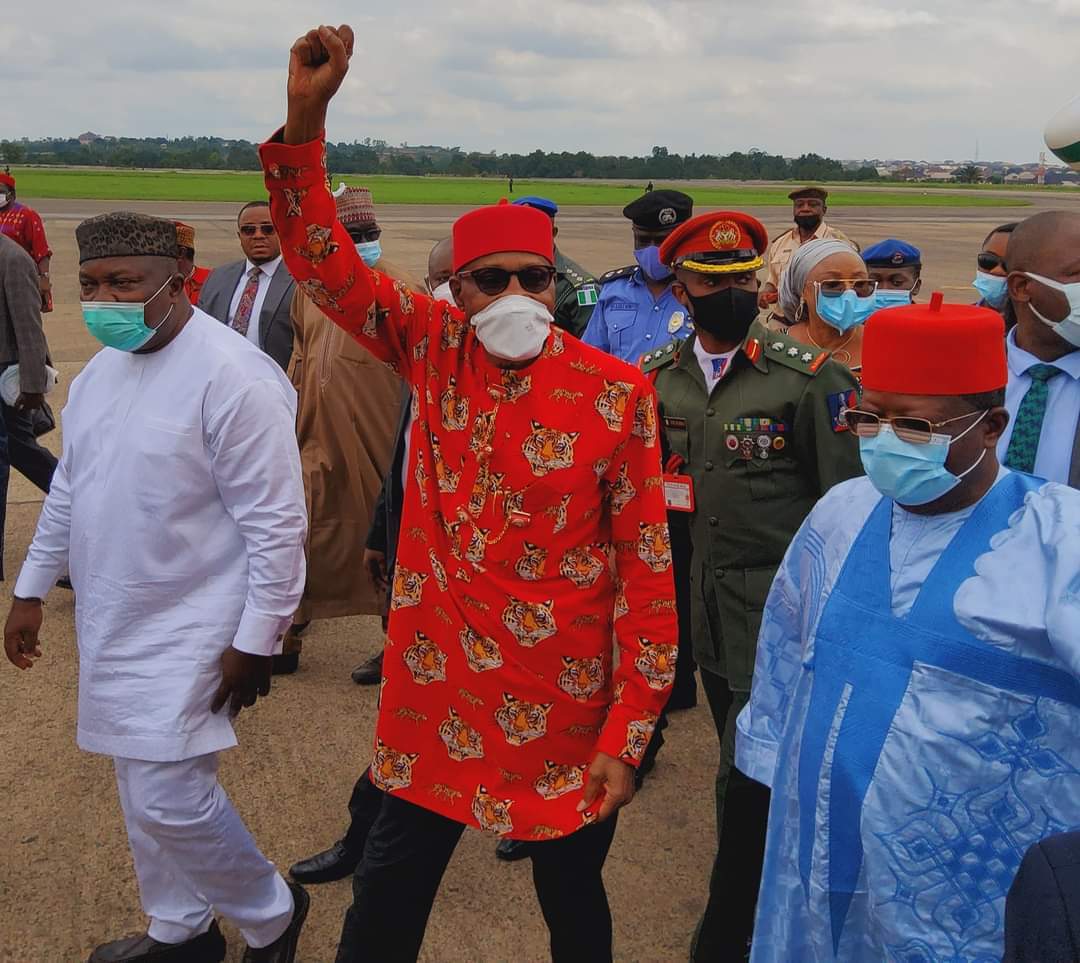 President Muhammadu Buhari will decide the fate of those members of the Federal Executive Council (FEC) who made a u-turn on their political ambitions and continue to serve in the current administration.
Information and Culture Minister, Alhaji Lai Mohammed, who disclosed this Wednesday to newsmen after the FEC meeting at the State House, Abuja, said he will need to confirm from the president the status of the returning ministers on whether or not they have been reabsorbed into the cabinet.
He said: "The  question about ministers returning or not going, I think you need to give me more time so that I can tell you exactly what the situation is. Right now, I need to cross check. I need to confirm again from Mr President what the situation is. You see the final decision on who is going, who's coming back, who's not going lies with Mr. President."
The Minister of Labour and Employment, Dr Chris Ngige; his Women Affairs counterpart, Dame Pauline Tallen; Attorney General of the Federation (AGF) and Minister of Justice, Abubakar Malami; and Minister of State for Petroleum Resources, Timpre Sylva, had earlier rescinded their decision to contest for elective offices in 2023.
Malami was physically present at Wednesday's Council meeting, while Tallen and Sylva attended the meeting virtually from their various offices in Abuja.
Ngige is said to be away on official engagement in Durban, South Africa, where he is attending the International Labour Organization's (ILO) global conference on Child Labour.
2023: Ganduje Refuses To Endorse Amaechi For Presidency
Governor Abdullahi Ganduje of Kano State has refused to endorse the former Minister of Transport, Rotimi Amaechi, for the presidency come 2023.
Amaechi visited Kano on Wednesday as part of his consultations ahead of the All Progressives Congress' presidential primary.
The former minister had resigned from President Muhammadu Buhari's cabinet to pursue his presidential ambition under the platform of the APC.
At the meeting, with other APC stakeholders present, Ganduje said Kano as a "swing state, will continue to swing."
He added that Amaechi would know where the state eventually swung to at the right time.
TheTide source gathered that Amaechi, who had told the governor that the people in the APC already knew where Ganduje's loyalty was, added that he was in Kano to convince him that he was the most qualified among the aspirants.
Our source recalled that when Amaechi visited the Governor of Lagos State, Babajide Sanwo-Olu, he was equally not endorsed as the governor told him former Governor Bola Tinubu was their rallying point.
Ganduje is also known to be an ally of Tinubu, who is also aspiring for the Presidency.
Meanwhile, Amaechi said he was more qualified than Tinubu, noting that the former Lagos governor had never been a minister, and even as a lawmaker, Tinubu only served for a few months.
He equally noted that he was more qualified than Vice President Yemi Osinbajo, adding that while Osinbajo was a commissioner in Lagos, he was already a Speaker of Rivers State House of Assembly.