PUMS'll Impact Rivers Positively, Nwanosike Assures
The Chairman of Ikwerre Local Government Area of Rivers State, Engr Samuel Nwanosike, has noted that the presence of PAMO University of Medical Sciences trainee doctors in Ikwerre LGA would impact positively on the lives of his people and the entire state.
He made the statement, last Wednesday while granting audience to a delegation of PAMO University of Medical Sciences (PUMS), Port Harcourt, Rivers State, at his office in Isiokpo.
The PUMS' delegation was in Ikwerre Council headquarters for an advocacy meeting with the chairman of Ikwerre LGA in order to galvanise his support to PUMS' trainee doctors whowould soon be in area for a free medical outreach.
Nwanosike averred, "We believe that the presence of these trainee doctors would impact on us positively because as they are getting this training, somehow too, at a particular stage they will be posted to some of the local facilities around here to try their hands before will now exit.
"So, in that way, they are also offering service to our people and reducing the stress of manpower that we have".
He promised the PAMO University students of safety while undergoing the free medical outreach.
While saying that medical doctors from the Rivers State Ministry of Health would be added to the trainee doctors for guidance, Nwanosike noted that the free medical outreach would be done at Model Health Centre, Adanta, Isiokpo, and Model Health Centre, Omagwa, in order to reach out to good number of people.
He revealed that he would construct a befitting residence in Isiokpo that would accommodate the student doctors during the period of the programme.
Nwanosike used the opportunity to commend Rivers StateGovernor, Chief Nyesom Wike, for awarding free scholarship to Rivers sons and daughters to study Medicine and Surgery at PAMO University of Medical Sciences, Port Harcourt, Rivers State, saying that it was already rubbing off on the citizens of the state.
A Professor of Community Medicine who is on sabbatical at PAMO University of Medical Sciences, Prof Emmanuel Aguwa, while narrating why the delegation of PAMO University was in the area, asserted that PAMO University was a new university and one of the three universities in Nigeria that only train medical doctors and other allied professionals.
He described the students' free medical outreach in Ikwerre LGA as a win-win situation, stressing that both PUMS and Ikwerre LGA would benefit immensely.
"So, what we come today is to get the political will. We can't do anything without this entry behaviour. We must go through the right way by coming to you, sir, and the deputy chairman because without your supports nobody can do anything here", Aguwa said.
The Director of Academic Planning, PAMO University of Medical Sciences, Prof Ngozi Odu, who is the leader of the delegation, used the opportunity to eulogise Nwanosike for his unprecedented achievements.
She said, "I would want to take this opportunity as well to commend you on the tremendous good work you are doing in Ikwerre Local Government. It's actually unprecedented. You just stand out and we want to say God will continue to guide and protect you and direct your footsteps so that at the end of the day your legacies would outlive each and every one of is that are here today. The work you are doing for your people is something that even in your old age it will be ringing a bell upon generations unborn".
On her part, a Public Health Consultant and Lecturer at PUMS, Dr Chidinma Opara, reiterated that the foresight Wike has in investing on Rivers indigenes was turning to huge manpower for the state.
By: Nelson Chukwudi
2023: Nigeria Needs Clean Leaders-Expert
An environmental consultant in Rivers State, Pali- Alabo Maxwell Fubara has urged Nigerians to avoid those who are part of Nigeria's rot while voting in the 2023 general elections.
Speaking with The Tide recently in Port Harcourt on the 2023 general elections and the place of good governance, Fubara said avoiding such people is a step towards rescuing the country.
According to him, Nigerians cannot afford to choose the next president from among those who have made a career of living in government since 1999, and expect positive changes in their lives in the country.
He said, "The truth is that some of those who have stayed too long in the status quo have become part of the corrupt system, and it is an illusion to expect corruption to fight corruption".
Fubara, a former State Assistant Public Relations Officer of the Peoples Democratic Party (PDP) argued that a corrupt system cannot fight corruption, and so the nation needs clean, God-fearing, and caring leaders with vast leadership expertise and exposure to emerge in 2023 from the past failures to break the shacles of the rot in order to move forward.
Fubara noted that either in the PDP, APC or other political parties, those whose only duty has been to change from one government office to another and have never done any other productive thing apart from squandering government and public funds, driving convoys of cars around that they do not fuel themselves, escorted by security paid for by government are far removed from the realities of Nigeria, and are therefore incapable of comprehending the urgency and depth of development Nigerians need currently.
"I laugh when I read about someone who has never set up even a barber shop in his or her life promising young people employment."
These are people who do not understand how business run.
" The solution to national security challenges, the unemployment problem, high cost of petroleum products and basic items requires new approach to handle, which those who have never paid for anything they consume in the past 23years running cannot understand."
The image-maker who said that what attributed him to the people's Democratic Party (PDP) was Governor Nyesom Wike's belief that corruption must be crushed in Rivers State.
Ahead of the 2023 general polls, Fubara advised politicians, Independent National Electoral Commission (INEC) and the electorate to play the game based on level playing ground, where peace and tranquility would be sustained.
He enjoined them to see election next year as not a do or die affairs, rather do the needful by working towards better Nigeria "Our Founding Fathers Fought For".
By: Bethel Toby & Oribim Ibama
Navy Rescues Seven Victims From Kidnappers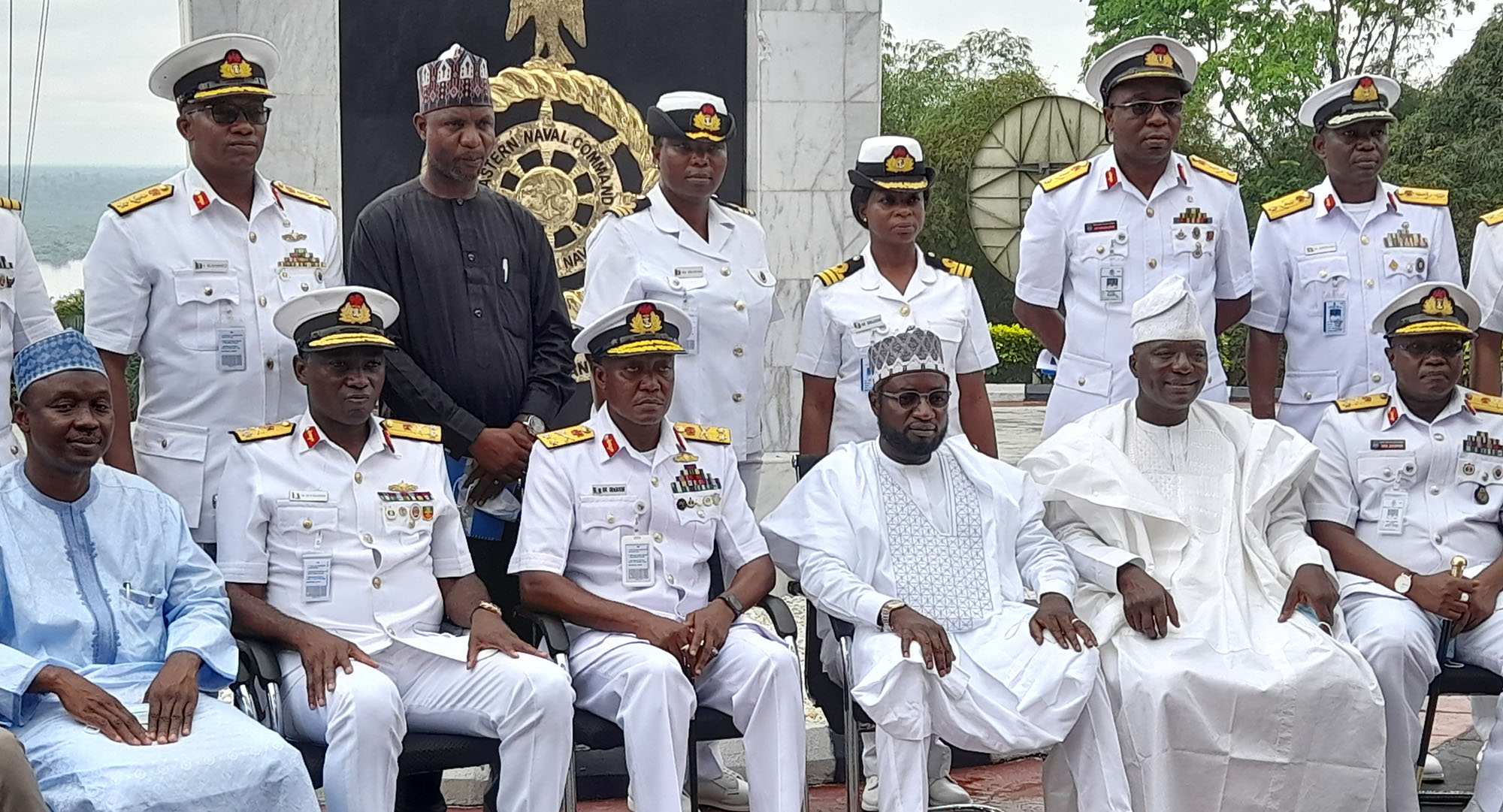 The Nigeria Navy has said it has rescued seven male victims who were abducted on May 10 by sea pirates off the coast of Bonny Island in Rivers.
The Tide's source reports the seven passengers were transiting to Port Harcourt from Bonny when their commercial boat was intercepted and the victims abducted by pirates.
Commodore Suleiman Ibrahim, the Commander, Nigeria Navy Ship (NNS) Pathfinder, Port Harcourt presented the rescued victims before newsmen on Tuesday at the naval headquarters in Port Harcourt.
He said the kidnappers, after intercepting the commercial boat, diverted it to an unknown location inside the thick swampy forest of the State.
"After the pirates kidnapped the passengers on May 10 along Bonny Channel, near Yellow Platform, we (NNS Pathfinder) immediately mobilised and started tracking to identify the abductors.
"Through intelligence gathering, we were able to identify one Mr Victor Padei, who intelligence revealed masterminded the abductions.
"Thereafter, we mobilised troops and stormed his camp (in Rivers). Unfortunately, by the time we arrived at the camp, Padei had already relocated with his victims.
"Padei knows the terrain very well and he deploys his local informants who give him information on the movement of troops", he said.
Ibrahim stated further that reconnaissance was conducted to determine the whereabouts of fleeing abductors which revealed the suspects relocated to another camp in Bayelsa.
"Again, we mobilised personnel in collaboration with our naval base in Bayelsa to raid the kidnapper's camp but unfortunately they have already relocated with the victims before we got there.
"However, intelligence later discovered another camp in Bayelsa where kidnappers held the victims against their will.
"Upon storming the kidnappers' den, we applied pressure (force) and issued them (kidnappers) to release the abductees unconditionally.
"Subsequently, on the midnight of May 21, the seven victims were returned unharmed to us and they are currently with us," he added.
The navy officer said troops were currently on the trail of Padei and his gang of kidnappers and assured of their arrest and prosecution in no time.
He called on members of the public to go about their legitimate businesses as the navy in collaboration with other security outfits has further secured the waterways in Rivers.
Narrating his ordeal, one of the rescued victims, Jude Ichikpro, 57, expressed gratitude to the Nigeria Navy for rescuing him and his fellow passengers from kidnappers.
The victim told the source that after their boat was intercepted, their abductors blindfolded and took them to an unknown area.
"We transited several hours by sea and later arrived at their camp which I am still not sure about the location.
"After we arrived at the camp, they gave us our phones to contact and inform our family members of our abduction.
"Thereafter, they demanded N350 million (N50 million each) for the seven of us to secure our release; threatening to kill anyone of us whose family did not pay their ransom.
"I was horrified and worried that I would be killed knowing that my family cannot raise such huge funds to secure my release. So, I kept praying fervently.
"The entire experience was horrific as they kept threatening us. I was overly worried knowing that my family cannot raise such huge sums of money to secure my release.
Ichikpro, a Delta State indigene, said that they were held for 12 days and fed with uncooked food; drank dirty and salty water and sometimes slept inside the swampy waters.
He said on the day of their rescue, he heard loud noise which he initially thought was from the villages shadowing the kidnappers' den.
"But the sound became louder, and only then did I realise that it was from security men because I can hear their voices but I was terrified and confused at the same time.
"Moments later, some men came to where we were kept and requested for our identity. It was only then I realised that they were naval personnel.
Ichikpro said that the navy operatives later took them away for de-briefing.
"I am so grateful to God and the Nigeria Navy for coming to my rescue without paying even a Kobo ransom to my kidnappers," he said.
2023 Presidency: Monarch Sues For Peaceful Conduct
A royal father in the Niger Delta, and the Mingi of Nembe Kingdom in Bayelsa State, King Edmond Dakoru, has urged the electorate in the South to maintain a peaceful disposition in the midst of provocation in the quest for a Southern President come 2023.
Dakoru, the former minister of petroleum, in an interview with aviation correspondents shortly on arrival, Wednesday, at the Port Harcourt International Airport, Omagwa, observed that everywhere is tensed with the quest for a southern president.
He stated that no sacrifice is too small or big to make, if we want Nigeria to remain as one country, adding that any position that is good should not remain for one group.
"Whether the principle of zoning is enacted in Constitution or not, I think it's ideal that it should be rotated between the North and South.
"We have actually operated in that principle. That is the principle that has kept us as one people since independence, and even the principle of national stread and Federal character.
"If a position is important enough, it should not remain in one particular section of country, and why dragging on and on for a long time on this southern president for 2023?
"Zone it to the southern part of the country, instead of raising political tension each time. The southern part will know where it is supposed to go among the three zones, and just leave them to decide.
"There should not be tension, no matter the provocation, but let the right thing be done. The unity of the country is important", Dakoru said.
The royal father, however, noted that the size of any country matters, adding that Nigeria should not be fragmented, but should remain as one.
He also urged the electorates not to be misled by people who make provocative statements, saying that most of such people who make such statements, will run when they see crisis.
By: Corlins Walter