Christmas: RMAFC Staff Grumble Over Two Months' Unpaid Salaries
The staff of Revenue Mobilisation Allocation and Fiscal Commission (RMAFC), celebrated the Christmas festivities without two months' salaries, unlike other Federal Government workers.
It was gathered that on December 3, the commission, which is in charge of sharing revenue allocation among the three tiers of government, paid staff salaries for only October, despite other Federal Government workers receiving their December salaries on the 22nd of the month.
Some staff of the commission, who spoke to newsmen, said they were celebrating the festivities without funds to provide food for their families, especially as their salaries have been delayed.
A senior staff member said that the Federation Account Allocation Committee (FAAC) for December has been set up, "but it is so unfortunate that we have not been paid November salaries. Other Federal Government ministries are receiving their salaries as and when due."
Another staffof the commission said that the issue of non-payment of salaries was due to the poor budget presentation of the commission in the 2021 appropriation.
The staff said the issue of the non-payment of two months' salaries and delay of October salary was due to the negligence of financial experts in the commission, including the Director of Finance and Accounting.
He alleged that the true figure of staff take home was not properly presented in the 2021 budget.
The RMAFC, according to the staff, was short-changed by the Integrated Payroll and Personnel information System (IPPIS).
"Nobody was alerted until the dying minute, from when they realised that they will not be paid from September or October, and that is when they started raising alarm and we started running helter-skelter but we are still here.
"Our staff are seriously suffering. Unfortunately, we don't have commissioners that can protect the commission. They are only representing their pocket, forgetting that issues relating to staff matters are not considered.
"We have different committees, the Personal Matters Committee, whose function is on personal matters. Now, the staff are suffering. As I am talking to you, the meetings they are having is on of trivial matters."
Meanwhile, efforts to get the reaction of the RMAFC staff union Chairman, Amanabo Josiah, did not yield results as his phone was not answered.
When contacted, the Director of Finance and Accounting at the RMAFC, Mallam Baliatu Iliasu denied the accusation that the non-payment of staff salaries was due to his negligence or that of his department.
He claimed that the challenge emanated from the IPPIS payment system which was responsible for the disbursement of salaries.
"The IPPIS pay salaries, we don't prepare payroll or anything; ours is just to receive salaries at the end of the month."
Iliasu divulged that the minister of finance has set up a committee "but they didn't give us the report about it. We will try to find out where the problem is."
Tinubu Signs Bill Unifying Retirement Age For Judicial Officers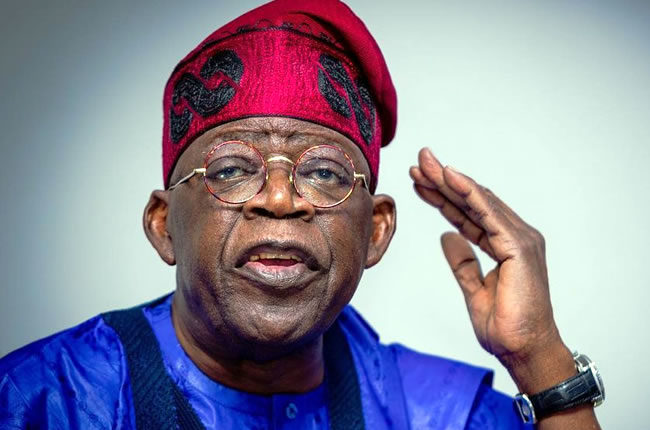 Asiwaju Bola Tinubu yesterday signed his first piece of legislation as President, when he assented to a constitutional amendment bill bringing uniformity to the retirement age and pension rights of judicial officers in the country.
This was disclosed in a statement signed by the State House Director of Information, Abiodun Oladunjoye, yesterday.
The statement is titled 'President Tinubu assents to constitutional amendment Bill on uniformity in retirement age of judicial officers'.
The statement read in part: "In exercising the powers vested in him under the 1999 Constitution as amended, President Bola Tinubu yesterday at the State House assented to a fresh amendment of the Constitution of the Federal Republic of Nigeria.
"President Tinubu signed into law the 'Constitution of the Federal Republic of Nigeria, 1999 (Fifth Alteration) (No.37), 2023' presented by the outgoing 9th National Assembly".
It added that "With the signing of the Constitutional amendment Bill, retirement age and pension rights of judicial officers have been effectively brought into uniformity and other related matters".
While signing the amendment Bill into law, Tinubu pledged his administration's dedication to strengthening the judiciary, ensuring the rule of law, and empowering judicial officers to execute their responsibilities effectively.
Democracy Day: FG Declares Monday Public Holiday
The Federal Government has declared Monday, June 12, as a public holiday in commemoration of 2023 Democracy Day celebration.
This was contained in a statement issued by the Permanent Secretary of the Ministry of Interior, Dr Oluwatoyin Akinlade, on behalf of the Federal Government.
While congratulating Nigerians on the occasion, Akinlade stated that the country's democratic journey has encountered stormy and smooth sails, just like in many other climes.
She said, "But the ship of State, its institutions and most importantly, the Nigerian people have remained steadfast on the tenets of democratic governance."
"On this memorable occasion therefore, Nigerians and friends of Nigeria are invited to appreciate the progress that has been made, celebrate the milestones covered and look forward to a better future for the country's democracy.
"The Permanent Secretary wishes all Nigerians a Happy Democracy Day celebration, " the statement added.
RSHA Screens Five For Commissioners, Today
Five commissioner nominees are to appear before the Rivers State House of Assembly, today for screening.
The nominees include Engr. Chukwuemeka Woke, Barr.(Mrs) Inime Aguma, Hon Nwafor Uchechukwu, Dr. Kenneth Chisom Gbah and Hon. Henry Ogiri.
In a statement signed by the Acting Clerk of the House, Dr. Emeka Amadi, the five commissioner nominees are expected to appear before the lawmakers by 10am.
The nominees are also requested to submit 40 copies of their original credentials to the office of the Acting Clerk on or before 9am, today.
Four commissioners had earlier been screened by the Assembly and sworn in by the State governor, Sir Siminalayi Fubara, last week.
These nominees, if screened and confirmed, will therefore, bring the number of commissioners in the State to nine in the last one week.