Xmas: Ogbakor Ikwerre In California Smiles With Widows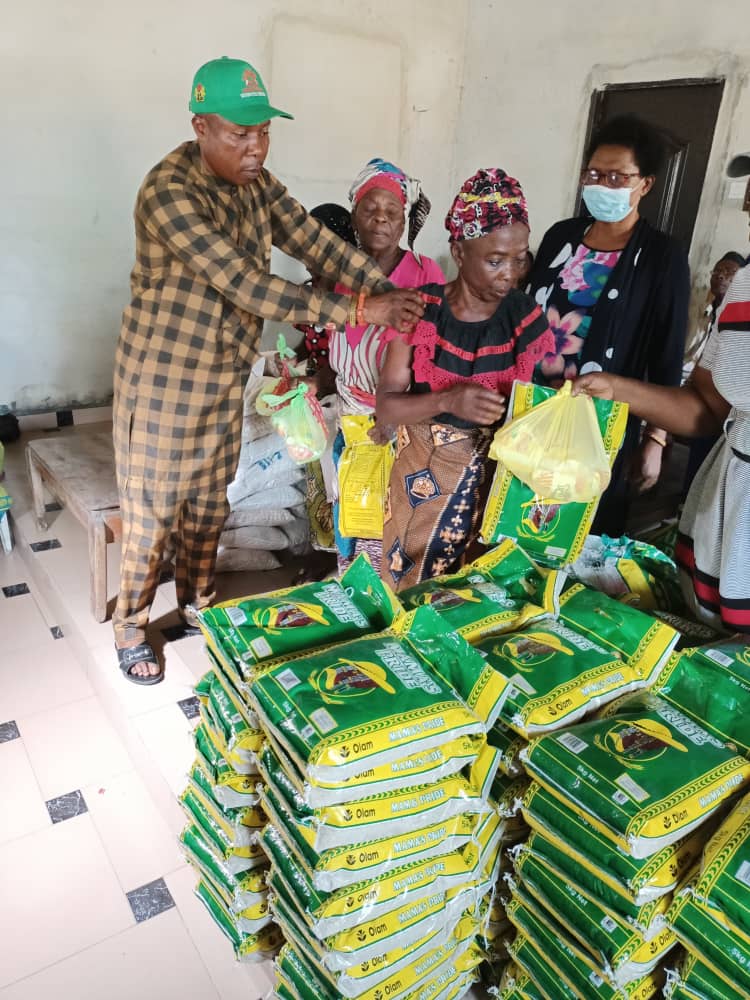 As the world celebrates this season, Monday, December 20, 2021, will remain memorable in the minds of widows in Apani and Ozuaha communities, in Ikwerre ethnic nationality.
This is because a non-profit oriented organisation under the auspices of Ogbakor Ikwerre California , through its Widows' Project, chose to put smile on the faces of the indegenous widows this Xmas by showering them with food items.
Ikwerre Widows Project', is a platform used by Ogbakor Ikwerre in diaspora to reach out to widows and the less privileged from the Ikwerre ethnic extraction, as a way of making them feel belonged.
Yearly, widows in Ikwerre land are visited with food items at the end of the year, as a demonstration of love and commitment to the wellbeing of the people, especially the widows.
Fortunately, this year's Widows' project was zoned to Apani community which is made up of eight villages and Ozuaha community of about twelve villages. The widows in both communities were very happy. They heaved a big sigh of relief receiving such welfare gesture from their brothers and sisters living in diaspora.
Meanwhile, beneficiaries of this gesture have expressed appreciation to members of the organization for counting them worthy to be part of it, in spite of the challenges posed by the COVID-19 pandemic.
One of the beneficiaries in Apani, Mrs Louisa Amadi, expressed joy as she thanked them and prayed God to bless the hands that remembered widows, especially at this Christmas season.
Earlier on arrival at Apani to receive the Ogbakor Ikwerre California delegation, the Eze Oha, Nye-nwe Ali Apani Owhoraka VII of Apani Land, HRH Eze (Dr) Onoka L.A Okoromini, appreciated the efforts of members of the organization, but revealed that widows in Apani were much more than the 100 widows who benefitted from the welfare package.
He prayed for more of God's provision so as to reach out to all of them in the community.
In her opening remarks, one of the representatives of Ogbakor Ikwerre California, Mrs Christiana Chukumati, explained that the program was made possible by brothers and sisters in California, who saw the need to give widows in Ikwerre Land a sense of belonging, especially during this festive season.
According to her, it symbolises love and care. She further explained that the widows' project started some years back in Obio/Akpor, then Rumuodumanya and Rumuokoro, adding that their strength has continued to increase because the hand of God was upon all their projects.
She said that the mandate to Apani and Ozuaha was basically for core widows that find it hard to put food on their tables, so that they do not feel the pains of the death of their husbands.
Chukumati added that it is an annual event, and that the choice of beans and rice is not out of place considering some of the ages of the widows, who will now prefer beans to against rice.
Earlier, Pastor Constance Walker discouraged widows from moving from one man to another as that will not help them, but that they should look up to God.
She charged them to cry to God in their times of needs instead of man, Walker said only God can help them in their difficulties. He also prayed God to touch the lives of their children and make them great, so that their suffering mothers would be properly taken care of at old age.
She prayed for members of the Organization that none of them would fall short of God's glory, adding that God will always provide for them what they need to keep this project going.
Expressing joy, Chairman Ozuaha Council of Chiefs, High Chief Richard Amadi, thanked the donors as he charged the widows to acknowledge the efforts of the givers and pray for them for more to come, urging them to make proper use of it. He stated that the people of Ogbakor Ikwerre California have encouraged them to eat nutritional food this period, a reason for which they have made the provision for beans and rice.
It will be recalled that last year members of the association visited widows in Rumuewhor and Eli-Brada Communities all in Emohua Local Government Area of Rivers State with food items.
Ogbakor Ikwerre California, a branch of Ogbakor Ikwerre USA (OIUSA) Inc, is an organization of Ikwerre indigenes residing in Califonia, in the United States of America. They are committed to the survival and prosperity of the Ikwerre people.
The project has been on since 2014, starting with Obio/Akpor. It covers projects such as scholarship for the children as well as medical outreach services, including skills acquisition projects.
By: Susan Serekara-Nwikhana
The Role Of Women In Rivers Govt, Politics
After the Beijing Conference of 1995,  where awareness about women emancipation was created, the champion for empowering them became more pronounced.
In Nigeria, during the military era under former Head of State, Ibrahim Babangida, the wife, Mariam Babangida of blessed memory, championed the cause for women emancipation.
Through position as the First Lady at that time, women began to see the light. Ministry of Women Affairs got the best and from the office of the First Lady, an agency known as Better Life for Rural Women was created.
Government at all levels realised the need to involve women in governance, knowing the roles they can play.
Then, it was 30 percent Affirmative Action.  Finally, when the civilian administration came in, under President Olusegun Obasanjo, many women had appointive and elective positions.
Under President Goodluck Ebele Jonathan, the wife, Dame Patience Jonathan championed the cause of women through the request for 35 percent Affirmative Action.
Contribution made by Mrs Patience Jonathan, as the First Lady of Nigeria went a long way to empower women who had done well. She advocated for 35 percent Affirmative Action for women during her husband's tenure, former President of Nigeria, Dr. Goodluck Jonathan.  Since then, women have got more appointive and elective positions especially in Rivers State.
As a Rivers daughter, her contribution towards the emancipation of women in Rivers State was enormous.
Indeed, as governance continued, government of Rivers State heeded to the call of involving more women in the development of the State.
In fact, the administration of Governor Nyesom Wike is a women-friendly government to the extent that it had a woman as a Deputy Governor.
There are other women who are either elected or appointed to run the affairs of government and they have done well.
The return of democracy in Nigeria in general and Rivers State in particular brought good news to the women.  A lot of women formed and made up the cabinets in many States.  Women were elected and appointed into various levels of governance.
For us in Rivers State, it was a new dawn when the first female Deputy Governor was elected in 2015.  That was the first time since the creation of the state.
A technocrat, medical doctor,  Dr. Ipalibo Harry Banigo, was once the Secretary to the Rivers State Government and Head of Service. Her contribution to the development of Rivers State in the last eight years of governance was much.
Dr. Banigo has successfully served as deputy governor of Rivers State from May 29, 2015 till May 29, 2023 under the administration of Governor Nyesom Wike.
The former Deputy Governor, Dr. Ipalibo Banigo, is elected into the Senate to represent Rivers West Senatorial District.  This is laudable as a female from Rivers State is going into the Red Chambers to speak in the interest of her people.
History has been made again as another female deputy governor has been elected into office in Rivers State.
Prof. Ngozi Nma Odu, has just been elected the Deputy Governor of the State, to serve from May 29, 2023. Expectations are high as she will bring her wealth of experience into governance.
Prof. Odu is not new in the political development of Rivers State.  She has served as Commissioner for Education in which her contributions to the development of education were second to none.  With an agency that protects the rights and  interests of women nationwide, she was the President of the National Council of Women Society  (NCWS).
She has also served in various capacities in the State
As Nigeria and indeed Rivers State mark another eight years of democratic dispensation, the contributions of women in the development of the state can never be over-emphasised.
Rivers women have made tremendous efforts in contributing in various fields of endeavour and their contributions have led to the rapid growth through politics, sports, education, judiciary, social, economic, medicare, and engineering just to mention but a few.
Indeed, since the creation of the State, it has not been a male dominated issue, women too have been given the opportunity to play key roles in their own little way.
Today, one cannot talk about women who made impact in the history of the state without mentioning Hon Justice Mary Odili, who served in Rivera State as a Judge.  She also served in the Appeal Court. She rose to the peak of her profession in the Judiciary as the Justice of the Supreme Court (JSC).
Daisy Okocha served as  Chief Judge of the State. Since the creation of Rivers State, she was the seventh judge and a woman to serve in that capacity.
Elsie Nwanwuri Thompson was a Judge of the High Court of Rivers State and Deputy Vice President of the International Federation of Women Lawyers (FIDA).  She was the first Nigerian to be elected to the African Court on Human and People's Rights.
The landmarks in the educational sector of Rivers State cannot be complete without looking at the contributions of the pioneer Vice Chancellor of Ignatius Ajuru University of Education, Prof. Rosemund  Dieye Green-Osaghogulu (blessed memory).
It was under her supervision that the official approval of the institution, Rivers State College of Education (COE), was  renamed Ignatius Ajuru University of Education (IAUOE).
As Rivers State continued to grow after its creation, more women were given the opportunity to serve in various capacities.
Mrs Julie Wika was appointed Commissioner for Women Affairs and Social Development.
Under Dr. Peter Odili's administration as Governor of Rivers State, Mrs Tolu Ofili was appointed Commissioner for Women Affairs in 2003 after she had served as Senior Special Assistant, Special Duties, in charge of Social Services in 2000.
Another woman who was in that cabinet was Ms Gloria Fiofori.  She served as Commissioner for Women and Youth Affairs.  Her resume became richer as she served as the Director, National Orientation Agency, NOA.
One of Rivers' daughters who served for a long time in the development of Rivers State was Prof Roseline Konya.  She served as Chairman, Civil Service Commission during Dr. Odili's administration.  One of the impacts she made was reinstating of 200 civil servants whose appointments were erroneously terminated at that time.
A university don,  she also served as Commissioner for Environment in which her contributions helped in addressing the state of environmental hazards under Governor Nyesom Wike's administration.
Still under Dr Odili's administration, a woman was appointed Attorney-General and Commissioner for Justice.  She is Dame Aleruchi Cookey-Gam. She also served as Secretary to the State Government.  She was appointed the Sole Administrator, Greater Port Harcourt Development Authority.
Dame Alice Lawrence Nemi became Commissioner for Education.
Mrs Joeba West was Commissioner for Women Affairs and Patricia Simeon Hart for Water Resources and Mrs Emmanuela Izunwa were all female commissioners in Rivers State and their impacts were greatly felt by women.
One time Commissioner for Information and Communications was Mrs Ibim Semenitari and later was appointed Acting Managing Director, Niger Delta Development Commission, NDDC.
In the political history of Rivers State, such name as Betty Apiafi cannot be left out as she was the first female member from Rivers State elected into the Federal House of Representatives and the Senate, even till date.  She is representing Rivers West Senatorial District in the Senate today.
And also an elected woman who represented Port Harcourt Federal Constituency in the Green Chambers was Hon. Blessing Nsiegbe and was re-elected.
Talking about Rivers State House of Assembly, the likes of Mrs Anthonia Membere of blessed memory, Mrs Linda Stewart, Hon. Felicia Tane, Irene Inimgba as well as  Victoria Nyeche, have made valuable contributions to their constituencies and remarkable growth of Rivers State in their various endeavours.
Before now, women were appointed caretaker committee chairmen of local government councils of Rivers State.
Under Governor Nyesom Wike administration, the Vice Chairmen of the 23 local government areas of Rivers State are women. That shows how important the roles of women in socio-political development are. Of course, no society, state or nation can develop without women.
There is no doubt that women who have contributed and are still contributing to the growth of the state are all educated.  When a woman does not acquire formal education, she will not be at the helm of affairs.
Women need to be trained in the areas of Medicine, Engineering, Law, etc so as to represent themselves.
For the women to move higher in the future, they need to be assisted financially, in terms of scholarships because some want to acquire formal education but may not have anybody for sponsorship.  Some end up as housewives once they get married.  When they are encouraged to go to school, definitely they will use the knowledge acquired from school to contribute more to their families and the society at large.
It is high time women had started supporting their fellow women during political periods, if they want more women at the top.
Decades ago, governance and policy making were dominated by the opposite sex but nowadays, the gap between the men and women is becoming narrower as more women have got awareness on how to participate in politics.
Women are important in decision-making especially in things that concern them as well as the children.  Nothing should be a barrier to their full participation  in politics in Rivers State.
There should be policies and programmes in place to encourage the advancement of women in the political arena.
By: Eunice Choko-Kayode
Early Marriage And Girl-Child Dev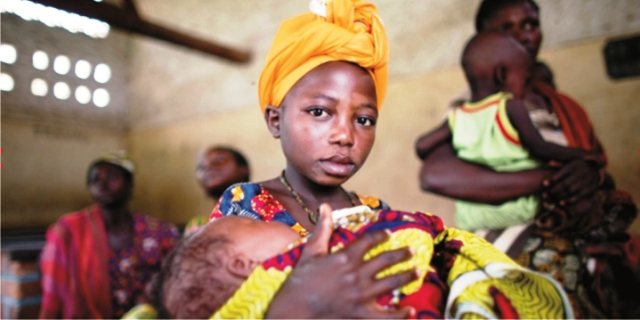 Early marriage occurs when the persons involved are in the ages of 13 and 15 years. In fact any marriage contracted before the age of 18 is termed early marriage.
Early marriage has become a problem affecting many nations, cultures, religion and ethnic groups.
In early marriage, the girl-child is always the one to suffer the consequences because it is associated with many problems.  In most cases the partner, that is the man, is usually older and more experienced. In the first place, she may not have completed her secondary education to be more knowledgeable in making the right choice in terms of marriage.
A situation where a 13-year-old girl will be forced and given to a 50-year-old man in marriage should be condemned. This may happen due to certain reasons. The truth is that some of the marriages involving minors as we have seen do not last. The cause of some divorce cases in recent times are as a result of early marriages. After marrying in ignorance, as the girl becomes aware of things she never knew before the marriage will begin to make moves to quit. I have seen a girl whose parents forced into marriage with an old man. When she later saw that her mates were getting married to younger men she simply withdrew.  Others may demand to complete their secondary education or to further into tertiary institutions.
Parents will sometimes push their girl-child into marriage feeling that she is a burden to them, so giving her out in marriage will reduce the liability on them. Some parents are of the opinion that girls who go into marriage on time, will have more chances of pregnancy and children than graduates. Anybody can still have children after school, it just depends on planning.
I want to say that the problems associated with early marriage outweigh the gains. There is also this inequality between boys and girls which emanates from harmful social and gender norms, they will say the incomes they have should be used to train their male children since the girl will leave the parents' family one day while the male child will remain.
Parents, think that when girls get married on time, it will protect them from violence and insecurity, but in our society today, mature married women are also kidnapped and raped.
Others feel that younger wives are more submissive than the older ones as well as dowries paid on younger ones are less than when the woman becomes a graduate and gets more mature.
Many early marriages had caused our girls to drop out of school. In these days of civilisation, socialisation and computer age, even if a girl completes her secondary education at 18, it is still early.  An 18-year-old girl needs more awareness on marriage. Marriage is not something you jump in and out, it has to do with maturity in mind, soul and education.
Education acquired in character and in learning will guide her in managing herself when she finally settles down. With this level of education and empowerment, she can cope when the spouse is not doing enough.
I have seen a situation where a girl who got married with a school certificate requested to further her education and the husband refused and said she must give birth to children as much as he wants first. If the man  is not a graduate may be apprehensive that the woman will become his rival one day.
Most underage in marriage usually end up as full-time housewives. Being a  full-time housewife has its own implications.  A wife without empowerment that will depend on her husband for everything. When her demands are not met troubles may occur.
When a girl gets married at a tender age, the right choice may not be there. Recommendation comes through friends, relatives and well-wishers. This kind of marriage comes with persuasion and at the end of the day problems occur because she never made the choice herself. When a lady gets mature before marriage, she can handle issues that may arise. She chooses her spouse herself perhaps after courtship, in this case, will not blame anyone if problems arise.
Pregnancy and childbearing have to do with maturity. A minor or an adolescent who is unable to manage herself going into marriage will definitely end up frustrated. One who behaves like a baby cannot take care of another baby. At night she may fall asleep and abandon the baby while he or she is crying.
In girl-child pregnancy, the danger of being infected with one form of disease or the other is there. Underage mothers have difficulty in labour because according to medical experts the muscles in the hip and all the mechanism that facilitate delivery may not have developed. The cervix and the uterus which connect the womb may be affected which can lead to cervical cancer. The complication could lead to the death of both mother and child.
Furthermore, early marriage can occur when a man forcefully impregnates a girl and the parents ask the man to take her for a wife, the man could decide to drop her later. When that happens the girl becomes a single parent. This is a situation parents should guide against.
To put a stop to this in our society, government should enforce laws that will protect girls from forceful marriages and rape cases. Any rape case concerning our girls should be taken seriously and the perpetrator be brought to book.
I call on the Ministry of Social Welfare and other relevant agencies saddled with the responsibility of protecting the girl-child and women to review policies and programmes that will educate communities and our schools at secondary and tertiary levels on the dangers associated with girls and early marriages.
More awareness should be raised and in fact, we engage local and religious leaders, parents, informing them that empowerment of girls through education and employment is necessary.
When girls go to school, the knowledge they gain help protect them from illnesses, unwanted pregnancies and social vices.
Educated girls gain certain potentials, social and economic status in the society. They contribute to the health care and welfare of their immediate and extended families as well as where they from with the income got from jobs after graduation.
An empowered girl-child can cater for her family in the absence of her husband.
Remember, train a woman and you train a nation.
By: Eunice Choko-Kayode
Why Women Still Shun Exclusive Breastfeeding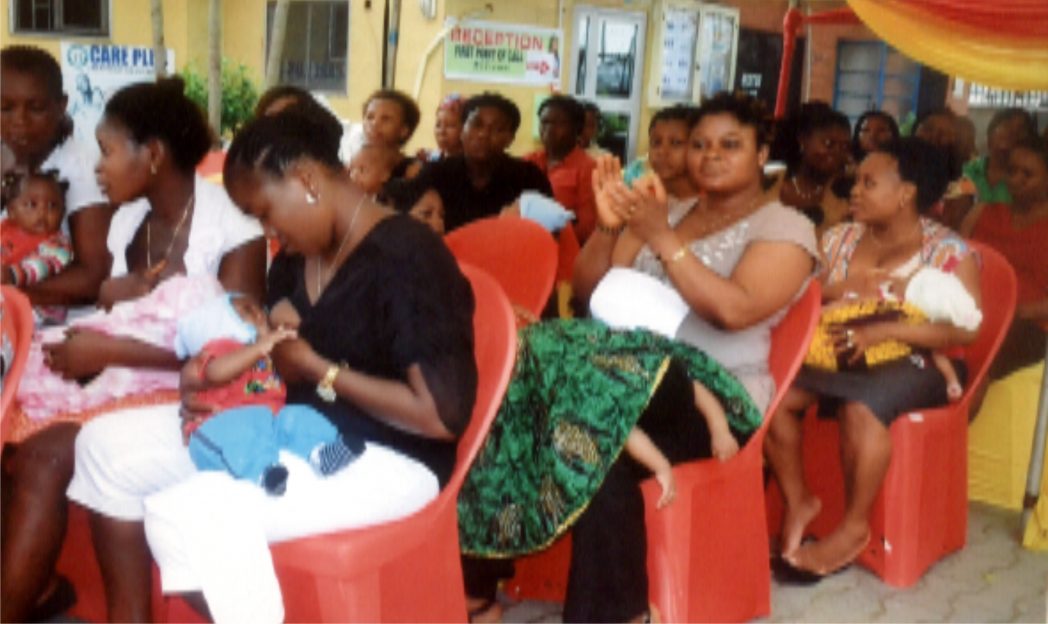 The importance of breastfeeding can never be over-emphasised to babies, mothers, family and the society at large.
Breastfeeding protects infants against infections and reduces the risk of contracting diseases.  It also reduces the cost of healthcare expenses because the baby does not fall sick easily due to high immunity.
One of the benefits of exclusive breastfeeding if practised by nursing mothers is that it protects women from ovarian cancer. The benefits are so numerous that one cannot ignore.
Despite these benefits and more, some nursing mothers do not have the wherewithal to practise that perfectly.
The truth is that nursing mothers must feed well to be able to breastfeed a sucking infant.  Balance diet is involved while three-square meal must be available. But poverty and high cost of living are impediments.
Government at all levels and stakeholders in the health sector have developed a lot of policies that will assist women in that respect considering the enormous benefits but much has not been achieved.
Nursing mothers were allowed three-month maternity leave. But they are supposed to breastfeed exclusively for six months.
Not to long, the period was extended to six months.  Such policy that supports exclusive breastfeeding should be encouraged and implemented to the fullest.
There should be enough parental leave for fathers and mothesr to ensure that the child is well nurtured.   Government should ensure that there are breastfeeding breaks for working mothers and their husbands.
At the level of development we find ourselves, some organisations do not allow nursing mothers to take their babies to their offices.
Allowing them a time to go and breastfeed their babies is a problem.  As soon as some female employees have new born babiesand proceed on maternity leave, that is the end of that job.
Nursing mothers cannot be denied paid-employed Jobs that will enable them earn a living because they are making babies.
According to the United Nations Children'sFund (UNICEF), the health, social and economic benefits of breastfeeding for mother and child are well-established and are acceptable the world over.
The report said that about 60 per cent of the world's infants are denied the recommended six months of exclusive breastfeeding.
The report has it that, 4 out of 10 babies are breastfed exclusively, showing 40 per cent representation globally.
It is disheartening to hear some reports in the local communities, where some mothers give flimsy excuses.
It is difficult to see mothers who breastfeed babies up to four months.  Reports have it that 80 per cent breastfeed exclusively for up to two months.
Some of the mothers interviewed said they cannot practise exclusive breastfeeding since they do not feed adequately.
Mrs Ruth Akoye, who works in private business organisation complained that she stopped exclusive breastfeeding after two months to enable her resume work, otherwise, she would be sacked
She said there was no other option rather than introducing  artificial milk.
Mrs Anita Umeh, who prepares roasted bole and yam,  said, "Is it not when you feed very well that you can breastfeed exclusively?"
According to her, "they teach us in the anti-natal clinic, but I cannot practise it because I cannot sit at home for money to come.  Since I don't have enough money to eat well, I bought baby-milk for my child to enable me gain some strength to do my business"
A hair dresser, Mrs Uche Amos said only her first child, out of three enjoyed exclusive breastfeeding.
She said while nursing her second child, she became less interested about the policy and complained that her baby was always crying.
Mrs Amos emphasised that neighbours were accusing her of starving the baby.
This infact, is one of the major problems in the society, some person, are of the opinion that the baby, who is exclusively breastfed does not get enough and should be introduced to baby formula and water to support the mother.
When some persons come across infants that are exclusively breastfed and they cry, it will be attributed to hunger.
It is important to note that a child who is exclusively breastfed is healthier than the one that takes man-made milk.  The condition can never be the same.  When it comes to high intelligence, the difference is clear.
A private school teacher, Mrs Amanda, said she could not continue exclusive breastfeeding for her baby due to the fact that she had to resume her teaching job before six months.
She lamented that it limited her time with the baby and the natural milk the baby would have enjoyed.
A trader, Mrs Ijeoma Akpan, said her baby' s joy to breast milk which she would have enjoyed was cut short because her breast milk refused to flow.
The truth is that nursing mothers need support and should be granted such requests.
Organisations, both public and private should create and establish creches in their offices where nursing mothers can keep their babies in the custody of caregivers while they breastfeed as the job is being done.
By: Eunice Choko-Kayode