NDLEA Arrests 72-Year-Old Man, Five Others Over 5,721.92kg Of Hard Drugs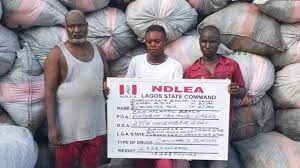 A 72-year-old man and five undergraduate students are some of the suspects the NDLEA arrested in a week-long operation to seize hard drugs and arrest offenders.
The raids, across nine states and at the Murtala Muhammed International Airport (MMIA), Lagos, yielded 5,721.92 kilogrammes of Indian hemp and other drugs.
The 72-year-old man, Emmanuel Akanbi was arrested at Odofin Camp, Uso, Owo Local Government Area of Ondo State with 2,050kg of Indian hemp.
The varsity students belong to the American University of Nigeria, (AUN) Yola, and the University of Maiduguri.
NDLEA's Director, Media and Advocacy, Mr Femi Babafemi said in a statement issued yesterday in Abuja that one Okorie Onyeribe was arrested at the MMIA on December 3.
He was attempting to export 21.85kg of Indian hemp concealed in foodstuffs to London.
Babafemi stated that two students, Emmanuel Thlama and Jonah Joshua were arrested with 16.750kg of Indian hemp on Nov. 30 when NDLEA operatives raided a settlement opposite Gate 4 of the University of Maiduguri.
He added that the three other students, Ekene Asher, Daniel Alkali and Emmanuel Smooth are undergraduates of AUN. They were arrested on Dec. 2.
Babafemi explained that their arrest followed their receipt of "Loud'' a very strong variant of Indian hemp ordered by Asher.
"Equally, ThankGod Danladi who completed a jail term in October was arrested on Wednesday, Dec. 1 with 67 kilograms of Indian hemp in a raid in Taraba.
Also on Dec. 2, NDLEA operatives intercepted a motorised concrete mixer truck used to conceal 2000.6kg of Indian hemp loaded at Ogbese, Ondo State.
No Room For Cultism, Sex-For-Marks In UNIMAID -VC
The Vice-Chancellor, University of Maiduguri, Prof. Aliyu Shugaba, says there is no room for cultism and sex-for-marks in the institution.
Shugaba said this at a forum yesterday in Abuja.
The vice-chancellor said that the university was intensifying measures to ensure that cultism and other social vices were checked adequately.
"Our university has all these while maintained a zero tolerance to cultism and exam malpractice and to some other vices.
"We have never had a situation of cultism on the campus, it is always outside the campus very close to the university,'' he said
While emphasising that the institution had recorded success in addressing the problems of cultism, Shugaba said that the management was, however, determined to discipline those involved in nefarious activities.
"Where we had a similitude of that we have dealt with it.
"The vice-chancellor has that power to suspend students and arraign them before Students Disciplinary Committee.
"That committee has been working. Each time we have cases we refer it to them and they make a good job of it and report to us.
"Those that need to be expelled will be expelled, those that need to be rusticated for one semester or two they will be given the appropriate punishment.
"There was something that happened and it involved one of the military guys on campus, we reported to the military authorities and they took swift action against that officer of theirs.
"That was the only thing that happened on the campus, they were trying to initiate someone and I think the guy has been dismissed from the military; so we do not have much of that problem,'' Shugaba said.
The vice-chancellor, who decried the rate of exam malpractice in the education system admonished students to refrain from it, stressing that appropriate sanctions awaited defaulters.
According to him, one that is so much rampant and it is in most of the universities is the issue of exam malpractice.
"There is no single exam we conduct that we do not have students that do that kind of thing but when we catch them doing it we have ways of making them realise their mistakes.
"We have always counselled them; we have always embarked on campaign using bill boards, orientation programmes and the radio station to tell them about the consequences,'' he said.
Shugaba added that the institution was collaborating with the National Drug Law Enforcement Agency (NDLEA) to check the menace of drug related vices.
"We bring the NDLEA to the campus to counsel the students on the effects of drugs.
"So, that has brought it to the barest minimum but our greatest headache is the examination malpractice where every semester we have reports.
"We bring the students before the committee, examine and give them chance to defend themselves and those found guilty depending on the level of the offence will either be expelled or suspended for one or two semesters.
"Because we are doing that it is gradually reducing and in the last two semesters there hasn't been much cases.
"We have had some that were expelled but if you consider the total number of students on the campus the number expelled is negligible.
On the issue of sex for marks, Shugaba said "since we got to know about the happenings in other institutions, we have been working on our own academic staff to ensure that these things don't happen.
"There are instances where we have invited some that were reported, they have been seriously warned and I can assure you that the situation is now giving way,'' Shugaba said.
Ex-Lawmaker Advises Reduction In Rice Prices 
A former House of Representatives member, Rep. Joseph Akinlaja, has advised the Federal Government to ensure reduction in the price of rice commodities
Akinlaja gave the advice yesterday in Abuja while reacting to the one million bags of rice paddy pyramids launched by President Muhammad Buhari.
He explained that the rice pyramid showed that the country was ready to be self-sufficient in rice production and should continue to showcase its achievement in terms of agriculture.
Akinlaja, who is also the former National Deputy President of the Nigeria Labour Congress (NLC), maintained that it was necessary Nigerians benefited with discounted price after processing the rice.
He added that there was the need for a drastic reduction in price of the commodities as soon as it rolled into the market with the cooperation of the millers association.
"I hope that rice will remain the cheapest commodity in the Nigerian market."
The building of the paddy rice pyramid at the Abuja Chamber of Commerce and Industry (ICCI) on Airport Road, started mid- December 2021.
The rice pyramids were built with million bags of rice paddy planted and harvested from states across the country under the Central Bank of Nigeria (CBN) Anchor Borrowers Programme.
The President, Rice Farmers Association of Nigeria (RIFAN), Mr Ado Hassan, had earlier said that the country would commence exportation of rice in the near future to engender the twin benefits of food security and economic diversification.
Secretary of the Kano State chapter of RIFAN, told the journalists on the sidelines of the unveiling of the mega rice pyramids in Abuja, that it was a joint project between the Central Bank of Nigeria (CBN) under its Anchor Borrowers Programme, and RIFAN.
"For the fact that Nigeria has not imported even a grain of rice in the last four years is enough prove that we are already self-sufficient in the commodity. The cultivation of rice is a reality and it will continue to happen," he said.
Hassan said that though insecurity was a setback, it has not discouraged farmers from cultivating different crops.
He assured that the massive investment in rice cultivation by Nigeria will bring down its price and make it available to the ordinary Nigerians
Expert Advises Nigerian Leaders To Be Self-Motivated
The founder of TEXEM UK, Dr Alim Abubakre, a British Nigerian, has urged Nigerian leaders and entrepreneurs to be self-motivated before trying to motivate their team in the uncertain era of COVID-19.
Abubakre, who spoke with the The Tide in Abuja said a prolific leader must be self-motivated to motivate his or her team for maximum productivity.
"It becomes easy to provide strategic direction and inspire your team to achieve organisational goals when you are self-motivated.
"But, how do you motivate yourself? Well, be open to change, learn from others, reflect on your progress, balance your emotions, be deliberate about the company you keep and what you read, and always make positive affirmative statements," he explained.
Speaking on how strategic leaders could develop a growth mindset and win in 2022 and beyond, Abubakre noted that improving performance during and after a pandemic could be challenging due to many disruptions.
"While it looks challenging and daunting during times of uncertainty, yet there are executives out there who are performing exceptionally well despite the many challenges they face.
"Such cases present an opportunity to learn how such leaders are sailing through the storms of the pandemic, competition, disruption and other headwinds.
"As a public or private sector leader, you need to learn and adopt the right strategies, with the appropriate executing competencies, that will assist you to circumvent the innumerable hurdles of the prevailing post-lockdown volatile operating context.
"And to better implement this, you must pursue a holistic stakeholder engagement and involvement strategies to stimulate an effective and efficient organisation-wide goals achievement.
"By the way, contrary to what many people think, leadership is not about coercion.
"On the contrary, sometimes transformational leadership improves organisational performance through appropriate coaching and inspiration.
"Arguably, certain qualities and characteristics are common among successful leaders who continually contribute to nation-building.
"How such individuals respond to circumstances, including disruptive pandemics such as the COVID-19 and the strategic choices that they make, all factor into their success and effective leadership.