EFCC Re-Arrests Fani-Kayode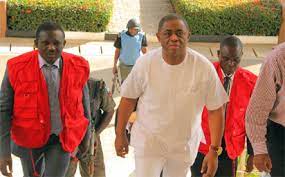 A former Aviation Minister, Femi Fani-Kayode has been re-invited by the Economic and Financial Crimes Commission (EFCC) following investigations into alleged document falsification
Fani-Kayode alongside a former Minister of State for Finance, Nenandi Usman, is standing trial on alleged N4.6billion money laundering, before Justice Mohammed Aikawa.
Other defendants are Yusuf Danjuma, a former chairman of the Association of Local Governments of Nigeria (ALGON) and a company, Jointrust Dimensions Nigeria Ltd.
They are facing a 17-count charge of money laundering preferred against them by the anti-graft agency.
They had each pleaded not guilty to the charges and were granted bails.
The trial had begun before Justice Aikawa and witnesses were still being led in evidence until Aikawa was transferred out of the Lagos division.
The charge was consequently, re-assigned to a new judge, Justice Daniel Osaigor, and the defendants were scheduled for re-arraignment on October 27.
Meanwhile, at the last adjourned date, FaniKayode was absent from court and the defence counsel who appeared on his behalf, Mr Fred Ajudua informed the court that he was on admission at Kubwa General Hospital in Abuja.
He had prayed for an adjournment on that ground on behalf of the second defendant
But, the EFCC prosecutor, Mrs BilikisuBuhari, informed the court that the same tactics had always been adopted by the defendant whenever he does not want to attend court.
After going through the court's records, Justice Osiagor noted that it was clear that the defendant had issued a similar letter of excuse five times.
Yobe: Former APC Guber Candidate, 1,000 Others Defect To PDP
A former All Progressives Congress (APC) 2019 gubernatorial candidate in Yobe State, Dr Aji Kolomi, was among hundreds of members of the ruling party who joined the Peoples Democratic Party (PDP) recently.
He was welcomed into the PDP's fold alongside hundreds of his supporters at the main opposition party's secretariat in Damaturu, the state capital.
PDP's Publicity Secretary in Yobe, Hon. Salihu Mohammed Baba, in a statement, claimed that after the party has kicked off "Operation Flush APC In The State", it has received over 1,000 APC loyalists into its fold.
He said the new entrants, comprising of men and women, were mostly from Abasha, Layin PS and Malaria areas within the metropolis.
"As the operation continues steadily, we welcome the new entrants into our great party the People's Democratic Party, (PDP), and urge our teeming youth to answer the clarion call by joining PDP for better Yobe and Nigeria", he appealed.
Abdulsalami Abubakar Warns Against Increase In Fuel Price
Former Head of State, Gen. Abdulsalami Abubakar (retd.), has warned against an increase in fuel price.
Speaking at the 19th Daily Trust Dialogue in Abuja, he said an increase in fuel price will push millions of Nigerians into poverty.
He said this following the recommendation issued by the National Economic Council for fuel price to be pegged at N302 per litre.
The former Head of State said, "Insecurity in the country is worsened by our dear economic situation. Unemployment and underemployment remain at a high level. Over 18 million Nigerians are still caught up in needless poverty. All of these tend to have negative effects on security. In fact, Nigeria now faces a full security crisis that is confounded by the COVID-19 global pandemic and the banditry in many states in Northern Nigeria.
"Most of these have disrupted the final value change across the country and negatively impacted the ability of Nigeria to produce, process, and distribute.
"There is a continuous rise in the prices of food items beyond the reach of many Nigerians. On top of all these, fuel prices are expected to rise significantly in the coming months as announced last November. We all know that when this happens, it will push many millions of Nigerians into poverty."
On insecurity, Abdulsalami stated that the situation has overstretched the country's security forces and has led to the death of thousands.
"Ladies and gentlemen, Nigeria is once again at crossroads. Insecurity remains the single, most difficult challenge for the country. The Boko Haram insurgency in the North-East, banditry in the North-West, violence in the South-East, kidnappings and abductions of travellers across many states all continue to fester in the land.
"In addition to these, ethnic, communal and religious conflicts are rearing their head again in many parts of the country. All of these have greatly challenged and overstretched our security forces. This has caused thousands of deaths and millions of internally displaced persons in the country over the past years," he said.
Osun APC Chairmen Forum Accuses Aregbesola Of Championing Crisis
The Forum of the All Progressives Congress (APC) Party Chairmen in Osun State Local Government Council Areas has cautioned the Minister of Interior, Ogbeni Rauf Aregbesola, to stop henceforth the disturbance of the political peace of the State.
The APC party chairmen who spoke through their chairman, Rufus Awotidoye, on Tuesday, after a meeting in Osogbo, the Osun State capital, stated that the conduct of Aregbesola constituted an obvious distraction to the administration of Governor Gboyega Oyetola.
Awotidoye disclosed that the Interior Minister's affirmation in Ilesa last Friday "of being the brain behind the obnoxious, leprous and antagonistic pressure group within the state APC self-styled, The Osun Progressives (TOP), was unfortunate and needless."
They praised the quick and prompt condemnation by the State chairman of the Party, Prince Gboyega Famodun, of the needless outburst of Aregbesola, stating that they were in agreement with the chairman's timely response.
The local APC party chairmen, however, charged the governor to invoke his vast constitutional powers to deal with whoever is constituting a clog to the lawful performance of his official duties.
They warned Aregbesola to stop taking advantage of the gentle nature of the governor to foment trouble and crisis in Osun State each time he visits the State.
They reminded the Interior Minister that his ministerial appointment should be a source of blessing to the people of the State and not the other way round.
The local APC chairmen, who cautioned Aregbesola to desist from distracting Governor Oyetola from performing his statutory duties, accused him of being responsible for all the atrocities being performed against the sitting Governor and his government by the leadership of his militant political group in the state.
They asked the Interior Minister why he has chosen to be the tormentor-in-chief of Governor Oyetola when it's on record that the governor as his Chief of Staff gave him a hundred per cent support for the eight solid years he ran the administration of the State.
The furious APC local chairmen told Aregbesola that "enough is enough, you should stop riding roughshod on the State as if Osun is a conquered territory of yours.
"There were functional politicians in the state before your foray into the political terrain of the state.
"You should stop playing God who possesses the absolute power to install governors in the State, as all powers belong to God Almighty.
"When it's apparent that you could not allow any kind of such seditious act against your administration when you were in government, one wonders why you are doing the same to the focused administration of Governor Oyetola."