Indian Police Nab Nigerian With N1.8m Cocaine …As NDLEA Intercepts 12,385kg Drugs In Lagos
Another Nigerian, Kehinde Sadiq Idris, 26, has been arrested by the Prune City Police in India for alleged possession of cocaine worth Rs3.46 lakh (N1.9million).
It was gathered that a patrolling team of the Anti-Narcotics Cell and Uttamnagar police station intercepted a two-wheeler at Kutje around 2am, last Saturday.
The two-wheeler rider tried to escape from the spot, cops nabbed him.
It said during searches, they recovered 23.9grammes of cocaine worth Rs3,46,350 from his possession.
Police also seized his vehicle, two cell phones and cash of Rs6,000 from him.
The online portal said an offence was lodged against him at the Uttamnagar police station under sections of the Narcotics Drugs and Psychotropic Substances (NDPS) Act.
Police Inspector VinayakGaikwad said the accused has been arrested earlier in a case of illegal drugs trade.
Similarly, the National Drug Law Enforcement Agency (NDLEA) has announced the seizure of 12,385kilogrammes of Loud Cannabis, a strong variant of the illicit weed imported from a neighbouring country and smuggled into Lagos through the waterways.
The seizure, which took place at the weekend, according to the agency, was based on credible intelligence that 12, 385 pellets of Loud Cannabis were brought in from the West African country through the ocean and ferried with boats to the Eko Atlantic Beach, Victoria Island from where they would be distributed to drug hot spots such as Island, Peti Alagba and others across Lagos and other states.
A statement by the Director of Media and Advocacy, Femi Babafemi, yesterday, said over 50 narcotic officers stormed the beach on Saturday, November 27, 2021, recovered the consignments along with two long trucks, a Toyota Sienna bus and arrested three suspects.
"Those arrested include: AbdulkadriZakari, 24; Ka'abuSausu, 45 and Lawrence Adie, 27.
"In the same vein, a 70-year-old woman, Mrs. Beatrice Aigbedion was among suspects arrested in parts of Edo in connection with the seizure of over 5,000kilogrammes of assorted illicit drugs across the state.
"After days of surveillance, NDLEA operatives, last Wednesday, stormed a warehouse at Uhiere, Ovia North East Local Government Area of the state, where they recovered a total of 4,261.5kg of cannabis sativa and a suspect, Ikong Stanley, arrested.
"The previous day, 1,240kg was equally seized at a warehouse in Uzebba, Owan West LGA of the state.
"At the point of her arrest in Irrua, last Wednesday, Mrs.Aigbedion was caught with different quantities of Codeine cough syrup, Swinol and Rohypnol while another dealer, Joseph Onyemaechi, 50, was also nabbed at IkpobaOkha, Upper Sakponba-Benin City, last Friday, with different types of psychotropic substances weighing 2.055kg.
"Similarly, Gabriel Akioya and Isa Salihu were arrested, last Thursday, at Irrua, Esan Central LGA with various quantities of Codeine, Tramadol, Swinol and Rohypnol.
"In Delta State, operatives raided Hampton Towers and Spa Hotel, OkpanamRoad, Asaba where DobedientEtumudor and Thompson Chukwuemeka were arrested with different quantities of psychoactive substances, while another dealer, Emeka Ben was nabbed with 4.7grammes of Methamphetamine along Asaba – IbusaRoad.
"Other suspects arrested, last Thursday, in the state for dealing in Meth, Cannabis, Cocaine, and Heroin include IfeanyiOdibe, UcheOnwurah, and Justice Obika.
"In Kano, a drug dealer, AlhajiBukar Malan Abdu, was arrested and 143kilogrammes of cannabis recovered from him while 466kg of same drug was seized in the home of one Bashir Shuaibu, an indigene of Edo State but resident in Kano, who deals in Cannabis sativa.
"On Thursday, a drug dealer in Maiduguri, BornoState, Chima Obi was arrested in a follow up operation following the seizure of his drug consignment, 73.2kg codeine, at an NDLEA checkpoint in Postiskum, YobeState same day".
In his reaction to the arrests and huge seizures in Lagos, Edo, Delta, Kano and Yobe states, Chairman/Chief Executive of NDLEA, Brig.-Gen. Mohammed BubaMarwa (rtd) commended the officers and men involved in the operations, and urged them along with their compatriots in other commands not to rest on their oars.
He charged them to always strive to record greater feats until the drug supply and drug demand reduction targets of the agency are fully achieved.
Nigeria, US Sign Pact To Reduce Illicit Trafficking Of Ancient Arts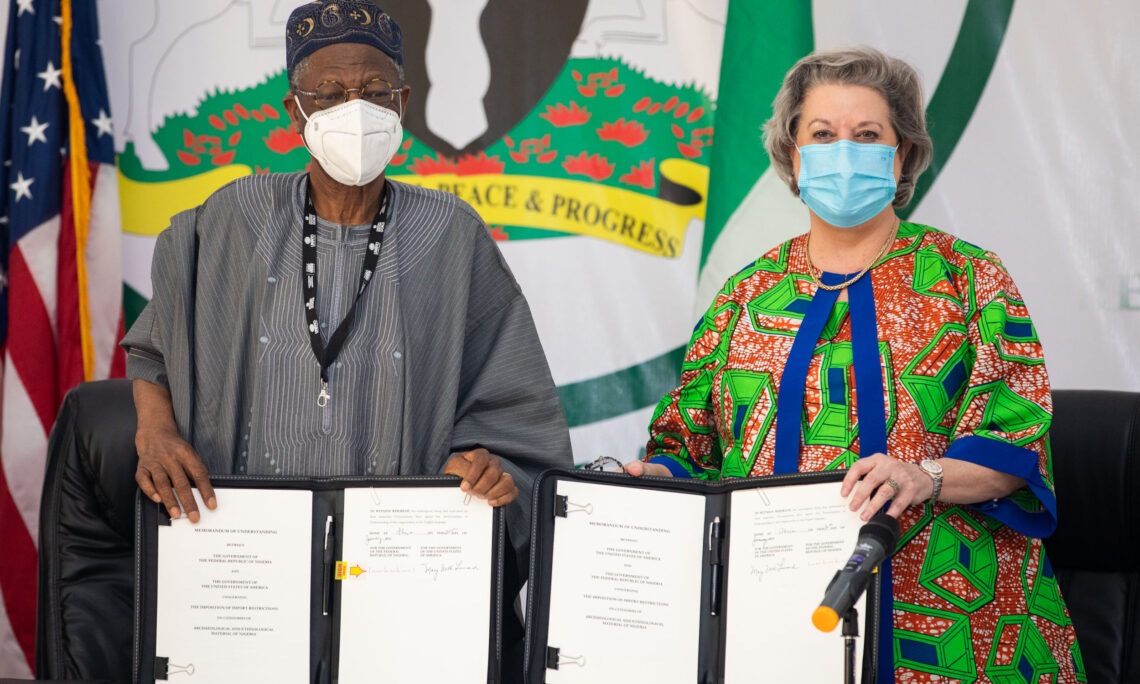 The Federal Government and the United States, yesterday, signed the Cultural Property Implementation Act (CPIA) Agreement.
According to the Minister of Information and Culture, Lai Mohammed, the CPIA would reduce the pillage of Nigeria's ancient arts which are mostly smuggled to Europe, the US and other places for the benefit of art collectors.
Mohammed said the signing of the MoU became necessary because, despite all efforts by the Ministry of Information and Culture and the National Commission for Museums and Monuments, with the assistance of law enforcement agencies, to prevent illicit export of the nation's archaeological and ethnological materials, widespread looting and illicit excavation of these materials still continue.
He said this when he signed a Memorandum of Understanding on the CPIA with the US Ambassador to Nigeria, Mary Beth Leonard, in the presence of the Minister of Foreign Affairs, Mr Geoffrey Onyeama, in Abuja.
Special Assistant to the President on Media, Office of the Minister of Information and Culture, Segun Adeyemi, disclosed this in a statement titled, 'Nigeria, US Sign Pact To Reduce Illicit Trafficking of Ancient Arts.'
Mohammed was quoted as saying, "This legislation was enacted by the United States to restrict the importation into the US of archaeological materials ranging in date from 1500 B.C. to A.D. 1770 as well as ethnological materials, including those associated with royal activity, religious activity, etc from nations that have entered into the kind of bilateral initiative that we are signing here with the United States today."
The minister said on the basis of the agreement, Nigerian antiquities being imported into the US without the requisite export permit will be seized at the border of the US and returned to Nigeria without the arduous and costly task of going through the labyrinth of judicial and diplomatic processes.
"We are optimistic that this agreement will reduce the pillage of our irreplaceable archaeological and ethnological materials, as the market for these materials is being shut in the United States against illicit traffickers.
"The agreement will last for an initial period of five years. If it works well, as we anticipate it will, it shall be renewed for a longer term. We implore other friendly nations to take a cue from the United States of America and join us in finding means to prevent the illegal importation of our antiquities into their countries," he said.
The minister, who thanked the US Government, in particular the US Embassy in Nigeria, for making the MoU possible, said the Nigerian Government looks forward to a diligent implementation of the landmark agreement, so it can become a game-changer in the nation's efforts to prevent the looting of its priceless ancient works of art.
In her remarks, the US Ambassador to Nigeria, Beth Leonard, said the agreement was aimed at preserving, restoring and protecting Nigeria's cultural heritage.
"In Nigeria, over the past decade, the US Mission has partnered with the Nigerian government and state institutions to preserve cultural landmarks and sites through projects worth over one million dollars and funded by the US Ambassador's Fund for Cultural Preservation.
"Just last November, I signed a grant award to digitally survey the Busanyin Shrine located within the Osun Osogbo Sacred Grove. That $125,000 grant will help document a series of shrines within the Grove and provide training to local professionals in digital tools and cultural heritage management," she said.
Three Out Of 10 Nigerians Are Mentally Sick -Reps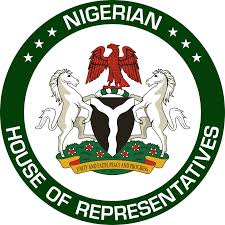 The House of Representatives has said that three out of every 10 Nigerians have one form of mental illness or another.
Quoting the World Health Organisation (WHO) statistics, the House added that over 20,000,000 Nigerians were currently suffering from various degrees of mental illness or disorder without psychiatric health care.
To this end, the House mandated its Committees on Health Institutions and Healthcare Services to liaise with the Federal Ministry of Health towards improving mental health facilities around the country and further carry out serious sensitization of Nigerians on this issue.
It also asked the Committee on Health Institution to explore the modalities of liaising with stakeholders in the health sector to promote, educate and sensitise Nigerians on mental health.
The resolution, however, followed a motion titled "Need to Address the Rising Cases of Mental Health in Nigeria" presented by Hon. Uchechuku Nnam-Obi from Rivers State and considered by the House at yesterday's plenary.
Presenting his motion, Nnam-Obi noted that the World Health Organisation (WHO) considers mental health as a state of well-being in which the individual can cope with the stress of life, work productively and contribute to the community.
According to him, mental illness manifests in mood disorder, anxiety disorder, trauma-related disorder, personality disorder, old age-related disorder, substance abuse disorder or mental pattern that causes significant distress or impairment of personal functioning.
He said: "According to the World Health Organisation statistics, over twenty million Nigerians are currently suffering from various degrees of mental illness or disorder without psychiatric health care.
"Three out of 10 Nigerians have one form of mental illness or the other, presently there is no mental health legislation in Nigeria. However, the Nigerian mental health policy is the only framework that has access to mental healthcare, dealing with mental and neurological disorders in Nigeria, discouraging stigmatisation against persons with mental disorders and has institutionalised standards for Psychiatric practice.
"The increase in cases of depression is traceable to multifactorial inter and intrapersonal issues which leads to suicidal death in the country and this requires urgent attention.
"Nigeria has only 130 Psychiatrists with over 20million citizens suffering from mental disorders.
"With the few functional Mental Health Facilities and inadequate mental health practitioners in the country, mental health cases are left for traditional practitioners, hence the upsurge in mental health in Nigeria.
"The statistics are troubling and the continued lack of a legal framework on mental health in the country will simply cause the situation to degenerate"
Adopting the motion, the House gave six weeks to the committees within which to carry out the assignment and report back to it for further legislative action.
Wike, PDP Govs Commiserate With Tambuwal Over Brother's Death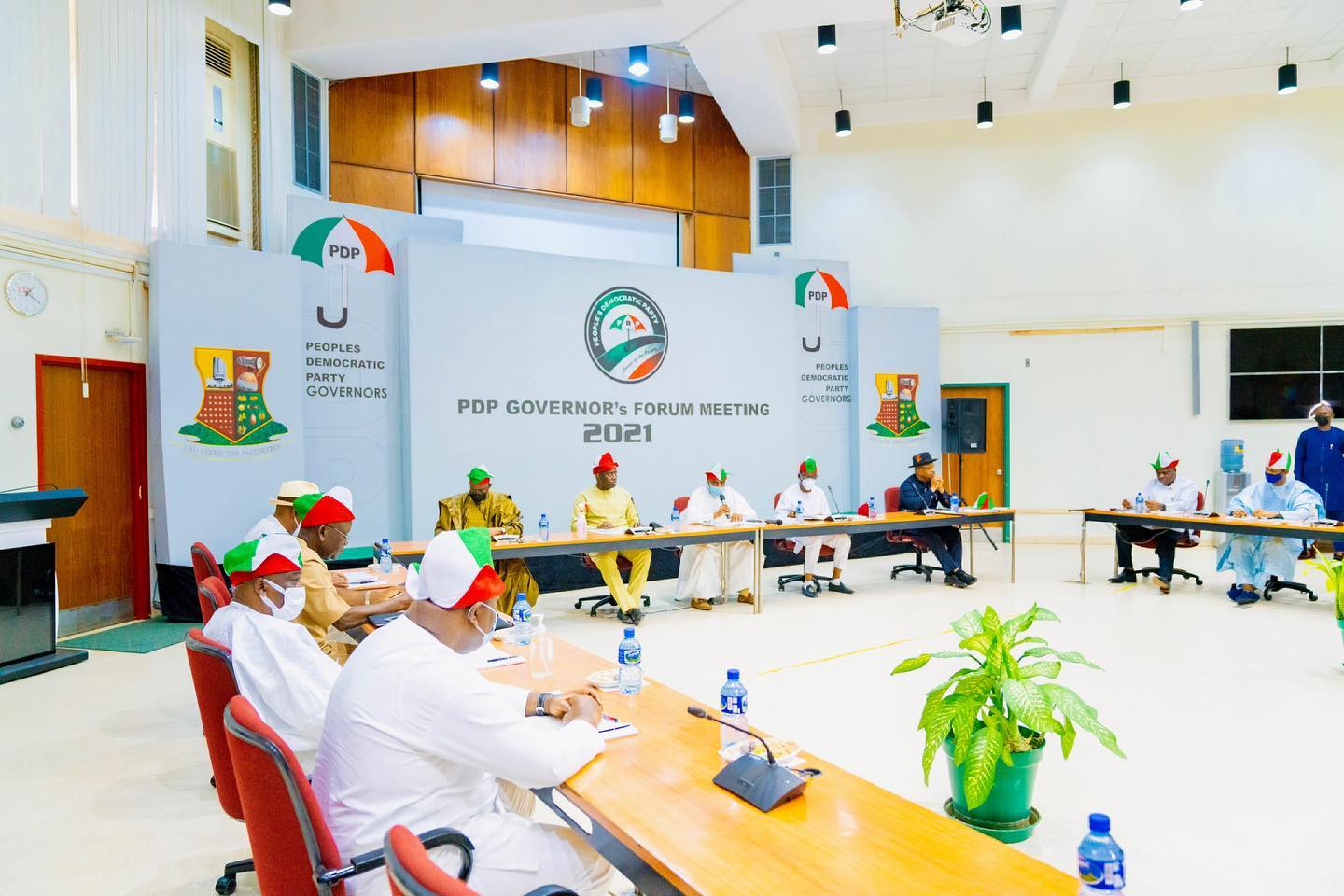 Representatives of the Peoples Democratic Party (PDP) Governors' Forum, yesterday, paid a condolence visit to the Sokoto State Governor, Hon. Aminu Tambuwal over the death of his elder brother, Alhaji Muhammed Bello.
Bello, who is also the Waziri of Tambuwal, passed on in Sokoto, last Tuesday night at the age 87.
He was the head of the Tambuwal family.
On the PDP governors' delegation were, Governors Okezie Ikpeazu of Abia State; Nyesom Wike (Rivers); Ifeanyi Ugwuanyi (Enugu); Oluseyi Makinde (Oyo); and Ahmadu Fintiri of Adamawa State.
The Vice Chairman of the PDP Governors' Forum, Dr Okezie Ikpeazu, who led the delegation, said they were in Sokoto to commiserate with Tambuwal and his entire family over the sudden death of his elder brother.
"We feel your pain, and we understand that a great vacuum has been created, not only within the caliphate, but across Nigeria and other places where Daddy had sphere of influence. We believe that God Almighty will grant you the fortitude to bear this great loss.
"We are, however, consoled by the fact that Daddy left legacies that will remain indelible; one of them is your very good self and your impact and contributions to our dear country."
The governors urged the Tambuwal family, particularly the Sokoto State governor, to remain strong, steadfast and uphold those virtues which the late Waziri of Tambuwal, cherished so much.
In his response, Sokoto StateGovernor, Hon. Aminu Tambuwal, who is the PDP Governors' Forum chairman, said the entire Tambuwal family was gladdened by the condolence visit.
According to him, his late elder brother, who lived his life in the service of community, held the family title, Waziri of Tambuwal for 37 years after the demise of their father.
"We are, indeed, very highly consoled not only by your presence, but your words of consolation. For you to have left behind whatever you are doing in your respective states to come all the way to Sokoto this afternoon, shows clearly how you sympathise with us and how close you are to us. I assure you that we appreciate this."