FG Trains 10,000 Women, PWDs On ICT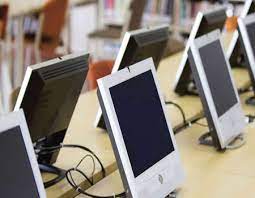 Over 10,000 women, including Persons with Disabilities (PWDs) have been trained by the Federal Government on Information and Communication Technologies (ICT) to improve national productivity.
The ICT Director, National Centre for Women Development (NCWD), Mr Morrison Udobong, disclosed this at the closing ceremony of a five-day entrepreneurial training for the blind, deaf and hard of hearing in Abuja, recently.
Udobong said that the training was also a strategy to empower and end gender based violence in the country.
He noted that although ICT was male dominated, there was the need to encourage more women, particularly girls to engage in science and ICT based subjects, and consider a future in technology.
He explained further that the training was also to expose Internally Displaced Persons (IDPs) to ICT, enable them integrate well in the society and promote access to healthcare and other services.
"Over the years, we have trained over 10,000 women on various ICT courses and feedback from monitoring officers showed they are all doing well in their chosen endeavours.
"During this programme, participants with disabilities were exposed to various computer aided and adaptive technologies required to educate, raise self esteem, integrate and empower them to be useful and productive in their endeavours," he said.
Director-General, NCWD, Dr Asabe Vilita-Bashir, who threw more light on the training, said that about 65 blind and deaf women across the country graduated from the training.
"This is aimed at exposing the participants to various ICT applications, tools and techniques which have the potential to make significant improvement in the lives of persons with disabilities.
"This allows participants to enhance their social, cultural, political and economic integration in communities by enlarging the scope of activities available to them", she said.
Vilita-Bashir noted that the training would also empower rural women economically and make them more productive and self-reliant.
"We will continue to advocate the rights and needs of persons with disabilities and foster the effective use of ICTs that are accessible, adaptive and affordable.
"ICT has now been recognised as the driving force and primary gadget for almost all progressive knowledge-based and skills-oriented development activities and initiatives in all spheres of human endeavor.
"ICT is the catalyst for change in working conditions, handling and exchanging of information, teaching methods, learning approaches, scientific research and in accessing information," she added.
Minister of Women Affairs, Mrs Pauline Tallen, who was represented by the Permanent Secretary of the ministry, Mr Adebiyi Olufunsho, stressed the need for the society to acknowledge the challenges of PWDs and accommodate them.
Also, Ms Anne Mukudi, representing African Development Bank, encouraged participants to use the skills and knowledge acquired to develop themselves and feature in the ICT world.
President, National Association of Blind, Abuja chapter, Mr Joseph Agada, expressed appreciation to the Federal Government for supporting PWDs and appealed for more employment for members.
Ms Uche Andrew, who spoke on behalf of the participants, assured the government that they would make judicious use of the laptops and skills acquired to further develop themselves on ICT.
"Before now, we used to see, feel and hear about laptops without knowing how to operate it, but this training has given us the required skills to be self reliant, able to use and access information from it", she said.
GITEX Africa: NITDA Advocates Accelerated Digital Transformation
The National Information Technology Development Agency (NITDA) has called for regional collaboration in accelerating digital transformation across Africa.
Mr Kashifu Inuwa, the Director-General of NITDA, made the appeal in a statement issued by Mrs Hadiza Umar, the Head of Corporate Affairs and External Relations of NITDA.
Inuwa made the call at the just concluded maiden edition of the Gulf Information Technology Exhibition (GITEX) in Morocco, that held from May 31 to June 2.
GITEX Africa is a technology exhibition in the region that brought together industry leaders, policy makers, entrepreneurs and innovators to discuss and showcase advancements in technology.
It was themed "Accelerating Digital Transformation in Africa: Strategies, Challenges and Opportunities", and Fast Tracking to an Integrated and Inclusive Digital Public Infrastructure".
The event provided an ideal platform for organisations to promote dialogue, showcase innovative solutions and build partnerships to harness the potential of the digital age.
NITDA's participation focuses on fostering collaborations, sharing best practices and addressing the challenges hindering Africa's digital growth.
Represented by Dr Aristotle Onumo, the Director of Corporate Planning and Strategy, he said the digital transformation in the region would provide opportunities that could propel the continent into a digital era of innovation and inclusive development.
He highlighted the need for African countries to invest in digital infrastructure, skills development and policy reforms to reap the benefits of digital transformation driven by technology.
"There is the need to collaborate with governments, academia, industry, venture capitalists and the tech community in order to accelerate digital transformation in Africa.
"African countries require to work together to develop common standards and regulations for the digital economy, and to promote the adoption of digital technologies across all sectors of the economy," he said.
He further commended progress made through African Free Trade Agreement and African Smart Alliance, and called for a sustained effort towards a common digital identity for Africa.
Inuwa also highlighted that Africa faced the dearth of the inadequate infrastructure, poor digital skills as well as digital inclusion, pointing out that there is need for more investments in human capital development.
"Inspite these challenges, Africa has the potential to become a major player in the global digital economy.
"African nations should work together to overcome the challenges and seize the opportunities that abound in digital transformation.
"Technology is a key driver of economic growth and job creation, so we need to invest in digital infrastructure, develop our own digital strategies in order to fully reap the benefits of the digital revolution.
"Public-private partnerships are essential for driving digital transformation in Africa,hence work for more inclusive and sustainable digital future for the continent," he said.
He reiterated that NITDA was committed to supporting the digital transformation of Nigeria and Africa.
According to him, the agency is working with governments, private sector and the tech community to develop and implement policies, programmes and initiatives that accelerate digital transformation on the continent.
Centre Introduces Mark Hack 2.0 For Marketing, Media Professionals
Eko Innovation Centre has said that it has launched MarkHack 2.0, a platform for marketing, media professionals and students in order to explore new and innovative ways to disrupt the creative industry.
The founder of Eko Innovation Centre,  Mr. Victor Afolabi said this during the launch of the second edition of Mark Hackathon  in Lagos last weekend.
Afolabi noted that the initiative was aimed at fostering collaboration, creativity and critical thinking among participants and also provide a platform for them to showcase their ideas to potential investors.
According to him,  participants would be split into teams of five and required to work together for a period of three weeks, brainstorming and ideating new concepts based on their focus areas.
The founder,  said each team would also pitch their ideas to a selection of jury and the best 10 teams with the most viable concepts would go head-to-head at the finale to win a prize pool of 10,000 dollars.
The CEO , hinted that they would  also get the chance to join an acceleration programme to get their products ready for the market.
Speaking on the creative industry, he said it was  the country's second largest employer and has the potential to produce seven million jobs by 2025, with a major contribution from entertainment and media.
"The entertainment and media growth will be seen in the development of the metaverse and the use of non-fungible token.The metaverse could contribute around 40 billion dollars to the economies of sub-saharan markets like Nigeria", he said.
The Managing Director, Redwood Consulting,  Mrs Hannah Oyebanjo,   said the creative industry held the potential to create jobs for young people
Oyebanjo based her point on a research, which according to her, showed that the creative sector currently has  employed about 4.2 million people across five industries including media, entertainment and others.
Oyebanjo, however, informed that the Nigerian creative industry had its challenges which included lack of appreciation for intellectual properties, access to reliable data, weak marketing knowledge and access to funding, among others.
Also, the Managing Director of Entod Marketing, Iquo Ukoh, commended the innovation centre for organising hackathons such as the MarkHack to give several talents opportunities to bring their ideas to reality.
Ukoh, however, said that soon,  solutions would come out of the hackathon that would disrupt markets in Nigeria.
Telecom Operators Move To Disconnect Banks Over N120bn USSD Debt
Telecommunications Operators in Nigeria have notified, that they have been granted approval by the Nigerian Communications Commission (NCC) to disconnect banks over N120 billion Unstructured Supplementary Service Data (USSD) debt.
This was made known in a statement signed by the  Chairman of the Association of Licensed Telecommunications Operators of Nigeria (ALTON),  Mr  Gbenga Adebayo  in Lagos and obtained by The Tide Source in in Port Harcourt recently.
Adebayo in the statement, said Mobile Network Operators (MNOs) would disconnect banks if they failed to pay the debt owed.
He  said the approval was granted because in spite of the multi-party stakeholder efforts to resolve the situation and prevent any impact on services, banks continued to incur greater debt, without making the commensurate payments.
According to him,  members of the public would recall that MNOs and banks had protracted disagreements concerning the appropriate USSD pricing model for financial transactions, transparency of charges, mode of collection and liability for payment of the outstanding and continuous service fees due to the MNOs.
"Due to the inability of MNOs and banks to reach an agreement on the issues, MNOs in 2021 sought to disconnect banks due to the unpaid debts which stood at N42 billion as at that time", he said.
Adebayo noted that It was pertinent to note that the contract between MNOs and banks on the use of USSDs for banking transactions was strictly commercial and MNOs were at liberty to withdraw the services if the transaction was unprofitable to them.
He also explained that MNOs have invested billions of naira in expanding their systems to accommodate the USSD needs of banks over the years.
Adebayo said this had resulted in more Nigerians having access to banking services in addition to enabling banks to trim down costs by requiring less branches to service their growing customers.
He said that unfortunately, MNOs were not getting paid for their services and the debt that stood at N42 billion in 2021 had now risen to over N120 billion.