The Dangers Of Achieving Success Through Shortcuts
The world today is full of corruption, shortcuts, and calamities.
People today no longer do the right things at the right time, but they rather do the wrong thing at the right time and vice versa,which is unhealthy and very bad for everyone. In this article, we will see the dangers of this trend and how we can fight against it.
Let'us consider the definition of shortcut.
Shortcut can be defined as a quick or shorter way of getting to a place or destination. It is also a way of doing something that is quicker than the usual way.
Our youths today intend to use shortcut in order to achieve success and also attain to the height they need. Because they feel that it is too stressful and long, following the right process to success. They forget that things that come easily might not stand the test of time ,that is why some people follow or use shortcut without realising the wrath that will befall them and also without realising that they are shortening and shortcutting their lives, destiny, career and even their beautiful future.
  People find it difficult to possess the virtue of patience,doing the right thing and also following the right process.
Today, it is a norm that "Yahoo boys" abuse social media applications.
Many youths today dabble into internet fraud activities to earn money which is not good. They are not ready to go to school, read their books or even indulge in any hand work or skill paid jobs .
We should accept the fact that there is no shortcut to any place worth going. Although it will be sweet,nice or even enticing when you are enjoying the pleasures at the beginning but the later effect is dangerous and devastating, That is why those who use shortcut to achieve success are always shortsighted because they do not think about the future or see the future pains of that which they are doing. They are also limited because they do not follow the usual way,but they rather deviate and follow the unusual way.
These selected groups of youths have resolved that they cannot succeed without online extortion through false pretence. They go as far as patronising native doctors and other evil houses just to acquire money, success, fame, power, etc. They fail to understand that there is no shortcut to success and victory, there is no shortcut for perfection , there is no shortcut to knowledge, especially knowledge gained from personal  experience. People do not want to spend their time in doing something good, meaningful and helpful, but they rather think of making money in an abnormal way. No wonder, examination malpractice is on the increase, ,buying of results, etc.which are also fallouts of these shortcuts. These have occupied the minds of students both in the secondary level and even in the higher institutions. The students are no longer ready to study, yet, they want to pass, they are not ready to do anything but yet they want to have everything.
Today, I urge every youth to arise and consider shortcuts an enemy to humanity. Youths should change their ways of getting things easily and following the unusual way because what comes easily will not last and what lasts, will not come easily. Youths should strive,read their books, go to school and study hard, find something doing and also we should not forget to pray to God for assistance because He alone can give us good success.
We can see how this so called Yahoo boys are dying painfully and untimely, we can also see how they are being arrested everyday by EFCC and other security agencies .We should try to understand that all these are risky and is often a quick road to trouble, whether we like it or not.
There are many shortcuts to failure but there are no shortcuts to true success because most shortcuts end up taking longer than the normal routes. People today are in such a hurry to success that they eagerly take any shortcut that comes their way. In reality, there are no shortcuts.
My advice to every youth, student, etc is that if we can keep our integrity, be disciplined and be honest towards life, then, success can be achieved without shortcuts; because in life, all things are connected and for success, there is no fast lane. We should work hard, be focused, patient, remain honest,be truthful, loyal, and be committed to good success. 
See you at the top! 
God'swork, is a student of Community Secondary School,  Kalio-Ama, Okrika LGA.
Children's Day: Issues And Solutions 
May 27 is celebrated every year across Nigeria as Children's Day. It is a day set aside as holiday for children in Nigeria  since 1964 to commemorate the healthy growth and happiness of children.
The day draws attention and brings to the fore awareness on problems  faced by children in Nigeria. It also marks a celebration of children helping us appreciate their roles as future leaders.
The theme for this year's celebration is, "More Money for Primary Education "
To mark the day, The Tide went to town to get the views of  some children on issues affecting children in the society.
Here are excerpts of their views-
The Relevance Of Children To  Society
– Benjamin Charles
Children are gifts from God. We are a royal heritage of good fortune. Nature and its body cannot exist without us because we make it complete. We bring joy to homes and comfort to many.
The relevance of children to the society is numerous because without us there would not have been potential business tycoons of any sort. Without us there would not have been scientists and technologists who make life easier by their inventions, there would not have been doctors and nurses who look after the sick, lawyers who defend the helpless, teachers who impact knowledge on students, comedians and thespians who help relieve stress from people by making them laugh, counsellors who give advice to people and hope to the depressed.
Obviously without children the world would have been a boring place. Who would have grown to become leaders of tomorrow if not children. Who is it that helps their parents run errands if not children. There is a saying which states that "charity begins at home". Adherence to good home training is the key to success which makes an individual a good ambassador but by negligence we become terrorists, fraudsters, hackers and so on.
Children need to be given more care and attention where ever they are, be it at home, school, religious places, market places and so on. By so doing parents and societal leaders would have ensured that they curb anything that would hinder the child from becoming a leader because children are the leaders of today, tomorrow and the years to come.
National Development And Child Training
– Abiante Justina Friday
Child education is the instruction, interference, consequences modelling or  correction given to a child to guide and secure them from the dangers lurking ahead. National development is the capacity of the country to raise the standard of living of it's residents. It is also said to be the development of the country for its citizens to live their lives at the fullest. It can be achieved by providing individuals with basic livelihood requirement and supplying citizens with employment.
National development has helped the society and has diversely impacted greatly on the nation. It brings solution to problems such as eradicating poverty, promoting economic status of the state. It generates revenue by making companies and industries diverse in the country.
However, education is important and relevant to national development in many ways as it helps children become their best in their mind and spirit. It gives children a lot of knowledge in all fields of endeavours. Child education reduces crime rate as every child is impacted with more knowledge that makes them determined to succeed and become useful in the nearest future. Educaiton of children makes them responsible in the society.
Parents are to be held responsible for inadequate support given to their children or wards, because as guidians they are expected to be strict to their wards as they are the first social group in the society. Parents should train their children to be respectful. They should be treated equally as any form of discrimination may also lead to children being isolated and become violent, thereby keeping painful moments to themselves, enduring hard time, feeling neglected, taking wrong choices and engaging  themselves in things that may endanger their lives and the society.
This may lead  to frustration and  some may even get introduced to drugs by friends and peer groups which is bad to the society.
Teachers on the other hand also play vital role in the upbringing of future leaders. Training them inadequately may  lead to the children becoming terrorists and deviants not only to their famillies but the country at large. Teachers should desist from taking money from students as bribes to enable them pass their exams thereby making them half-baked students.
Also, the government should monitor teachers, especially those in the public sector thereby ensuring that they carry out their duties, also salaries should not be paid for work not properly done. Government should release more revenues which will aid training of  children on scholarship. They should also reach out to undergraduates who do not have sponsors through school, rather than letting them get involved in criminal activities, cultism, prostitution etc, just to fend for themselves in and out of school.
In conclusion, child education is very important to  national development, as child education determines the future of any nation. When  children are educated  they give back the goodness they have learnt to the society, but when they are not educated properly,they become liability to the nation and may equally bring very bad name to their parents and country.
The Impact Of Children In The Society
– Isaiah Nahum
Going by world's population census figures, children constitute the largest population in the world. The society can not be built solely from the top but requires the activeness of our parents to invest in us when we are still young to ensure a good society and the betterment of our lives.
The impact of children in the society needs to be emphasised, this is because children give back to the society what have been impacted to them and they are the future of any society. The society should not play down or do lip service on the educational standard of the children because "knowledge is key".
Since the amalgamation of Northern and Southern protectorates of Nigeria in 1914, the society has faced numerous challenges which emanated from the neglect of the children. They have been told that they are the leaders of tomorrow and builders of the society, yet there are no evidence of arrangements to equip them for leadership responsibility.
The society will feel the positive impact of children when they are mentally, politically, socially, technologically and scientifically equipped to compete with the recent developments in  "Developed Nations". Our  nation, Nigeria is to invest bountifully in the formal education of the children and also give them the opportunity to develop their capacity through skill acquisition, entrepreneurship and exposure to skills.
Since an idle mind is  the devil's workshop, investments on children if  not taken seriously, will only leave negative impact such as terrorism, prostitution and drug addiction on the society.
The society should always remember that "you reap what you sow".
Crucial Roles Of Child Education
-Perpetual David
Child education is a crucial aspect of society as it plays a pivotal role in shaping the future of our destiny. It strengthens children with wisdom,acquired skills and morals and important for personal and societal development.
Education not only provide children with the tools to succeed academically but also equips them with important or essential life skills,cultivate their creativity, fosters critical thought, and nurtures their overall well-being. This essay implores the values of child education,emphasises its significance in building a prosperous and sustainable future for individuals and communities.
Child education empowers individuals to realise their full potential and pursue their aspirations. It equips them with foundational knowledge in various disciplines such as mathematics, science, literature, and history, which forms or produce the basis for further academic pursuits. Education enhances cognitive abilities and improves problems-solving skills and encourages intellectual curiosity.
It opens or clears doors to opportunities, enabling children to explore their interests and passions,and help them make informed decisions or choices about their future careers.
Education extends beyond academic achievements and instills essential life skills in children. It teaches them effective communication,team work, time management, and critical thinking skills that are vital for success in personal and professional life.These skills enable children to navigate challenges,adapt to changing circumstances and develop resilience.
Moreover,education provides them with financial literacy, digital literacy,and practical knowledge, empowering them to make responsible choices and become independent individuals capable of contributing to society.
Also,child education nurtures creativity and innovation,encouraging children to think outside the box and explore new ideas. It fosters imagination, artistic expression,and original thinking,helping children develop their unique talents and abilities.
Child education promotes social and emotional well-being, thereby fostering empathy, respect, and inclusivity. Schools and educational institutions provide environments that encourage social interaction,cooperation, and understanding among children from diverse entities.
Child education is vital for building sustainable communities. Education impact knowledge about environmental conservation, sustainable practices,and global challenges such as climate change. It fosters a sense of responsibility towards the environment and encourages children to become active contributors to creating a greener and more sustainable future. Education promotes live arrangement, democratic values,and social justice,empowering children to actively participate in community development and advocate for positive change.
In all,child education is of  utmost relevance in today's world. It is a transformative force that equips children with the knowledge, skills and values necessary to navigate an increasingly complex and interconnected world. By investing in child education,societies can empower individuals, cultivate creativity and innovation, promote social and emotional well being,and build sustainable communities.
As we nurture the  minds of today's children, we lay the foundation for a brighter,more prosperous future for generations to come. Therefore, it is imperative for governments, communities, and individuals to recognise the importance of child education and prioritise its provision for the holistic development of our societies and reduce the rise of crimes and vices in our society.
By: Ibinabo Ogolo
Family Day Celebration And Children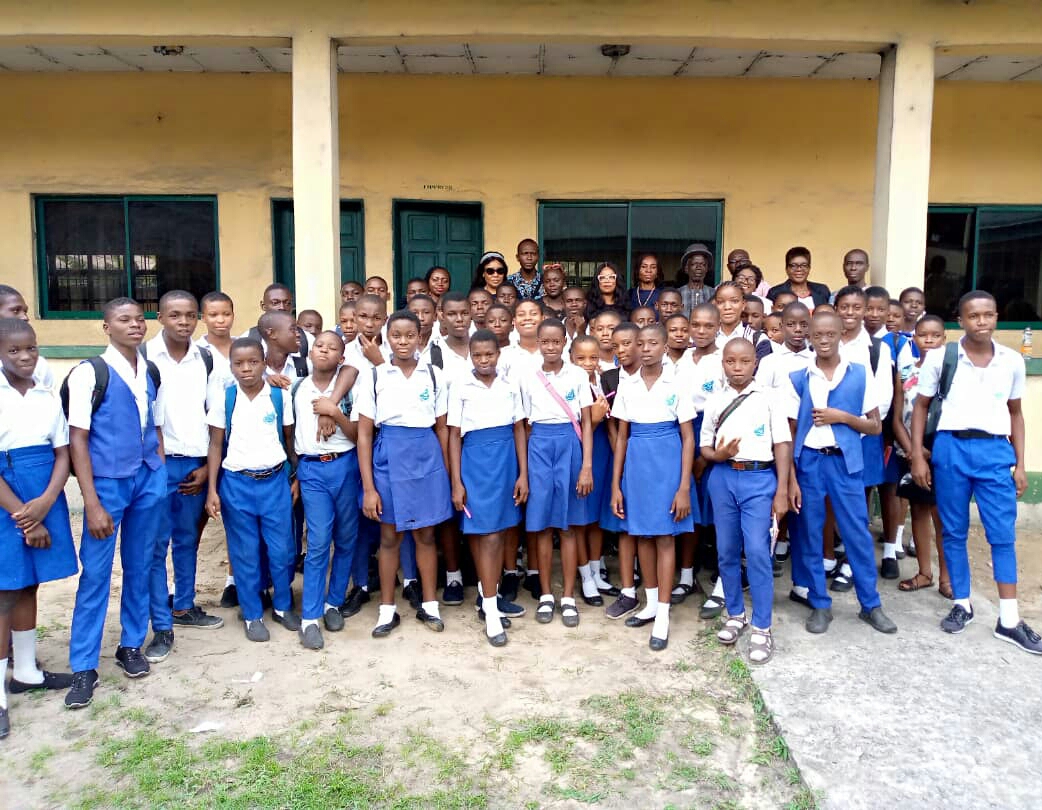 Last Monday, May 15, 2023 was celebrated as the International Day of Families. It is a day celebrated annually to promote the importance of families and their significant role in society. It is also a day to raise awareness about the social, economic and demographic changes that impact families worldwide.
The International Day of Families was first established by the United Nations in 1993 to raise awareness and serve as an opportunity to celebrate the unique bond and love that families share.
The theme of this year's day was, "Demographic Trends and Families".
Over the years, issues affecting families have been raised including poverty, access to healthcare, domestic violence, hunger and the overall challenges of raising children.
As part of preparations for the thirtieth anniversary of the International Year of the Family, 2024, the 2023 observance of the International Day of Families focused on major demographic changes and their impact on families . The event that took place at the United Nation's headquarters, New York,  shared current knowledge about demographic trends, include ageing and intergenerational solidarity. Also, it facilitated the analysis of their impacts on family life and recommended family oriented policies that can respond to the needs of families around the world.
It is a well known fact that families are at the core of a society.  Promoting stronger families can strengthen our communities and the society at large.
The family raises children in their formative years until adulthood.  Without family, many would not be where they are today.
It is also known that family closeness helps individuals live longer and regulate personal emotions. This has led to taking care of extended family and also taking care of elders in their old age, which helps improve overall well-being of individuals, provide personal stress relief and help regulate the economy.
Also, family values which are guiding principles that inform how families make decisions and live their lives has been known to be important.
As children grow older, as they make their own decisions, their family values would give them strong moral compass to follow as they navigate different times in a world outside of their homes.
However, over the years, family values to a large extent has eroded.  Some core African values were the extended family system, hardwork, honesty, respect for elders in the society, integrity and discipline. Unfortunately, with the coming of civilisation in form of the internet, many families expecially in Nigeria are nonchalant in this  area, thereby raising children of questionable characters,  leaving behind our strong and positive family values.
Speaking in an interview with The Tide Kiddies/Young World Desk as part of activities marking the International Day of Families, Executive  Director, Heathy Life Development Initiative, a Non-Governmental Organisation (NGO) based in Rivers State, Dr. Mfon Utin, stated that, family values have eroded greatly in the society with only about 40 percent of families still instilling family values to the younger ones.
Dr. Utin explained that the reason boils down to the fact that everybody is busy trying to make ends meet for their daily living, adding that, money is now the focus and concern for families is not there anymore.
She also explained that power  and achievement have taken family values off most of us, thereby affecting the young ones due to our busy schedules.
According to her, "right now, most children can not speak their native dialects,  children are not protected under the family because there is no love, connectivity and concern for each other. When there is no connectivity, children may likely take issues bothering them outside the home".
The Executive Director  advised parents to make out time to train their children through capacity building and mentoring during their craddle ages, not as adults.
"Some families are over pampering their children.  They pay people to write WAEC or JAMB for their children, this type of pampering must stop. Parents and family members must have listening ears for the young ones in order to guide and monitor them during different stages of their lives", she said.
She however called on families to celebrate the annual event for more unity, love, bonding and respect, adding that, "family is a bloodline. Without family, there will be no society, and though, there are some families that do not know themselves, if more awareness is attached to this celebration,it will help our society", she said.
By: Ibinabo Ogolo
Why Mental Disorder In Adolescents Is On The Increase 
The inability of the brain to prune itself of unnecessary connections may be the cause of the wide range of mental health disorders  during adolescence.
This was one of the findings from an international collaboration of researchers in the United Kingdom, China and Germany and published in Science Daily in April, 2023.
According to the researchers, the findings may further help explain why people are often affected by more than one mental health disorder and this may in future help to identify  those in greatest risk.
The research noted that one in seven adolescents (aged 10- 19 years old) worldwide experiences mental health disorders, according to World Health Organisation (WHO).
It added that depression, anxiety and behavioural disorders such as Attention Defieit Hyperactivity Disorder (ADHD) are among the leading causes of illness and disability in young people and adolescents and they will commonly have more than one mental health disorder.
It also noted that, many mental heath problems emerge during adolescence with depression and anxiety as "internalising' symptoms including low mood and worrying, while ADHD manifests as "externalising" symptoms.
The lead researcher from the Department of Psychiatry at the University of Cambridge, Professor Barbara Sahakian noted that, young people often experience multiple mental health disorders beginning in adolescence and continuing into adult life.
She further stated that, there's a common brain mechanism that could explain the onset of these mental health disorders during the critical time of brain development.
Here in Rivers State, Nigeria, the situation is not different. According to Nkpobu, Kennedy and Alex-Hart, Balafama  of the University of Port Harcourt Teaching Hospital(UPTH), Nigeria, in their work, "Pattern of Depression Illness among School Age Children Presenting at the University of Port Harcourt Teaching Hospital", published in Open Journal of Depression last year, noted that, depression is more commonly in adolescents and is the fourth leading cause of illness and disability among adolescents aged 10- 19 years.
In their study of children 10-19 years, seen at UPTH which included 1,096 children with various childhood mental illnesses within the period under review, "out of 238 patients (21.7 percent) aged 10-19 years, treated for depression within the period under review, 129 (54.20 percent) were males and 109(45.80 percent) were females with male to female ratio of 1.18.1.The 15-19 years age group had a higher prevalence of depression 195(81.93 percent) compared to 109(45.80 percent) of those aged between 10-14 years. 136(57.14 percent) patients had severe depression while 49(36.03 percent) had psychotic depression".
They found out that severe depression was the commonest form of depression among adolescents seen in UPTH, therefore, preventive measures should be instituted in primary and secondary schools in Rivers State to reduce its prevalence.
Furthermore, in a study published recently on Nature Medicine, the researchers noted that they  identified a characteristic pattern of brain activity among adolescents which they termed the 'neuropsychopathological factor' or NP factor.
The team examined data from 1,750 adolescents aged 14 years from the IMAGEN cohort, a European research project that examined how biological, psychological and environmental factors during adolescence may influence brain development and mental health.
In particular, they examined imaging data from brain scans taken while participants took part in cognitive tasks, looking for patterns of brain connectivity and how different regions of the brain communicate with each other.
They found out that adolescents who experienced mental health problems regardless of the type of symptoms, showed similar patterns of brain activity.
These patterns, the NP factor were largely apparent in the frontal lobes,the area of the brain that is responsible for executive function.
The researchers confirmed their findings by replicating them in 1,799 participants from ABCD Study in the United States of America, a long-term study of brain development and child health.
They also found out that problems with pruning may particularly affect the frontal lobes, since these regions are the last brain areas to complete development in adolescents and young adults.
A medical doctor, Dr Tanye Jia, from the Institute of Science and Technology for Brain-Inspired Intelligence, Fudan University, Shangai, China and the Institute of Psychiatry, Psychology and Neuroscience, King's College London, United Kingdom, noted that as we grow up, our brains make more and more connections. This is a normal part of our development, adding that, "but too many connections risk making the brain inefficient. Though synaptic pruning helps to ensure that brain activity does not get drowned in 'white noise'.
"Our research suggests that when this important pruning process is disrupted, it affects how brain regions talk to each other. As this impact is seen mostly in the frontal lobes,this then has implications for mental health ",he said.
The researcher noted that the discovery of the NP factor could help identify those young people at greatest risk of compounding mental health problems.
Also, another  medical doctor from Fundan University in Shangai, China and the University of Warwick, United Kingdom, Professor Jiafeng Feng, noted too that, "we know that many mental health disorders begin in adolescence and that individuals who develop one disorder are at increased risk of developing other disorders too. By examined brain activity and looking for the NP factor, we might be able to detect those at greatest risk sooner, offering us more opportunity to intervene and reduce this risk", he stated.
Researchers have recently learned that the brain is more "plastic" and moldable as previously thought.
Synaptic pruning is the body's way of maintaining more efficient  brain function.
The number of synapses in a human's brain reaches its peak at about five years.As the brain develops and becomemore mature, connections between neurons do not form quickly. After a period of rapid development during the first five years, synapses begin to be removed and this process is known as pruning. If pruning does not happen correctly, there can be a lot of long term consequences in terms of brain wiring and behavioural problems.
By: Ibinabo Ogolo