EFCC Arrests 20 Suspected Internet Fraudsters in C'River
The Uyo Zonal Command of the Economic and Financial Crimes Commission (EFCC), has arrested 20 suspected internet fraudsters in a sting operation.
EFCC's spokesman, Wilson Uwujaren, in a statement said the suspects were arrested at three different locations in Calabar, Cross River state on Tuesday.
He said while some were arrested at Parliamentary Extension, others were arrested at Ikot Ene Obong 8 miles and Ekorimim Housing Extension.
The suspects are: Sylvester Lucky, a 30-year- old car dealer from Yala LGA of Cross River State; Samuel Uwanikone, 20, from Sapele in Delta State; Samuel Olofu, 21, from Benue State; Christopher Apuya, 20, from Obudu LGA of Cross River State; Esiso Mathew, 22, from Sapele in Delta State; Eyare Ernest, 20, from Boki LGA of Cross River State; Pedro Nsokedinam, 25, from Ukanafun LGA of Akwa Ibom State.
Others are, Chimemma Mathew, 21,,fashion designer from Awka in Anambra State; Chukwudubem Chukwunewubze, 21, from Nnewi LGA of Anambra State and Chima Okeukwu, 20, from Oru west L. G.A in Imo State
Others are: Jisu Ojocule, 20, from Ibaji in Kogi State; Michael Jonah, 25, from Uyo LGA of Akwa Ibom State; Daniel Lukpata, 25, from Yala LGA of Cross River State; Dickson Elvis, 24, from Oghara in Delta State; Valentine Eshuru, 24, from Ogoja LGA of Cross River State; Sunday Henry,23, from Akwa Ibom State; Kanu Obinna, 32, from Arondizuogu in Imo State; Agbedia Blessing, 23, from Delta State, Edet Obase, 25, from Yako L GA of Cross River State and Emenonye Kelechi, 36 years old car dealer and indigene of Bende in Abia State
"At the time of their arrest, the following items were recovered from them: Two Mercedes Benz C300, a Lexus 300 Saloon car, a Toyota Corolla Car and Two Toyota Camry cars (Spider). Over ten Laptops, several mobile phones and wrist watches were also recovered from them.
"The suspects will be charged to court as soon as the investigation is completed," he said.
Monarch Lauds Wike For Recognition Of Bonny Indigenes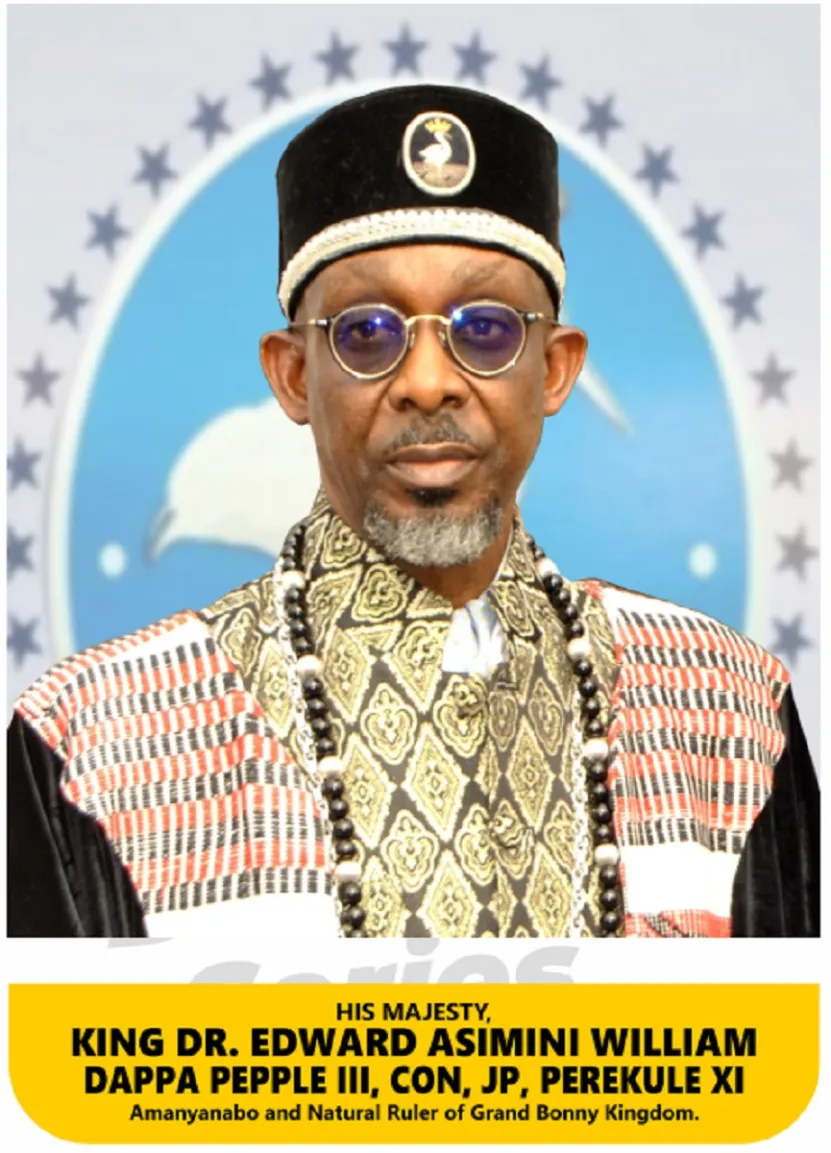 By: Wokoma Emmanuel & Michael Abraham
The Natural Ruler and Amanyanabo of Bonny Kingdom, His Majesty, King Edward Asimini William Dappa Pepple III, Edward I, Perekule XI, has hailed the immediate past Governor of Rivers State, Chief Nyesom Wike, for recognising indigenes of his community through conferment of honours.
He also congratulated Bonny indigenes who were conferred with the Distinguished Service Star of Rivers State (DSSRS) award by the Rivers State Government.
The awardees are Chairman of Bonny Local Government Council, Alabota Anengi Dagogo Claude-Wilcox; Amaopusenibo Rodaford Longjohn; Amaopusenibo Kingsley Fubara Hart; Hon. George Fubara Tolofari; Hon. Aye Atamah Pepple; Hon. Christopher Green; and Hon. Abinye Blessing Pepple.
The monarch also expressed gratitude to Wike and the state government for finding Bonny indigenes worthy of such recognition.
In a statement, the monarch, who had also been honoured by the Rivers State Government for his contributions to the development of Nigeria and Rivers State, said the award would motivate the recipients and others to put more efforts towards making Rivers State the cynosure of all eyes. He used the opportunity to appreciate the former governor, for his outstanding achievements, while praying that the present Governor, Amaopusenibo Siminialayi Fubara, who is an Ibani son, would surpass his accomplishments.
The Paramount Ruler, who was present at the presentation of the awards, prayed for more successes in their political careers and other endeavours, and hoped that they would continue to be good ambassadors of Bonny Kingdom.
C' River Residents Task Gov On Good Governance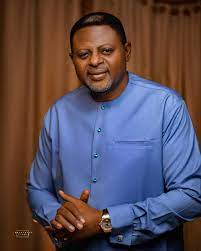 Residents of Cross River State have appealed to the new governor of the state, Sen. Bassey Otu, to enthrone good governance in the state as he assumes office.
The residents who spoke with The Tide source during the inauguration of Otu said with the present situation in the state, it was important for the new governor to hit the ground running.
Former Commissioner for Health in the state, Mrs Janet Ekpenyong said the residents are very hopeful that the governor would perform and succeed in his endeavour.
"I hope that as Otu assumes office, he will bring on some people who will give him the necessary and explicit support that he requires to move the state forward.
"There is a huge gap of human resources in the state's health sector; although, the former governor started the process of recruiting more hands, we expect the governor to bring in more competent hands to bridge the gap.
"He should also focus on the the renovation of our health facilities especially those at the secondary level and also ensure that there is enough commodities and drugs to cater for residents of the state," she said.
Ekpenyong added that there was also need to invest and expand the state's health insurance scheme as it was a low hanging fruit and would bridge healthcare gap in the state.
Similarly Mr Jackson Bassey said although the new governor might have a good heart but he needed to stand his ground with the will power to do the right thing.
Mrs Ikaete Anang said the people were tired of long speeches without action from their elected officials assign that what they wanted was performance.
Anang called on the new governor of the state to try his best in assuaging the suffering of the people of the state, especially the women.
"We need to make Cross River viable, clean and green again so that the people can rejoice; it has been a painful last four years and we must tell ourselves the truth," she maintained.
The source reports that the inauguration of the the governor of Cross River took place at a packed UJ Esuene Stadium with colourful cultural troupes and many dignitaries in attendance.
Energy Transition: Global South Delegation Undertakes Lobby Tour To Europe
A delegation of Global South scholars and activists are embarking on a lobbying and advocacy tour of European capitals to discuss the urgent issue of an ecosocial energy transition.
The seven participants are following up on a global manifesto published this year decrying a new Green colonialism and urging more equitable approaches to achieving a fossil-free future.
Miss Kome Odhomor, Media/Communications Lead at Health of Mother Earth Foundation (HOMEF), said this in a statement on Monday in Yenagoa.
HOMEF, a Nigeria based environmental group is a participating member of the coalition of groups making up the delegation.
The delegation will hold public events, meet with policymakers and NGOs, and engage with members of the media in Berlin, Brussels, and London from May 29 to June 2.
According to her, the mission of the delegation is to inject Global South perspectives into current European policy discussions around energy and environment.
"The delegation will include the Right Livelihood award winner, a Nigerian activist Nnimmo Bassey, widely published Argentine sociologist and philosopher Maristella Svampa, the Fijian international human rights lawyer Kavita Naidu and Indian activist-researcher Madhuresh Kumar.
"Others are Brazilian-Spanish activist-scholar Breno Bringel, Venezuelan linguist and ecofeminist Liliana Buitrago, and South African-Swedish scholar-activist Vasna Ramasar.
"The tour is organized by the Ecosocial and Intercultural Pact of the South, the Global Just Transition project of the Institute for Policy Studies, and the Global Tapestry of Alternatives," she said.
She said that while in Germany, the delegation would in Berlin, meet the press in the morning of Tuesday and hold a public event co-sponsored by the Rosa Luxemburg Stiftung at 5 pm (Str. der Pariser Kommune.)
She said that in Brussels, Maristella Svampa would participate in a public event "The Green Transition and Critical Minerals" on May 30 at 12:30 at CCND.
"Also in Brussels, on May 31, the delegation will meet with NGOs at Mundo-madou at noon co-sponsored by Oikos.
"The itinerary further shows that in the evening of May 31 in Brussels, the delegation will hold a public event at 6 pm co-sponsored by Broederlijk Delen at GEC in Ghent (Kon. Maria Hendrikaplein.
"In London, the delegation will meet with NGOs on June 1 beginning at 1 pm at Kairos House,The Bookroom, Essex Hall, 1-6 Essex Street.
"While on June 2, in London, there will be a public event at Pelican House at 6 pm (144 Cambridge Heath Rd, Bethnal Green)."