How to improve PC aim in Warzone
When playing a multiplayer game, accuracy and speed are crucial, especially if you are playing a ranked match. Read on.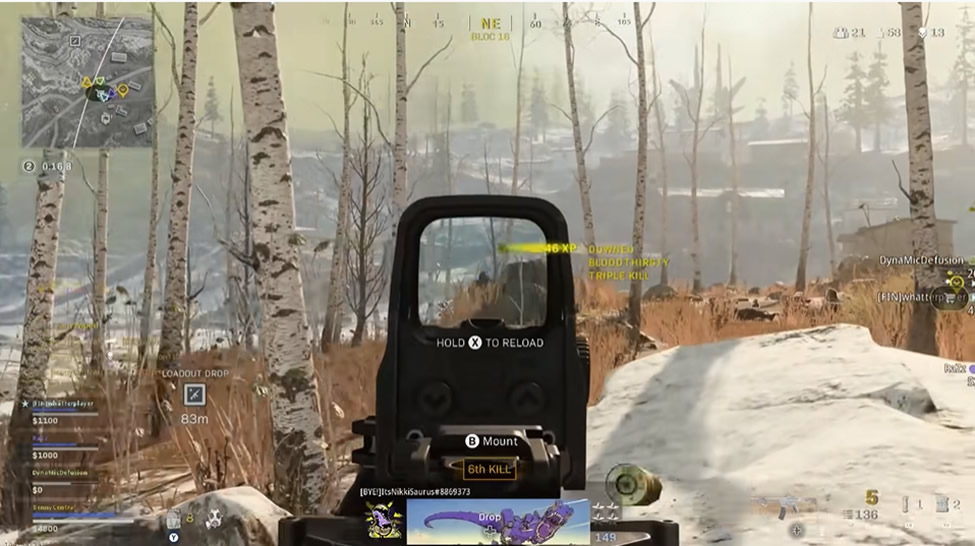 Whether you are a Warzone veteran or a fresh-faced recruit who badly wants to improve his KDA, we have tips that might be useful for you. The Battle Royale is incredibly competitive, and even the best players may struggle to win. While picking loadouts and meta weapons may help in the department of damage, they will not prove to be helpful if you do not level up the play's other aspects. 
An area that is important to the performance of any FPD player is their ability to break into targets with the deadliest precision. Whether you are a dedicated console enthusiast or a stalwart PC player, you will want to upgrade your win rate in Warzone. So, let us help you with all the tips to improve your aims.
Reduce the sensitivity of your mouse
Warzone has a very fast-paced nature. You may feel tempted to play with higher sensitivity as you will zap onto other players within seconds. But, playing with higher sensitivities can make you more frustrated when it comes to landing those vital bodies and headshots.
According to the Warzone Hacks, try to lower your sensitivity value to a degree where you can knock off targets without overshooting. Switching to low controller/mouse sensitivity enables you to be a lot more accurate with shots. You can take down your foes with oodles of lease.
Lower the mouse's DPI
When it comes to managing the Warzone sensitivity, PC users have more control as they can lessen the DPI (dots per inch) linearly. If the mouse has no dedicated settings application, you can go ahead with DPI configuration via the Window Settings' Devices panel. After identifying the DPI settings of the mouse, adjust it to a lower value.
Pro FPS players configure a value of 800 DPI for their mouse and play with lesser sensitivity in-game. Pro players may use these settings, but that does not mean you have to copy them. Experiment with the DPI values and stick to the one that suits you perfectly. If lower sensitivities are troubling you, then try to lower the current settings gradually.
Aim at the height of the head
One lethal tool of Warzone is the headshot multiplier. It helps to kill quicker too. As an outcome, try to keep the gum targeted roughly where the head of the target is. Anybody reading this blog who has played Rainbow Six Siege, PUBG, Valorant, or CS GO will understand how valid this suggestion is.
Remember that the top FPS players stay ahead because they combine their fantastic knowledge and excellent aim in the game. These two things give them aimbot-like reflexes. Thus, use this technique so that you can take down your foes before they get time to react.
Download aim trainer
If you play Warzone on your PC, then the option of aim trainer will be available to you. This aim training software improves your aim significantly, but you have to maintain your patience levels high. Before you drop into Verdansk, warm up a little and take down the AI targets.
Use Correct Sight
Warzone features a wide array of optics for every gun. Hence, selecting the one for a task could be a challenge. Remember, there are just a handful of them that can be used. Some sights fall short because of high magnification, vision-impairing bulk, and lengthy ADS time. Thus, we recommend kitting the gun with blue-dot Holo Sight or VLK optic. Both these sights will offer you the most transparent image when taking the head or chest shots.
Do not have tunnel vision
While holding the angles can be advantageous, it can also cause a quick death if you are careless. Watching a map's single side or screen may feel tempting, especially if you have spotted something in peripheral vision. However, if you found nothing even after scouting the location for movements, we suggest checking the surroundings.
Conclusion
When aiming in Warzone from the PC, keep the chair's height relative to the desk's height. A lower or higher height will disturb your arm, and your aim may also suffer because of that. So, warm up before a match so that you can aim better.
Airtel Plans Relief For Visually Impaired Teacher
Airtel Nigeria has announced that in the next episode of "Airtel Touching Lives", the companys TV series that spotlights its efforts to bring succour to underprivileged Nigerians, the focus will be on Timilehin Segun, a visually impaired teacher.
Segun, who Airtel describes as extraordinary, devotes his life to educating and inspiring the youths in his community, despite his own physical limitations.
The upcoming episode, which is the third in the seventh season, was aired on Sunday, 9th July 2023, and took viewers through Seguns journey from a blind pupil to the neighbourhood mentor who now runs a popular programme, "Reliable Link Tutors", an after-school centre created to help improve the academic performance of secondary school students.
Commenting on the new episode of Airtel Touching Lives, Director, Corporate Communications and CSR, Airtel Nigeria, Femi Adeniran expressed Airtels delight to be a part of the journey of unyielding determination and passion.
"Seguns determination, resilience, and enthusiasm for education demonstrate the spirit of Airtel Touching Lives, and we hope that his story will inspire our viewers to pursue their dreams, no matter the odds", he said.
This instalment of the programme will also include a segment on Irede Foundation, an Airtel Touching Lives beneficiary from the previous season.
The non-governmental organisation provides young children with prosthetic limbs and helps to prepare them for a self-reliant living and, this Sunday, the series will review the progress the foundation has made since Airtels intervention in 2022.
Airtel Touching Lives continues to showcase extraordinary individuals like Segun, who have not only overcome personal challenges, but have also dedicated themselves to improving their immediate environment.
With Airtel Nigeria's commitment to empowering lives and making dreams come true through Airtel Touching Lives, the telecom giant has restored hope for countless vulnerable individuals and families across the country, encouraging other corporations to commit more resources towards making positive social impact.
Airtel Touching Lives Season 7 is broadcast on Sundays on four national and cable TV channels, and one streaming app.
The platforms include African Magic Urban at 5:00 pm, NTA Network at 6:30 pm, and Startimes Channel 108 at 6:00 pm.
Re-runs are broadcast on Tuesdays on African Magic Urban at 3:30 pm, and on Wednesdays on Startimes Channel 108 at 6:30 pm. Current and previous episodes are also available to stream on Airtel TV.
Agency Seeks Collaboration For IoT Unlock
The National Information Technology Development Agency (NITDA) has emphasised the need for collaboration to unlock Nigeria's potential in Internet of Things (IoT) and its revolutionary impact on the countrys digital ecosystem.
Director General of NITDA, Kashifu Inuwa, who disclosed this is in a bid to implement the Digital Transformation pillar of Strategic Road Map and Action Plan (SRAP 2021-2024) of the agency.
Inuwa made this plea while delivering his keynote address at the IoT West Africa Conference and Exhibition 2023 in Lagos State, recently.
The DG noted some challenges that need unlocking in order to access the potentials of IoT, especially infrastructure, cyber security, and data protection, stating  that most IoT use cloud-based solutions  Alexa, Google, and others.
According to him, todays computer systems are outperforming humans in many endeavours, especially the rise of generative Artificial Intelligence (AI), chat GPT, etc.
He said that is the fabric of the shift humanity is witnessing in accelerating the convergence between physical, biological, and digital world.
"Looking at the areas you can apply them, such s in agriculture, we need to increase our agri-products, and IoT can help us to do that with lesser human efforts", he said.
He explained further that there are wearable plant sensors at the moment, which is one of the top technologies in 2023.
The NITDA boss hinted that farmers can have a sensor attached to their plant to manage its health, watering, fertilizer, pesticides, and this would invariably enhance the increase of food produce.
He asserted that by 2050, Nigeria will be the third largest population in the world, therefore, there is need to explore how we can use IoT to increase the countrys food production.
In addition to agriculture, the NITDA Director General discussed the role of IoT in addressing security challenges, saying that IoT devices can monitor activities.
The DG emphasised that IoT could be utilised to enhance oil theft prevention by monitoring pipelines and sending alerts for quick security response.
He advised that there is also the need to develop the talent within the country.
ALTON Hails NCC Boss Over Quality Regulation
The Chairman of the Association of Licensed Telecoms Operators of Nigeria (ALTON), Mr. Gbenga Adebayo, has praised the leadership of the Executive Vice Chairman/Chief Executive Officer of the Nigerian Communications Commission (NCC), Prof. Umar Garba Danbatta.
He also commended the NCC's commitment to quality regulation, attributing the success of the telecom industry in the country to the regulatory environment it enjoys.
Speaking at a meeting with mobile network operators on the implementation of the Expanded Revenue Assurance Solution (ERAS) in the telecommunications industry, held at the NCC's office in Lagos recently, Adebayo expressed his pleasure in what he called Danbatta's remarkable administrative skills, challenging the notion that engineers are not good administrators.
He described Danbatta as an excellent administrator, highlighting his instrumental role in the growth and development of the telecom industry.
Addressing the audience, Danbatta shared details about the implementation of the ERAS project.
He emphasized the collaboration between the NCC and the Infrastructure Concession and Regulatory Commission (ICRC), saying the ERAS project is being carried out through a Public-Private Partnership (PPP) arrangement, following the  Design, Finance, Develop, Deploy, Operate, and Transfer (DFDDOT) model, as recommended by the ICRC.
Danbatta acknowledged the efforts of the NCC in transforming the dream of the ERAS project, conceived in 2007, and nurtured to reality.
He also underscored the project's alignment with the Federal Government's directive to enhance revenue collection and prevent leakages within ministries, departments, and agencies (MDAs).
By deploying the Revenue Assurance Solution, Danbatta said the NCC aims to optimize the revenue payable by licensed telecommunications service providers, thereby bolstering revenue generation for the government.
Initially designed to focus on telecom operators, who have not only become major industry players, but have also expanded their services to to the digital services ecosystem, the ERAS project underwent a significant expansion.
In June 2022, following a presidential approval, the NCC was directed to broaden the scope of the project to encompass the activities of Digital Economy stakeholders. Consequently, the project was renamed the Expanded Revenue Assurance Solution (ERAS).
The implementation of the ERAS demonstrates the NCC's commitment to fostering transparency, accountability, and financial efficiency within the Nigerian telecom and digital services sectors.
Through the utilisation of accurate data and information, the ERAS aims to eradicate wrong computations, faulty data, and information leakages.
With the telecom industry playing a critical role in driving economic growth and enabling digital transformation, the ALTON Chairman's commendation and the ongoing efforts of the NCC under Danbatta's leadership highlight the commitment to creating an enabling regulatory environment that fosters innovation and sustainable development.
As the implementation of the Expanded Revenue Assurance Solution progresses, stakeholders within the telecom and digital services sectors eagerly anticipate its positive impact on revenue generation and the overall growth of the Nigerian economy.
###