NDLEA Seizes 3,300kgs Of Drugs In Four States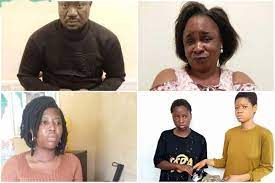 The National Drug Law Enforcement Agency (NDLEA) has seized 3,300 kilogrammes of drugs in Abuja Lagos, Edo and Kaduna States.
The Director, Media and Advocacy, NDLEA, Mr Femi Babafemi made this known in a statement issued yesterday in Abuja.
Babafemi said that operatives of the agency uncovered a hotel in Abuja where drugs were sold and young ladies camped for commercial sex.
He said that four persons; three ladies and a man were arrested by operatives at JAT Suites, located at 30 Lobito Crescent, Wuse 2 was raided.
Babafemi said some quantity of Rohynol and paraphernalia for smoking crack cocaine were recovered.
According to him, investigations revealed that the hotel is being operated in a high profile neighborhood without requisite approval
and patronised by call girls.
He added that the bar however, served as the spot to smoke and selling of drugs to the young girls and their customers.
He quoted the Chairman of NDLEA, retired, Brig. Gen. Buba Marwa as directing the FCT Command and the Directorate of Assets and Financial Investigations of the agency to invoke the necessary law to deal with the anomaly.
This,  he said was to ensure that the property was forfeited to the Federal Government to serve as deterrent to others who allowed their premises to be used for drug deals.
Similarly, Ms. Ozigbo Nneka has been arrested at Nigerian Aviation Handling Company Plc (NAHCO) export shed of the Murtala Mohammed International Airport, MMIA, Lagos
Babafemi said that the suspect was trying to export packs of codeine tablets weighing 15.15kg to the United Kingdom on Wednesday.
He said that narcotic officers at the airport had earlier arrested Nwajindo Emmanuel during an inward clearance of Ethiopian Airline passengers at the E-arrival hall on Tuesday. 
"Some bottles of codeine weighing 5.65kg were recovered from him.
"Also at the airport, a total of 150.30kg of khat was seized on Monday, Sept. 20, after six weeks of placing the consignment, which arrived SAHCO shed on August 2, via Kenyan Airways cargo flight on surveillance," he said.
In a related development, two female part one students of Edo State Polytechnic, Uzen Babalola (19), and Esekhagbe Sonia (20) were arrested on Thursday, with 21 wraps of skunk.
NDLEA Arraigns Catholic Knight, Cousin For Drug Trafficking 
The National Drug Law Enforcement Agency (NDLEA) has arraigned a knight of the Roman Catholic Church, Sir Basil Okafor and his cousin, Edwin Izuchukwu, before the Federal High Court over allegations of drug peddling.
The two brothers were arraigned on charges of conspiracy, possession of 2.169 kilograms of heroin, and frustrating the cause of justice.
According to the NDLEA, the suspects were arrested on March 28, 2022, at No 26 Akpomule Street, Isolo-Okota area of Lagos.
The prosecutor, Mr. Umar Hussaine, informed Justice Daniel Osiagor that the defendants were found in unlawful possession of the prohibited drug and also discovered to be distributing same.
The counsel also alleged that Okafor threw his iPhone 7 containing his SIM card into a water closet in a bid to obstruct the operations of the NDLEA officers in the course of his arrest.
Hussaine said the offences committed by the two brothers were prohibited under Sections 14(b), 24(1)(a), and 49 of the NDLEA Act, 2004. The said offences are also punishable under Section 20(2)(a) and Section 20(2)(b) of the Act.
After reading the charges, the defendants pleaded not guilty.
The defendant's counsel, Mr. Benson Ndakara, prayed the court to grant his clients bail, appealing that one of the defendants, Sir Okafor, is a knight of a Catholic Church.
Justice Osiagor granted the two defendants bail in the sum of N2m each with one surety in like sum.
He, however, remanded them in the NDLEA custody until their bail terms have been perfected.
The court adjourned the case till October 5 to open trial against the defendants.
Earlier, the NDLEA had obtained a lien of Post No Debit from Justice Tijani Ringim directing Zenith Bank Plc and United Bank of Africa to restrict the defendants from accessing their accounts.
The justice also ordered that the NDLEA should be granted rights to inspect the Certified True Copies of their accounts, and also conduct other investigations as necessary.
The application was granted on the alleged ground that the defendants were international drug traffickers.
Sokoto Launches COVID-19 Action Recovery, Releases N8.3bn To 152,107 Beneficiaries 
The Zamfara  State Governor, Dr. Bello Matawalle, has launched the COVID-19 Action Recovery and Economic Stimulus Programme (CARES) in the state.
The programme was launched to directly support individuals affected by the COVID-19 pandemic, particularly the poor and vulnerable in the state.
The governor made this known on Wednesday in a statement by his Press Secretary, Jamilu Iliyasu Magaji.
The governor said the programme would be accomplished through social transfers, livelihood grants, basic infrastructure provision, support for medium and small business enterprises, and maintenance of food security threatened by armed banditry and general economic downturn.
He said the sum of N8.3 billion had been set aside for distribution to 152,107 beneficiaries to enable their small and medium scale businesses flourish.
He explained that the programme would be implemented through three delivery platforms, namely: CSDA, FADAMA, and the ministry of Commerce and Industries, in collaboration with the office of Zamfara State First Lady to address the problem of malnutrition in the state.
Matawalle added that, "there is also a CARES Coordinating office unit for the state. The services that CARES will deliver to the common man of Zamfara State including livelihood grants of 3.4 billion Naira, food security 3.4 billion Naira and job creation through small and medium scale Enterptrises at 2 billion Naira".
The statement said further that in order to cover the target beneficiaries in all parts of the state, the programme would be implemented in three phases of Result Area One: to increase social transfer, basic services, and livelihood support to poor and vulnerable households, targeting 82,321 beneficiaries.
"Similarly, Result Area Two component is aimed at increasing food security and safe functioning of food supply chains for poor households targeting 61,286 beneficiaries, while Result Area Three Component of the Programme would facilitate recovery of micro and small informal businesses, the phase will target 8,500 beneficiaries", the governor said.
The governor said his administration considers it a matter of utmost significance to implement programmes explicitly tailored to mitigate poverty among people and open new economic horizons for committed youths and entrepreneurs.
According to him, the administration has been working hard in the last three years to address the issue of insecurity, which has long been a major impediment to economic activity in many parts of the state, in addition to the massive investments in primary, secondary and tertiary education, healthcare, road infrastructure, cargo airport construction and a variety of other areas in order to turn around the fortunes of the state.
Matawalle also reaffirmed  his administration's resolve to place high premium on the well-being of individuals while also trying to create an environment that allows legitimate businesses and other critical sectors of the economy to function effectively.
World Bank To Fund $30bn Projects In Nigeria, Others
The World Bank has said it is set to disburse a total of $30bn to fund existing and new projects in Nigeria and other countries as part of a global response to combat the ongoing food security crisis.
According to the bank, it is working with countries on a $12bn new projects fund for the next 15 months.
It said the projects are expected to support agriculture, social protection to cushion the effects of higher food prices, and water and irrigation projects.
It added that most of the funds would go to Africa, the Middle East, Eastern Europe, Central Asia, and South Asia.
The global bank disclosed this on Wednesday when it announced how it plans to be part of a comprehensive, global response to the ongoing food security crisis.
It stated that it intends to roll out this fund in existing and new projects in agriculture, nutrition, social protection, water, and irrigation.
It said, "This financing will include efforts to encourage food and fertilizer production, enhance food systems, facilitate greater trade, and support vulnerable households and producers".
World Bank Group President, David Malpass, said, "Food price increases are having devastating effects on the poorest and most vulnerable.
"To inform and stabilise markets, it is critical that countries make clear statements now of future output increases in response to Russia's invasion of Ukraine. Countries should make concerted efforts to increase the supply of energy and fertilizer, help farmers increase plantings and crop yields, and remove policies that block exports and imports, divert food to biofuel, or encourage unnecessary storage."
The bank added that its current existing portfolio includes balances of $18.7bn in projects with direct links to food and nutrition security issues, covering agriculture and natural resources, nutrition, social protection, and other sectors.
It stated, "Altogether, this would amount to over $30bn available for implementation to address food insecurity over the next 15 months. This response will draw on the full range of Bank financing instruments and be complemented by analytical work".