UNIBEN Students Block Highway Over N20,000 Late Registration Charge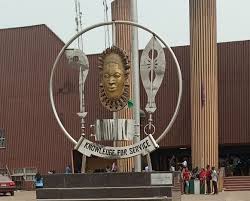 Vehicular movement was disrupted at Ugbowo section of Benin-Ore highway as students of University of Benin protested the alleged imposition of N20,000 late registration  charge by the institution.
The students mounted road block at the entrance of the university's main campus in Ugbowo, yesterday morning, which affected free flow of traffic.
A student of the university, who preferred anonymity, described the decision of the university management as harsh, saying it did not take into consideration "the unfavourable economic situation in the country".
"Madam Vice Chancellor increased tuition fees by N20,000. This is so sad and we will continue the protest unless the decision is rescinded," she said.
President of the Student Union Government (SUG), Mr Benjamin Egwu, also said that the decision was in bad faith.
"Earlier this semester, the management of the University of Benin announced that it would put extra charges if school fee was not paid on time and we are saying they should not charge for late payment because the time is not okay.
"The school resumed on August 15, and one month after they begin to charge N20,000.
"Our school fees as at the time I was admitted into the university in 2016 was N13,000 for Arts students and N15,000 for the Science students.
"In 2018, it was increased to N41,000 for arts and N45,000 for science.
"The N20,000 additional charge is unbearable for the students; though a lot of students have paid school fees, but those ones that are unable to pay, truly don't have the money now.
"So, adding extra N20,000 when they have not been able to pay 41,000 is another burden," he said.
Egwu alleged that the management had threatened to withdraw any student who failed to pay.
"The excess of N20,000 is uncalled for. Before now, what we used to do was no school fees, no examination; there's no problem about that.
"What the students are doing is right, protest is not a bad thing, it is a way of appealing particularly when they feel cheated."
Egwu said that the union had reached out to the institution's management on the matter, even before the protest.
"Well, I have done my bit. I have spoken with the management and posited my idea on what I feel.
"I believe they heard me and the message is clear. I am expecting the management to act and I believe they will act in no distant time; there is no need to rush," the SUG president said.
Efforts to reach the Public Relations Officer of the institution, Dr Bennedicta Ehanire, were to no avail as she neither responded to messages nor picked her calls.
Cleric Tasks Pliticians On People-Oriented Programme
Politicians in Nigeria have been advised to always embark on programmes and policies that would be beneficial to the common people, especially those at the grassroots.
The Arch Bishop of Enugu Ecclesiastes Province, and Anglican Bishop of Enugu, His Grace, Emmanuel Olisa Chukwuma, made the call in Enugu while delivering a sermon on the occasion of a thanksgiving church service to mark the 60th birthday anniversary of former Deputy Senate President, and Senator representing Enugu west at the National Assembly, Ike Ekweremadu.
Bishop Chukwuma regretted that most politicians in Nigeria are well known for their selfishness as they only think of themselves and members of their immediate families, describing their attitudes as very unfortunate.
The clergy man wondered why politicians should treat those who voted them into office in such a wicked manner, urging them to turn a new leaf for peace to reign in the country.
He however, commended senator Ekweremadu who celebrated mainly with the elderly and less privileged, describing him as the best senator in the South East zone.
Bishop Chukwuma however noted with deep regret that for Senator Ekweremadu to rise to his present position, he suffered assassination attempt and various forms of impediments, expressing happiness that he (Ekweremadu) is alive today in spite of all odds.
By: Canice Amadi Enugu
Kidnappers Demand N10m Ransom From Family Of Abducted Widow
Suspected kidnappers, who took a middle age widow and mother of four children in Kogi, on Saturday demandef for N10 million ransom from her family.
The widow, Mrs Sefi Jimoh, was allegedly kidnapped on the road while waiting for a commercial motorcycle, popularly called "Okada" to go home after a morning prayer session at Mountain of Fire and Miracles Church at Phase II in Lokoja metropolis.
Jimoh, who is an Environmental Officer with the Kogi State Governnent, is the bread winner of the family, having lost her husband some years back.
A family source, who spoke to newsmen yesterday in Lokoja, said "only this morning our sisters' abductors got to us on phone demanding for N10 million ransom for her freedom."
"The kidnappers first called her (widow) children and informed them that their mother is with them and that she will only be released after a payment of a N10m ransom.
"We were so shocked but relieved after knowing that she is still alive after her disappearance yesterday that sent jitters into the entire family members, friends and neighbours around.
"The question now is, where and how do we, in our financial position now, raise such money to secure our sister and mother?"
The source pleaded with the kidnappers to show the widow and the poor family mercy and release her "because getting even one million is like trying to squeeze water from a rock".
Contacted, the Kogi Police Command's Public Relations Officer (PPRO), SP William Ovye-Aya, said he could not confirm nor deny it because he was yet to be briefed by the Divisional Police Officer (DPO) of "B" Division, where the incident happened.
3,400 Civil Servants Sit For Promotion Examination In Yobe
No fewer than 3,400 civil servants  in Yobe State sat for promotion examination in the state, last Saturday.
The Head of Service, Alhaji Garba Bilal, disclosed this while inspecting one of the examination centres in Damaturu, the state capital.
Bilal said the examination took place  simultaneously in three designated  centres across the state.
"There are 1,962 candidates in Damaturu, the state capital, 1007 in Potiskum and 431 in Gashua Local Government Areas", he said.
Bilal said the results of the promotion would be effected immediately it was out while other processes would follow.
He also said that the civil service in the state would be revived under his watch.
"As I said when I assumed office, we are trying everything humanly possible to revive the civil service in the state.
"First is to ensure that there are trainings and retraining of civil servants. Once you train them, they will be able to give their best", he said, adding that the training would cut across all cadres of the civil service.
"The training would be carried out in phases. The senior officers would be trained and same will scale down to junior officers.
"So before you know it, all the civil servants will be abreast of the latest development in the civil service.
"We are going to create a good succession plan in the system.
"If someone exited from the service, there would be another person to replace him effectively.
"We do not want to create a vacuum where someone will leave and there will be no other person to take his responsibilities", he said.