2023 And Conduct Of All Elections Same Day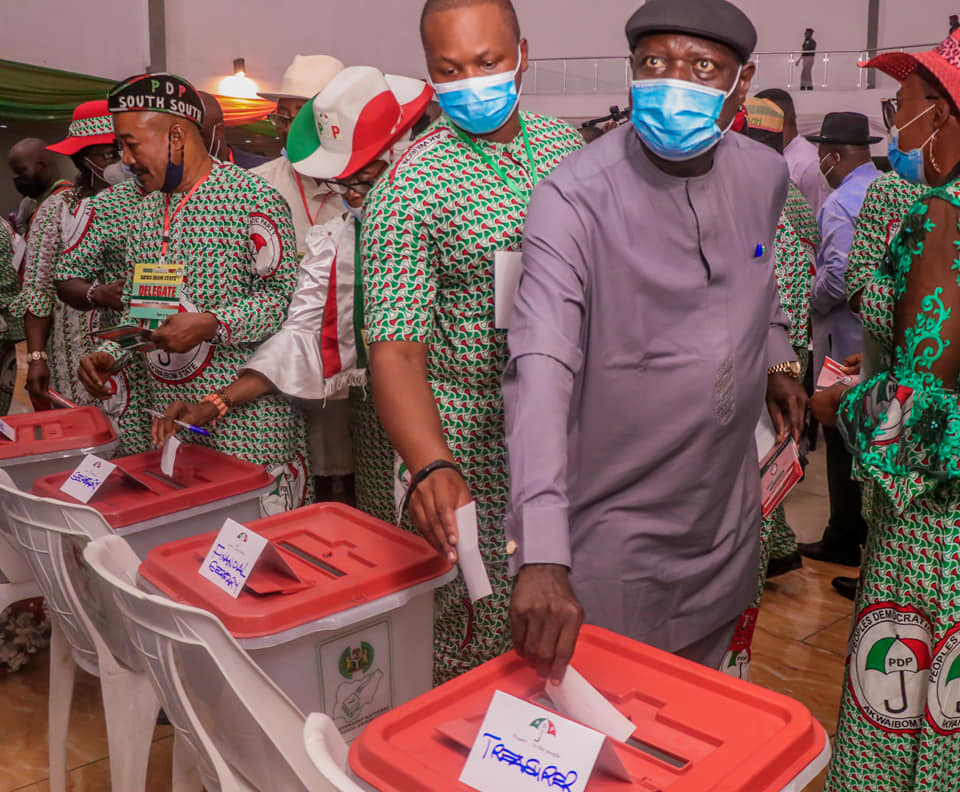 Credible election, experts say, is the bedrock of constitutional democracy. Free and fair election guarantees peace and stability.
The consequences of a disputed election are obvious: protracted litigation, image problems for the candidates that emerge, among others.
Unarguably, Nigeria has a fair share of disputed elections. In most cases, after long litigation, the court has to decide the eventual winner.
They say that to deepen our democracy, we need to get the elections right.
To restore normalcy in the country's electoral system, some stakeholders have suggested that all elections should hold on the same day.
There were, however, divergent views on the suggestion to hold all elections on the same day.
Even before the clamour to hold all elections in one day, the Minister of Science and Technology, Dr Ogbonanya Onu, had said that it was possible.
He said his ministry had developed a machine to handle elections of that magnitude.
Onu, who spoke with State House correspondents in Abuja, after the Federal Executive Council (FEC) meeting, said that Council had been briefed on the machine in the performance assessment report he submitted.
He added that the electronic voting machine would be solar-powered.
The minster explained: "This voting solution will help us to have clean elections in Nigeria and will make it possible for us as a nation to conduct all our elections in one day at the same time. "All the elections, the national, state and local governments; seven of them can be conducted the same day."
Onu added that the other qualities of the machine included the that fact it is paperless and also designed not to store data.
"So, if somebody comes to snatch it, it's a waste of time. As soon as data comes into it, it transmits it.
"So basically, you'll have a system that will be addressing many of the problems that we have today in the conduct of our elections."
The minister said that the ministry was in consultation with the Independent National Electoral Commission (INEC) on the machine, which had also been presented to the National Economic Council (NEC).
"We have gone to INEC on this, to set up a committee; we also took this before the National Economic Council and we are still working to further improve on the system," he added.
The Chief Whip of the Senate, Sen. Orji Kalu, recently re-echoed the need to conduct all elections on the same day.
The former governor of Abia, called on INEC to consider holding the 2023 general elections same day, in order to reduce cost and rigging.
Kalu said that presidential election as well as the national assembly, governorship and state house of assembly elections could be concurrently taken care of on the same day, rather than having staggered dates for them.
He stressed that holding 2023 elections on the same day would minimise cost, give the electorate opportunity to vote their genuine choice and protect their votes.
Kalu also cited the U.S., Ghana and Sierra Leone as countries indulging in same day election, adding that Nigeria will not be out of place to do same.
The former governor said inter alia: "The INEC should conduct the 2023 elections same day as staggered elections are unnecessarily expensive.
"The conduct of the elections in different days gives room for rigging, thuggery and several vices. It also puts the lives of the voters and INEC officials on intense danger.
"When elections are conducted on the same day, popular candidates will emerge, because everyone will be busy in their polling units and zones, unlike different days. The cost of running two days' elections will also be saved.
"To deepen our democracy, we need to get the elections right. When leaders with genuine interests of the people are voted to power, they provide exceptional leadership and infrastructure to their people."
In the same vein, a former Commissioner for Information and Orientation in Ebonyi, Chief Abia Onyike, said, conducting all elections in one day will further entrench democracy in the country.
According to Onyike, a former Deputy National President of Nigeria Union of Journalists (NUJ), the idea will save cost and minimise political manipulations during elections.
"Presidential, national assembly, governorship and house of assembly elections should be conducted in one day, as this is the general practice all over the world.
"Organising elections in one day will save the country the huge cost usually incurred during staggered elections.
"Also, it will not create room for electoral manipulations which had been threatening our democratic process,'' Onyike added.
He also stressed that conducting elections in one day would provide the electorate the opportunity to demonstrate their will without being unduly influenced.
"So, INEC should go back to the drawing board and review its capacity to conduct all the elections in one day.
"There will be no bandwagon effect and people will vote based on what they know,'' he said.
However, two dons who spoke on the issue said it would be impossible to successfully conduct all elections in one day during the 2023 general elections.
The dons of the Department of Political Science, University of Nigeria, Nsukka, spoke in separate interviews with the News Agency of Nigeria (NAN).
Prof. Aloysius Okolie, said that conducting all the elections in one day would be impossible because the country lacked the manpower to do so without the process losing its credibility.
"If all the elections are conducted in a day, the Independent National Electoral Commission (INEC) and security agencies will be overwhelmed as they will not have enough manpower to perform their duties.
"Yes, if it is possible to be conducted in a day it will save cost, but it is impossible because of dearth of manpower.''
Okolie, who is Dean, Faculty of Social Sciences, said staggering of elections was not responsible for electoral malpractice as canvassed by opponents.
He said malpractice was caused by overzealous and wrong perception of some politicians, who saw election as a do or die affair.
"Even in the U.S. and other developed countries, elections are not conducted in one day, but election malpractice recorded is negligible.
"No country can conduct perfect election or election that is 100 per cent free and fair, but the malpractice should be minimal and negligible," he said.
Head of Department of Political Science, Prof. Jonah Onuoha, also said the country lacked the manpower and logistics to conduct all 2023 elections in one day.
Onuoha said that even if it would be possible, it would not be now that the country is battling with serious security challenges, coupled with the penchant of politicians to rig elections
"Saving cost and staggering of elections are not main problems of conducting elections in the country, but how to get it right and conduct credible, free and fair elections even when staggered 10 times,'' he said.
According to him, there will even be more fraud if all elections are conducted in a day because electoral stakeholders will be overwhelmed by the magnitude of work needed.
"INEC, security agencies, election observers and the media will not have enough manpower that will give adequate attention to all elections conducted that day.
"Nigeria should focus on conducting credible, free and fair elections, which results will be accepted by all contestants.
"This will improve the country's image as well as save billions of naira spent by aggrieved candidates to challenge election results in election petition tribunals," Onuoha said.
Undoubtedly, Nigeria is facing a challenge of conducting free, fair and credible election. Probably, experimenting with conducting all election same day, may save the situation.
By: Obike Ukoh
Ukoh writes for the News Agency of Nigeria (NAN).
Jubilation As GDI Takes PVC Collection Sensitisation Rally To Oyigbo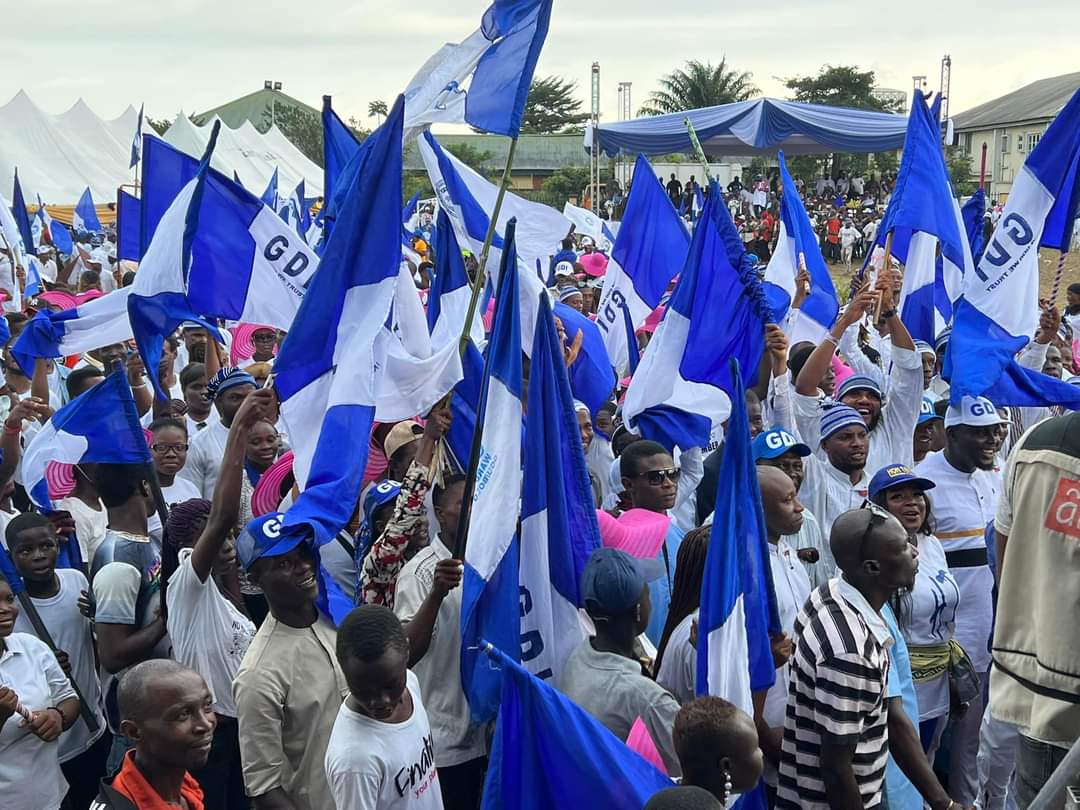 It was an ecstatic scene in Afam, headquarters of Oyigbo Local Government Area, last Sunday, as the Grassroots Development Initiative, GDI, took its PVC Collection  Sensitisation rally to the area.
The tumultuous crowd that attended the event from the ten electoral wards of Oyigbo was a bold statement that Oyigbo people have  embraced  the message which GDI had come to deliver: 'Operation  Go and Collect your PVC' .
Speaker after speaker at the occasion underscored  the importance of the PVC to the electoral process .
Chairman, Inter Party Advisory Council, IPAC, in Rivers State, Ambassador Desmond Akawor, highlighted the need for eligible voters to consider it as their duty to collect all unclaimed PVCs still at the Independent National Electoral Commission, INEC,  offices across the state.
Ambassador Akawor who is also the State Chairman of the Peoples Democratic Party, PDP, thanked the people of Oyigbo for the massive turnout, noting that it was an indication that they were well aware of their civic responsibilities.
Ambassador Akawor who thanked GDI for initiating the sensitisation program,    described it as timely, instructive and worth the while.
Gubernatorial candidate of the Peoples Democratic Party in Rivers State, Amaopusenibo Siminialayi Fubara, who spoke in Ndoki language, said he was happy to be home,  explaining that the people of Oyigbo, Opobo  and Bonny are one  and the same people.
Amaopusenibo Fubara expressed delight at the level of mobilisation of the people but advised them to ensure they collected their PVCs and be ready to make good  use of it at the appropriate time.
The well attended rally featured procession by the ten wards of the LGA who defied the rain to showcase their level of enthusiasm and  sensitisation.
Present at the event were the Deputy Governorship candidate, Prof. (Mrs) Ngozi Ordu; Chairmen of local government councils; members of National and State assemblies; PDP and GDI members and stakeholders, including the President-General of GDI, High Chief Bright Amaewhule; Deputy Chairman of PDP in the state, Hon Chukwuemeka Aaron and the State Secretary, Dr Benibo George.
There were also solidarity speeches from stakeholders of Oyigbo LGA.
Politicians Paid N5m To Destroy Me, PDP Nat Sec Cries Out
Crisis is brewing in the Imo state chapter of the Peoples Democratic Party, PDP, following the alarm raised by the National Secretary of the PDP, Senator Samuel Anyanwu, on Monday alleging that the sum of five hundred thousand naira has been paid each to 10 persons to churn out damaging information about him (Senator Anyanwu) ahead of 2023 elections in the state.
The Senator disclosed this to newsmen in Owerri, through his Special Adviser on Media, Ikenna Onuoha.
Anyanwu who accused some of his party members in the state of being behind the plot of destroying him also said they were the same party members who were not happy with his emergence as the National Secretary of the PDP.
According to him, "We have uncovered a plot by desperate politicians to blackmail and impugn the National Secretary of the Peoples Democratic Party (PDP), Senator Samuel Nnaemeka Anyanwu. Information at our disposal showed that these desperate politicians otherwise known as "Internally Displaced Politicians – IDPs" are recruiting online media hatchet writers to assist in running down the image of the PDP National Scribe.
"Available information also has it that these politicians have stationed ten (10) known "cash and carry" online media writers and paid N500, 000 (Five Hundred Thousand Naira) to each of the recruited writers.
"We also gathered that they have selected eight (8) newspapers in the state and promised to pay N100, 000 (One Hundred Thousand Naira) on monthly basis to each of the newspapers all in a bid to assist in discrediting Senator Anyanwu.  No doubt, these Internally Displaced Politicians are furious over their dwindling and diminishing political relevance since the majority of our members have come to know their true colour.
"We are aware that these politicians resorting to self-help are angry that an Imo son, Senator Anyanwu emerged the National Secretary of the main opposition party in Nigeria against their failed plot to foist two Anambra sons on our party as National Secretary.
"We also uncovered that these politicians championing the fake news against Senator Anyanwu are afraid that the ongoing rebranding in our party, the PDP might affect their selfish political hegemony against their desperate bid to grab power. We have noted their fears since the leadership of the Divine Mandate Movement (DMM) was rejigged and we can only tell them sorry for their failed ambition.
"It is worthy of note that since his inauguration as PDP National Scribe, these mischief makers have continued in their avowed plot to distract Senator Anyanwu using unsubstantial stories with the colouration of falsehood aimed at blackmailing him."
"Recently, in their desperate bid to blackmail our National Secretary, these mischief makers conjured another fake news that Senator Anyanwu gave a stern warning to IPOB and cautioned Igbo Youths against Biafra agitations. This was immediately refuted thereby destabilizing their target.
"Similarly, just recently, as usual, the confused politicians also criminally forged the signature of Senator Anyanwu's Media Aide alleging that he ordered members of IPOB to account for Killings in Imo State while using the massacre of 14 Otulu Youths in Awo Omamma as a pointer. Recall, they had used a known online media merchant to accuse our National Secretary of hijacking the just concluded PDP 3-man ad-hoc delegates and primaries respectively, unknown to them that our party members are aware of those that wanted to deny the party candidates in the primaries," he said.
LG Boss Set To Commence Community Hall Project For Udekama Kingdom
In continuation of the fulfillment of his social contract with people of Degema Local Government Area of Rivers State, the Chairman of the council, Hon. Michael John Williams, has concluded plans to commence the construction of a befitting Town Hall for the people of Udekama Kingdom in Ward 12 of the local government.
Speaking during a consultative meeting with stakeholders of the community, comprising chiefs, Community Development Committee (CDC), youth and women representatives, at the Council Secretariat in Degema, Monday, the Chairman apprised that the meeting was convened in order to seek the consent and approval of the community, before its commencement, inline with his administration's policy of consulting and involving community members in development projects and programmes of government.
He commended the community for their patience and steadfastness with his administration while projects were being sited in other communities, maintaining that his administration was committed to fulfilling its campaign promise of executing projects in all communities of the LGA.
He however took a swipe at some misguided persons who rush to the social media to lampoon and abuse government for allegedly not embarking on projects in all communities of the LGA simultaneously, describing it as unrealistic, as no administration could achieve that, considering the paucity of funds.
The Council Chairman stated that his love for the Communities and people of the LGA motivates him to do what he is doing for them, adding that governments were expected to work for the betterment of society.
"People often say, even to my hearing, that this chairman will leave office broke with a waterproof bag. But I tell them in all honesty that I am comfortable with my monthly take-home.
"We are not here to enrich ourselves, but to make Degema LGA better than we met it and that is partly why we are investing heavily in infrastructures in our various Communities," he stated.
The Council Boss, who informed the community of his plan for the community, however, asked them to nominate projects of their choice for consideration, if they preferred something else.
After the community representatives gave a nod for the construction of the Town Hall, the Council Chairman unveiled the prototype and asked them to provide a piece of land that is not a subject of litigation for the commencement of the project.
Responding, the Onu-Onyan Ekein of Udekama Kingdom, King (Dr.) Reuben Zachariah Amos, Peika 7, thanked the Council Chairman for his kind gesture to the people of the area.
Represented by Chief Oho-Oswo Francis, the traditional ruler commended the Chairman for changing the past narrative of the LGA, noting that he has done better than all past Chairmen of the Council.
While particularly thanking the Chairman for appointing their sons and daughters into his administration, the traditional ruler promised that his people would continue to be of good conduct to engender peace in the LGA.
"We want to thank the Chairman for honouring his promise to us such as siting this project in our community, appointing our sons and daughters into his cabinet, amongst others, which has never happened in the previous regimes. "So our chairman has started on a very good footing by siting this Town Hall in our community and we accept it in good faith and we say a big thanks to our chairman.
"We wish to promise our Chairman that we shall continue to be of good behavior, we will continue to conduct ourselves creditably and there will be no breach of the peace," he assured.
The community representatives later led the Council Chairman into the community, where a piece of land was shown to him to site the Town Hall project.