Failure Of Political Leadership In Nigeria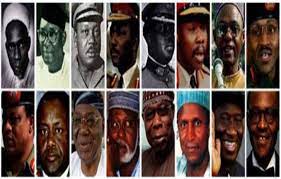 At the end of the Cold War, African civil society movements striving for more democratic governance began to challenge authoritarian regimes on the continent. Declining living conditions within African countries and the failure of authoritarian African leaders to deliver the promises of economic prosperity they made to encourage the acceptance of development aid fueled the push for change. International donors' insistence on democratic reform as a precondition for aid gave impetus for Nigerian civil society to push for domestic accountability. Thus, domestic pressure for political pluralism and external pressure for representative governance have both played a role in the calls for democratic reform in Nigeria.  
But despite some successes, corruption and socio-economic disparities within Nigerian democracy continue to run rampant. Since 1999, the democratic space has been dominated by political elites who consistently violate fundamental principles associated with a liberal democratic system, such as competitive elections, the rule of law, political freedom, and respect for human rights. The outcome of the 2019 Presidential Election further eroded public trust in the ability of the Independent national Electoral Commission (INEC) to organise competitive elections unfettered by the authoritarian influences of the ruling class. This challenge is an indicator of the systemic failure in Nigeria's governance system. A continuation of the current system will only accelerate the erosion of public trust and democratic institutions. In contrast with the current system in which votes are attained through empty promises, bribery, voter intimidation, and violence, Nigeria needs a governance system that will enhance the education of its voters and the capability of its leaders.
Statistically, Nigeria has consistently ranked low in the world, areas such as government's effectiveness, political stability and the presence of violence and terrorism, rule of law, and control of corruption. Nigeria was perceived in 2020 as a highly corrupt country with a score of 25/100 while its corruption ranking increased from 146 in 2019 to 149 in 2020 out of 180 countries surveyed. While President Muhammadu Buhari won the 2015 election on his promise to fight insecurity and corruption, his promises went unfulfilled; Boko Haram continues to unleash unspeakable violence on civilians while the fight against corruption is counterproductive.  
At the core of Nigeria's systemic failure is the crisis of governance which manifests in the declining capacity of the state to cope with a range of internal political and social upheavals. There is an expectation for political leaders to recognise systemic risks such as terrorist attacks, herder-farmer conflict and police brutality and put in place the necessary infrastructure to gather relevant data for problem solving. But the insufficiency of political savvy required to navigate the challenges that Nigeria faces has unleashed unrest across the nation and exacerbated existing tensions. The #EndSARS Protests against police brutality in 2020 is one of the manifestations of bad governance. 
The spiral of violence in northern Nigeria in which armed bandits engage in deadly planned attacks on communities, leading to widespread population displacement, has become another grave security challenge that has sharpened regional polarisation. Because some public servants are usually unaware of the insecurities faced by ordinary Nigerians, they lack the frame of reference to make laws that address the priorities of citizens. The crisis of governance is accentuated by a democratic culture that accords less importance to the knowledge and competence that political leaders can bring to public office. These systemic challenges have bred an atmosphere of cynicism and mistrust between citizens and political leaders at all levels of government.  
Political elites in Nigeria also exploit poverty and illiteracy to mobilise voters with food items such as rice, seasoning and money. The rice is usually packaged strategically with the image of political candidates and the parties they represent. The assumption is that people are more likely to vote for a politician who influences them with food than one who only brings messages of hope. The practice of using food to mobilise voters is commonly described as "stomach infrastructure" politics. The term stomach infrastructure arose from the 2015 election in Ekiti State when gubernatorial candidate Ayodele Fayose mobilised voters with food items and defeated his opponent, Dr Kayode Fayemi. It is undeniable that the Nigerian political culture rewards incompetent leaders over reform-minded leaders who demonstrate the intellectualism and problem-solving capabilities needed to adequately address systemic issues of poverty and inequality. 
Jason Brennan describes the practice of incentivising people to be irrational and ignorant with their votes as the unintended consequence of democracy. Brennan believes specific expertise is required to tackle socio-economic issues, so political power should be apportioned based on expert knowledge. As Brennan suggests, Nigeria lacks a system of governance in which leadership is based on capability. Rather, the political system in Nigeria is dominated by individuals who gain power through nepotism rather than competence, influence voters with food rather than vision, and consolidate power through intimidation or by incentivising constituents with material gifts which they frame as "empowerment" to keep them subservient and loyal political followers. By implication, the failure of governance in Nigeria is arguably the result of incompetent leadership.
Nigeria needs a new model of governance in which political leadership is based on the knowledge and competence of both political leaders and the electorate. One solution is to establish what Brennan refers to as 'epistocracy', which is a system of governance in which the votes of politically informed citizens should count more than the less informed. For Justin Klocksiem, epistocracy represents a political system in which political power rests exclusively on highly educated citizens. This idea drew its philosophical influence from John Stuart Mill, who believed that the eligibility to vote should be accorded to individuals who satisfy certain educational criteria. The notion that educational attainment should be the prerequisite for the electorate to choose their leaders as proposed by Brennan, Klocksiem and Mill is an important proposition that should be taken seriously. 
However, one cannot ignore that such thinking originates from societies where civic education is high and the electorate can make informed choices about leadership. In Nigeria, the majority of citizens are uneducated on political issues. Simultaneously, those who are highly educated are increasingly becoming indifferent to political participation; they have lost faith in the power of their votes and the integrity of the political system. For an epistocratic system to work in Nigeria there must be significant improvements in literacy levels so that citizens are educated about the issues and can use their knowledge to make informed decisions about Nigeria's political future. 
It is important to mention that Nigeria's political elites have exploited illiteracy to reinforce ethnic, religious, and political divisions between groups that impede democratic ideals. Since the resultant effect of epistocracy is to instill knowledge, raise consciousness and self-awareness within a polity anchored on the failed system of democracy, decisions that promote the education of uninformed voters are the rationale for an epistocratic system of governance. The Constitution must ensure that only citizens who can formulate policies and make informed decisions in the public's best interest can run for public office. When the Constitution dictates the standard of epistocratic governance, informed citizens will be better equipped to champion political leadership or determine the qualifications of their leaders. Epistocratic governance will be the alternative to Nigeria's current dysfunctional democratic system while retaining the aspects of liberal democracy that maintain checks and balances.  
We are not, however, oblivious that implementing such an epistocratic system of governance in Nigeria potentially contributes to more inequality given its highly undemocratic and exclusive nature. Our argument takes into consideration the contextual realities of poverty and illiteracy and the realisation that poor and illiterate constituents have less power to evaluate the credibility of public servants or hold them accountable. The benefits of electing epistocratic leaders are that many citizens would desire to be educated in preparation for leadership. The more educated the population the more likely it is that political leaders will be held accountable. However, the kind of education that is needed to significantly transform the governance landscape in Nigeria is civic education. 
We propose three policies to promote epistocratic governance in Nigeria. First, aspiring leaders must demonstrate the intellectual pedigree to translate knowledge into effective, transparent, and accountable governance that leads to national prosperity. As Rotimi Fawole notes, the bar should be higher for those aspiring to executive or legislative office "to improve the ideas that are put forward and the intellectual rigor applied to the discussions that underpin our statehood."
Second, the government must increase access to education through government-sponsored initiatives that integrate civic education into school curriculums. Currently, little opportunity exists for young Nigerians, particularly those in underfunded public education systems, to learn about their civic roles at the local, state, national, and international levels, including how to emerge as participating citizens through academics.
However, I think 2023 will be interesting for the future of the country, if the government should engage the support of local NGOs to promote civic education across Nigeria in culturally appropriate ways. The NGOs should be empowered to define the legal concept of citizenship and summarise specific civil rights enshrined in the Constitution into a Charter of Rights and Responsibilities modelled after the Canadian Charter. The Charter should include value positions essential to an effective democracy, such as the rights of citizens, social justice, good governance and rule of law. It can then be commissioned as a resource for civics education in Nigeria. 
Tobacco Smoking And Threats On Public Health
The negative consequences of tobacco smoking to public health and consumers is no news. What is worrisome is the addiction to the tobacco smoking despite  the unpleasant effects and the attendant hazards on first hand and second hand consumers.
About eight million cigarette smokers in the world die every year, while six of every 10 cigarette smokers are likely to die from heart-related diseases, with the second hand smokers being the worst hit according to medical statistics.
Who is a second hand smoker? A person who stays in an environment that is saturated by tobacco smoke.
Consequently, medical experts have warned Nigerians to desist from the intake of tobacco because about 17,500 Nigerians die yearly  as a result of smoking cigarettes.
Peter Unekwu-Ojo is a crusader against cigarette consumption and has remained committed to this cause.
At a one-day workshop organised by a non-governmental organisation,  Civil Society Legislative Advocacy Centre (CISLAC) with the theme, Tobacco Tax Digital Advocacy' for Female Journalists in Rivers State held recently in Port Harcourt, as part of the organisation's efforts to intensify advocacy on tobacco tax increase in order to reduce the high level of death rates as well as diseases associated with the intake of cigarettes in Nigeria, Unekwu-Ojo,  who spoke on health and economic consequences of tobacco smoking, decried the increasing rate of tobacco smoking.
"Loking at the world statistics, you will discover that from Global Adult Tobacco Survey (GATS) carried out in Ukraine in 2017 for instance, we have it that more than  eight million people die of tobacco issue. Smoking is addictive due to its natural chemical contents.
Frowning at the fact that Nigeria is one of the largest tobacco markets in Africa with many people addicted to smoking, Unekwu-Ojo advocated the upward review of tax on tobacco products.
"ECOWAS level of taxation is 59 per cent, WHO level is 79 percent, while in Nigeria it is just 16.4 per cent, this is too low as it is targeted at younger generation to easily get access to this drug and inhale  without knowing how dangerous it is to their health.
"Government at all levels should increase tax on tobacco consumption, so as to drastically reduce patronage as well as reduce the high death rates in Nigeria. Who are the replacement smokers? The Children and they have a mandate, 50, 000 smokers on daily bases mostly from the children and this tells eventually of what becomes of our children in the future? that is why from today the government must take it as a duty to increase tax on all tobacco products."
According to him, about 4.5 trillion sticks of cigarettes are littered on the ground worldwide, which is also responsible to the climate change being experienced in the world today, as cigarette sticks do not decompose, but rather stay in the ground for over 15 years.
On women smoking, Unekwu-Ojo emphasised that there are some major risk factors associated with women smoking cigarettes such as cardiovascular diseases, ammonia, complications arising during pregnancy, cancer, ulcer.
Also some diseases associated with the intake of tobacco by adults include: nasal irritation, lung cancer, urinary, heart diseases, among others.
"It equally affects women during child birth as their reproductive system have already been impaired by some of these chemicals that are capable of triggering the chemicals produced by the body system".
According to him, "About 7,000 dangerous chemicals constitute one stick of cigarette and these 7,000 chemicals are classified into cambium used in the production of battery, nicotine used in the production of pesticide, ammonia used in the production of toilet cleaner, such as Harpic, among others, acetone used in the production of rat poison, radon is more like a radioactive gas, steric acid used in the production of candle wax, so you can imagine what people are really taking inside their body, coal tar used in the production of road surfaces, these are contents of a typical cigarette, methanol used in production of fuel, methane is a sewage gas and part of what people consume.
"If you are looking at the danger associated with the intake of cigarettes there are so many toxic gases, these are gases that are harmful to living things that pass through the lungs into the body system, among others just as a result of being exposed to tobacco. Let us be very sincere and specific about it, tobacco smoking is completely dangerous".
Unekwu-Ojo claimed that about seven million deaths are as a result of direct intake of tobacco, while about 1.2million died as a result of what he called "second hand" smoking.
"Going back to the demography, you will discover that about 80 per cent of the world 1.1billion smokers are in low and medium income countries which Nigeria happens to be within this range as well as most African countries".
Speaking on cigarettes effects on children, the medical expert says:
"If you look at it from the perspective just mentioned above, you will discover that even children are not left out in second hand smoking. An average child crawls on the ground making them closer to the floor where these residues are poured. A child is exposed to it either through the hands, legs, knee. You can imagine the danger as it affects both the middle ear disease in children, causes respiratory system diseases such as collapse of the lungs, among others.?
"Apart from direct smoking, there is also what we call second hand smoking; in this case one is exposed to inhaling smoke not necessarily because he smokes directly, but because he has either entered a room that a smoker was staying in. There is always the residue of that smoke, either on the bed, seat, or television and door handle, among others. It is also a very strong indication that once a non-smoker's body is in touch with any of these other mentioned items, ordinarily the body system will absorb it, this means invariably the person is also smoking, so that is why I get that figure that non-smokers are about 1,2million dying as a result of exposure to tobacco smoke. This is a very dangerous trend and that is why we are saying that the media should come in because they are the fourth estate of the realm and they have a very strong representation and a very strong voice in, this circumstance," the health expert added.
There are certain chemicals that are produced by the body namely, estrogen and progesterone, particularly these affect the women. The intake of cigarettes has a way of affecting the genes. Some of the diseases that adults are exposed to as a result of the intake of cigarettes are stroke, blindness, heart disease, pneumonia among others, so it is a big challenge when those hormones are affected.
On the role of the media to  curb cigarettes smoking, he said, "as it is now, it seems  journalists do not know their responsibilities any longer, let there be more knowledge, they need to step up their game because the people are waiting for them to manifest because people form public opinion as a result of what is junked out there by the journalists.
To discourage the tobacco production and desire to indulge into it, the Federal Government initiated Tobacco Tax.
According to Onekwu-Ojo, while teaching on the Topic: 'Understanding Framework Conversation on Tobacco Control (FCTC) Article 6 And Nigeria Tobacco Tax', the call for increased taxes and prices on Tobacco will reduce overall tobacco consumption and prevalence of tobacco use; prevent initiation among youth; as well as promote cessation among current users.
"The guided principle of Article 6 is an important source of revenue generation, tobacco taxes should be protected from vested interests.
With the involvement of more than ten percent of global population in Tobacco addiction, many people wonder if there is a way out.
To this end Unekwu-Ojo, however, recommended for adoption and implementation of Article 6, that parties should establish coherent long-time policies on their tobacco taxation structure, stressing that taxes rate should be increased, monitored or adjusted on a regular basis, potentially annually, taking into consideration inflation and income growth development.
Tobacco kills more than half of its users and more than eight million people each year as such, the use of tobacco should be discouraged".
Also speaking, Mr Solomon Adoga, who spoke on the interference of tobacco industry, explained that the tobacco industry has power to weaken and threaten government by stopping them from putting policies that will negatively affect their tobacco business.
"Tobacco Industry does not care about the health consequences, hence the reason  they are not really emphasising it even though in some of their adverts they say that 'Tobacco smoking is dangerous to health' on a lighter note, whereas push more on the patronage and use of tobacco.
On his part, Okeke Anya said "in CISLAC, we want to create more awareness fora through community engagement, so that we can know and ensure knowledge is passed around.
On the need to monitor tobacco industries, a resource person Mr. Solomon Wonah, said there was a long issue undermining public health policy that is built on deception, manipulation.
"As long as Tobacco Industry is concerned, all hands must be on deck to up their games".
He charged media personnel  to be versatile on enabling laws and issues relating to the well being of humanity so that they will be able to  make proper use of their power to shame, and expose owners of tobacco industry and  promoters.
One of the participants, Edith Chukwu, expressed satisfaction and joy for being chosen to benefit from the training, which she described as an eye opener, noting that she never understood the high-risk that a non-smoker would have, just by staying in an atmosphere saturated with cigarettes smoke.
She assured of her determination to ensure the use of tobacco is reduced to  barest minimum.
For another participant, Dr Ngozi Anosike, "the training revealed many things to look out for on our children, especially teenagers in this digital age, "Parents should sit up to their responsibilities by knowing every detail about the type of friends their children keep as well as some sophisticated materials that look totally different from what it is intended for.
"As a journalist and a mother, I would ensure that my children stay far away from tobacco smoking, also I will not relent on writing on tobacco until the desired change we all want to see is achieved".
By: Susan Serekara-Nwikhana
Curbing Irregular Migration, Sex Slavery In Africa
Data made available by the International Organisation for Migration (IOM), showed that   between January and May last year, 29,000 people of sub-Saharan African origin went to Europe through the Central Mediterranean route, mainly   in search of greener pastures.
Unfortunately, their fate is uncertain, as they may end up as sex slaves, victims of organ theft, among others. Most of the irregular migrants were not aware of dangers ahead.
Aside those who 'successfully' made it, over 761 others died in the quest to cross, about 13,000 were pushed back by the Libyan Coast Guard, while thousands of others are languishing in detention facilities.
However, the tale is not only bleak in Europe, irregular migrants within Africa also suffer similar fate of forced labour and sex slavery.
According to a 2018 report by the National Agency for the Prohibition of Trafficking in Persons (NAPTIP), there were over 20,000 Nigerian girls working as sex slaves in Mali.
According to Frantz Celestin, chief of mission, IOM Nigeria, migration to Europe is mostly captured in the media space whereas a higher number of migrants remain within Africa.
"Most people look at the media report of migrants trying to get across to Europe, but the fact is that the vast majority of migrants who decide to move from one place of habitual residence, they decide to do so within the African continent.
"In fact, less than five per cent of those on the move go to Europe, the vast majority of them stay within the continent.
"If you look at ECOWAS citizens, more than 90 per cent of them stay within the ECOWAS space.
"Giving the number of people on the move and knowing how vulnerable people tend to be if they are migrating irregularly, the chances of them being trafficked or abused during their journey is quite high.
"So, if so many people are moving within the ECOWAS space, it is safe to conclude that a lot of them are being trafficked with the ECOWAS space," he said.
He said that from the study which had been carried out by the IOM, Mali remained top of the list of locations for Nigerian girls trafficked within Africa.
"If we know all of these and if ECOWAS tends to reason that there might be a lot of women trafficked within its space, what do we do?
"It is to make sure we understand the pattern, look at the trends, see where they are going – and Mali has quite a number of young Nigerian women as sex workers in the Gold Mine District.
"So if I were to say, given the numbers that we have seen, Mali is the number one destination in West Africa for Nigerian women who were trafficked.
"But there are trafficking going on throughout the ECOWAS space.''
Celestin who interacted with the media recently to advance the activities of the UN agency, pointed out that a sizeable number of the 29,000 persons who made it to Europe were Nigerians.
The IOM chief who did not give specific figures pointed out that in spite of its campaign and sensitisation across Nigeria, many still opt to move as they are driven by many factors that must be addressed.
Celestin said that "the drivers could be conflict, social-economic pressures, population pressures, it could be disasters, climate induce phenomenon and we have seen quite a number of them with the severity and frequency going up and up.
"There are a lot of push factors out there and we only see that they are increasing.
"So how do we step forward to mitigate the number of people migrating as well as the level of suffering we see in that process.?
"It is not going to stop unless the drivers are removed or mitigated, and these drivers are hardship, conflict, disasters and the fact that we have more people looking for work and a lot of people underemployed.
"So the combination of unemployment and under employment will definitely push people forward.
"You can tell them as much as you want, but if you don't find something to keep them in place, they will migrate.
"All of the work that we do is to prevent, reduce and address the drivers of migration," he said.
Celestin however clarified that the work of IOM was not to discourage migration, as he insists that it is necessary for migration to take place, stressing that the import was for migration to be done the right way.
It is perhaps in its bid to drive home the message of migration across Nigeria that the IOM had continually sought partnerships with the Nigerian media.
At one of such dialogue held recently in Abuja, Celestin appealed to the media, as indispensable partners to help in getting the right message of migration across Nigeria.
"IOM would like to use this dialogue to facilitate your direct involvement in the dissemination of credible information on migration in support of its efforts to ensure orderly, dignified, and safe migration.
"Maintaining good media relation is indispensable and contribute to IOM's daily work.
"IOM will continue to work with you to shed light on the plight of the people, and the often-hidden opportunities that arise from migration.
"Governments, migrants, potential migrants, and average citizens are much more likely to hear about IOM's work through the media than through official reports.
"The role of media in achieving IOM's objectives is crucial. Hence, the need for information flow built on cordial relationship between media outlets and IOM Nigeria.
"IOM is committed to working with journalists who will act as conduits of the organisation's message," he said.
Stakeholders believe that the ultimate solution to irregular migration lies in mitigating the drivers of migration, which will in turn mitigate trafficking, sex slavery, organ theft, among others.
Celestin believes that the $150 billion trafficking industry which has been identified to have high yields and low risks to the perpetrators, can only end with concerted efforts.
With specific reference to Africa, he said: "What is required is a coordinated response by all the member states and what we would call proper guidance by ECOWAS to effectively identify these networks and disrupt their criminal activity.
"What we are going to do is to systematically create bilateral relationships with these governments.
"Last month, IOM Nigeria and IOM Niger had a 10-day conference where we were with NAPTIP and immigration officials from Nigeria and their counterpart in Niger.
"We brought them together to get these two agencies, Nigeria Immigration Service on the border part controlling who is going and then NAPTIP and their counterpart in Niger to coordinate and share information to disrupt these networks that are putting people in bondage and selling them as cattle and abusing them.
"So coordinated efforts, bilateral relationship and sharing of information are extremely important in stemming the flow of people and preventing these criminals from using people as commodity.
"No agency, no country, no one person can do it by him or herself, it requires a whole lot of society approach, a coordinated approach and putting the necessary mechanism in place to get this done.
"IOM is a solid partner; we offer our support to our member states, to the governments and support direct assistance to those who have been victimised by these criminals," he said.
Indeed, it remains an arduous task to convince people to stay back in their home countries rather that migrate irregularly, especially when hunger, unemployment and insecurity continue unabated.
It is thus a clarion call for governments, particularly in Africa, to live up to their responsibilities, take advantage of their human and material resources and harness such for the betterment of their people.
In the words of an economist, Amarachukwu Nwosu, "Africa has more than the potential needed to be better than Europe and America. That potential should be harnessed.
By: Ifeanyi Nwoko
Nwoko writes for News Agency of Nigeria.
Why Our Gender Bills Should Fly
In 2020, Justice Akon Ikpeme, an indigene of Akwa Ibom State married to a man from Cross River State was denied the position of the substantive chief judge of the state because she was not from there by birth even though she met the requirements for the job and had worked in the state for many years. It took a nationwide outcry and protests by several women groups for the State Assembly to backtrack and confirm her as the substantive chief judge of the state.
In December 2014, Justice Theresa Uzokwe, an indigene of Imo State but married to an Abia State man was appointed chief judge of Abia State by former Governor Theodore Orji and hell was let loose as the State Assembly and many other people from the state criticised the appointment owing to the fact that she was a 'non-indigene'.
Justices Ifeoma Jombo-Ofo of Abia State, Patricia Mahmoud of Kano State, Elizabeth Asabe Karatu from Kebbi State and several other judicial officers had similar experiences when they were to be appointed into certain offices in their husbands' states. They would dedicate themselves in serving the states of their marriage for many years and no one asked why a 'non-indigene' would serve the states so well but when it was time for them to be elevated or be given an opportunity to serve in a higher capacity, the issue of their parentage was raised.
Section 26 of the 1999 Constitution of Nigeria provides that a non-Nigerian woman married to a Nigerian man can become a Nigerian citizen by Registration. No mention was made of a non-Nigerian man married to a Nigerian woman. Shouldn't such a person also enjoy the privilege of becoming a Nigerian?
Just a few days ago, a federal high court in Abuja dismissed a suit by the Nigerian Bar Association (NBA) seeking to invalidate some provisions in the Nigeria Police Force Regulations (NPFR) which forbid unmarried female police officers from getting pregnant.
The Association had approached the court to challenge the legality of regulation 127 of the NPFR, which provides that "an unmarried woman police officer, who becomes pregnant, shall be discharged from the Force and shall not be re-enlisted except with the approval of the inspector-general of police", arguing that the said provision contradicts the 1999 constitution and is discriminatory to unmarried female police officers. But Justice Inyang Ekwo ruled that there was no basis for this action in the first place and that an unmarried woman who intends to get pregnant is not compelled to join the police. "Where such a woman becomes a police officer, she is bound by the regulation on pregnancy while being unmarried", he held.
Search through the NPFR and you will see no similar regulation for single male police officers. A male single police officer can impregnate as many women as he likes and nothing happens to him. It goes without saying that the pregnant single police woman did not impregnate herself, a man was definitely responsible. What if that man is a single police man? The woman will be fired while the man continues to enjoy his job?
These are some of the anomalies the gender bills that were rejected by the National Assembly at the ongoing constitutional amendment exercise aimed at addressing. The sponsors of the bill, which included male and female, wanted the discriminatory citizenship section in the constitution to be amended to make room for equal treatment of both male and female non-Nigerian who can become Nigerian citizens by marriage.
They wanted the issue of non-indigeneship to be legislated upon so that going forward, no woman will be denied her rightful position in her state of marriage; women will be able to take indigeneship in their husband's state after five years of being together. You can imagine the emotional and psychological effect of the rejection by both their husbands' state and their state of origin, who usually send them back to their husbands' state because they have been married out. Both states claim they are not their indigenes, so, where are they from? Shouldn't this be tackled constitutionally to prevent the unfair, discriminatory acts meted on the women and give them a full sense of belonging?
Honestly, one is tempted to agree with some female activists who claim that the lawmakers that voted against the bills did not even go through them to know what they contained because looking at the importance of some aspects of the bills towards making Nigeria a more peaceful, more progressive society, one would have expected all the legislators to give their nod to them. These lawmakers have wives, sisters, daughters and other females around them who will benefit from these bills both now and in the future. In fact, the entire nation will be better off because it has been proven that the more women participate in governance and politics, the better for the country.
It is sad that 61 years after Independence, women have only 4.4 per cent representation in the National Assembly, occupying only 19 out of 469 seats in both chambers of the Legislature. In all the state Assemblies nationwide, only 44 members are women. About 15 states are said to have no female lawmakers such that men chair the Women Affairs Committee in those Houses. This explains the ranking of Nigeria as the worst performer in women representation in parliaments, in the West African region and one of the lowest in the whole of Africa by a recent report.
So, any necessary action to shove up the numbers should be seriously considered. An example that comes to mind on issues like this is Rwanda. In 2003, Rwanda passed an amendment of her constitution which established a 30 per cent reservation for women across all elective positions. By the end of the 2013 General Elections, 61 per cent of the seats in the Rwandan parliament went to women, underscoring Rwanda as the leader and frontier of women in politics and governance across the globe. Other countries like Cuba, UAE, Bolivia, Mexico, and Sweden have adopted Rwanda's style by implementing similar tactics which helped each of them achieve a higher number of women in politics and governance. Why can't Nigeria follow suit?
What is the big deal about granting women 35 per cent affirmative action in party administration and leadership as well as specific seats for women in the National and State Assemblies? Why can't the women's request for the passage of the Gender and Equal Opportunities bill currently before the Senate and immediate domestication of the African Charters Protocol on the Rights of Women in Africa, which Nigeria ratified in 2004 as well as the domestication of the UN Convention on Elimination of All Forms of Discrimination Against Women (CEDAW), which Nigeria ratified in 1985 be granted by the National Assembly?
The theme for this year's International Women's Day celebration is gender equality today for a sustainable tomorrow, #BreakTheBias and it is, indeed, high time Nigeria joined other countries the world over to come up with sincere and practicable measures of eliminating all forms of discriminations and bias against women both in the political sphere, workplace, at school and at home and everywhere. Nigerian women truly deserve better treatment and more inclusion and participation in government.
However, the manner in which the women go about getting these demands can make a whole lot of difference. Being confrontational and antagonistic as leaders of some women groups have been since the rejection of the gender bills is not the way to go. African culture, the tenets of the various religions being practiced on the continent require women to submit to men. If the women in Nigeria overlook this and make it seem as if they are rubbing shoulders with the men, achieving their goal may be difficult irrespective of how laudable they may be.
Again, although many women have debunked the assertion of the spokesman of the House of Representative, Benjamin Kalu concerning why the gender bills could not scale through, it is important the champions of the bills and the women groups take into cognizant some points made by the law maker.  He said, "It takes a lot of orientation; it takes a lot of advocacy. It takes a lot of sensitisation to enable people to buy into these important agendas. Do you know why? Because you cannot play down on our current issues with regards to emerging democracies, one of which is our religious disposition, our cultural dispositions.
"These things play a role. We are part of the society, our religion and culture is part of society. It needs a lot of advocacy by civil society organisations, women groups, to push this agenda forward; it is a wonderful agenda."
It is also important that women should resolve to support, encourage and mentor one another. A situation where a woman stands for an election and gets little or no votes from her fellow women does not show that the women are serious about achieving the goal. Besides, women should develop themselves educationally and otherwise to be qualified for whatever appointment and not just wait for the offer to be thrown at them merely because they are women.
By: Calista Ezeaku