Stakeholders In Okrika Pass Vote Of Confidence On DPO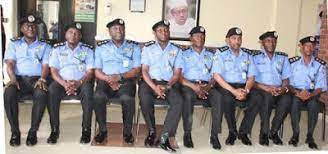 In a fast move to encourage hard work and dedication to duty,some stakeholders in Okrika in Rivers State have passed a vote of confidence on CSP Okoro Ikechukwu ,Divisional Police Officer of the area. 
They said CSP Okoro deserved the honour based on his superlative performance in crime fighting and humanitarian gestures. 
They said they unanimously passed a vote of confidence on him as a way of encouraging hard work, unequal professional conduct and zero tolerance for criminality. 
They said his ability to involve relevant bodies in the protection of lives and property has endeared him to the people. 
They said his arrival has equally brought succour and peace to the area as well as enhanced business activities.
One of the leaders who spoke said CSP Okoro has attracted to himself accolades following his milestones in service to humanity. 
According to him, he had gone beyond his constitutional calling, and delved into provision of social amenities, a feat, they said deserved commendation.
Yahaya Turku, a business man described the effort of CSP Okoro in combating crime as a step in the right direction, and applauded the police authorities for his posting to the area. 
Ahmed Kabiru ,also a business man said CSP Okoro is a an officer who hardly discriminates against people of other tribes.
Ahmed said he is a true Nigerian  who believes in his job and unity of the entity called Nigeria. 
Emeka Offor ,a business man said in Okrika local government, it is difficult to differentiate among the three major ethnic groups based on the way CSP Okoro has genuinely related with them. 
Comfort Amaka said the posting of CSP Okoro has terminated tribalism in the area as everyone  associates freely.
Belema Mieboka, an indigene described CSP Okoro as a blessing to his people. 
Belema said the DPO's name has become a household name due to his philanthropic nature as well as not compromising on his duty. 
No Hiding Place For Criminals – Hawk Commander
In its determination to keep Oyigbo and its environment crime free, the Hawk Tactical Unit, Rivers Command, has warned criminals operating within the area to embrace peace or face wrath of the law.
This warning follows recent happenings in the area especially Igbo – Etche, where some unwanted elements were arrested for kidnapping, cyber crime, ritual and other forms of criminal activities.
Speaking to newsmen, the Hawk Commander, SP James Ananias, frowned seriously at the high level of youth involvement in crime and noted that the society would be doomed if drastic steps were not taking to check the ugly menace.
SP James vowed that his men were ready to chase them to their hideout to ensure peaceful coexistence of residents and business men and women.
In their determination to achieving this, SP James said his men had been commissioned to monitor and patrol the affected areas in order to restore sanity.
He called on landlords and residents to oblige the command with useful information aimed at tracking down the notorious criminals.
SP James said the crime zero tolerance of the Inspector General of Police still stands as the command would not compromise it .
He noted that the arrival of hawk in Rivers State had reduced crime to the barest minimum.
"It would interest you to note that all those involved in the Igbo- Etche crime have been transferred to the state criminal investigation for further investigation, if found wanting, will face full weight of the law.
"As it is the only way to save the society, we advise parents and guardians to monitor and checkmate the type of company their children keep.
SP James said the command has been working with sister agencies to ensure total peace and orderliness in the society.
Lawyer Urges Police, Others To Ensure Free, Fair Elections
A Port Harcourt based lawyer and human rights crusader, Mr. Chinonye Okoha, has called on law enforcement agents to live up to their billings by ensuring free and fair election come February 25, 2025 and subsequent elections.
Mr. Okoha, who stated this while speaking with newsmen in Port Harcourt on Monday, noted that it was imperative for the police and other law enforcement agencies to do all in their powers to prevent electoral malpractice in the forthcoming elections in the country so that our democracy would be better for it.
He said in the past, the system was bedevilled with a helluva corrupt practice that brought monsters to power, who had caused pains to the nation in general.
The Port Harcourt-based lawyer explained that there ought to be deliberate effort on the part of government to ensure free and fair elections.
He said, gold should be given to those that know the value.
Mr. Okoha remarked that Nigerians were going through the most trying period in its history.
"It is important for us to elect people who would bail the nation out of the present predicament. Inflation is biting hard, the diminishing value of the Naira and poverty are indices of a nation on precipice."
Mr. Okoha pointed out that all hands must be on deck to bail Nigeria out of mediocrity and underdevelopment.
He said, bad leadership was the bane of the nation's economy.
He told the electorate to use the opportunity offered by 2023 general elections to bring good leaders to power.
The lawyer urged the electorate to vote credible persons to power.
PHCCIMA President Seeks Prosecution Of Fake Products Importers
The President of PortHarcourt Chamber of Commerce Industry, Mine and Agriculture (PHCCIMA), , Eze Mike Elechi, has called on the Standard Organisation of Nigeria (SON) and other regulatory bodies to ensure the prosecution of importers of fake and substandard products into the country.
Elechi made the statement while speaking as a guest during a sensitisation programme by SON in Port Harcourt, recently.
He said that consumers were going through difficult times due to the activities of fake importers who he said have flooded the country with fake and substandard products.
The PHCCIMA boss maintained that SON and other related agencies must, as a matter of urgency, faction out strategies on how to tackle the menace of fake products.
The motive, according to him, was to ensure that Nigerian populace got assurance and confidence in the product and services they consume.
Earlier in his address, the Director General/Chief Executive of SON, Malam Farouk Salim, explained that SON was mandated by enabling Act: No. 14 of 2015 to register, certify and regulate products for retail in Nigeria.
Salim noted that the sensitisation programme was another strategy of discouraging importation of substandard products into the country, hence the introduction of "Product Authentication Mark" (PAM) to ensure the authenticity and traceability of SON regulated products.
The SON DG also called on investors, consumers and other stakeholders to support the agency's effort so as to win back public confidence.
In his paper presentation, the Director, Product Certification, Engr. Shaibu Onucheyo, opined that everybody was a consumer irrespective of his or her status, hence the need to assist SON in conducting check before buying any product in the market.
"The introduction of Product Authentication Mark (PAM) will provide an online platform for consumers to directly authenticate the validity of certification on SON regulated products before purchase and thus have value for their money; it will also give protection to genuine products on sale in the market", he said.
Without patronage, he avered, substandard, fake, cloned and counterfeited products would have no market.
However, he has appealed to importers to apply and acquire the sticker from SON at the cost of N3.00 only.
By: King Onunwor