'Exxon's Falling Production, Highly Bullish For Oil Prices'

Last week, ExxonMobil (NYSE:XOM) reported Q 2 2021 earnings in one of big oil's most anticipated scorecards this earnings season. The United States' largest oil and gas company posted stellar earnings that proved that the worst for the U.S. shale industry might finally be in the rear view mirror. Exxon's Q2 earnings swung to a $4.7billion profit from a loss $1.1billion in the year-earlier quarter while revenues more than doubled to $67.7billion (+107.7 percent Y/Y), with both metrics exceeding Wall Street's expectations.
Exxon said that its impressive earnings were driven by strong oil and natural gas demand as well as the best-ever quarterly chemical and lubricants contributions.
The company was able to achieve those results despite declining production: Q2 overall production slipped 2% Y/Y to 3.6million boe/day, despite production volumes in the Permian Basin jumping 34% Y/Y to 400K boe/day.
Exxon's Q2 production clip marks the lowest level since the 1999 merger that created the oil and gas giant that we know today.
Meanwhile, H1 Capex clocked in at $6.9 billion, with full-year spending expected to come in at the lower end of its $16billion-$19billion guidance range.
Exxon says cash flow from operating activities of $9.7 billion was the highest in nearly three years and sufficient to cover capital investments, dividends, and pay down debt.
But persnickety shareholders appear unimpressed and have been bidding down XOM shares after the company failed to announce any share buyback program.
Whereas Chevron  (NYSE:CVX), Shell (NYSE:RDS.A),and  TotalEnergies (NYSE:TTE) all have announced a return to stock buybacks during the current earnings season, Exxon has opted to pay down debt rather than reward shareholders. Exxon suspended buybacks in 2016 as it went on one of the most aggressive shale expansions, particularly in the Permian.
WSJ Heard On The Street's Jinjoo Lee says Exxon has less flexibility than its peers, thanks to years of overspending followed by a brutal 2020. This has left the company in a vulnerable position, and now Exxon has little choice but to lower its debt levels which have recently hit record highs.
CEO Darren Woods, has reassured investors that reinstating buybacks is "on the table," though he has reiterated that  "restoring the strength of our balance sheet, returning debt to levels consistent with a strong double-A rating" remains a top priority.
But overall, Exxon's declining production is the way to go in this environment.
Energy finance analyst at IEEFA, Clark Williams-Derry,a non-profit organisation and Kathy Hipple, has told CNBC that there's a "tremendous degree" of investor skepticism regarding the business models of oil and gas firms, thanks to the deepening climate crisis and the urgent need to pivot away from fossil fuels. Indeed, Williams-Derry says the market kind of likes it when oil companies shrink and aren't going all out into new production but instead use the extra cash generated from improved commodity prices to pay down debt and reward investors.
Investors have been watching Exxon closely after the company lost three board seats to Engine No. 1, an activist hedge, in a stunning proxy campaign a few months ago. Engine No. 1 told the Financial Times that Exxon will need to cut fossil fuel production for the company to position itself for long-term success. "What we're saying is, plan for a world where maybe the world doesn't need your barrels," Engine No.1 leader Charlie Penner told FT.
Better still, Exxon has been quickly ramping up production in the Permian, where it's targeting a production clip of 1 million barrels per day at costs of as low as $15 per barrel, a level only seen in the giant oil fields of the Middle East. Exxon reported that production volumes in the Permian Basin jumped 34% Y/Y to 400K boe/day, and could hit its 1 million b/d target in less than five years.
After years of under performance amid weak earnings, the U.S. shale sector remains on track for one of its best years ever.
According to Rystad Energy, the U.S. shale industry is on course to set a significant milestone in 2021, with U.S. shale producers on track for a record-high hydrocarbon revenue of $195 billion before factoring in hedges in 2021 if WTI futures continue their strong run and average at $60 per barrel this year and natural gas and NGL prices remain steady. The previous record for pre-hedge revenues was $191 billion set in 2019.
Rystad Energy says that cash flows are likely to remain healthy due to another critical line item failing to keep up: Capital expenditure.
Shale drillers have a history of matching their capital spending to the strength of oil and gas prices. However, Big Oil is ditching the old playbook this time around.
Rystad says that whereas hydrocarbon sales, cash from operations, and EBITDA for tight oil producers are all likely to test new record highs if WTI averages at least $60 per barrel this year, capital expenditure will only see muted growth as many producers remain committed to maintaining operational discipline.
For years, ExxonMobil has been one of the most aggressive shale drillers with massive spending and capex. Luckily, the company is no longer too keen on maintaining that tag, which is bullish for the U.S. shale sector.
There are already growing fears that a full return of U.S. shale due to improved commodity prices could muddy the waters for everyone
According to an analysis by the authoritative Oxford Institute for Energy Studies, rising oil prices could allow for a significant return of US shale to the market in 2022, potentially upsetting the delicate re-balancing of the global oil market. 
"As we enter 2022, the US shale response becomes a major source of uncertainty amid an uneven recovery across shale plays and players alike. As in previous cycles, US shale will remain a key factor shaping market outcomes," Institute Director Bassam Fattouh and analyst Andre as Economist have said.
Obviously, many investors would prefer that this happens later rather than sooner and so far, indications are that this is the most likely trajectory.
By:  Alex Kimani
Kimani writes for Oilprice.com
'NNPC Spent N15b To Reconstruct Lagos-Badagry Expressway'
The Nigerian National Petroleum Company Limited (NNPC Ltd.) has disbursed N15 billion for the reconstruction of the Lagos Badagry Expressway under the Federal Government Road Infrastructure Tax Credit (RITC) Scheme.
The N15 billion represents a 100 per cent payment of the funding of the Lagos-Badagry Road rehabilitation under the tax credit funding of the NNPC Ltd.
Group Chief Executive, NNPC, Mr Mele Kyari, made this known when he led NNPC's management team with some top government officials to inspect the ongoing rehabilitation and expansion of Lagos-Badagry Expressway (Agbara Junction-Nigeria/Benin Border).
The road under rehabilitation is being funded by the NNPC Ltd. under the Federal Road Infrastructure Development and Refurbishment Investment Tax Credit Scheme.
The execution of the scheme is being carried out in collaboration with the Federal Ministry of Works and Housing as the supervisor and Federal Inland Revenue Service (FIRS) for NNPC's tax obligations deductions.
This is in response to address the plight faced by petroleum products marketers in transportation which affects nationwide distribution.
Kyari said the fund disbursed was part of the N621.24 billion earmarked for the reconstruction of 21 roads nationwide under the scheme.
He expressed satisfaction over the stage of the road development.
"We are covering 1,804.6mkm across the country and taking another set of over a trillion naira investment on infrastructure in Nigeria, believing that with the tax credit system which Mr President has put in place, very soon there will be massive change.
"NNPC as the enabler will consider from its cash flow and fund whatever FIRS and Ministry of works approve for the company", he said.
The Minister of Works and Housing, Mr Babatunde Fashola, represented by the Director, Highways, Roads and Rehabilitation of the Ministry, Mr Folorunsho Esan, said the intervention of the NNPC sped up the reconstruction of the expressway.
Esan said the project was 40 per cent completed.
"In the next 12 months we should be able to deliver this project because the drainages are in place, just for earth works and pavement works, it cannot take us more than 12 months," he said.
Speaking on the gridlock being caused by the Lagos-Ibadan Expressway project, he said the contractor would clear all impediments and move out of site by December 15 to make the highway free for Yuletide.
Oil Marketers Urge Buhari To Crash Diesel Price
Petroleum marketers under the platform of Natural Oil and Gas Suppliers Association of Nigeria (NOGASA) rose from their 2nd National Executive Council (NEC) meeting last week, within a plea to President Muhammadu Buhari to direct the Central Bank of Nigeria (CBN) to make dollars available at official rate to oil marketers.
This, they said, will enable them import diesel, end petrol scarcity, and ultimately save the Nigerian economy from sinking, saying that dollar support should be available till Dangote Refinery comes on stream later in the year.
The association, among others, urged the National Assembly to immediately enact a Bill for the establishment of Energy Bank for easy transaction in petroleum products in the sector.
National President of the Association, Mr Benneth Korie, who briefed the media after the NEC meeting in Abuja, noted that the bulk of the operational challenge peppering marketers and depot owners spring from expensive diesel which hovers around N850/litre.
While thanking President Muhammadu Buhari for approving a higher bridging cost payment to transporters, Korie said the operators' challenges were far from over as oil marketers and depot owners spend about N20 million weekly on diesel to power their operations, thus eroding their profits.
The association urges the National Assembly to review the policy of taxation as it affects petroleum products supply and distribution chain.
Senate To Honour Brave Petrol Tanker Driver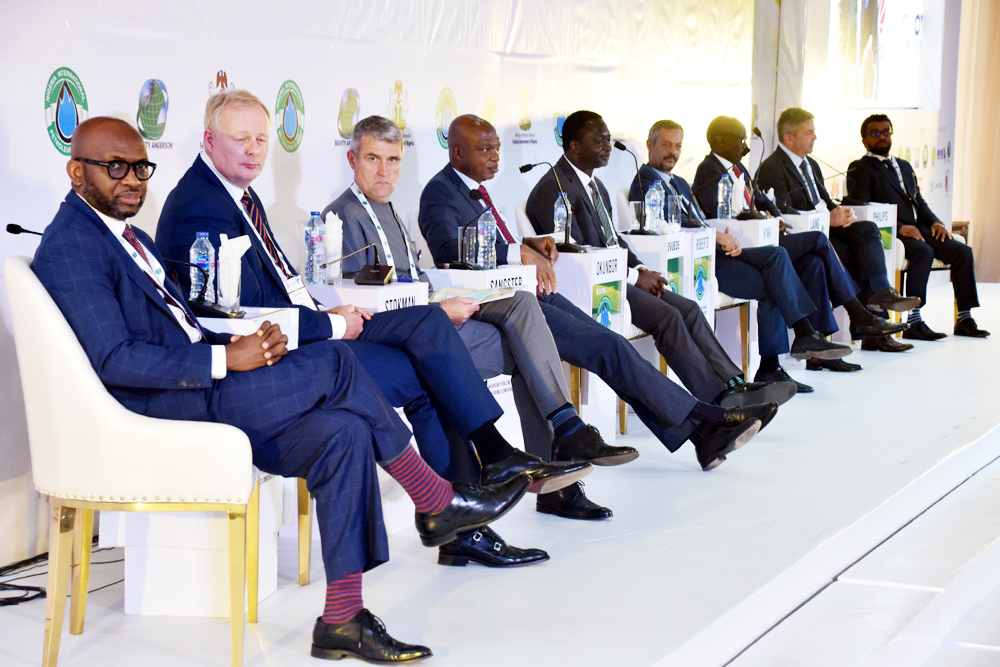 The Senate has resolved to honour Ejiro Otarigho, the brave tanker driver who drove a burning tanker from danger zone to avert a tragic fire incident in Agbarho, Delta State.
The Senate has also recommended Ejiro to President Muhammadu Buhari for National Honours.
This followed a motion moved by the Deputy President of the Senate, Senator Ovie Omo-Agege, and co-sponsored by Senator James Manager and Senator Peter Nwaoboshi, at plenary.
It would be recalled that in a rare act of bravery, Ejiro had last week driven a burning tanker from danger zone to avert what could have been a tragic fire incident in Agbarho, Delta State.
The incident happened last Friday when Ejiro drove the burning truck for 25 minutes from a densely populated area to Agbarho River where the tanker was completely razed in the inferno. The act was captured by onlookers and had gone viral.
Rising under Order 45 and 52 of the Senate Standing Order 2021 (as amended), Senator Omo-Agege stressed that but for Ejiro's courage, a major fire disaster which would have claimed several lives and property could have happened in his senatorial district.
The Delta Central lawmaker noted that Ejiro's "extraordinary display of courage, reflex application of special driving skills, and huge risk to his own life, prevented a huge national tragedy and catastrophe by driving a burning tanker loaded with inflammable petroleum products from residential areas to safety so that thousands of our people may not die in an inferno that would also have consumed so much property in Agbarho, Delta State on Friday, June 10, 2022".
The driver's audacious act of heroism, he stressed, has saved the nation from national tragedy and mourning.
Accordingly, the Senate resolved to "invite Mr. Ejiro Otarigho to the Chamber of the Senate for public commendation by the President of the Senate, Senator Ibrahim Lawan.
"Recommend Mr. Ejiro Otarigho to His Excellency, President Muhammadu Buhari, GCFR, President and Commander-in-Chief of the Armed Forces of Nigeria, for a befitting National Honour as Mr. President may deem fit for his extraordinary act of bravery, courage and skill that prevented the loss of human lives and property on a massive scale".
President of the Senate, Senator Ahmad Lawan, who presided over plenary, hailed the driver for risking his life to drive the burning truck out of residential area to save lives.