2020 Olympics : FIBA Stops Ogwumike From Representing Nigeria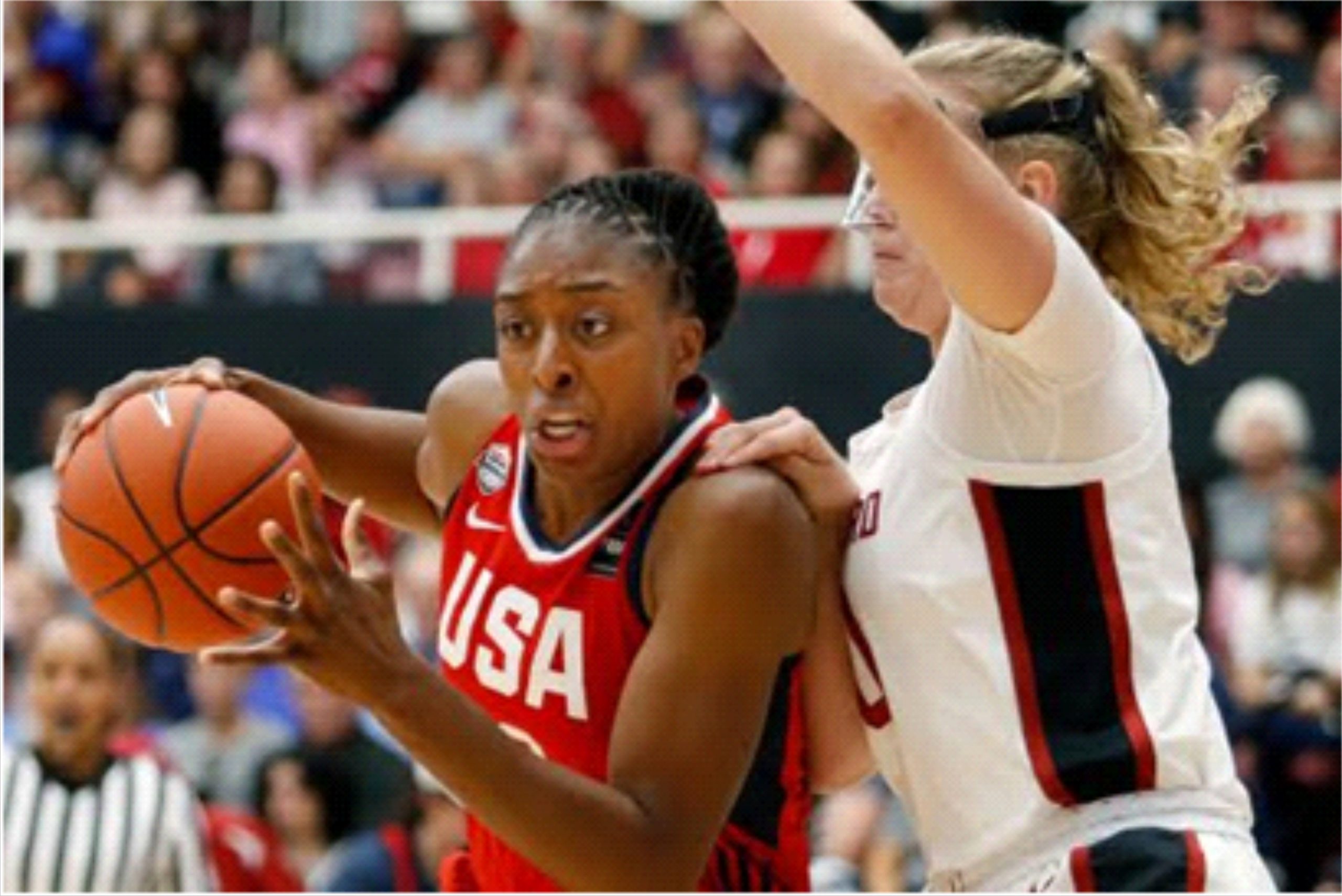 Nneka Ogwumike's petition to represent Nigeria at the 2020 Olympics was on Wednesday rejected by basketball governing body, FIBA, due to "substantial involvement" of more than 10 years with Team USA.
Ogwumike, a 2016 WNBA Most Valuable Player, who played competitively for Team USA from 2009 to 2018, is seeking to explore all available options, including a possible application to the Court of Arbitration for Sport, according to ESPN.
Tidesports source reports that the Nigerian Basketball Federation filed an appeal to FIBA on behalf of Ogwumike and Elizabeth Williams, the Atlanta Dream centre who was also denied because of previous involvement with Team USA.
The federation wrote that Ogwumike and Williams were "two of the top players that would have made our team one of the strongest at the Games."
"We do tacitly believe there are undercurrents and motivation for such a decision which is repugnant to natural justice, equity and good conscience. It is also outrightly discriminatory because players of African descent are approved to play for other countries constantly but the reverse is not the case," NBBF added.
Generally, if players have competed for the United States in a FIBA-sanctioned event after having reached their 17th birthday, they are not allowed to play for another country in a FIBA event. However, according to FIBA's regulations on player eligibility, the organisation's secretary general may authorise a player to compete for the national team of his or her country of origin if this is in the interest of the growth of basketball in that country.
One of FIBA's pillars of emphasis currently is the growth of women's basketball worldwide.
The IOC rules only require an athlete to be nationalised by the country they're competing for. They can compete for a different country three years after they competed for their previous country.
Ogwumike last competed internationally for the United States three years ago in the 2018 World Cup.
She had sought to play for Nigeria with her two sisters, Chiney and Erica, previously telling ESPN, "It's something I know my family would be very proud of. I'm hoping it will contribute to the growth we're experiencing for Africa in basketball."
Chiney, a former No.1 overall pick who now stars with her older sister for the Los Angeles Sparks, was approved to play for Nigeria as a naturalised player, a condition that could affect the rest of the Nigerian roster as only one player can have that status. She is also required to pay $5,000 Swiss Francs (approximately $5,468).
Sources said Chiney is also expected to appeal FIBA's ruling on her status.
Erica was approved to play for Nigeria without any conditions, essentially giving the three Ogwumike sisters three different statuses by FIBA.
The Ogwumikes' parents, Peter and Ify, were both born in Nigeria and immigrated to the United States, where their daughters were born. The Ogwumike sisters have dual citizenship with the United States and Nigeria.
They have been filming and developing a documentary on their experiences playing together for the Nigerian national team, sources said.
In letters sent to Ogwumike and Williams, FIBA Secretary General Andreas Zagklis explained the rationale for denying their petitions because of "the substantial involvement of the player with the USA national team for more than ten years."
Nneka, 31, was a longtime member of the US senior national team, winning gold medals with the American squad in 2014 and 2018 at the FIBA Women's Basketball World Cup.
Scholarships Up For Grabs For 10 Winners At MTN Champs
The grand finale of the MTN Champs will commence from today and end on Sunday at the Moshood Abiola National Stadium, Abuja where 10 winners will bag scholarship and financial benefits.
MTN CHAMPS is a program in Nigeria that aims to unearth and foster athletics talent across the country.
It is modeled after the Jamaican High school CHAMPS and is poised to become the primary platform for identifying and nurturing promising athletes who could go on to represent Nigeria in prestigious international competitions such as the Olympics and World Championships.
Before the finals in Abuja, the track and field event was held in three different regions namely: Uyo, Benin and Ibadan where over 7,000 athletes have competed and 42 finalists emerged.
Speaking at the MTN Champs Press Conference held on Wednesday in Abuja, the General Secretary of the Athletics Federation of Nigeria, Rita Mosindi appealed for the introduction of anti-doping lectures for the young athletes.
" I want to appeal for the introduction of anti-doping lectures for the kids to educate them on the side effects of taking dope substances.
"These are raw talents that we can manage and nurture them to stardom.
"My advice is to do seminars concerning this just as we have started doing as a federation to reduce doping cases in Nigeria."
Founder and CEO of Making of Champions (MoC), Bambo Akanni, who is the brain behind the MTN Champs revealed that 10 young athletes from the championship will get special scholarship in the USA and Jamaica.
"MTN Champs involving Secondary School Championship is to discover future Olympians for the country, building youth to excel in sports and academics. This is in line with MTN history of supporting local athletes for global aspirations.
NBPL Final Four: Winning Tournament Excites Rivers Hoopers Player
Rivers Hoopers of Port Harcourt player Effiong Abel has expressed joy for winning the just concluded Nigeria Basketball Premier (NBPL) League Final Four in Port Harcourt.
According to him, the game was not an easy one, adding that they were going through a hard training before the competition.
Effiong disclosed his excitement last Saturday in an exclusive interview with Tidesports shortly after Rivers Hoopers defeated Nigeria Customs basketball team 77-57 in the final game of the four of the NBPL in Port Harcourt.
He stated that it was a team work that saw them through, adding that he was very happy winning the tournament in the front of his fans.
" I feel very excited today for winning the Nigeria Basketball Premier League Final Four in Port Harcourt.
" It was not an easy one because of the type of training we were undergoing to ensure we get victory in the tournament.
"I give kudos to my teammates and the coaching crew, they were awesome.
" Also kudos to the fans, they came out in numbers to support us" Effiong said.
Effiong personally took charge at some point of the game delivering three pointers which eventually created a lee way for a sumptuous finale.
By: Kiadum Edookor
MOC Makes Appeal Over Age Cheats
Organisers of the ongoing school athletics competition, MTN Champs, Making of Champions (MoC), have appealed to all athletes who have participated in the three legs of the championship, as well as their schools, parents, coaches and everyone connected to them to support the body in its efforts to eradicate the systemic age cheating in Nigeria's athletics by committing to use their real ages at the Abuja grand final and in future.
"MTN has provided a historic opportunity for Nigeria to finally tackle the pressures that our athletes have long faced to cut their ages," MoC said in a statement made available to news men.
"Never in our nation's history has there been a nationwide series of championships that has provided three age groups cutting across ages 11 to 19, to give everyone possible opportunity to compete fairly in their own age groups, and we have even relaxed the junior age group from U-20 to U-23.
The grand finale will hold in Abuja from December 1 to 3.
The MoC statement added: "Despite the fact that appropriate age groups have been provided for everyone, we have seen widespread age discrepancies across all three age categories – Cadet (U-14) and Youth (U-17) categories, which are strictly for secondary schools only and juniors (U-20), which is open to all other teenagers.
"For example, we have seen a systematic pattern of an unusually high number of SS2 and SS3 students claiming to be 13 and 14 years old respectively. We have seen athletes who were 14 in 2021 claiming to still be 14 now, 18-year-olds who have finished secondary school already claiming to be 13 so that they can run against the cadets, and we have seen many athletes competing for schools they are not part of and in the wrong age categories as well.
"One of such schools, which was biggest offender in this area, is currently in the process of being disqualified, which will be announced shortly."