Nigeria Loses 21,300 Barrels Of Oil To Spill, NOSDRA Confirms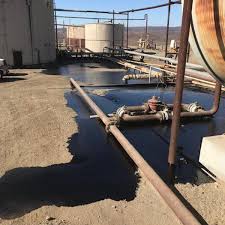 Nigeria suffered losses amounting to 21,291.673 barrels of oil, an equivalent of 3,364,084.375 litres, due to spill in 2020, according to the latest data obtained from the National Oil Spill Detection and Response Agency (NOSDRA).
This showed a 50 per cent decline, compared to 2019, when 42,076.492 barrels of oil (6,648,085.706 litres) were spilled.
NOSDRA, while noting that the spill could be attributed to several factors, explained that the bulk of the spill was caused by sabotage and theft.
According to the agency, much of the spill in 2020 was recorded in February, when 6,327 barrels were lost, followed by 4,676 barrels recorded in January, while July took the third position by recording 2,174 barrels.
In August, 1,815 barrels of spill were recorded, followed by 1,596 barrels in April, while 1,262 barrels were spilled in June.
The agency stressed that December, November, October, September, May and March had 846, 572, 401, 321, 235 and 229 barrels of spill, respectively.
Interestingly, in 2019, February also recorded the highest spill with 9,148 barrels, followed by June with 6,404 barrels, while January made the third position with 5,559 barrels.
Also, November, August, July, October and April had 4,113, 2,620, 1,978, 1,338 and 1,230, barrels, respectively, while September, March, May and December recorded 1,113, 1,015, 993 and 879 barrels, respectively.
For barrels of oil that occurred due to operational issues, March had the highest with 323 barrels, followed by May with 235 barrels, while November had 116 barrels.
Similarly, July, February, had 92 and 45 barrels, respectively, while January and October had 40 barrels each.
In the same vein, April, September, June, December and August had 37, 10, 8, 2 and 0 barrels, respectively.
Coincidentally, in 2019, March also had the highest number of barrels spilled with 2,179, followed by September, which recorded 1,452, while May came third with 610 barrels.
February, May, August, July and November recorded 417, 237, 265, 145 and 123, barrels, respectively, while October, December, June and January recorded 51, 33, 30 and 1 barrels, respectively.
According to NOSDRA, there were around 370 publicly available oil spill records in 2020, which were attributed to about 24 companies.
Prominent among the companies was Shell Petroleum Development Company (SPDC), which had 186 spills and 13,280 barrels attributed to it.
This was followed by Nigeria Agip Oil Company (NAOC), which had 35 spills with 695 barrels.
Eroton Exploration and Production recorded 21 spills with 4,412 barrels, while Seplat Petroleum Development Company had 21 spills with 95 barrels reported volume.
Heritage Oil Limited had 19 spills worth 378 barrels, while First Exploration and Development Company, ND West and Chevron recorded 12 spills (62 barrels), 10 spills (1,490 barrels) and 9 spills (2 barrels), respectively.
Enageed Resources Limited, Nigerian Petroleum Development Company (NPDC), Platform Petroleum Limited, Mid Western Oil & Gas Company had six spills each worth 47, 83, 11 and 143 barrels, respectively.
Aiteo Exploration and Production, as well as Total Exploration and Production recorded five and seven spills each worth 430 and 83 barrels, respectively.
Though Mobil Producing Nigeria and Nigerian Pipelines and Storage Company had zero barrel recorded in their names, they had four and seven spills, respectively.
Pan Ocean Oil Corporation, Guaranteed Petroleum Limited and Addax Petroleum recorded two spills each worth 20, eight and zero barrels, respectively.
Esso Exploration and Production Company, Neconde Energy Limited, Kamlik Nigeria Limited and Infravision Limited had one spill each worth zero, 13, 3 and 38 barrels, respectively.
NOSDRA also explained that oil spills could be caused by breaks in ageing or poorly maintained infrastructure, accidents, vandalism and other incidents.
It noted that in the past 10 years, a number of spills have also been caused by oil theft, also known as bunkering.
This is where oil is stolen from pipelines and then shipped to local or international markets.
There has also been an increase in artisanal refining when camps in the mangrove refine crude for local or other needs.
These are unregulated and so can cause serious pollution.
According to NOSDRA, there are no legally binding regulatory penalties or fines for oil spills in Nigeria.
Currently oil companies are required to fund the clean-up of each spill and usually pay compensations to local communities affected if the spill was the company's fault.
A recent court case related to repeated oil spills in the Bodo area of Ogoniland argues that a failure by companies to adequately protect pipelines from vandalism or theft, or continuing to operate when vandalism or theft is rife, constitutes culpability on behalf of the pipeline operator.
NOSDRA also noted that there are many issues relating to reporting and cleaning up oil spills in Nigeria, including corruption, and insecurity.
NSCDC Commissions New Commands In Kebbi, Sokoto
Nigeria Security and Civil Defence Corps (NSCDC) has set up new command posts in Kebbi and Sokoto States to boost staff performance, security and better protect critical national infrastructure in the states.
Minister of Interior, Rauf Aregbesola, who commissioned the two commands, said Federal Government would not relent in ensuring the protection of citizens at all times by providing the necessary supports, and logistics needed to maintain the current tempo of development to ensure effective discharge of the Corps core mandates
Represented by the Permanent Secretary of the ministry, Dr Shuaib Belgore, Aregbesola stated that the Federal Government was dedicated to continuously support the Corps to enhance performance and boost national security.
According to a statement signed by the agency's Public Relations Officer (PRO), Olusola Odumosu, the minister also tasked personnel in the two states to live up to the mandate of the agency and exhibit the highest level of discipline in their conduct.
He further charged the personnel to "abstain from rancor and unnecessary rivalry and ensure effective synergy with military and all other law enforcement agencies".
Aregbesola commended the leadership of the Corps for the tremendous transformation witnessed within the last two years as he further attributed it to the doggedness, determination, pragmatic approach and readiness of personnel to impact positively on the nation's security.
Present at the event were governors of the two states; Atiku Bagudu of and Aminu Tambuwal who were both represented.
NAWOJ Partners FH1360 To Boost Maternal, Infant Nutrition
The Nigerian Association of Women Journalists (NAWOJ), Lagos State Chapter, in collaboration with FH1360/Alive and Thrive Project hosted an interactive media round table aimed at promoting maternal, infant and young child nutrition, with an intervention of reducing the total number of anemia and all deficiencies related to mother and child.
Chairperson, NAWOJ, Lagos State, Adeola Ekine, said the initiative was focused on improved reporting of maternal nutrition coverage in journalism.
She added that the annual event provides insight on illnesses affecting children and mothers and their possible solutions
The Lagos State team Lead, Alive and Thrive, Olawunmi Ajayi, who spoke extensively on Maternal, Infant and young child nutrition (MIYCN), noted that Nigeria loses about 2313 children daily translating to 844,321, children death annually, half of which are due to malnutrition.
"You don't have to spend a lot on trying to impress people about your feeding habit you just have to make sure you are providing and feeding a well-balanced diet.
Association Seeks Humanitarian Affairs Minister Portfolio
The Nigeria Association of Social Workers (NASoW) has advised President Bola Tinubu to appoint a qualified social worker as Minister of Humanitarian Affairs, Disaster Management and Social Development.
This is contained in a congratulatory message signed by its Publicity Secretary, Musliudeen Adebayo, and made available to newsmen in Ibadan yesterday.
The Tide source reports that NASoW, the umbrella body of social workers in the country was founded in 1975.
The President of NASow, Alhaji Mashood Mustapha, congratulated Tinubu on his swearing-in ceremony as the 16th President of Nigeria.
Mustapha said that the appointment of a social worker who had the requisite knowledge and skills to paddle the affairs of the ministry would promote the humanitarian agenda.
He said that appointing a NASoW member as Minister of Humanitarian Affairs, Disaster Management and Social Development was in the interest of the nation.
Mustapha said that the ministry had core mandate to promote social work and quality social services delivery in the country.
He said that the association was ready and fully prepared to work with the new administration to achieve its aim in all areas of human development.
He said that the call for the appointment was as a result of the ministry's strategic importance to the welfare of citizens, which is the main goal of this administration.
The NASoW president said that one of the association's achievements during the administration of former President Muhammadu Buhari was the signing of the Nigerian Council for Social Work (NCSW) Establishment Act 2022.
Mustapha encouraged Tinubu to set another record by appointing a qualified social worker as minister for humanitarian affairs, disaster management and social development.
He said that the association was anxiously waiting for the time when NCSW would be constituted.
"We are using this medium to congratulate our new President Bola Tinubu on his emergence as the President of Federal Republic of Nigeria.
"We appeal to him to appoint a social worker as the minster for humanitarian affairs, disaster management and social development. This is our ministry; it is the main ministry for social workers
"We advise the president to put a round peg in a round hole for the betterment of the country," he said.
Mustapha enjoined the president to appoint a minister, who had the required knowledge of social work as they expected the minister to constitute the NCWS board as soon as possible.
"The Nigerian Council for Social Work (Establishment) Act 2022 has been gazetted. Our law has become an Act of Parliament.
"This implies that a lot of good things are coming for the good people of Nigeria. The council is yet to be constituted.
"When this is done, it will help to give more recognition to social work practice in Nigeria," he said.
He said that the establishment of NCSW would create job opportunities and enabling environment for social workers to provide the much desired quality social services to the people.
Mustapha said that it would also reduce migration of social workers to other countries in quest for prosperity.