New German Club Excites Okungbowa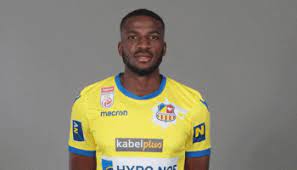 Austrian-born Nigerian defensive midfielder, Osarenren Emmanuel Okungbowa, has declared that his recent move from VfB Lübeck to Offenbacher Kickers in the same German 3 Bundesliga was too good for him to reject. He is also certain the deal will add value to his playing career.
"I am very happy to be able to play at such an emotional club. This is exactly my thing. After they showed me the environment and the possibilities, there was no question for me whether I would accept the offer from Kickers Offenbach.
"I want to get fully involved here and be successful with the OFC,"the 27-year-old Okungbowa, whose parents are from Nigeria, added.
Thomas Sobotzik, Managing Director of OFC Kickers, was so emphatic on the reasons the club signed Okungbowa, noting that, "due to his technical, strategic and physical abilities, Osa can be used very flexibly both in the defensive midfield and in the back row.
As a so-called 'late starter,' the former top talent of the Rapid Wien talent factory made his breakthrough in professional football in the past two seasons.
"We hope and count on Osa to be able to confirm and further expand these achievements at OFC," added Sobotzik.
It woyld be recalled thatvOkungbowa played 31 league games for VfB Lübeck last season.
Tidesports source gathered that previously, the 1.89-meter-tall left footer was under contract with Rapid Wien of Austria and Floridsdorfer AC, among others. Born in the Austrian capital Vienna, he played a total of 28 games in the Austrian Bundesliga and the second division for both clubs.
Okungbowa joined Rapid Wien in 2010 from the amateur club Donaufeld. He made his professional debut for Rapid Wien in a 2–1 loss against Sturm Graz on 27 November 2016.
On 18 January 2019, he signed for the rest of the season with Floridsdorfer AC. He signed for German third division side VfB Lübeck on a one-year contract in July 2020.
Also known as Kickers Offenbach, Offenbacher Kickers, were founded in 1901 and last featured in the German first division in the 1983/84 season.
NFF Election: Former NPFL Boss Lambasts Pinnick
A former Chairman of the Nigeria Premier League, NPL (now Nigeria Professional Football League, NPFL) Mr Rumson Victor Baribote has carpeted embattled Nigeria Football Federation, NFF President, Mr Amaju Pinnick on lack of time and commitment to conduct the federation's election next two months.
The second tenure of Mr Pinnick terminates on September 20 but the former CAF first Vice President is reportedly reluctant to call for a congress in preparatory for the election.
But Mr Baribote, a legal practitioner, has questioned Pinnick's alleged "lack of time" posture positing that the system that first brought him into power in 2014 was not holistic.
Mr Baribote in an interview wondered how Mr Pinnick could turn around to condemn a system he is a beneficiary of.
"Giwa election was held on the 26th day of August, 2014 and that of Amaju was on the 20th day of September 2014.
"It was a new electoral committee headed by Muhammed Sanni Katu not the one chaired by Amoni Biambo that was appointed by the congress in November, 2013 in Warri that conducted the Amaju election. Rather it was the new electoral committee that was appointed 10 days after the Giwa election. So from 26th of August 2014 to 20th day of September, 2014 when Amaju election was conducted, one does not need a calculator to know that it was less than one month.
"So, one begins to wonder if really as alleged, Amaju wrote a letter complaining about time frame. Some people are not good students of history. You cannot benefit from a process and turn around to condemn that same process that produced you," he stated.
Over the weekend, report emerged that Mr Pinnick who despite claims that he would not contest for a 3rd in office, wrote to the Nigeria's secret security agency, the DSS on why the NFF Elections slated for September cannot hold.
It was reported that Pinnick argued that there would not be enough time to make reforms as ordered by President Muhammadu Buhari before the polls in September.
It is also alleged that the NFF President claimed both FIFA and CAF are very much aware of the lack of time to amend the Statutes as it concerns the composition of the NFF Congress.
Last month, President Buhari through a letter signed by Sports Minister Sunday Dare ordered the NFF to make the NFF Congress more representative before elections into the NFF Executive Committee. The directive had rattled the incumbent president, Amaju Pinnick's 3rd bid.
Should election into the NFF Executive Board not held on or before September 20th, world football governing body, FIFA would set up a normalisation committee to oversee the affairs of the country's football for a period of time.
Pinnick's tenure will terminate on September 20, 2022.
Ex-Adamawa Queens Boss Laments Dwindling Of Women Football Dev
A top sports stakeholder and former Chairman of Adamawa Queens, Mr. Emmanuel Zira, has said that women football development in Nigeria has drastically dwindled in the past few years.
Mr. Zira who spoke in an interview from his base in Yola, Adamawa state capital said lack of professional approach, transparency and poor attitude by the league administrators have under-developed Nigeria Women Football League (NWFL) in particular and other aspects of the game.
Recently, NWFL chairperson and a board member of the Nigeria Football Federation (NFF) Aisha Falode had claimed that women football has witnessed developmental changes.
But Zira while assessing the state of Nigeria women football in recent years said both its league and other areas have lost value and that those administering it have chosen to engage in "unnecessary media razzmatazz, without any substance on ground."
"Without any form of sentiment, women football in Nigeria has dwindled so much. I don't really know why the administrators are just engaging in media hype which does no one any good.
"The entire stakeholders are watching and they know what is happening. Forget the media and publicity stunts here and there. Anyone can print banners, flyers and even stickers to say whatever he or she likes, but the reality is that the gains made in the administration of women football in the past has been destroyed.
"In anywhere in the World, football development thrives on accountability and openness. For instance, you can't be running a league and not disclose your earnings or support in form of sponsorship or otherwise and you expect to grow and have integrity.
"Previously, the women league had financial and other records of its activities which the board renders at the end of every season, I still have copies, but such don't happen again. Match officials' indemnities are not paid by league administrators. As a league, everything you do must be subjected to congress scrutiny and decision. Nigeria is the only place especially in the past five years where the leagues are ran without financial statement. Even at the town union meetings, there's financial statement… When you talk, they say you are against them, how?
"They announced sponsors and the details of the sponsorship are shrouded in secrecy. They only promised participating clubs during the just concluded Super six tournament which is part of the entire league process that they will get paltry amount, after forcing them to wear specific branded jerseys, where is that done, It's wrong. Why sign a contract without disclosure," he queried.
On grassroots development and current formation of senior women national team, Zira, who is a former chairman of Adamawa United and has been involved steadily in women football affairs lamented the continuous re-circling of aged-players.
"The leagues are not growing, that is why we can't tap into numerous budding talents, if not that the right things were done, where would we have gotten Oshoala, Onome, Ordega and others that are aging now," he said.
2022 WAFCON: S' Africa Defeat Nigeria In Group C Opener
South African senior female national team, Banyana Banyana on Monday once again asserted their superiority over their Nigerian counterparts with a 2-1 win over the Super Falcons in Group C match of the ongoing 2022 Women's Africa Cup of Nations, WAFCON in Morocco
Goals on 60th and 62nd minutes of the boots of Jermaine Seoposenwe and Hildah Magaia ensured that the South Africans once again defeated the reigning Champions 8 months after they defeated them in Lagos to win Aisha Buhari Tourney.
There was nothing to separate the teams in the first half as it ended scoreless.
South Africa had a better statistics, finishing the the first 45 minutes with 59.6% of the ball possessions.
The Super Falcons however created the best chance of the half in the 12th minute when Asisat Oshoala ran into a good position to receive a pass by Michelle Alozie but a South African defender cleared away the ball.
Super Falcons captain Onome Ebi a couple of times had to save Tochukwu Oluehi in goal from trouble after the keeper misjudged the ball when Thembi Kgatlana threatened to score.
It was a match the nine-time champions were anything but coordinated as they managed to hold the the South Africans at bay in the first 45 minutes.
Oshoala had her best chance of the game four minutes into the second half with a left footed strike that South African keeper Andile Dlamini gathered with a smart catch.
The Nigerians could have put the Bayana Bayana under pressure through Ifeoma Olumonu in the 55th minute but her header was weak to have caused any troubles.
Two quick goals by in the 61st minute and 63rd minute by the duo of Jermaine Seoposenwe and Hildah Magaia saw South Africa go ahead.
Atletico Madrid dazzler Rasheedat Ajibade however pulled one back for Nigeria in added time but it was too little, too late for the Nigerians.
It is the 3rd time Nigeria is losing to the Banyana Banyana in four matches. They lost 1-0 in November 2018 in Ghana WAFCON, lost 4-2 in the Aisha Buhari Tourney in September in Lagos before Monday's humiliation.
Nigeria paraded their European based stars that were all lethargic in the game as the young energetic South Africans ran them ragged.
Super Falcons last win over the Orange nation's was on December 1, 2018 in the final of that year's edition of WAFCON with the then Thomas Dennerby led ladies triumphing 4-3 on penalty after regulations ended goalless.
Super Falcons will hope to bounce back from the defeat as the face debutants, Botswana on tomorrow.