Kanu: Britain Demands Explanation From Nigeria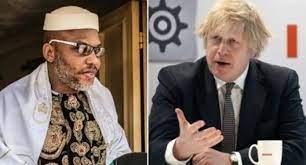 .IPOB, MASSOB Berate Kenyan President, FG
The United Kingdom has stated that it will seek clarification from the Federal Government of Nigeria on the circumstances and legality of the arrest of Nnamdi Kanu.
The leader of the Indigenous People of Biafra was re-arraigned before Justice Binta Nyako of the Federal High Court, Abuja, two days after he was arrested and extradited to the country.
However, the Head of Communications, British High Commission, Mr Dean Hurlock, restated that Nnamdi Kanu, who is a British citizen, was not arrested or extradited from its territory.
Hurlock said, "We can reaffirm that Nnamdi Kanu was not arrested in the UK nor was he extradited from the UK.
"With regards to any questions about the possible legality of his arrest, the British High Commission in Abuja is currently in the process of seeking clarification from the Nigerian government about the circumstances of the arrest."
Hurlock further confirmed that British Government was ready to provide consular assistance to Kanu.
He said, "With regard to any questions about whether the British High Commission is providing assistance in this case, we can confirm that the Foreign, Commonwealth and Development Office stands ready to provide consular assistance.
"With regard to any questions about what the UK thinks about the proposed legal process that Nnamdi Kanu is facing in Nigeria, the UK would expect any trial or legal proceedings to follow due process."
However, Nnamdi Kanu is expected to return to court on July 26.
The lead counsel to the detained IPOB leader, Ifeanyi Ejiofor, said members of the legal team had formally applied to the Department of State Service to allow them access to their client.
Recall that Kanu, who is facing trial for treasonable felony, jumped bail in 2017 and fled the country for the UK when soldiers stormed his parents' residence at Afaraukwu, Abia State.
He is now being remanded in the custody of the Department of State Services by the order of the Federal High Court.
Similarly, the Indigenous People of Biafra (IPOB), yesterday, accused the President Uhuru Kenyatta, of Kenya, of stopping so low to allegedly collude with a terror-friendly government, like that of Nigeria in abducting its leader Mazi Nnamdi Kanu.
IPOB, expressed disappointment with the Kenyan President for allegedly betraying its Mazi Kanu, saying it will hold him accountable for his action.
It also alleged that President Kenyatta and his government allegedly planned the abduction immediately it leader entered the country before contacting Nigerian on his presence in the country and subsequent smuggling into with the assistance of Nigerian security agents.
The Biafra agitating group also, urged the Biafrans and the public to disregard all the alleged fake stories and news concocted by Nigeria Government and their agents have been peddling about how and where Kanu was arrested, who may have lured him to Kenya, who was with him at the time of arrest, saying that he was rather abducted not arrested.
A statement by IPOB" Media and Publicity Secretary, Emma Powerful, therefore, called on all Biafrans both home and in the Diaspora to boycott travels with Kenya Airlines; stop patronising any product made in Kenya; and to boycott any business dealings with Kenyans, following their country's betrayal.
IPOB alleged that through their preliminary findings, President Uhuru Kenyatta was very instrumental to the abduction of our Kanu in Kenya, before his smuggling into Nigeria by security agents.
IPOB wondered why the Kenyatta will prefer to betray its leaders, wondering if it is because of Nigerian oil money or the N100million bounty placed on Kanu's head by some people it described as Northern charlatans.
The IPOB's statement read in part, "We the global movement of the Indigenous People of Biafra, IPOB, ably led by our great and indomitable leader, Mazi Nnamdi Kanu, express our disappointment with President Uhuru Kenyatta of Kenya and his government over his role in the abduction of our leader, Mazi Nnamdi Kanu and his subsequent smuggling into Nigeria by the wicked Nigeria security agents.
"We are still at shock why a President like Uhuru Kenyatta would stoop so low to collude with a terror-friendly government like Nigeria under President Muhammadu Buhari to abduct and dehumanise our Leader for doing nothing other than demanding the freedom of Biafrans from the Nigeria bondage.
"Based on our preliminary findings, President Uhuru Kenyatta was very instrumental to the abduction of our Leader in Kenya. The treacherous action of Uhuru Kenyatta against Nnamdi Kanu and Biafrans at large is a clear violation of the 1949 Geneva Convention, and United Nations Code.
"We still don't understand why Uhuru Kenyatta and some corrupt officials of his government would prefer to betray Nnamdi Kanu and Biafrans? Is it because of Nigeria oil money? Is it because of the paltry N100million bounty placed on Kanu's head by some Northern charlatans? Why will President Uhuru Kenyatta sell our leader, Mazi Nnamdi Kanu, to the evil hands of Nigerian government?"
IPOB described as so shameful that Uhuru Kenyatta would belittle himself in a manner he has just done, adding that "By this wickedness and grievous sin, Uhuru Kenyatta has demonstrated his affection for the murderous Fulani terrorists ravaging the entire Nigeria killing and maiming indigenous people in their ancestral lands."
"Uhuru Kenyatta and his partners in crime should get ready to meet us at the International Criminal Court, ICC. This act of terror against our leader, Nnamdi Kanu, a NATO citizen, British citizen with British International Passport and member of other international organizations will not go unpunished.
"As we continue with our investigations into this crime with a view to unmasking all the collaborators, we announce the following interim actions until further notice.
"We call on all Biafrans both home and in the Diaspora to boycott travels with Kenya Air Lines; to immediately stop patronising any product made in Kenya; and to boycott any business dealings with Kenyans. We cannot be relating friendly with anyone collaborating with our oppressors to keep us in perpetual slavery!
"We also want to urge all Biafrans and members of the public to disregard all the concocted rubbish the wicked Nigeria Government and their agents have been peddling about how and where our leader was arrested.
"He was never arrested but abducted. All these cock and bull story is to twist facts and blackmail our selfless leader who they have seen as the major obstacle against their agenda to completely Islamise and Fulani Nigeria.
"Nobody should believe these lies. They are only intended to de-market our Leader and puncture his global reputation and teeming follower ship.
"The global family of IPOB reaffirm our unalloyed loyalty, belief and confidence in our leader Nnamdi Kanu. Biafrans are united behind him in his current ordeals in the hands of our oppressors. We also wish to remind the Nigeria Government that nothing should happen to our leader Mazi Nnamdi Kanu."
Meanwhile, the Movement for the Actualization of the Sovereign State of Biafra (MASSOB) has condemned the re-arrest of the leader of Indigenous People of Biafra (IPOB), Mazi Nnamdi kanu, by the Nigerian government.
The Biafra agitators, who described Kanu's arrest as inconsequential and insensitive, declared the development will not affect the Biafra struggle.
The organization stressed that no amount of President Muhammadu Buhari's intimidating 'Fulanistic military operations against the agitators of Biafra and Oduduwa Republics will deter or shake the concluded resolutions for independence of Biafra and Oduduwa Republics.'
"Fulanistic President Muhammadu Buhari led Nigeria government is confusedly blind and clueless. Mazi Nnamdi Kanu and activities of pro Biafra agitators do not pose any danger to Nigeria existence, the problem that poses a dangerous extinction to Nigeria existence is Fulani domination of Nigeria state over the general interest of other ethnic nationalities," the group said.
A statement by the leader, Uchenna Madu, said Kanu has proven to be a loved figurehead in championing the self-determination struggle for the actualization and restoration of Biafra.
"As freedom can never be achieved on a platter of gold, the Biafra revolutionary struggle for actualization and restoration can never be deterred or fluctuated because of Nnamdi kanu's current ordeals in the hands of our oppressive enemy," it said.
"Nigeria state will soon regret arresting him because he will become a thorn in their flesh. We shall never relent or be discomforted because of Buhari and his Fulanistic sponsored genocidal operations in Biafra land which MASSOB always see as a sign of jittery and frustration of Fulani people."
The organization maintained that Biafra agitating groups are not the problem.
"Biafra agitation is only a reaction to the many injustices, exclusion, second class citizenship, born to rule philosophy, marginalization and other forms of inequality that characterise the Nigerian state.
"Nigeria is a state where some are first class citizens while others are second class; a state where some are born to rule while others are perpetual outcasts, a state where state policy deliberately denies us critical developmental infrastructure while according others same. A state where prejudice, tribalism, exclusion and hate are elevated while nation-building is ignored, a state where it seems the only logic for unity is to share oil resources and not on the basis of consent, mutual respect, fraternity and shared brotherhood," it said.
MASSOB warned the Nigeria government to be extremely careful with Kanu, adding that they must accord him a fair and unbiased court hearing.
"The people of Biafra will never keep quiet over Nnamdi Kanu. MASSOB also condemned the military invasion and attack on Sunday Igboho's residence which led to the killings of many. MASSOB supports and will continue to identify with Oduduwa Republic agitation," it added.
SON Destroys Substandard Tyres, Cables, Others In Lagos 
Lagos Metropolis, on Wednesday, witnessed mass destruction of substandard electric cables, engine oil, LPG cylinders, stuffed new tyres, unapproved cigarettes and low grade roofing sheets by the Standard Organization Of Nigeria (SON).
Director General, SON, Farouk Salim, while destroying the substandard products, Wednesday, noted that the substandard products affected the nation's economy negatively.
Mr Salim revealed that all the products destroyed were imported into the country and smuggled through the ports.
He, therefore, called for the return of SON to the ports to help minimise the damage done by substandard products to the nation's economy.
According to him, the burning of the substandard products is to assure Nigerians that SON is actually destroying them after obtaining a court order to that effect.
"Most of these substandard products were captured in the market where they are ready to be sold to customers and the unfortunate thing is that they passed through our ports.
"It will be much easier for these substandard products to be detected if our employees are at the source of the import of these products", he said.
Salim regretted that SON was not always invited for joint inspection, adding that invitations for joint inspection are rare and far between.
"I guarantee you that if our officers have opportunity to inspect these products, the moment they look at it from experience, they will be able to detect the substandard goods.
"Don't forget that officers of the customs service are trained to check for duty, they have no idea of how to detect substandard products easily, and our personnel are trained on how to check these products", he said.
The SON boss denied that its officers had no unfettered access as stipulated by the constitution.
"Unless the law is changed by the National Assembly, signed by the president, the law says SON must and should be at the port, not at the discretion of any organisation", he said.
Assistant Chief Scientific Officer and Sector Head (Domestic Rubber), National Environmental Standards and Regulations Enforcement Agency (NESREA), Lagos Liaison Office, Bisiriyu Adesewa said NESREA was present to ensure proper disposal of the products.
"We appreciate SON for ensuring that substandard products don't enter the market, but we are particular about what happens to these things after the destruction.
"We understand that most of them are going to recycling companies and the only one not recyclable for now is the oil and we will link SON with a facility that can help them dispose it so that there will be zero waste.
"The disposal process here is in line with our rules and regulations. The first thing is to dismantle and seperate them, which they have already done, next is the recycling", she said.
Also, Head, Federal Competition and Consumption Protection Commission (FCCPC), Lagos Office, Susie Onwuka, said the commission had a Memorandum of Understanding with SON and different sector regulators on removal of substandard goods from the market.
She commended SON for the massive seizures, noting that more work needs to be done.
The Assistant Commissioner of Police, Force Criminal Investigation and Intelligence Department, Annex, Alagbon, Lagos, Lawrence Iwodi, said the police was working with SON to ensure that standard was met in relation to goods imported into the country.
Healthcare: Osinbajo Calls For Improvement, Cooperation Among West African States 
Vice President Yemi Osinbajo has called on West African countries to improve their levels of cooperation to better address problems of healthcare access and out-of-school children, among other human development indices.
Osinbajo said this at the Presidential Villa, Abuja, on Wednesday, when he received the Prime Minister of Guinea-Bissau, Mr Nuno Nabiam, ahead of yesterday's ECOWAS Integrated Regional Human Capital Development Forum hosted by the National Economic Council.
According to a statement signed late Wednesday by the Senior Special Assistant to the Vice President on Media and Publicity, Laolu Akande, the Vice President thanked Mr Nabiam for honouring the invitation to attend the conference, saying, "The Human Capital Development meeting is very important, it is an opportunity to share experience and help each other".
Prof. Osinbajo noted that Nigeria's "National Economic Council has done a lot of work on Human Capital Development, focusing on various challenges including questions around out-of-school and healthcare access" and would "significantly improve the human development indices in West Africa".
He, however, acknowledged that the indices show that a lot more work still needed to be done.
The Vice President commended President Umaro Embalo of Guinea Bissau for his strong support for Nigeria, describing him as a very good friend of President Muhammadu Buhari and the country.
He noted that Guinea Bissau and President Embalo had always supported Nigeria internationally and congratulated the country for recently warding off a coup détat that would have ousted his government.
On his part, the Prime Minister extolled the leadership qualities of President Buhari and Vice President Osinbajo, stating, "What the President of Nigeria and Vice President are doing inspires us too".
Fuel Scarcity: Stop Panic Buying, IPMAN Tells Nigerians
The Independent Petroleum Marketers Association of Nigeria (IPMAN) has backtracked on the pump price of Premium Motor Spirit (PMS), otherwise known as petroleum.
The Association advised Nigerians to stop panic buying, saying its members would sell petrol at government approved price of N165 per litre.
President of the Association, Elder Chinedu Okoronkwo, spoke at a press conference on Wednesday against the backdrop of earlier indications by petroleum dealers that the pump price of N165 per litre was no longer sustainable.
The Tide recalls that the IPMAN Secretary in Lagos State, Mr Akeem Balogun, had on Monday, declared a PMS pump price of N180 per litre.
But Okoronkwo at the press briefing, reversed the declaration and urged members of IPMAN to maintain the "status quo ante" of N165 per litre.
He said the Nigeria National Petroleum Company Limited (NNPC) and the Petroleum Products Marketers Company (PPMC) had released petroleum products from their tank farms that could sustain the nation for the next 32 days, hence, there was no need for panic buying.
According to him, "The status quo ante must be maintained moving forward since the NNPC and the PPMC have responded positively by releasing products from their tank farms that can sustain the product needs of the country for 32 days".
Explaining why the IPMAN Secretary in Lagos arrived at N180 per litre on Monday, the President said: "The decision was taken because its members could no longer operate at a loss.
"While the government had fixed N165 per litre as the pump price of petrol, the current realities in the market showed that the minimum the product should be retailed at the stations should be N180.
"I told you the cost of doing business has changed and my members in Lagos before they did what they did, they called me and told me that they are now getting this product at N162 to N165 per litre with transportation another N8.00, aggregating to about N170 to N173, even the N10.00 which is supposed to be our gain has been eroded, what do we do?
"Now you know and I know that it is only NNPC that imports this product into Nigeria. Some of these tank farm owners who have gone to collect this product, don't blame them because the cost of doing business has also changed.
"It became so difficult for them to sell at N148.17, but yesterday (Wednesday), I want to tell you that NNPC and PPMC went to their tank farms and released products.