FG Spends N150bn On Fuel Subsidy Monthly, NNPC Admits
The Group Managing Director of the Nigerian National Petroleum Corporation (NNPC), Mele Kyari, has disclosed the Federal Government spends as much as N140billion to N150billion to subsidise premium motor spirit (PMS) otherwise called petrol, monthly.
According to Kyari, the open price of petrol has risen to N256 per litre.
With the present pump price of petrol pegged at N162 per litre, it means government is subsidizing the product by N94 per litre.
Kyari said petrol daily truck out has risen significantly to 103 million per litre.
He said, "If we are to sell at the market today at current exchange rate, we will be selling the product at about N256 to a litre. What we sell today is N162, so, the difference is at a cost to the nation".
"The difference comes back to as much as N140billion to N150billion cost to the country monthly.
"As long as the volume goes up, that money continues to increase and we have two sets of stress to face, stress of supply and stress of foreign exchange for the NNPC. We may not see foreign exchange cheque taking place for importation".
Kyari stressed at the meeting which had the Economic and Financial Crimes Commission (EFCC), Department of State Services (DSS), Nigeria Police Force (NPF), Nigeria Customs Service (NCS), Nigeria Security and Civil Defence Corps (NSCDC), and other relevant downstream and upstream stakeholders in attendance, harped on the need to find urgent solution to petrol smuggling challenge in the country.
He explained, "In very recent data, we see what we really want in the beginning of May and June, there was a day we load out about 103 million litres of PMS within one day across the depots. We know it is not required, we know it is inappropriate and we also know that something wrong is happening that somebody is chasing something.
"But we in NNPC, we are not in control of that, we are not in every depot, we don't keep products in all the depot but when the volume goes down, it comes down to us, when there is tight in supply, it comes back to the NNPC and we solve the problem".
The NNPC boss said that President Muhammadu Buhari had directed that smuggling must stop, adding that it was the reason for inviting all stakeholders to chart the way forward.
Stakeholders in the downstream sector of the petroleum industry have blamed distribution system and low pump price for the increasing rate of smuggling of petrol, out of Nigeria.
The stakeholders, who include marketers, depot owners and transporters called for synergy to check the activities of smugglers.
Speaking at a stakeholders meeting to work out synergy to tackle incidents of smuggling of petroleum products criminals, the Chairman of the Board of Directors of the Independent Marketers Association of Nigeria (IPMAN), Alhaji Aminu Abdulkadiri urged the Nigerian National Petroleum Corporation (NNPC) to release more products to its members.
Abdulkadiri noted that with over 20,000 filling stations across the country, IPMAM members sell directly to the Nigerian people.
He said, "I have been in this industry for over 30 years and there are underlying issues that I want the GMD to take cognizance of and this will go a long way in chasing who does what.
"One, we have almost 30,000 retail outlets in this country and both major marketers and DAPMAN have about 2000-3000, the rest belong to my members. But the truth there is who is responsible for storing and distributing this product? The bulk of this product is being distributed by DAPMAN.
"NNPC needs to work with IPMAN and DAPMAN ensure that marketers that have retail outlets that are viable for Nigerian consumers should be attached to each depot in this country. That way NNPC can track most of these products that are being either diverted or smuggled out.
"But so long as the source of distribution is not monitored and product are sold indiscriminately, the problem will continue", he added.
On her part, Chairman, Depot and Petroleum Products Marketers Association of Nigeria (DAPMAN), Mrs. Winifred Akpani, said the group was concerned about the high volume of petrol consumption in Nigeria.
Akpani said it was difficult to determine the actual amount of petrol consumed in the country, pointing out, however, that the Department of Petroleum Resources (DPR) has critical role to play if smuggling was to end in the country.
"We as depot operators do not own all these stations but we sell a lot to people who have the stations. And one thing we always insist is where is your DPR licence not only are you going to show us your DPR licence we are going to cross check with the list that updated periodically and send to each depot by the DPR and it only on that basis that we sell product to you," she added.
She noted with the resources and technology available in the industry, tracking the movement of trucks should not be a big challenge.
Also speaking, the National President of the Nigerian Association of Road Transport Owners (NARTO), Alhaji Yusuf Lawal Othman, called for closer monitoring truck outs at the depots.
According to him, "The system needs to be reorganized. I don't see any reason why you have 200 filling stations in a local government that does not consume more than 45,000 litres.
"I also don't see how the depot which normally do programme per day will programme quite a number of trucks to a local government which does not consume more 45,000 litres per day. It means that we are sleeping".
Navy Destroys 14 Illegal Refineries, Confiscates N2.7bn Refined Products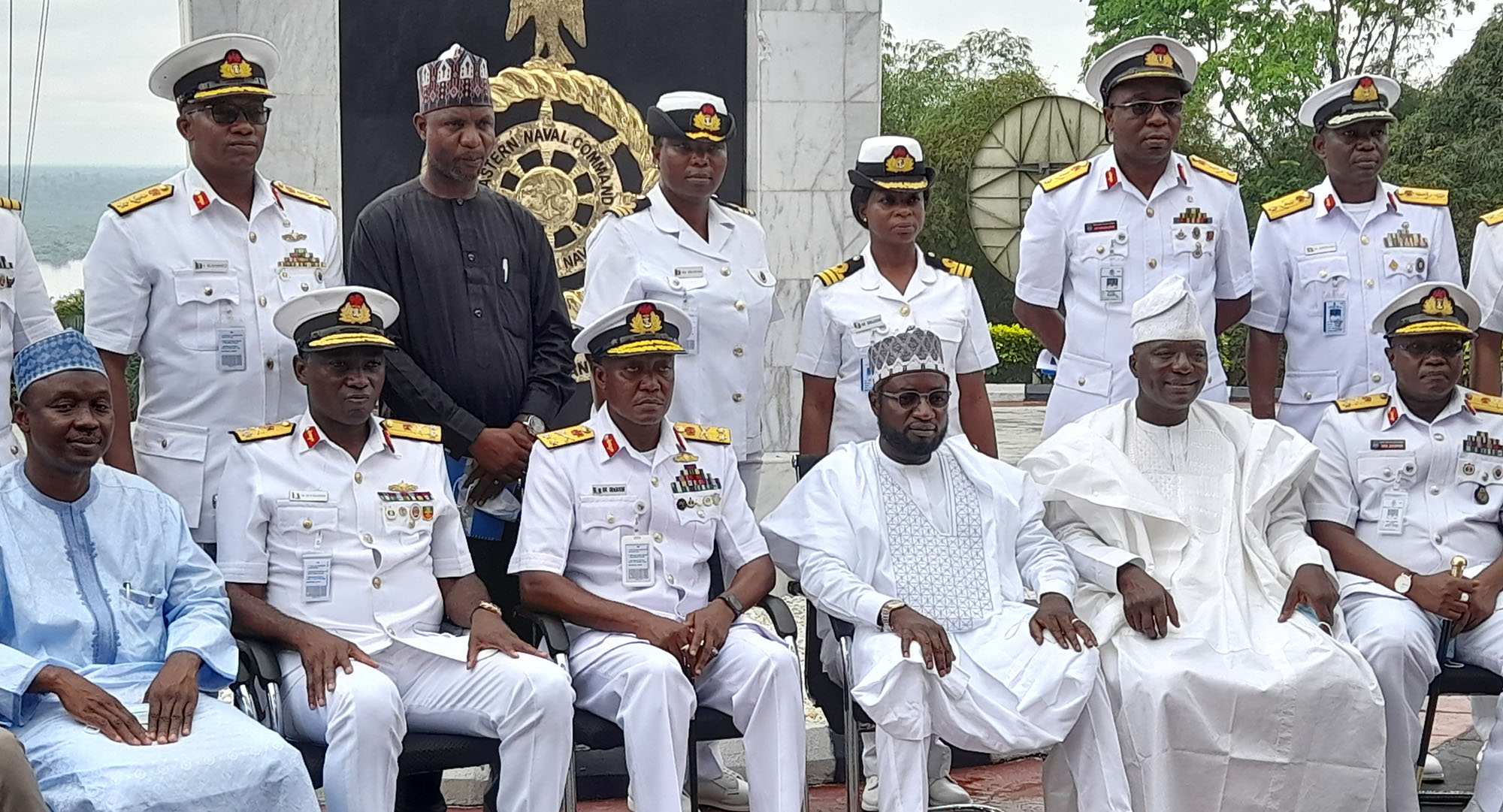 Troops of the Nigerian Navy conducting Operation "Dakatar Da Barawo" confiscated crude oil and other illegally refined products worth N2.7billion in June.
This is contained in a statement issued by the Director of Information, Naval Headquarters, Commodore Adedotun Ayo-Vaughan in Abuja.
"The various NN platforms deployed for 'Operation Dakatar Da Barawo, Calm Waters 11' and Tripartite Joint Border Patrol, have continued to sustain aggressive patrols to curb the menace of crude oil theft and illegal oil bunkering.
"Accordingly, several Illegal Refining Sites (IRS), metal storage tanks, wooden boats, dugout pits and ovens were destroyed between June 13 and June 19".
He said five suspects were and the operatives destroyed 14 Illegal refining sites.
The Navy also said that 80 storage tanks, 22 wooden boats, 40 ovens, two-speed boats, a tanker, truck, barge and a Toyota Sienna car were recovered during the various operations during the period.
Similarly, Navy ship VICTORY in Cross River intercepted and impounded three wooden boats laden with drums of suspected illegally Refined Petrol (PMS) around Ikang channel, suspected to be transported to Cameroon.
However, the Navy said, the boats, as well as the products, were taken into custody.
Ayo-Vaughan said,"Forward Operating Base (FOB) Bonny in Rivers" also intercepted two wooden boats laden with about 400,000 litres of suspected stolen crude oil at Iwokiri.
The wooden boats and products, he said, were destroyed.
Similarly, he said, the Navy ship SOROH in Bayelsa intercepted a wooden boat laden with about 60,000 litres of suspected illegally refined AGO.
Subsequently, the boat and contents, he added was destroyed.
FAAC: Federal, States, LGs Share N680.780bn May Revenue Allocation
The Federation Account Allocation Committee (FAAC) has shared May 2022 Federation Revenue Allocation to the federal, states and local government councils to the tune of N680.783billion.
This is contained in a communiqué issued at the end of June 2022 FAAC meeting held in Abuja.
According to the communiqué, the N680.783billion total distributable revenue comprised distributable statutory revenue of N385.004billion, distributable Value Added Tax (VAT) revenue of N198.512billion and Electronic Money Transfer Levy (EMTL) revenue of N97.267billion.
In May, 2022, the total deductions for cost of collection were N36.996billion and total deductions for transfers and refunds were N186.672billion.
The balance in the Excess Crude Account (ECA) was $35.377million.
The communiqué confirmed that from the total distributable revenue of N680.783billion; the Federal Government received N229.563billion, the state governments received N241.824billion and the local government councils received N175.942billion.
The sum of N33.454billion was shared to the relevant states as 13percent derivation revenue.
Gross statutory revenue of N589.952billion was received for the month of May, 2022.
This was lower than the N635.037billion received in the previous month by N45.085billion.
From the N385.004billion distributable statutory revenue, the Federal Government received N185.197billion, the state governments received N93.934billion and the local government councils received N72.419billion.
The sum of N33.454billion was shared to the relevant states as 13percent derivation revenue.
In the month of May, 2022, the gross revenue available from the Value Added Tax (VAT) was N213.179billion.
This was higher than the N178.825billion available in the month of April, 2022 by N34.354billion.
From the N198.512billion distributable Value Added Tax (VAT) revenue, the Federal Government received N29.777billion, the state governments received N99.256billion and the local government councils received N69.479billion.
The Federal Government received N14.590billion; the state governments received N48.634billion and the local government councils received N34.043billion from the N97.267billion Electronic Money Transfer Levy (EMTL).
According to the communiqué, in the month of May, 2022, Companies Income Tax (CIT) and Value Added Tax (VAT) recorded considerable increases, Import Duty increased marginally while Petroleum Profit Tax (PPT) and Excise Duties decreased marginally.
Oil and Gas Royalties decreased significantly.
FG Hands Over Licences To 57 Marginal Oil Field Investors, 'Morrow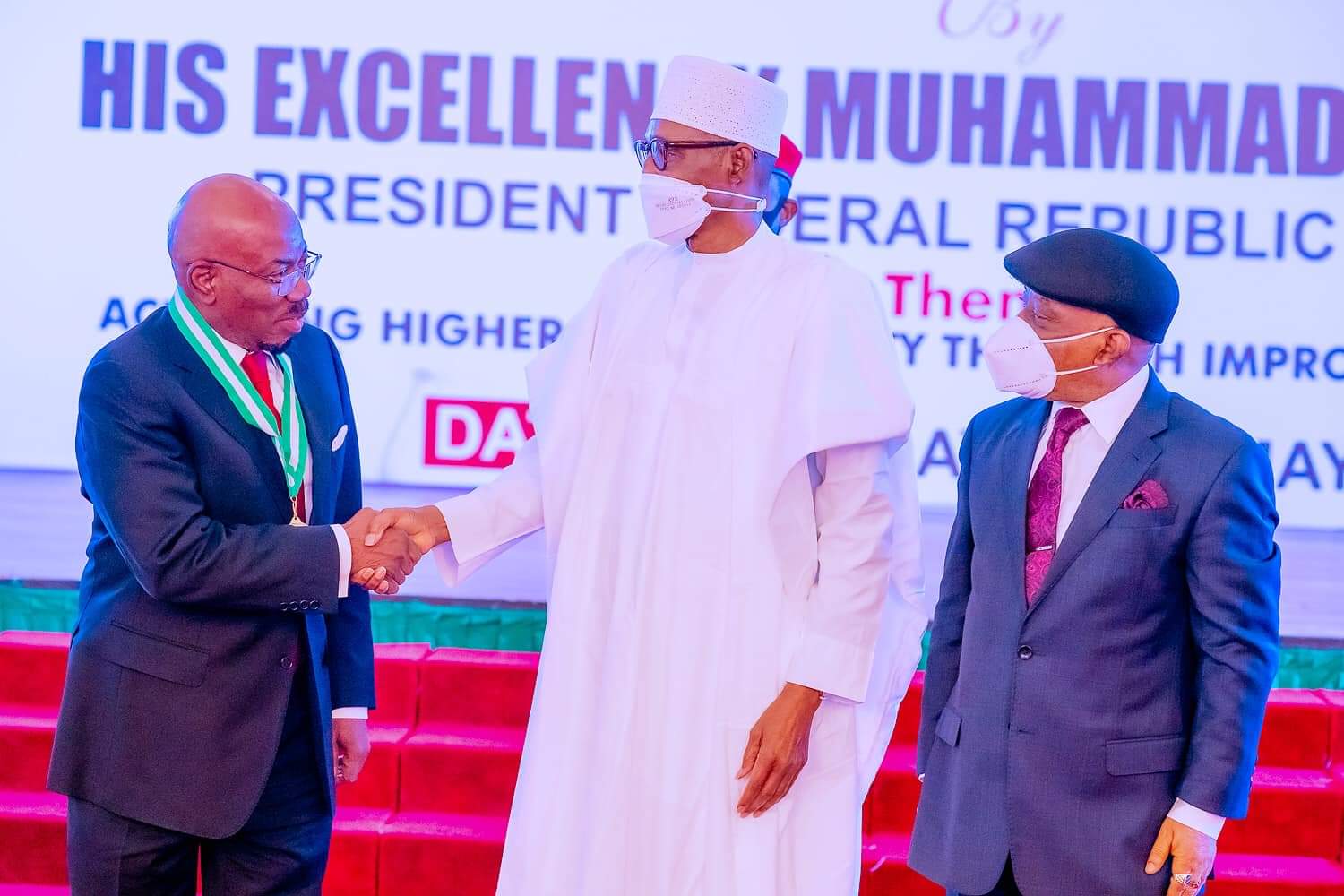 The Federal Government has announced that the successful investors in Nigeria's 57 marginal oil fields for the 2022 bid round would get their various Petroleum Prospecting Licences, tomorrow.
On May 31, 2021, the defunct Department of Petroleum Resources (DPR) issued letters of award to investors for the production of crude oil from 57 marginal fields.
Last January, the Nigerian Upstream Petroleum Regulatory Commission (NUPRC) announced that a total of 128 awardees emerged as successful bidders in the bid round and had made complete and part payments for signature bonuses in the oil fields.
It also disclosed at the time that 33 awardees did not make payments during the 45 days window given to successful bidders to pay the required signature bonuses for the oil fields and as such had lost their awards to suitably qualified reserve bidders.
Providing updates on the bid round in Abuja, last Saturday, the Chief Executive, NUPRC, Gbenga Komolafe, announced that the successful awardees would get their licences by Tuesday.
He said, "In fulfillment of the promise made early this year, the NUPRC will on Tuesday in Abuja, issue Petroleum Prospecting Licences to successful awardees of marginal fields in the 2020 bid round, pursuant to the provisions of the Petroleum Industry Act 2021.
"It will also unveil the implementation template for the host communities' development trust for commencement of the provisions under Section 235 of the PIA, 2021, to positively impact against restiveness in the host communities."
Komolafe said implementing the development trust would guarantee seamless operations, boost investors' confidence and provide enabling environment for sustainable improvement of the country's hydrocarbon resources.
"These will mark the conclusion of some of the most urgent and critical tasks inherited by the commission when it was inaugurated in October, 2021, after the signing into law of the PIA 2021," he stated.
The commission had in March this year informed all participants in the 2020 marginal field bid round programme that it had put all necessary machinery in place to progress the bid round exercise to conclusion in line with the PIA 2021.
In furtherance of that resolution, the commission constituted an in-house work team to distill and address the concerns of awardees with a view to close out issues affecting multiple awardees per asset and formation of Special Purpose Vehicles by awardees in line with the respective letters of award.
"Awardees were therefore enjoined to avail themselves of the resolution mechanism provided by the commission in the overriding national interest," Komolafe stated.
He added, "The successful coordination and resolution of the issues culminated in the emergence of the successful awardees that would be handed over licences on Tuesday."