Economist Challenges W'Bank's Prediction On Nigeria's Inflation Rate
An economist, Prof. Akpan Ekpo, has queried World Bank's prediction that Nigeria's inflation rate is expected to rise to fifth highest in Sub-Saharan Africa by the end of 2021.
Ekpo, a professor of Economics and Public Policy at the University of Uyo, Akwa Ibom State, questioned the prediction in an interview with The Tide source yesterday in Lagos.
Recall the bank's Lead Economist for Nigeria, Macro Hernandez while presenting its six-monthly update on development in Nigeria on Tuesday, said Nigeria was lagging the rest of sub-Saharan Africa, with food inflation.
Hernandez included heightened insecurity and stalled reforms as slowing growth and increasing poverty.
The professor said: "First of all, we need to examine the methodology the World Bank used to arrive at the conclusion because we know that inflation has declined slightly."
Ekpo, also Chairman, Foundation for Economic Research and Training in Lagos, said, however, that if government could solve the insecurity problems limiting economic growth and increase Agricultural production, the prediction might not hold.
According to him, there are countries with double digits inflation and still doing well.
"This means you can have inflation and yet your GDP is growing, so, it's when you have what we call run-away or hyper inflation that is when you get worried.
"Run-away inflation means that prices are increasing everyday or every month without control," he said.
On predictions that the inflation would push seven million more Nigerians into poverty due to falling purchasing power, Ekpo gave a suggestion to the federal government to stem it.
He urged the Federal Government to seriously implement the National Poverty Reduction with Growth Strategy Programme and the Economic Sustainability Plan documents.
"I cannot fault them on this one because already, the National Bureau of Statistics (NBS) said about 85 million Nigerians are living in poverty.
"So, World Bank just saying that confirms what our own NBS has already said.
"Now, if the government implements the National Poverty Reduction initiative document as well as the Economic Sustainability plan seriously, then we can begin to reduce the poverty rate.
"Then the economy must grow double digits, that is, 10 per cent and above for us to see reduction in poverty and more jobs creation as well, because poverty is linked to unemployment," he added.
NOSL Engage Girls To Develop Stem Skills In Nigeria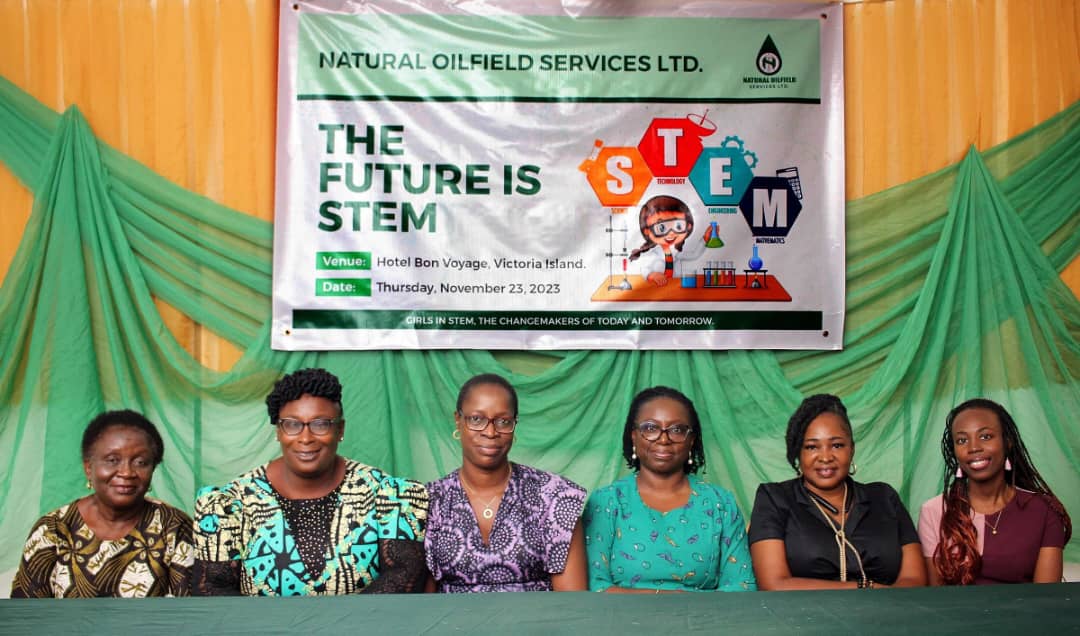 Innovation and technological changes have paved the way for the enormous and pressing demand for Science, Technology, Engineering, and Mathematics (STEM) proficiencies. Being a key driving force, STEM provides intellectual achievements that exhibit progress and establish fundamental aspects of existence. Providing all students, especially girls, with access to relevant education in the STEM discipline is crucial.
On November 23, 2023, Natural Oilfield Services Limited (NOSL) organised an event with the theme 'The Future is STEM' held at Bon Voyage Hotel, Lagos State
 This initiative was aimed to inspire girl students in Science, Technology, Engineering, and Mathematics (STEM). Twenty-five students from Queen's College, Yaba, Lagos, attended the event and exhibited their robotic projects.
Special dignitaries that attended the epoch making event included Mrs. Gbemisola Kayode – Bolarinwa, Deputy Director, Head of Strategy and Governance Department, Federal Ministry of Science, Technology and Innovation, Nigeria, Mrs. Folake Etomi – Chairperson, Nigeria Women in Information and Technology, Mrs. Funmilola Omojola – Vice Chairperson, Nigeria Computer Society, Lagos Chapter and Programme Coordinator, Rise Up and Sparkle Initiative, Mrs. Femi Abugo – Vice Chairperson, Nigeria Women in Information and Technology, Ms. Damilola Aremu Executive, Nigeria Women in Information and Technology and Mrs. Edna Adeyemi – Secretary, Nigeria Women in Information and Technology.
Speaking during the event, the Deputy Director, Head of Strategy and Governance Department, Federal Ministry of Science, Technology and Innovation, Nigeria Mrs Gbemosola Kayode -Bolarinwa said, 'With the advent of technology, STEM education can offer a new mindset and skills valued in any job.
 According to her ,a career in STEM promises a bright future, opens more academic avenues and long-term opportunities, as well as enhances sustainable knowledge for the girls.'
"Proper education provides the best learning, thus, making education a significant part of everyday life. With the familiarity of STEM, a variety of exciting digital learning explorations can help girl students put STEM skills into engagement with practical, and ready-to-use activities."
Also speaking Chairperson, Nigeria Women in Information and Technology ,Mrs Folake Etomi averred that STEM education provides tremendous opportunities for profitable feat and prosperity stressing that there is need to empower girls in STEM.
"This initiative by NOSL for young girls will encourage and inspire them to pursue their interest in this domain and will help chase their dreams of becoming what they want to be in the future.' "
"Actively supporting and inspiring girls in STEM is at the core of NOSL. The company ensures that more female students venture into STEM fields, sparking breakthroughs in their professions and permeating every aspect of life to gain an edge in the future. "   she added
FG Partners States For Democracy Dividends
The Federal Government has expressed its resolve to collaborate with state governments to deliver dividends of democracy to Nigerians.
The Minister of State, Ministry of Water Resources and Sanitation, Alhaji Bello Goronyo, made this known during a courtesy visit to Governor Ahmadu Fintiri of Adamawa in Yola on Friday.
He said Adamawa is highly blessed with human and natural resources, as he visited dams and other irrigation sites in the state.
"I want to assure you that the federal ministry of water resources and sanitation is open for collaboration with your state and other states in the federation.
"The 8-point agenda of President Bola Tinubu, particularly on food security, is very important because with hunger we cannot achieve peace and security in Nigeria.
"So we believe much needed to be done, river basins are veritable tool in attaining food security and we have a lot of arable land", Goronyo said.
According to him, if fully utilised it will solve a lot of problems especially creation of employment opportunities, among others.
Responding, Fintiri pledged to collaborate with the ministry to maximise the benefits of the ministry's mandate.
He said the State Government is in discussion with investors and other makers on how to take advantage of the available water in the state for public private partnership.
Fintiri also appreciated thebFederal Government on addressing open definition in the country.
"On the health aspect we will be collaborating to ensure that we put our resources, because whatever we do in the health sector if we do not take care of the open defecation is like we do nothing.
"And we will not be free from all the diseases because most of the airborne diseases are surrounded around the open defecation", he said.
FEMA Reopens Five Barricaded Roads 
The Federal Capital Territory Emergency Management Agency (FEMA) has reopened the barricaded slip road interchange and four other roads in the FCT, Abuja, to ease the flow of traffic.
The roads are Galadimawa interchange, Dogon Gada, Dogon Ruwa, Apo-Dutse, and Gada Biyu.
The TIde's source reports that the roads were barricaded during the rainy season as a mitigating measure against flooding and to prevent loss of lives and properties.
Director, Forecasting, Response and Mitigation (FEMA) told journalists after the exercise in Abuja on Saturday, that opening of the roads would ease the flow of traffic in the affected areas of the city.
Wenegieme said the roads were barricaded on May 11, because of the recurrent flooding of the roads during the rainy season.
"The onset of the rain in Abuja is usually in the month of May hence the need to barricade the roads. You are all aware of what has been happening around this slip road every year.
"To the glory of God, no life was lost in this area from 2020 to 2022 because we made a tradition to block the road during the rainy season.
"It has become part of our mitigating measures to save lives and properties in the FCT by making sure that this slip road and other vulnerable roads are barricaded.
"This is to stop vehicular movement, pedestrians and those using motorcycles from using this road during the rainy seasons.
"Now we decided to open them to ease traffic since the rainy season is over", she said.
She commended stakeholders and residents for their understanding and support throughout the raining season, adding that the removal of the temporary barricades would reduce traffic gridlock in the affected areas.
The director also announced the commencement of 2023 dry season sensitisation campaign against incessant fire outbreaks in the FCT.
She pointed out that the season was characterised by fire outbreaks, stressing the need for residents to be cautious while handling cooking gas, petroleum products, electrical appliances, and other inflatable items.
She urged residents to switch off all electrical appliances, keep a fire extinguisher at homes and shopping malls and advised against keeping petroleum and other flammable substances at homes and shops.
Wenegieme also warned residents against bush burning and operating businesses under high tension electric cables.
She appealed for the full cooperation of residents during rescue efforts in the FCT.