Iheanacho Expresses Personal Regrets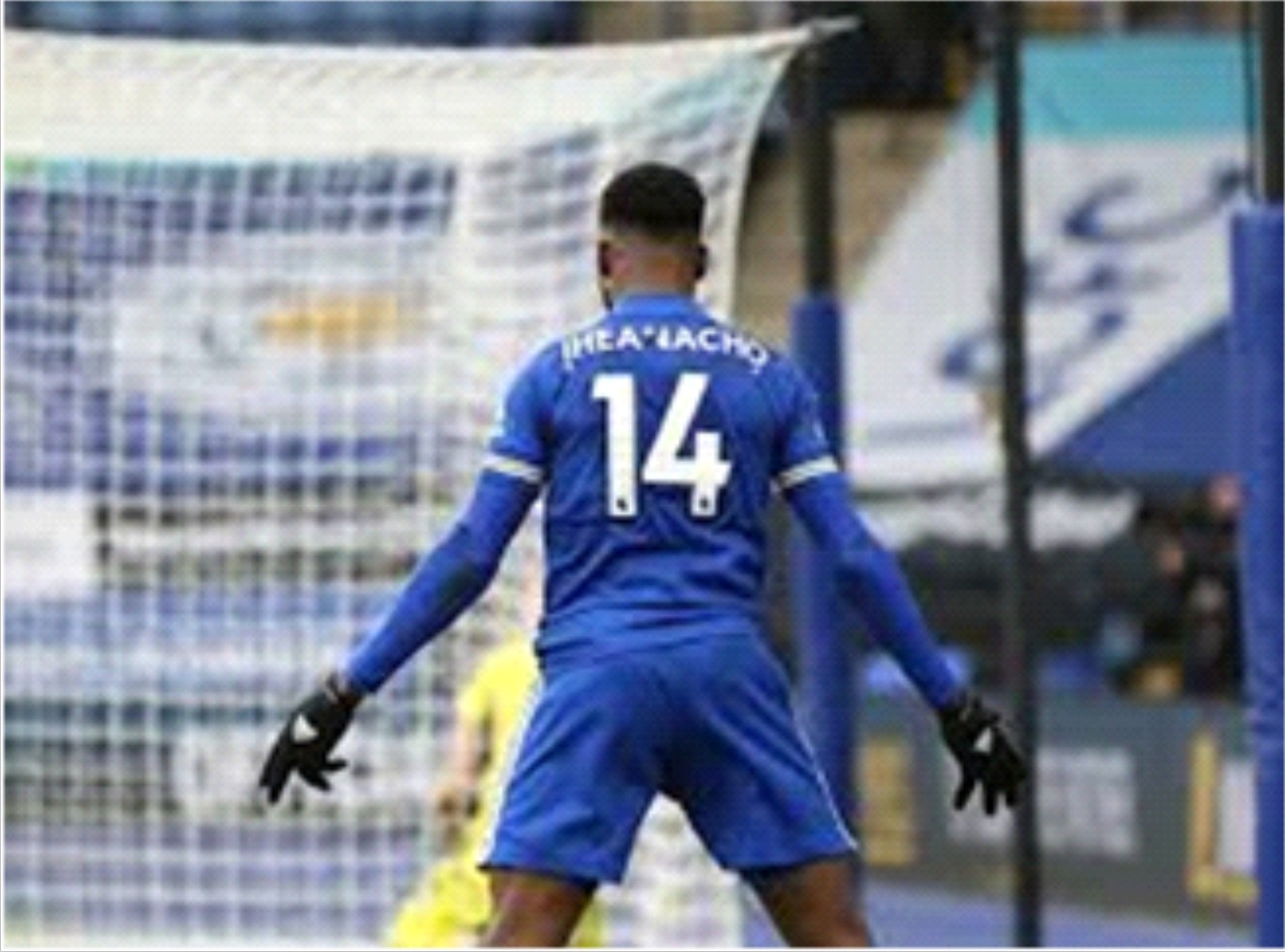 Kelechi Iheanacho may be flying high in the Premier League these days, but he has now opened up on his biggest personal regrets.
The 24-year-old striker has revealed that his No 1 fan, his mother, Mercy, did not live to see him become a star and enjoy the trappings of wealth and fame of her son.
She passed away after illness just before he announced himself to the world at the 2013 U-17 AFCON in Morocco.
"My mom is always beside me, may her soul rest in peace. Whenever I'm playing, or even doing anything, I always imagine her beside me," he told Tidesports source.
"I'm getting emotional now because… I wish I had my mom here to celebrate with me because she's one person in my life that… she always stood by me. It breaks my heart when I remember she is no more and she's not even enjoying all this.
"Death is unfair. Imagine having the chance to buy her whatever she'd like to have now, take her wherever she'd love to go; yet death took her away. I wish she was here to see what her son has become. Sadly there's no second chance to live again. But that's how God wants it and I know she is in a good place.
"She gave me life as a mother and remains the first woman who loved me unconditionally. My mom still holds a special place in my heart and I believe she's always with me."
He has continued to honour her with every of his goal celebration.
"It's a part of my life now," he said. "Whenever I score, I point to the sky because I know my mother is somewhere there. It's just something that's special for me. It is my only way of honouring her. It doesn't matter if it's an overhead kick, a spot-kick, a long-range or close-range effort, even a tap-in… it's all for her.
Insurance, Doma, Sunshine Through To  FA Cup Q'Finals
Bendel Insurance carried on their impressive run in the Nigeria Professional Football League to the Federation Cup, after advancing to the quarter-finals of the competition with a 1-0 win over Heartland at the Awka City Stadium, Tidesports source reports.
In-form striker, Ismael Sarki, scored the only goal of the game in the 47th minute after lashing onto a lay-up from Stephen Adodo.
In Abuja, Doma United also booked their place in the quarter-finals with a 2-0 win over second-tier Edel FC. Bidemi Owoku and Daniel Barnabas saw off their opponents with just four minutes between their goals in the first half.
Meanwhile, 10-man Sunshine Stars secured a nervy 3-2 win over another NNL side, EFCC FC, in Benin.
After a cagey opening, the NPFL side broke the deadlock through Samson Olasupo in the 42nd minute while Jide Jimoh made it two in the 82nd minute with a stylish finish after beating his marker from outside the box.
EFCC, however, pulled one back a minute later, before Emmanuel Ogbuagu scored the third for Sunshine.
Sunshine ended the game with 10 men as Udom Ekerete saw red, while EFCC pulled one back in stoppage time.
Nigerian Pupil Set Guinness World Record On Skipping
Another 17- year-old pupil of Oyemekun Grammar School Akure, Ondo State, Philip Solomon, has been declared the Guinness World Record holder for most skips on one foot in 30 seconds.
On January 24, Solomon officially recorded 153 skips on one foot in 30 seconds to outdo former record holder Rasel Islam of Bangladesh whose record was 145.
His record was officially confirmed by the Guinness World Record on Tuesday, four months after his attempt.
"Solomon was inspired by the previous holder of this record title Rasel Islam after seeing a video of his record attempt. He has been training to achieve the record and was honoured to attend a skipping world championship," Guinness World Record announced on its website.
Solomon has joined his Ijapo High school, Akure counterpart, Gbenga Ezekiel, who was in February declared the world record holder for most skips on one leg in one minute with 265 skips, to increase Nigeria's rope skipping Guinness World Records to two.
The senior secondary school three students also said he was inspired by the feat of Gbenga Ezekiel earlier this year.
Heinken  Fans Campaign Shakes Warri, Abuja, Others
Abuja and the oil-rich city of Warri were pumped up with excitement as the Heineken 'Cheers to All Fans Campaign' train made a big splash in the two cities.
With fans across the world already eager to know the finalists in this season's Champions League, the brand gave passionate fans in Abuja and Warri something extra to look forward to.
In the end, it was a spectacular show, on and off the pitch for the fans and loyal Heineken consumers, who thronged the De Clouds Lounge in Warri and then the Papiees Meatro in the heart of Abuja.
In Warri, the attention was on the Milan derby, where Inter were looking to complete a double over their city rivals, while AC Milan were hoping to turn the tables after a 0-2 deficit from the first leg.
Most fans on the night in Warri were neutral; unanimously wishing the better side to pick the ticket and that better side turned out to be Inter who won the second leg again.
Laturo Martinez got the goal that saw Inter progressed on a 3-0 aggregate scoreline and ended their 13-year wait for a chance in the Champions League final.
As jubilant Inter fans partied into the night at San Siro, it was the same festive atmosphere in Warri as Heineken pumped up the excitement for the fans, who gushed over the unique viewing experience.
Cheers to all fans were evident as there was a high turnout of female football enthusiasts, who commended the brand for their deliberate inclusivity drive.
"I like football a bit but tonight, Heineken has made me even like the game the most. This unique experience is so fantastic and I really enjoyed myself with my friends," a Warri resident, Sandra Achi said after the match.