FRSC Begins Campaign Against Violation Of Speed Limit In Enugu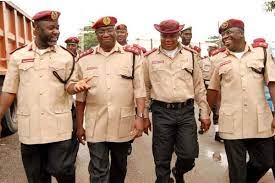 The Federal Road Safety Corps (FRSC) will henceforth undertake massive enlightenment on reduction of speed for vehicles plying the streets within Enugu State to further minimise road crashes.
The Sector Commander of FRSC in Enugu State, Mr Joseph Udoabba, disclosed this in Enugu while speaking to newsmen on the activities lined up to mark this year's United Nation's Global Road Safety Week.
According to him, the week, which runs from May 17 to May 23, is themed: "Street for Life''.
Udoabba noted that to effectively check road crashes on streets, motorists must not exceed 30 kilometres per hour as well as be more alert on streets since other people including children use streets always.
"This week and beyond, we are going to activate a wide range of sensitization programmes which will include Early (morning) Safety Cry Gospel'' and use of station officers to disseminate slow down campaign messages.
"Re-orientation of drivers on reducing speed during driving licence processing/ renewal, continuous local media sensitization, massive public enlightenments on roads and parks as well as advocacy visits.
"Other channels will be our visits to crash victims in hospitals, road safety enlightenment talks to mosques and churches; reinvigorate our safety clubs in primary and secondary schools to further spread the message,'' he added.
The sector commander further said that during the sensitisation, there would be emphasis against using of a phones while driving and driving under influence of drugs and alcohol that result in miscalculations that cause road traffic crashes.
"We will also hammer on the need to install speed limiting devices in commercial vehicles to further ensure that motorists are within acceptable speed limit''.
He noted that the 'slow down campaign' calls for concerted action around speed in order to reduce traffic deaths and injuries, adding; "Road safety is a shared responsibility of all''.
"Even the road safety target within the Sustainable Development Goals (SDGs) will only work if we hold ourselves accountable for actions and inactions while on the road''.
The United Nation's Global Road Safety Week was first held between April 23 and April 29; 2007, he also revealed.
By: Canice Amadi, Enugu
NSCDC Commissions New Commands In Kebbi, Sokoto
Nigeria Security and Civil Defence Corps (NSCDC) has set up new command posts in Kebbi and Sokoto States to boost staff performance, security and better protect critical national infrastructure in the states.
Minister of Interior, Rauf Aregbesola, who commissioned the two commands, said Federal Government would not relent in ensuring the protection of citizens at all times by providing the necessary supports, and logistics needed to maintain the current tempo of development to ensure effective discharge of the Corps core mandates
Represented by the Permanent Secretary of the ministry, Dr Shuaib Belgore, Aregbesola stated that the Federal Government was dedicated to continuously support the Corps to enhance performance and boost national security.
According to a statement signed by the agency's Public Relations Officer (PRO), Olusola Odumosu, the minister also tasked personnel in the two states to live up to the mandate of the agency and exhibit the highest level of discipline in their conduct.
He further charged the personnel to "abstain from rancor and unnecessary rivalry and ensure effective synergy with military and all other law enforcement agencies".
Aregbesola commended the leadership of the Corps for the tremendous transformation witnessed within the last two years as he further attributed it to the doggedness, determination, pragmatic approach and readiness of personnel to impact positively on the nation's security.
Present at the event were governors of the two states; Atiku Bagudu of and Aminu Tambuwal who were both represented.
NAWOJ Partners FH1360 To Boost Maternal, Infant Nutrition
The Nigerian Association of Women Journalists (NAWOJ), Lagos State Chapter, in collaboration with FH1360/Alive and Thrive Project hosted an interactive media round table aimed at promoting maternal, infant and young child nutrition, with an intervention of reducing the total number of anemia and all deficiencies related to mother and child.
Chairperson, NAWOJ, Lagos State, Adeola Ekine, said the initiative was focused on improved reporting of maternal nutrition coverage in journalism.
She added that the annual event provides insight on illnesses affecting children and mothers and their possible solutions
The Lagos State team Lead, Alive and Thrive, Olawunmi Ajayi, who spoke extensively on Maternal, Infant and young child nutrition (MIYCN), noted that Nigeria loses about 2313 children daily translating to 844,321, children death annually, half of which are due to malnutrition.
"You don't have to spend a lot on trying to impress people about your feeding habit you just have to make sure you are providing and feeding a well-balanced diet.
Association Seeks Humanitarian Affairs Minister Portfolio
The Nigeria Association of Social Workers (NASoW) has advised President Bola Tinubu to appoint a qualified social worker as Minister of Humanitarian Affairs, Disaster Management and Social Development.
This is contained in a congratulatory message signed by its Publicity Secretary, Musliudeen Adebayo, and made available to newsmen in Ibadan yesterday.
The Tide source reports that NASoW, the umbrella body of social workers in the country was founded in 1975.
The President of NASow, Alhaji Mashood Mustapha, congratulated Tinubu on his swearing-in ceremony as the 16th President of Nigeria.
Mustapha said that the appointment of a social worker who had the requisite knowledge and skills to paddle the affairs of the ministry would promote the humanitarian agenda.
He said that appointing a NASoW member as Minister of Humanitarian Affairs, Disaster Management and Social Development was in the interest of the nation.
Mustapha said that the ministry had core mandate to promote social work and quality social services delivery in the country.
He said that the association was ready and fully prepared to work with the new administration to achieve its aim in all areas of human development.
He said that the call for the appointment was as a result of the ministry's strategic importance to the welfare of citizens, which is the main goal of this administration.
The NASoW president said that one of the association's achievements during the administration of former President Muhammadu Buhari was the signing of the Nigerian Council for Social Work (NCSW) Establishment Act 2022.
Mustapha encouraged Tinubu to set another record by appointing a qualified social worker as minister for humanitarian affairs, disaster management and social development.
He said that the association was anxiously waiting for the time when NCSW would be constituted.
"We are using this medium to congratulate our new President Bola Tinubu on his emergence as the President of Federal Republic of Nigeria.
"We appeal to him to appoint a social worker as the minster for humanitarian affairs, disaster management and social development. This is our ministry; it is the main ministry for social workers
"We advise the president to put a round peg in a round hole for the betterment of the country," he said.
Mustapha enjoined the president to appoint a minister, who had the required knowledge of social work as they expected the minister to constitute the NCWS board as soon as possible.
"The Nigerian Council for Social Work (Establishment) Act 2022 has been gazetted. Our law has become an Act of Parliament.
"This implies that a lot of good things are coming for the good people of Nigeria. The council is yet to be constituted.
"When this is done, it will help to give more recognition to social work practice in Nigeria," he said.
He said that the establishment of NCSW would create job opportunities and enabling environment for social workers to provide the much desired quality social services to the people.
Mustapha said that it would also reduce migration of social workers to other countries in quest for prosperity.