Overview Of Indigenous Literature, A Survivalist Art

Indigenous literature, as a survivalist art, means that this literature has always existed in Africa since time immemorial immemorial times and surprisingly not waning, its impact is still felt, oral transmissions of the Nigerian experience is still popular,  in spite of many decades of the introduction of literacy.
Before 1914, there had flourished literature in various languages spoken in what is now called Nigeria. In the North Arabic literary scholarship was the vogue, poetry blossomed in Arabic or Ajani.
The Hausa version of the Arabic language, while in the south traditional literature held sway, described in many ways as oral literature, orature, folk literature, oral tradition etc.
As it is today, to write a piece of African literature without the injection of African traditional materials is like preparing a soup without thinking of salt. African oral materials found even in snippets confer authenticity on the modern African literary heritage. Thus, Achebe, Clark, Ike Amado, etc are today remembered, among others, for what they have made of orature, which they inherited from their different cultures.
It has been pointed out that literature in the Northern part of Nigeria is traceable to Ajani writers, who were essentially elitist and religious. More over, they largely wrote poems, while showing no real interest in novel and drama traditions. The reason was that poetry was used to convey their religious bent, while prose and drama are by their nature given to secularism and entertainment.
Christian missionaries played a role in instigating Hausa literature, however their output were focused on proselytising literature written in both Ajani and Boko scripts. Similarly, a newspaper like Gaskiya Tafi Kwabo, first printed in 1939, published in Hausa, has played stringent role in advancing literature in Northern Nigeria.
No mention of poetry writing in the North is complete without reference to Shehu Usman Danfodio, who lived in the 19th century. He is said to have composed 480 poems, some of them short, ranging from eleven lines to 450 stanzas. He also wrote books in Arabic, while his poems were written in Arabic or fulfulde and later translated in similar poetic form into Hausa. His son, brother and sister also wrote various numbers of poems.
There were also the scholars who wrote poems in Hausa in addition to their outputs in Arabic and fulfulde. As there was virtually no print media in the Hausa land of the 19th century, the scholars had their poems written on plain sheets of paper in local ink and published by being recopied by their disciples and students. Koranic blind beggers recited them after congregational prayers in mosques, market places where they found keen listeners.
The establishment of Translation Bureau later Literature Bureau in the 1930s saw to the production of the first set of Hausa novels, writers like Abubakar Imam, Abubakar Tafawa Balewa, Bello Kagara, Mohammadu Gwazo etc, published novels. They freely made use of the oral traditions in their native technique.
Similarly, Dr R.M. East who first headed the translation bureau, edited and published in 1930 six Hausa plays in which five of the plays were folktales made into drama and the sixth one, the dramatisation of Bayirida legend.
In 1953, the North Regional Literature Agency (NORLA) was established to augment the excertions of the literature bureau. NORLA saw to the compilation of the anthology of the poems of some important 20th century Hausa poets such as Sa'adu Zeingur, Mu'azu Hadeja, Alhaji Aliyu Namangi, etc.
After seven years period in 1959, NORLA was disbanded and its role later taken up by Gaskiya Corporation and much later by Northern Nigeria Publishing Company (NNPC) which was responsible for the flourishing of writings between 1960 and 1967. Not only did NNPC republish NORLA, titles, it published new Hausa novels like those by Umaru Dembo, A. Katsina, Garba Funtua and Abdulkadir Dan Gambo.
In 1980, NNPC ran a creative writing contest which saw to the publication of three submissions adjudged to be the best. In 1980, the Triumph Publishing Company was established by the Kano State Government which not only published two Hausa Newspapers, but brought out assorted books of various interests.
Literature in Igbo language was first encouraged by the Christian missionaries which needed a handle to spread Christianity. The church in 1840 directed Rev. J.F Schon (German) and the Yoruba Ex-slave, Samuel Ajayi Crowder, to study certain African language which could assist their evangelistic missions on the Niger. They selected Hausa and Igbo. Igbo was found by Rev. Schon to be difficult while preferring Hausa.
Schon managed to publish a Grammer of the Igbo language in 1890, but a greater work in Igbo language was done by Rev. Crowder and his fellow missionaries. The cooperative efforts of Baptist missionary named Clark and an African American called Merrick saw to the second collection in 1948. S.W. Koelle's polygotha was published in 1854, in it , there were 300 Igbo words given in five different dialects.
Dr William Baikie published his self account of his expedition into Igbo land named the Igbo Expedition, Crowder's Isoamaibo primer first published in 1857, later reprinted in 1927 and known today as Azundu, could be said to be the foundation of Igbo literary origins in the modern sphere.
In 1933, Pita Nwana, from Ndizogu in Imo State published the first Igbo novel entitled Omenuko which soon superseded Azundu in its educational functions as generations of school children and learners at Adult Educational Centres read it for its wit, volatile humour and its insistent in oral overtones. The sayings of Omemuko became something like the John Ploughman's talks.
The next Igbo novel emerged thirty years later, precisely in 1963, titled "Ije Odumodu Jere" (The Trip made by Odumodu), written by Leopard Bellgam in the same year D.N Adiarh Published 'Ala Bingo' (Bingo land) however, none of these two novels matched Omenuko in terms of its popularity, gravity and extent of acceptability.
In the last 30 years, many Igbo plays and poems have been issued by well known publishing companies, including the Igbo plays of A.B Chukwueze and the Igbo poetry collections, edited by R.N. Ekechukwu and E.N Emenanjo in the 70s and 80s.
One writer whose Igbo novels have helped to shape Igbo literature is Tony Ubezie. His novels are memorable and touch at the base of human, social and environmental psychology. His interesting novels in Igbo largely titled in proverbs include, 'Ukwa Ruo Oge Ya O Daa' (When The Bread Fruit Ripens, It Falls), 'Is I Akwu Dara n'ala' (A palm fruit which falls on the ground), 'Juo Obinna'  (Ask Obinna), 'Nmiri Okueji Egbu Mbe' (The Hot Water With Which Tortoise Is Killed), 'Ukpaka Miiri Onye Ubiam' (the oil bean which had fruited for the poor man). By the time the prolific writer died in 1994, he still had several unpublished Igbo titles.
However, any mention of the development of the Igbo literature without a mention of the singular efforts of the late Maazi F.C Ogbalu is faulty. He devoted over forty years of his life to the promotion of Igbo studies, using his press at Onitsha. He published his own books on the Igbo proverbs, Idioms, riddles, customs and tradition, poetry, fictions and several books for primary and secondary schools.
Literature in Yoruba follows the same pattern of development as Hausa and Igbo. If Ajayi Crowder, the Yoruba Ex-slave played such a prominent role in the founding of Igbo literature, one imagines that by the time he took on Igbo, much development has taken place in his Yoruba Language. This was largely due to the influx of the liberated slaves many of who were literates into Yoruba land a little before the middle of the 19th century.
There was also the influence of the establishment of Christian missions, Primary and secondary schools whose products soon acquired the art of reading and writing. Although the Yoruba Renaissance, which was stirred by the ex-slave started in the 1880s, the book in Yoruba history by Rev. Samuel Johnson completed in 1897 and published in 1921, could be said to be the proper take off point. Most people who claim now to be knowledgeable on Yoruba history only narrate  Johnson, what is now known as Igbo culture and tradition was first mooted in that book.
It was not until 1939 that D.O Fagunwa's "Ogboju-ode ninu Igbo Irunmale" (The Skillful Hunter in the Forest of spirits) a long prose narrative in the tradition of Yoruba folk lore was published, those who could not read Yoruba had to wait for Wole Soyinka's translation of the story under the title, The Forest of a Thousand Daemons.
Some thirteen years later, precisely in 1952, Amos Tutuola, writing in quaint English, published the palm wine Drunkard, it was hailed in Europe and America, but distasted in his country. He wrote just as Fagunwa did, except that his medium was not Yoruba, but his tales which were linked artistically to yield the palm wine Drunkard were essentially Yoruba stories. Since Fafunwa, other writers who wrote like him in the Yoruba language include Ogundere, Omoyajowo, Fatami, etc. Others who wrote in the realistic tradition included I.O. Delano, who published his first Yoruba novel in 1955 and his second book of fiction in 1963. Since then, there have emerged the novels of J.F Odunjo, Afolabi Olabimtan, Adebayo Faleti, T.A Ladele, Ola Owolabi, Kola Akunlade, A Oyedele Yamitan Awoniji, among others.
It is therefore no gain saying that recent writers are even more aggressively adept at appropriating folk materials; Osofisan, Okri, Osundare, Erekwe, and Ohaeto, etc have in various proportions incorporated indigenous languages and folk elements in their writings such that their rootedness is not in doubt.
Youth Empowerment And Positive Change
It is imperative that empowerment and development in all spheres of life must be pursued by governments at all levels to realise the potentials of the youth.
For statistical purposes, the United Nations (UN) defines Youth as those persons between ages 15 and 24 years.
Currently, there are 1.2 billion young people known as youth globally. They will be accounting for 16 per cent of the global population by 2030, the target date for the Sustainable Development Goals (SDGs) that make up the 2030 Agenda.
Apparently, the number of youth is projected to have grown by 7 per cent to nearly 1.3 billion.
The UN has long recognised that the imagination, ideals and energy of young people are vital for the continuing development of the societies in which they live.
It also recognises the young people as rights- holders and has over the years promoted and facilitated transparency, international organisations and others towards young people.
This had led to the identification of fifteen fields of action by the International Community which include, education, employment, hunger and poverty, health, environment, substance abuse, juvenile justice, leisure- time activities, girls and young women and the full effective participation of youth in the life of society in decision making.
Youths globally are increasingly demanding more progressive opportunities and solutions in their societies. The need to address various challenges faced by young people such access to education; health and employment have any more pressing than ever.
Another recognition of young people's wellbeing, participation and empowerment of key drivers of sustainable development and peace around the world by the UN was the adoption of the 2030 Agenda involving Member States and civil society, including youth organisations in the development of goals and targets.
The responsibility for finding solutions to the challenges affecting young people lies largely with governments, it must seek to create an environment in which youth from different socio- economic backgrounds enjoy access to youth rights, quality education, employment opportunities, health services and youth work, among others.
Today, the world is home to the largest population of young people in history- 1.2 billion people. Meanwhile, close to 90 per cent of the world's youth live in developing countries where they make up a high proportion of the population.
According to United Nations Educational Scientific Cultural Organisation (UNESCO), young people are also facing major challenges in both the developed and developing world. While many developed countries have seen prospects for younger generations increase, many developing countries struggle to create enough employment to absorb their demographic youth bulge.
Across the world, today's youth are three times more likely to be unemployed than other adults with the global youth employment rate standing at 13 per cent.
In Pakistan, young people comprise 36. 9 percent of their population, but their share as entrepreneurs is very less. High illiteracy, low education, lack of skills training and scarce facilities and resources are some of specific challenges young people encounter there.
India has its largest ever adolescent and youth population in the world. Around 66 per cent of the total population (more than 808 billion) is below the age of 35. According to United Nations Population Fund (UNFPA) projections, India will continue to have one of the youngest population in the world till 2030. However, unemployment is a major social issue in India.
According to reports, Africa's population as a whole is very young, with 60 percent of the entire continent aged below 25, making it the youngest continent in the world, relation to its population makeup.
Subsequently, African youths are facing many challenges, including poverty, inadequate education, unemployment, and lack of opportunity. African youth are also at the risk of becoming victims of crime, HIV/ AIDS and other diseases.
One big challenge is that African youth are often not given the opportunity to learn and grow. This is often due to poverty or poor education. Most often, families do not have the money to send their children to school, thereby not giving the African youth the opportunity to learn component life skills.
Another challenge was that the African youth were often not given a voice. They are often too afraid to speak out because they do not have any power or representation. This means they are not able to change their situation or advocate for themselves.
From statistics, Nigeria has the largest population of youth in the world, with the median age of 18.1 years. About 70 percent of the population are under 30 and 42 percent are under the age 15.
As of August 2022, youths account for 70 per cent of the 217 million of Nigeria's population which indicates 151million youths.
The size and youthfulness of the population can offer great potential to expand Nigeria's capacity as the regional economic hub of Africa.
However, in Nigeria, youth face several challenges including unemployment, limited technical and vocational skills, limited inclusion in social and political space and lack of financing for ventures and businesses.
According to an African Research Review by Beatrice Ifeoma Ajufo, unemployment has become a major problem affecting the lives of Nigerian youth, causing increasing militancy, violent crimes, kidnapping, restiveness and socially delinquent behaviour.
"Youth unemployment is devastating to both the individual and the society as a whole both psychologically and economically", she said.
A Nigerian Economist and President of the African Development Bank, Akinwumi Adesina stated that the youth are not the problem of Nigeria; the youth are the assets of Nigeria.
He also stated that Nigeria must embark on bolder measures to grow its youth into a well trained globally competitive workforce, noting that, "Nigerian government must invest and empower young people by offering innovative policies, this will guarantee their global competitiveness".
The youth must be empowered to play a vital role in their own development as well as
in that of their communities, helping them to learn vital life-skills, develop knowledge on human rights and citizenship and to promote positive civic action is key.
To participate effectively, young people must be given the proper tools, such as information, education about and access to their civil rights.
Young people are a major human resource for development and key agents for social change, economic growth and technological innovation.
Participation in decision-making is a key priority area of the UN agenda on youth. In 1995, on the tenth anniversary of International Youth Year, the United Nations strengthened its commitment to young people by adopting the World Programme of Action for Youth (WPAY), an international strategy to more effectively address their problems and increase opportunities for participation in society.
The international community has reaffirmed its commitment to youth participation through UN General Assembly resolution 58/133, which reiterates the "importance of the full and effective participation of youth and youth organisations at the local, national, regional and international levels in promoting and implementing the World Programme of Action and in evaluating the progress achieved and the obstacles encountered in its implementation". Subsequent resolutions have also dealt with policies and programmes involving youth as well as promoting youth participation in social and economic development.
This boils down to youth empowerment and helping the youth to succeed in all areas of their lives. It is the responsibility of all governments to assist the youth in any form.
Governments should involve youth by recognising their needs. Allowing them to participate in implementing youth programmes will enhance the empowerment and development process. This responsibility does not only fall on the government but on all of us.
By: Ibinabo Ogolo
How To Prevent Heart Damage Among Children
Experts have identified constant mobility as a key way of preventing heart damage in children.
They have come up with a study that indicates that the accumulation of inactive time is related and results to heart damage, even if the weight of the body and blood pressure is normal.
The study which was presented at the European Society of Cardiology Congress in 2023 and published by Science Daily in August 2023, also indicates that, hours of inactivity during childhood could be setting the stage for heart attacks and strokes later in life.
According to the study author, Dr. Andrew Agbaje of the University of Eastern Finland, Kuopio, Finland, long hours before screens by young people may add up to a heavier heart which leads to heart attack.
" All those hours of screen time in young people add up to a heavier heart, which we know from studies in adults raises the likelihood of heart attack and stroke. Children and teenagers need to move more to protect their long term health", he said.
This study was conducted as part of the Children of the 1990s study, which began in 1990/1991 and is one of the world's largest cohorts with lifestyle measurements from birth.
For the study, at 11years of age, the children wore a smart watch with an activity tracker for seven days. This was repeated at 15 years of age and again at 24 years of age. The weight of the heart's left ventricle was assessed by Echocardiography, a type of ultrasound scan, at 17 and 24 years of age and reported in grams relative to height (g/m 2.7).
The researchers analysed the association between sedentary time between 11 and 24 years of age after adjusting for factors that could influence the relationship including age, sex, blood pressure, body fat, smoking, physical activity and socio economic status.
The study included 766 children, of whom 55% were girls and 45% were boys. At 11years of age, children were sedentary for an average of 362 minutes a day, rising to 474 minutes a day in young adulthood (24 years of age).
This meant that sedentary time increased by an average of 169 minutes(2.8 hours ) a day between childhood and young adulthood.
The study also indicates that each one minutes increase in sedentary time from 11 to 24 years of age was associated with 0.004 g/m2.7 increase in left ventricular mass between 17 to 24 years of age which could lead to increased risk of heart disease.
Dr. Agbaje said that, "Children were sedentary for more than six hours a day and this increased by nearly three hours a day by the time they reached young adulthood".
He said that this development can lead to heart damage during adulthood.
He, however, advised parents to encourage children and teenagers to move more by taking them out for a walk and limiting time spent on social media and video games.
Other reports indicated that this development is more with children in urban centers, who rarely go out to play or engage in physical activity.
It analysed that, with the growing dependency on technology and change in lifestyle, children are less active as compared to the earlier generation.
This, according to reports poses risks to their health that may not be noticed immediately. The adverse effects may show up later in life and can be a long term, if changes are not made easily.
According to the World Health Organization (WHO), a sedentary lifestyle could very well be among the 10 leading causes of death and disability in the world.
Another study by Kaiser Family Foundation found that, the average child in the 8-18 years age group is spending an alarming seven hours in front of the screen (television, mobile, laptop) every day.
Yet, in another study, "Physical activity in childhood may be the key to optimizing lifespan skeletal health", published by the National Center for Biotechnology information in 2013, an hour of outdoor play or engaging in a physical activity everyday is extremely important for children. It also stated that this may not be at a time but can be beneficial when done in stages. It however, helps them burn energy, tone the muscles and also help stimulate the brain.
It added that the human body is meant to move, so any lack of physical activity deteriorates and weakens the body, sags the muscles, stiffens the joint, and causes pain.
Other studies suggested that there is a relationship between inactive lifestyle and the increased risk of cancer. The risk is not different in children as in adults. It is associated with an increased risk of more than 10 types of cancer.
It is also linked to 25% higher chance of feeling low and depressed, thereby displaying mood swings leading to depression. When active, the body releases endorphins and serotonin which leads to the feeling good factor and in turn reduces the risk of depression and anxiety too.
Many recent studies have shown an incremental decline in children's physical activity over the last two decades with the digital world playing a major part by replacing the physical time for children to play before now.
A research done at Essex University comparing the results of children now with results from children 30 years before indicated that it takes 90 seconds longer for children today to run a mile than it did before.
It also indicated that 95% of children years ago can run more than children today. Also, children before had a 26% greater arm strength, they also had a 7% stronger hand grip. And that children 30years ago could do 27.1% more sit ups.
Another research indicated that just 24% of children aged 6 to 17 participate in 60 minutes of physical activity every day, which is optimum for that age group.
These upsetting results indicate that children are indeed becoming less active and this issue carries certain risks for their health.
It is , however, important to note that a developing child grows their cells much faster than an adult. Some cells form only when we are young and science shows that physical activity is one of the most important factors in determining how both our bodies and minds develop.
Once we get older, the core muscle and bone structure will remain similar to what we have developed at young age. Therefore, when children lead unhealthy lifestyle, they set a bad foundation that leads to health issues in the future.
It is the duty of parents to set examples as positive role models for their children to follow. Planning regular family trips to places close to nature which may lead to running, swinging, swimming and climbing is important. This would help the child get sound sleep at the end of the day and get healthier.
Also, enrolling the child in a sport that he or she enjoys or activity like dancing is a great way to get the body moving and learn more things as well.
By: Ibinabo Ogolo
Businessman Gives Out Daughter In Marriage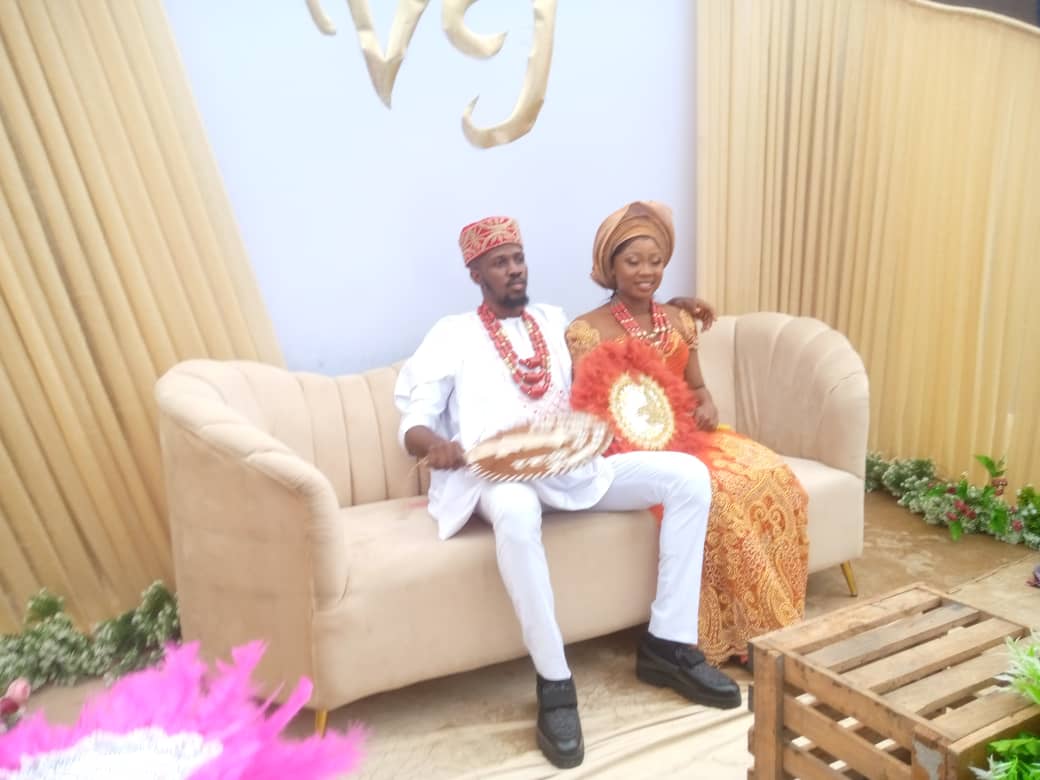 It was celebration galore in Choba Community in Obio/Akpor Local Government Area of Rivers State, on Saturday, August 12, 2023, as business mogul and Chairman of the University of Port Harcourt Choba Park, Sir Ihua Anele successfully gave out his beloved daughter, Victoria in marriage to a dashing youngman, Mr. Jehosiphat.
The traditional marriage which was aptly described as a rich blend of culture, attracted people from all walks of life.
This culminated in the white wedding, holy matrimony the following day at the Dominion Ministries along NTA Road, Port Harcourt, with family members, friends, well-wishers, in-laws, Choba community leaders, business associates and the academia trooping out in their numbers to celebrate the couple.
In his speech, the chief host, Sir Anaele expressed joy over the success of the marriage ceremony.
He said his joy knew no bounds, considering where he is coming from.
The Choba Park chairman urged the couple to tolerate, endure and love each other, as these are the recipe for a successful marriage.
He noted that peace and mutual understanding are also essential ingredients for a successful marriage, and thanked everyone for coming to celebrate with his family.
As it were, the wedding ceremony and the reception were described as one of the best in the Port Harcourt metropolis, as it became the talk of the city at the end of the day.