Cvhub4africa Offers Free Training To 2,500 Youths On Software Development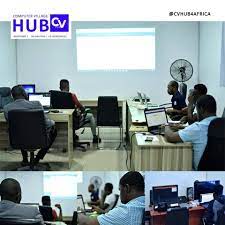 Cvhub4Africa offers free training to 2,500 youths on software development. The Computer Village Hub4Africa (Cvhub4Africa) on Monday said it would offer free training  on software  development and other emerging technologies to no fewer than 2,500 Nigerian youths.
A software developer and CEO of Cvhub4Africa ,Mr Austin Agbakor, told newsmen in Lagos that the training  would  equip youths  with the emerging  technologies  including  robotics,  artificial  intelligence  and software development.
Agbakor said that such knowledge would make the youth employable and empower them to be entrepreneurs  especially  in the era of digitalisation, online business  and remote working.
He said that the training would also increase productivity, performance, bring about uniformity of work processes automation as well as help reduce wastage.
According to him, the lapse in technologies in some institutions and also some government agencies informed the training which is to bridge the gap of unemployment and poor technological development.
"The gap is there in so many government agencies and other institutions.
"We have witnessed many people who are not equipped enough;  but for Nigeria to increase in productivity, we must be passionate about information and resources that can be utilised by the people.
"There are lots of potential everywhere, it is just the framework that is missing hence  the training  to bridge  the  gap,'' he said.
According to him, CVHUB4AFRICA offers a range of free IT courses and  has decided to teach Nigerians for free on how to develop software, manage computer networks, maintain vital systems and more.
He said that some have already started learning in the hub.
He called on youths who are interested to come and register to gain valuable information technology training and professional development opportunities.
Expert Seeks Innovation To Improve Livelihoods
The  Supervisor at Centre  of Excellence in STI, African Union Development Agency (AUDA –NEPAD),  Prof Olalekan Akinbo, has called on Nigeria and other African countries to take advantage of innovation in order to improve livelihoods of citizens.
Akinbo made the call while responding to questions on genome editing technology  from The Tide source in Abuja, recently.
"Since Africa is naturally agrarian, the opportunity this technology offers should be utilised. This is by adding value to the available rich natural resources through innovation, in order to improve the livelihood of the citizenries", he said.
Akinbo stated that many African governments have strong policies for innovation as a milestone that would improve the economy and create enabling environment to support innovative ideas.
"I'm talking about innovation in technology, agriculture, petrochemical, among others, because innovation is the pathway that many African countries have now taken in trying to improve the lives of citizens.
"A case in point are countries that have established ministries and  parastatals that focus specifically on innovation, and some of these ministries have added innovation to the name of the ministry.
"That shows government's commitment to innovation and in most of the AU decision process, there have been decisions that support innovations for the improvement of livelihoods", he said.
According to him, Government has been making efforts to ensure that they are part of the agenda, by  creating enabling environments to enhance innovation.
"Nigeria is an example, Nigeria is a leader and we witnessed how the Ministry of Science and Technology was changed to Ministry of Science, Technology and Innovation, indicating that the government supports innovation.
"There are also many start-ups in Nigeria these days and Nigeria is actually a leader in so many things in Africa, especially in the area of innovation and creating enabling environment", he  said.
He also noted that, out of the 55 member states in Africa, South Africa has taken advantage of innovative way of breeding plants.
Akinbo listed other countries that have also moved in this direction to include: Ethiopia, Malawi and Eswatini, all of which have adopted biotechnology crops.
He said Kenya has not only adopted biotechnology crops, but went further to establish a research institutes that focuses on biotechnology.
The AU Official  further informed that  Nigeria has adopted two biotechnology crops, both for feed and food while others were in the pipeline.
"Looking at this, for a government to have approved these biotech crops is indicative of its willingness and even establishing an agency that sees to the safety", he said.
He said Nigeria's National Biosafety Management Agency (NBMA) was also responsible for the approval of biotechnology related products.
Akonbo said Africa, especially Nigeria, has given a supportive role to the improvement of biotechnology adoption which would also influence the pathway genome editing technology would go.
The expert said genome editing was an emerging technology with an innovation that would help in various areas of improvements.
They include: agriculture, climate change, and health, with all geared towards improving livelihoods.
"There is always a phobia surrounding the emergence of a new technology and that the area people seem to be skeptical of is safety.That something is new doesn't mean it is not safe",  he said.
According to Akonbo, some food crops that people initially thought to be unsafe are now being used by them.
He said cassava, which has become a staple food in numerous homes in Nigeria, contains cyanide acid, adding, "but, due to its importance, scientists were able to manage this acid through processing for safety.
"Though nothing is safe as people are  bound to be skeptical, genome editing, which is yet to produce a product in Africa, does not include any external introduction".
Akinbo assured that the technology of genome editing make use of information stored in the DNA to improve on its usage.
"So, from the scientific point of view, genome editing is safer compared to other imagined technology that had been in existence", he stated.
Akinbo,  however, revealed that apart from Nigeria that had already developed the guidelines for the adoption of genome editing, Ethiopia has also done so, and others were either at the drafting or signing stages.
Minister Inaugurates Northeast Galaxy Backbone Office 
Minister of Communication and Digital Economy, Prof. Isa Pantami,  has said the North East Regional Office of Galaxy Backbone in Gomb will  be beneficial to six states in the Northeast.
Pantami said this recently when he inaugurated  the centre in Gombe State.
He hinted that it will  improve digital economy, provide job opportunities and enhance cybersecurity.
According to him, with the contributions of Information and Communication Technologies (ICT) to Nigeria's Gross Domestic Product (GDP), having the centre in the region would help consolidate the gains of the digital economy.
He  further stated that the Gombe Centre was part of the phase two of the National Information and Communications Infrastructure Backbone (NICTIB) Project.
Pantami also explained that the NICTIB 2 covers 18 states in the North and two states from Southern part of the country that were not captured in the NICTIB 1.
The Minister said the digital economy sector has supported the Federal Government's effort at diversifying the economy.
"For many years, most probably 50 years, Nigeria relied so much on oil and gas. But today, we have reached a situation where the contribution of ICT to our gross domestic products in Nigeria is almost three times the contribution of oil and gas to the country's GDP.
"In the last three years, we have set up three unprecedented records with regards to ICT contributions to GDP,"  he said.
He explained that in the first quarter of 2020, ICT contributed 14.07 per cent to the GDP, while in the second quarter of 2021, ICT sector contributed 17.97 per cent.
"In the second quarter of 2022, the ICT sector contributed 18.44 per cent to our GDP, another unprecedented record. So, we have set three new unprecedented records year in, year out", he said.
Speaking earlier, the Managing Director of Galaxy Backbone Limited, Muhammad Abubakar, said Galaxy remain committed to connecting all the 36 states of Nigeria into ICT infrastructure to power the nation's digital economy.
"This Zonal and Marketing Office in Gombe also houses the Safe City infrastructure that will form a seed for Gombe to function as a Smart City," he said.
NITDA Seeks Partnerships Against Cyber Challenges
The Director-General, National Information Technology Development Agency (NITDA), Malam Kashifu Inuwa, has called on governments across Africa to come together to minimise the impact of cyber attacks.
Inuwa said the attacks have affected critical infrastructure, national security, reputation and economy.
He  made the call in a statement issued recently in Abuja by the Head, Corporate Affairs and External Relations of the agency, Mrs. Hadiza Umar, and made availabe to The Tide source.
Speaking on the topic, "Strategies for Boosting Africa's Cyber Resilience", at the ongoing GISEC Global, a conference for cyber security community holding in Dubai, United Arab Emirates, Inuwa harped on the importance of guiding against cyber attacks.
This, he said, is "because the African continent continued to experience rapid technological growth and increasing internet penetration.
"With the right strategies and approaches, Africa can enhance its cyber security posture and build resilience against cyber attacks.
"African nations must work collaboratively to build and implement robust, inclusive, and proactive cyber resilience methodologies and comprehensive approaches to the identification and mitigation of critical vulnerabilities.
"These include encouraging the exchange of collective knowledge, intelligence on cyber threats and promoting international cooperation in responding to cyber crimes".
Inuwa recalled the 'Check Point Research Report of 2022', which said African countries experienced an average of 1,848 cyber attacks per week, per organisation in 2022.
The Director-General also highlighted that Nigeria accounted for the largest number of internet users, with over 100 million users, followed by Egypt with 76 million and South Africa with 41 million.
"These countries, along with Kenya, also account for 60 per cent of the $4 billion annual cost of cybercrime in Africa.
"In spite of these challenges, Africa's digital transformation projects are gaining momentum, with online shoppers reaching almost 390 million and social media users reaching over 380 million in 2022.
"This growing figures are due to increasing mobile device adoption and improved telecommunication systems.
"However, the increasing threat of cyberattacks puts our socio-economic security at risk locally and internationally,"  he said.
According to him, it is imperative that all governments prioritise cyber security and take necessary measures to strengthen their digital defenses to protect citizens from the threats posed by online attacks.
The NITDA boss added that the Africa Center for Strategic Studies' Report, stated that only 15 African countries had completed their national cyber security strategies.
Inuwa said the strategies outlined strategic objectives and assigned government-wide responsibilities for cyber threat monitoring and responses.
He said: "African countries need to understand the current cyber security landscape, create and implement comprehensive and multi-stakeholder policies,legal frameworks to ensure accountability and incentivise investments in cyber security measures.
"We need to close the cyber security talent gap by investing in training and development programmes to equip our workforce with the necessary skills and knowledge to protect themselves and our organisations against cyber threats.
"We need to invest in the development of robust cybersecurity technologies such as firewalls, intrusion detection systems, and endpoint protection", he said.
According to him, these tools can help detect and prevent cyber attacks before they cause significant harm.
He noted that the onus was on both the government and private sector to provide institutional support for cyber security, include the creation of dedicated agencies and units, as well as public-private partnerships that allow for the sharing of resources and expertise.
"We must prioritise regional partnerships and cross-border cooperation to combat cyber threats, as they do not respect geographical boundaries.
"This can include African countries working together to formulate and implement effective responses to cyber attacks and share best practices", he said.
He also revealed that there will be national cyber-response plans and specialised Computer Emergency Response Teams (CERTs) for critical infrastructure sectors that are essential in ensuring cyber resilience which outlines procedures and protocols.