Banigo Hails Zilly Aggrey At 59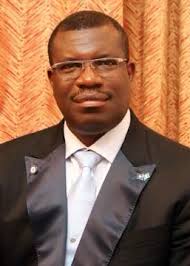 The Rivers State Deputy Governor, Dr. Ipalibo Harry Banigo has joined other people of goodwill to felicitate with the President and Founder, Royal House of Grace International Church, Apostle Zilly Aggrey as he marked his 59th Birthday, yesterday.
In a statement in Government House, Port Harcourt, last Saturday, Banigo described Apostle Zilly Aggrey as a great man of God that has continued to shepherd a great flock for our Lord Jesus Christ.
According to the deputy governor, Apostle Zilly Aggrey, who was a one-time chairman of Christian Association of Nigeria (CAN), Rivers State; and a two-time chairman of Pentecostal Fellowship of Nigeria (PFN), Rivers State, has raised notable sons and daughters, from political leaders to captains of industry.
The deputy governor wished Apostle Zilly Aggrey many happy returns, and prayed the Almighty God to continue to bless and keep him in good health.
IPC Condemns Election Day Attacks On Journalists In Lagos, Others
The International Press Centre (IPC), Lagos has expressed regrets over the reported incidents of attacks on journalists and other media professionals who covered the Saturday March 18, 2023 rescheduled Gubernatorial/States House of Assembly elections in some parts of the country including Rivers, Lagos, and Ogun States.
This was contained in a statement signed by IPC's Freedom Officer, Melody Lawal, and made availabe to the Press in Port Harcourt, weekend.
The IPC noted that its "Journalists' -Election-Day-Safety-Alert-Desk" confirmed that AIT Reporters and cameramen, Henrietta Oke, Amarachi Amushie and Nkiru Nwokedi were molested and prevented from covering the elections at some polling units in Eti-Osa, Ifako-Ijaiye and Amuwo Odofin Local Government Areas of Lagos State by political thugs and hoodlums.
According to the statement, Nwokedi temporarily lost her phone before it was recovered with the help of Odua Peoples Congress (OPC) men, while Amushie was rough-handled, her camera damaged, and the cameraman beaten under the watch of a political chieftain.
The Alert Desk also established that Arise Television News crew, which comprised of a Reporter, Mr.Oba Adeoye; Cameraman, Opeyemi Adenihun; and driver, Mr. Yusuf Hassan, were also attacked while covering voting in Elegushi area of Lagos.
"The cameraman, Opeyemi Adenihun suffered facial injuries, while drones and equipment were seized", it said.
In Ogun State, News Agency of Nigeria's reporter, Adejoke Adeleye, was among journalists molested in Itori Odo Area of Abeokuta South Local Government where they faced mob attack by political thugs who also reportedly assaulted INEC officials with axes and allegedly destroyed ballot boxes.
It also expressed dissatisfactions that some overzealous security agents disallowed INEC approved journalists from executing their jobs in some areas in Rivers State.
The IPC, however, condemed these unacceptable attacks which constituted both the violation of the fundamental rights of the affected journalists and media workers and major assault on press freedom.
"Following the attacks on journalists during the presidential and national Assembly elections on February 25, we had called on the Police, the Political Parties and all concerned to take measures to protect them today.
It is therefore worrisome that such attacks have been repeated", the statement added.
The statement, further charged security agencies to thoroughly investigate the various attacks and ensure that the perpetrators face the consequences of their illegal and actions on the people.
By: King Onunwor
RSU Commits To Holding Inaugural Lectures
Management of the Rivers State University, Port Harcourt, has reaffirmed its commitment to maintaining the traditional holding of Inaugural Lectures to advance knowledge-based research and development of the university, despite the enormous challenges in the country.
Vice-Chancellor of the University, Prof. Nlerum S. Okogbule who stated this during the 85th inaugural lecture held recently at the Senate Chamber of the University, said the institution has kept faith in the importance and essence of inaugural lectures, which, he said, is held monthly, since his emergence as the Vice Chancellor of the University.
Prof. Okogbule, who also stated that the present university management remains committed and focused in rendering laudable services to the state, described the 85th inaugural lecture as unique as it is held before the break of the university for the 2023 Presidential and National Assembly election.
Earlier, the 85th inaugural lecturer and Professor of Mass Transfer of Chemical Engineering, Professor Awajiogak Anthony Ujile, called on various agencies of government to monitor the activities of process industries with a view to determining compliance to regulations on water policies and protection of infrastructure.
Professor Ujile, who spoke on the topic "Contending with Reliability, Availability, Sustainability of Water and Infrastructural Protection Using Chemical Engineering Mass Transfer", admonished the Federal and State Ministries of Environment to take ground water protection issues as most paramount, and ensure institutionalization and enforcement of waste disposal system to enhance quality water protection in the society.
Professor Ujile urged public office holders to, as a matter of necessity, provide quality water for the people in the country.
Voters Happy With Early Arrival Of Election Materials
Some voters in Port Harcourt, Rivers State capital on Saturday expressed happiness over the early arrival of electoral materials to their polling units despite the apathy that greeted the exercise.
A cross section of the voters told The Tide that election materials arrived at their polling centres between 8 a.m. and 8:25a.m.
They described the elections as peaceful and commended the orderly conduct of the process, but bemoaned the low turnout.
Emmanuel Nweke said he arrived at his polling centre, Unit 3 Ward 6, Woji, Obio/Akpor Local Government Area at about 8:45 a.m. and met the INEC officials and materials already seated.
"This is how elections should be conducted; in a manner that is devoid of violence and malpractice.
"It did not take me up to three minutes to be accredited and vote. I must commend INEC for this", he said.
Another voter, Nmasi Gabriel, 49, said she arrived at polling Unit 4, Ward 6 around 9a.m. and cast her ballot seamlessly.
"But I don't think that I will be able to wait till 2:30p.m. when the actual vote counting will commence.
"If the Presidential and National Assembly elections were organised like this, maybe more people would have come out to vote today and the country would be better for it", she added.
A voter in Ward 12, Unit 4, Rumuowoji, Port Harcourt Local Government Area, Mr Chima Asiegbe, said he was impressed by the early arrival of the NEC officials with the voting materials.
He, however, lamented the low turnout of voters, but noted that the exercise was peaceful.
Chief Boniface Amadi, another voter, blamed the low turnout on alleged lack of confidence the electorate had in INEC, going by the conduct of the Feb. 25 Presidential and National Assembly elections.
The source reports that the main contenders for Rivers Governorship position are PDP's candidate, Sim Fubara, and Tonye Cole of the APC, supported by former Governor, Chibuike Amaechi.
Others are former Senator, Magnus Abe of the SDP and the Labour Party candidate, Beatrice Itubor.