PH Residents Raise Alarm Over Scrap Dealers' Activities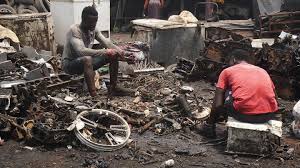 They are every where in the city, plying their trade in a measure that is almost indispensable, yet a nuisance. The residents depend on them for the disposal of their wastes but they also loathe the excesses of their prowling activities which the residents consider to be unnerving.
They are scavengers, scrap merchants and sanitation vendors, spectacular in the nooks and crannies of Port Harcourt and its environs where they scoop on refuse dumps, digging out their gold mine in a an insipid taste that defies the rules of decency.
They hang out in clusters, lining out their trucks as cherished possessions and tools of economic activities. They move around the neighborhood with their trucks filling them with both domestic and industrial wastes that are later filtered for their economic benefits.  the scrap collectors gather up their products from various parts of the city and store them at a depot where the scrap products are scaled and loaded in trailers for delivery at designated places. The scrap laden trailers are mostly escorted by heavily armed security   details. The scrap dealers smile to bank on the delivery of a week-long process of accumulation and assemblage of their products. The men espouse a strange sense of bond and fellowship. Their dump site also serves as their collective abode. Their manager, a middle aged man plays the role of a middle man between the scrap merchants and their patrons. After a successful delivery he withdraws money from the bank and pays them their individual charges.
The scrap dealers also have a notorious detail linked with their alleged criminal activities of carting away valuables of residents such as generator sets, stoves, electric irons, and other metallic products they come across. The residents abhor the excesses of their prowling activities but live by share adjustment to the situation as they depend on the scavengers for waste disposal. Some residents of Port Harcourt, who narrated their experiences to the Port Harcourt Metro, explained how they lost their belongings to the scavengers. Mrs Candy Ibifa, said, her electric stove and metal pots have been taken away on more than two occasions by the scavengers. " One bad thing about these people that move around with trucks is that they take away peoples belongings without permission. They have collected my electric stove and pots twice ".Another resident, Mr Gibson Kooh, said the prowling truck minders took away his generator set while roving around in search of scraps. "Most of these truck pushers are thieves, they took away my generator before I returned home from my shop. My neighbour also lost his generator to them, some times ago, this is very bad The residents called for more vigilance and security attention within the neighbourhood to check the activities of the truck pushers.
By: Taneh Beemene
Police Arrest One In Diobu Cult Clash
One person was feared killed when suspected members of a cult group clashed in the Mile One Diobu axis of in Port Harcourt, the Rivers State capital.
It was gathered that the clash involved the D12 and BS members of the Degbam cult group.
A source, who narrated the incident to The Tide Metro said gunfire was heard within Akwuzu Street in Mile One, as residents scampered into their houses.
"Suddenly, people started running in different directions. Then, I heard gunshots. I think they shot someone. The man the suspected cultists shot ran some distance and later fell down. The people that shot him entered their vehicle and zoomed off," the source who preferred anonymity added.
A member of a vigilante group, who spoke on condition of anonymity, told The Tide Metro that the suspected cultists were armed with dangerous weapons.
He described the attack as a reprisal, noting that the suspected cultists went in search of a rival group believed to be responsible for the killing of one of their members last week.
It was, however, learnt that some policemen from the Divisional Police Headquarters in Diobu went to the scene and reportedly evacuated the corpse of the slain suspected cultist.
Acting Police Public Relations Officer (PPRO) of the state police command, Grace Iringe-Koko confirmed the incident, saying investigation was on to apprehend the suspects.
She said, "Yes, we are aware of the incident. We are still investigating to apprehend the suspects and make them face justice."
Meanwhile, the police have arrested a notorious cultist who robs bolt drivers and club girls in Diobu area.
The Azikiwe Police Division at Iloabuchi, Mile 2 had on Wednesday arrested the suspect called Tallest who was linked to Dewell cult group at Azikiwe Street.
Tallest or Collins was said to be on police watch list for allegedly committing crime ranging from cultism, robbing of bolt drivers and club girls.
A combined team of security operatives led by Azikiwe Police Division, acting on credible intelligence stormed his hideout at the early hours of Wednesday and arrested him with three others.
The Tide Metro gathered that security operatives intensified search for the suspect after his gang members three weeks ago, in a bid to ensure his escape from security operatives who arrested him for robbery allegation in a brothel popularly known as 49 at Ojoto, Mile 2, attacked the security operatives with guns and other dangerous weapons which led to his escape.
A security source who spoke to The Tide Metro on anonymity disclosed that the suspect's modus operandi is to book taxi or bolt drivers and later takes his victims to ride around town on gun point, and dispossess them of their valuables.
The suspect, it was also learnt visits high profile clubs in Port Harcourt, where under the pretence of patronising female commercial sex workers lurking around clubs. Once his victim agrees on a price, he takes her to a secluded area and robs her of her valuables, after having rounds of sex with them without paying them.
When contacted on phone, State Police public Relations Officer, DSP, Grace Oringe Koko told The Tide Metro that she would get back to give more details of the incidence.
Tide Metro however learnt the suspect has been transferred from Azikiwe Police Station to the Force Tactical Police Unit for thorough investigations and possible prosecution.
PHALGA, OBALGA Battle Waste In PH
As the city of Port Harcourt and Obio/Akpor Local Government Area face waste management challenges, the Chairman of Obio/Akpor Council, Barrister George Ariolu is under serious pressure to curb the menace of poor waste disposal by residents.
Not fewer than 50 persons were arrested on Monday by the council authorities for violating the rules, place and timing for disposing waste. The Obio/Akpor Council Chairman said the action is to check the indiscriminate disposal of waste by residents.
The Obio/Akpor Local Government Council is currently facing huge challenge of prompt waste evacuation and many dumpsites are reeking with wastes in the past weeks.
The Tide Metro had during the week monitored situation in some parts of Port Harcourt and Obio/Akpor and from indications, Rumuolumeni and some parts of Rumueme are worst hit. As at yesterday, heavy duty trucks were seen around Rumuigbo, Rumuokwuta axis of the Port Harcourt metropolis clearing mountain of refuse along the road.
River State Governor, Chief Nyesom Wike had on April 29 directed council chairmen of PHALGA and OBALGA to take over the management of wastes in their domains. The state government had terminated the contracts of refuse providers and directed the Chairmen of Port Harcourt and Obio/Akpor to ensure the cleanliness of the environment was maintained.
A statement from the Governor's Special Adviser on Media said the termination of the contracts was because of the providers' inability to perform the duty in the cleaning of the environment.
Taking Copyright Campaign To PH Streets
The Nigerian Copyright Commission (NCC) last week took to the streets within Rumuola and Aba Road areas of Port Harcourt to enlighten the populace about issues on copyright.
The campaign which turned into a sensitisation programme was to mark the World Intellectual Property Day which is observed every 26th of April worldwide.
Staffers and officers of the NCC Zonal Office in Port Harcourt had to march to the streets to enlighten members of the public on the need to secure and utilise their creative works.
Rivers State Acting State Coordinator, Mr. Joseph Ojika said this year's theme, "Youth: Innovation For A Better Future" targets the youth.
He said, "Nigeria is fortunate to have a very talented, innovative and energetic youth population that has excelled in virtually all spheres of endeavours".
With many youths now into the music industry, Ojika said there is need to sensitise them to know how to reap from their talents, reasoning that it is not enough to record music and expect it to bring returns from the market and promotion.
Today, many youths have turned into millionaires as a result of sales and marketing of their recording talents.
Some of the youths include Rivers State-born, Burna Boy; Whizkid; Timaya; and Davido. Said Ojika, "These creative young persons are leaving their marks on international scene."
A recent global report shows Nigeria among the top five African countries having the most developed start up ecosystem while Lagos was named as the number one start up city in Africa.
Said he, "In order to help these young persons turn their raw talents to protected innovations and creativity, it is important that they understand the technology, the business and the legal framework, especially the benefits of the intellectual property system."
As far as he was concerned, youths must imbibe a culture of respect for the rights of others, use the IP system as a catalyst for growth and enforce their rights against predators.
It is against this backdrop that he said the campaign was being taken to the streets, as staffers of NCC were busy sharing handbills to passers-by.
The NCC state coordinator said once an individual is able to know his copyright, then, he or she can utilise his or her creative work to better the society.
So how can the youths tap from their creative works?
The NCC official explained to newsmen after the street procession that creative works cover all recorded works like audio, music, art works or drawings, patents, trademarks, books and any material made by any individual from his creative mind.
Failure to register such works and get a legal cover, Ojika explained makes the work vulnerable for someone else to use it to make money.
Few days before the copyright day, the NCC had in collaboration with the National Library commemorated the World Book Day.
The State Deputy Director of National Library, Mr. Kingsley Egbulonu harped on the need for authors to protect their works from piracy.
Egbulonu said books fall under intellectual property such that anybody caught pirating books that are legally covered is liable to face the law.
Asked what authors should do to protect their books from piracy, Egbulonu said, "Act 29 of 1970 of National Library law empowers authors to send at least three copies of their books. These books are called literary works and they include music, tables, charts, dramatic works, newspapers and periodicals."
The National Library official noted that once these copies are deposited, they are called legal deposits and they serve as records.
He added, "Legal deposits are only true copies to be admitted in law courts and such services are provided by the National Library."
Meanwhile, the NCC has taken its intellectual property campaign to schools and universities.
Against this backdrop, it developed a model IP policy for Nigerian universities such that students and researchers are put on sustainable use of intellectual property.
It is expected that with this innovation, youth creators that include musicians, authors and other innovators will exploit this opportunity to protect their works from being poached and pirated by those with criminal intention.