PH Residents Raise Alarm Over Scrap Dealers' Activities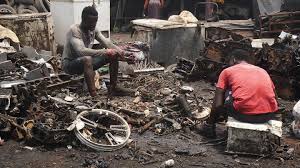 They are every where in the city, plying their trade in a measure that is almost indispensable, yet a nuisance. The residents depend on them for the disposal of their wastes but they also loathe the excesses of their prowling activities which the residents consider to be unnerving.
They are scavengers, scrap merchants and sanitation vendors, spectacular in the nooks and crannies of Port Harcourt and its environs where they scoop on refuse dumps, digging out their gold mine in a an insipid taste that defies the rules of decency.
They hang out in clusters, lining out their trucks as cherished possessions and tools of economic activities. They move around the neighborhood with their trucks filling them with both domestic and industrial wastes that are later filtered for their economic benefits.  the scrap collectors gather up their products from various parts of the city and store them at a depot where the scrap products are scaled and loaded in trailers for delivery at designated places. The scrap laden trailers are mostly escorted by heavily armed security   details. The scrap dealers smile to bank on the delivery of a week-long process of accumulation and assemblage of their products. The men espouse a strange sense of bond and fellowship. Their dump site also serves as their collective abode. Their manager, a middle aged man plays the role of a middle man between the scrap merchants and their patrons. After a successful delivery he withdraws money from the bank and pays them their individual charges.
The scrap dealers also have a notorious detail linked with their alleged criminal activities of carting away valuables of residents such as generator sets, stoves, electric irons, and other metallic products they come across. The residents abhor the excesses of their prowling activities but live by share adjustment to the situation as they depend on the scavengers for waste disposal. Some residents of Port Harcourt, who narrated their experiences to the Port Harcourt Metro, explained how they lost their belongings to the scavengers. Mrs Candy Ibifa, said, her electric stove and metal pots have been taken away on more than two occasions by the scavengers. " One bad thing about these people that move around with trucks is that they take away peoples belongings without permission. They have collected my electric stove and pots twice ".Another resident, Mr Gibson Kooh, said the prowling truck minders took away his generator set while roving around in search of scraps. "Most of these truck pushers are thieves, they took away my generator before I returned home from my shop. My neighbour also lost his generator to them, some times ago, this is very bad The residents called for more vigilance and security attention within the neighbourhood to check the activities of the truck pushers.
By: Taneh Beemene
NGO Leads Onslaught To Curb Violence Against Women
As the two week advocacy campaign against violence on women gathers momentum, a non-governmental organisation labeled Mother of Good Counsel Initiative (MOGCI ) has organised a stakeholders meeting to address the societal malaise.
It carried out sensitisation campaigns to churches, communities, women, and adolescent groups across the State.
At a workshop held in Port Harcourt, Executive Director of MOGCI, Dr. Doris Onyeneke while speaking on the topic, "The Role of Women in Eliminating Gender-Based Violence" regretted that women are both victims and perpetrators of gender-based violence.
Onyeneke submitted that violence against women goes against the fifth Sustainable Development Goals (SDGs), which harps on achieving gender equality and empowering all women and girls.
In her words, "These abuses most often result in death of the victim. It goes as far as denying her economic rights and most married women are denied employment due to their status."
She listed cultural , economic, and political factors, including war, and conflict as major causes of Gender-based violence.
For her, women are more susceptible and prone to gender-based violence and should speak out against factors that encourage gender-based violence, while recommending measures that will nip the malaise in the bud.
Similarly, Mrs. Victoria Ilochonwu while speaking on, "Empowering Women Through Family Planning: A Path to Gender Equality and Violence Prevention" identified challenges of women and girls while proferring that family planning can help curb gender-based violence.
She disclosed that one in every four girls gets pregnant before they turn 18, and that one in four girls drop out of secondary school and about 800 women and girls die from childbirth every day.
She enumerated the benefits of family planning in checking gender-based violence as it enhances child and maternal health, while helping the women to have control over their bodies and the ability to pursue their career.
She stressed the need for men to be incorporated in any family planning, to avert violence and physical abuse in the home.
Another speaker, Miss Sarah Iroha on the topic, "Gender mainstreaming," stressed need for public policy to incorporate legislations and programmes that will empower women.
She argued that projects and programmes are key mechanisms that will enhance mainstreaming of women in the polity.
For her, goal setting goals prioritisation, engagement of women and men, empowering mothers, stopping child marriage, and getting women into political offices are ways to engender gender equality.
On her part, Mrs Michael Peace spoke on "Ways to Mitigate The Impact of Sexual and Domestic Violence Against Women," and sought more increase in funding to end violence against women and girls through economic empowerment.
Mrs Uzoechi Stella Onyinyechi in her paper, "Putting Gender on The Agenda And the Examination Of Practices That Violate The Rights of Women In Nigeria," stressed that over the years, most societal anomalies the women face in Nigeria had been seen as normal even though it was bad.
The origin of some of these practices and the effects she explained have been overlooked, and as such have become traditions, while most of them are everyday experiences they encounter simply as being "feminine" in nature and therefore, appear helpless when they experience such.
The event included road shows, visits and workshop and paper presentation on burning issues relating to girls and women rights.
Stories by Kevin Nengia
300 Women Get ICT Training In PH
A non-governmental body, Stakeholder Democracy Network (SDN) has graduated about 300 young ladies in information technology.
The programme which held in Port Harcourt yesterday was held in partnership with the European Union (EU), and is aimed at empowering women in the use of ICT to leverage and improve their businesses.
Programme Coordinator of the scheme, Ifeoma Ndekwu told The Tide Metro that the training was formulated to arm young and enterprising ladies in the Niger Delta to improve on their skills as a way to improve their well being.
Participants were drawn from all over the state and included people with physical challenges as it lasted for three months.
The trainees underwent training on Coding, Computer Appreciation, Graphics and Affiliate Marketing, according to Ndekwu and those who did exceptionally well were employed by top ICT and mobile network firms in the region.
A trainee, Elizabeth Topeh told The Tide Metro that she was fulfilled after three months intense training" I feel excited and appreciate SDN for what they have done for us."
Topeh underwent tutoring on computer appreciation and assured of utilising her new skill to improve her network.
The same view was expressed by Merit Onoge, who participated through a virtual class.
Onoge said the class was flexible and allowed her to do other things. She left graphics, adding that, " I intend to improve my profile on LinkedIn and display my work to get jobs."
One of the trainers and mentor for the graduands,Gloria Ojukwu of Tech Trail urged the beneficiaries to utilise the skills they have acquired.
She said," In the tech world, opportunities abound but they continue to change and so you must be able to upgrade."
Stressing the need for the trainees to be patient and consistent, Ojukwu recalled that she broke through after four years in the industry," so I will urge you to be constantly motivated. You need to have patience."
On her part, Boma Dave Bave challenged the beneficiaries to exploit their skills through many avenues," you can succeed in the comfort of your homes," she said, "ICT is something you can do anywhere and if I can make it, then, you can also make it."
Also speaking, South South Coordinator of National Information Technology Development Agency(NITDA), Samuel Gambo said he was happy that women have begun to see opportunities in ICT.
He stated that over the years, computer technology has evolved and that this sixth generation is driving the world such that almost all businesses are attached to information technology.
Gambo averred that the training will reduce the gender gap in ICT since men dominate the industry over the years.
The programme which was started in 2017 has been one top empowerment scheme for SDN.
With over 3,000 trained so far, Ndekwu said the body had to change its target sometime after the COVID-19 in 2020, as the use of ICT increased.
This year was targetted for 1500 women, but about 300 participated, Ndekwu disclosed, insisting that," our expectation is to see women basically improve in their businesses."
Omoku Agog As Monarch Honours 29 Nigerians
Eze Ogba of Ogbaland, His Eminence Nwachukwu Nnam – Obuohna – Obi II has honoured 29 eminent Nigerians with chieftaincy titles and family chiefs in the area.
The conferment was done at the 2023 Nchaka festival among Ogba people.
The 2023 Nchaka festival which is marked annually among Ogba people also witnessed coronation of some family chiefs, and conferment of chieftaincy titles to Nigerians including leaders of the major ethnic groups residing at Omoku, aimed at promoting peace, oneness and development of Ogbaland.
The event witnessed supporters imcluding various cultural groups with their musical dance steps which were not left out as they kept all segments of the occasion lively.
The jubilant crowd of supporters could not hide their joy as they danced to the admiration of the people, while Oba of Ogbaland, Nnam – Obuohna – Obi 11 urged the newly recognised chiefs to uphold their culture and promote peace ,unity and progress of Ogbaland.
In their separate speeches, HRH Eze Enoch Achomikwu, Paramount Ruler of Ebogoro community expressed gratitude to God for making the day a dream come true, saying he is glad for being honoured by the Oba and his people, urging his subjects to embrace peace.
Eze Eluozo Vincent Eboh Ochi- Ohna Obieti 11 said he will support the Oba to protect the cultural values bequeated to them by their forebears
HRH Igwe Kingsley Amaechi, Ogena Otanima III of Ogbaland ( the King of Igoro group of families, on his part pledged to work together with everyone in truth to resolve disputes and foster unity through constant update of happenings in the domain.
Eze Henry Onyedibia promised to assist the Oba to sustain existing peace . Eze Henry assured that as an academia, he will bring his wealth of experience to bear in promoting peace, prosperity and development of Ogbaland.
He urged youths to shun cultism, anti-social behaviour as Ogba nation can only move forward if what is right is done.
Eze Christian Obi – Ochi – Ohna 1 of Ogugban community expressed aappreciation for the recognition done him by the monarch.
He described Ogba people as peace-loving and recognising those who merit it ,saying peace of Ogba is paramount, hence, working together to achieve it.
Eze Emmanuel Orike , Ochi-Ohna Ogbio OgoroOhna I of Ogbaland described the honour as the work of God and assured of his readiness to contribute to the cultural norms of his people and to assist in alleviating poverty in his community.
Prince Okechukwu Agbadugba – Omuosia in Obioho community Ogbaokata gave thanks to God.
He hinted that he will work in accordance with the Ogba-in-council to promote peace and progress of his people.
Eze Hector Woko said he is overjoyed with the honour while expressing happiness, as his dream has finally come to pass, and expressed his readiness to serve humanity based on the mandate given him, and to promised make a difference by improving lives.
Eze Ben Edoso – Odori of Ogbaland described it as a call to service, urging them to work in ensuring peace of the land , as it ushers the best especially this festive season where the people understand the timing.