They've Tried To Woo Me Out Of PDP But I Said No -Wike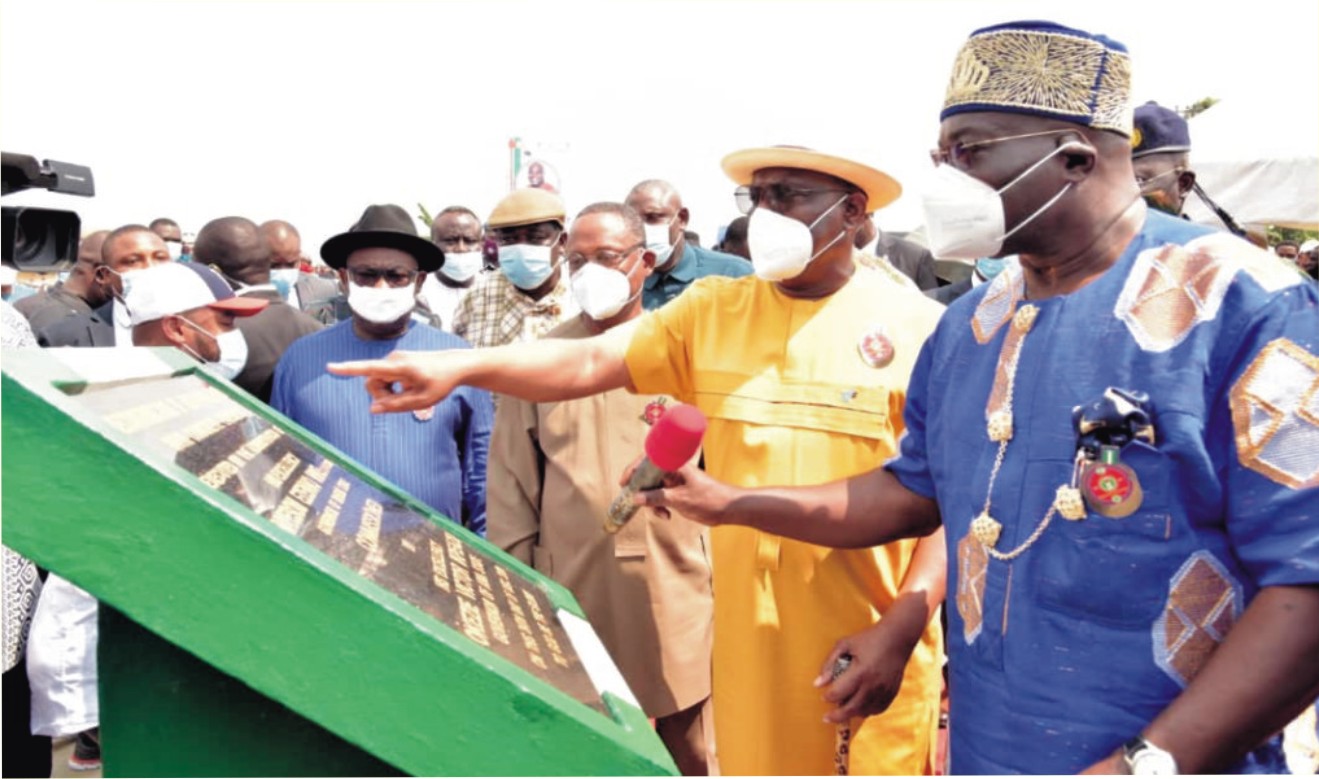 The Rivers State Governor, Chief Nyesom Wike says several appeals have been made to him from some quarters to abandon the Peoples Democratic Party (PDP) but he had turned them down because he was a man of character.
The governor made the revelation at the inauguration of Chief Orabule Adiele Road, formerly known as Aker Base Road, by the Abia State Governor, Dr Okezie Ikpeazu, yesterday, in Rumuolumeni community of Obio/Akpor Local Government Area of Rivers State.
Wike said, it was unimaginable to think that he would quit a party that continues to hold the promise of good leadership for the country, and remains the only hope for Nigerians who were also waiting to vote it into power in 2023.
The governor stated that the reason why he has refused to be quiet over the wrongs and inabilities of the ruling APC was because of the need to strengthen the confidence of Nigerians in the Peoples Democratic Party (PDP).
"PDP is a party that Nigerians want. No matter all the intimidation, it will not work. We are men of character. When we say something, we stand by whatever we have said, not for pecuniary interest.
"If I was that kind of governor, I know how many times people have tried to woo us, we said no. We cannot be wooed. We are here. We started with PDP, and will end up with PDP.
"We have no other political party to join because the fate of this country, the hope of Nigerians, solely depends on our party. That is why when we talk about our party, we are not talking about any selfish interest. But it is to continue to give Nigerians that hope that Nigeria is waiting for.
"So, when there is any mistake, we shout out. Everybody is hoping that in 2023, PDP should take over the realms of power in this country. Rivers State is already secured for PDP", Wike assured.
The governor berated the National Secretary of the Caretaker Committee of the All Progressives Congress (APC), Senator James Akpanudoedehe, who he described as "a political harlot, and lacks the character to talk about national issues without subjecting it to pecuniary interests.
"The National Secretary of the Caretaker Committee of All Progressives Congress (APC) said I am playing to the gallery, and that I am economical with the truth. That, after all, Federal Government has been fighting insecurity, and that they gave us bail-out money.
"Bail-out money is not free money. We are paying back the money. But even if they gave us free money, does it mean that if anything is going wrong, I shouldn't talk?
"We agree that there's a problem in the country. Even the governors agree that they are faced with security challenges. Yes, you're overwhelmed with security challenges but whose responsibility is it to fix the security in this country?
"The national secretary of APC has been a life-time governorship aspirant. He has no character; yesterday, he was Tinubu, today, he is with Minister of Transportation because he wants to be governor.
"Such characters cannot talk to people like us because we have character. A man without character does not have what it takes. You cannot jump from one place to another simply because you want to be governor by all means.
"Ask him, where did he vote in 2019? He voted for PDP! Let him keep his mouth shut before I will tell APC what he did. People like that shouldn't talk to us."
Speaking further, Wike renamed the Aker Base Road as Chief Orabule Adiele Road in honour of an illustrious son of Rumuolumeni community, and said he would continue to develop infrastructure in the area because of the people's support to his administration.
Wike also announced that the Nkpor-Mgbuosimini Road has been rewarded to Lubrick Construction Company, adding that work would commence in 2021.
In inaugurating the road, Abia State Governor, Dr Okezie Ikpeazu, described Wike as "a brand, an icon, and symbol of everything good and a blessing to Nigeria".
He said using concrete pavements in road construction was with the understanding that it was the best for the topography and designed to last, and urged the people to utilise the road with good care.
In his remarks, Rivers State Commissioner for Works, Hon. Eloka Tasie-Amadi said the poor state of the road impeded movement and frustrated commerce but respite has come to both residents and companies that operate in the area.
We're Determined To Achieve Rivers Of Our Dreams -Fubara …Tasks Rivers People On Peaceful, Harmonious Relationship
Rivers State Governor, Sir Siminalayi Fubara, says his administration is determined to enthrone an enviable Rivers that satisfies the dreams and aspirations of all residents.
To achieve the feat, Fubara charged all residents to embrace peace, exhibit mutual harmony among themselves and meaningfully contribute their quota to achieve designated developmental activities that will eventually benefit the State.
The governor stated this at the funeral service in honour of late King Theophilus J.T. Princewill, Amachree XI, the Amanyanabo and Natural Ruler of the Kalabari Kingdom, which was held at the King Amachree Square in Buguma Town, Asari Toru Local Government Area, yesterday.
A statement by the governor's Senior Special Assistant on Media, Boniface Onyedi, quoted Fubara as saying, "We are in a difficult period but just be peaceful. We cannot achieve progress in an environment of violence. We cannot grow our State to the level of our aspirations when there is trouble."
"We can only advance to our dream State in a peaceful environment. I urge every one of you to be peaceful. Peace is the only instrument that can bring development,"
The governor applauded the level of cooperation seen between the bereaved family and the entire Kalabari people through the various stages of preparations leading to the eventual burial of their late king to the disappointment of those who had predicted crisis.
He urged the Kalabari people to continue to live in peace even after the burial of their late king, adding that nobody in the State should lose hope because his administration is committed not to disappoint, regarding all their expectations.
In his sermon, the intercontinental Youth Pastor of the Redeemed Christian Church of God, Pastor Belemina Obunge, who represented the General Overseer of the Church, Pastor Enoch Adeboye, preached on the topic: "Don't wait until you're late", harped on the need for people to seek God fervently, serve him truthfully while also living peaceably with neighbours in their various community.
Senate Leader Faults N9.9trn Recurrent Expenditure In 2024 Budget Proposal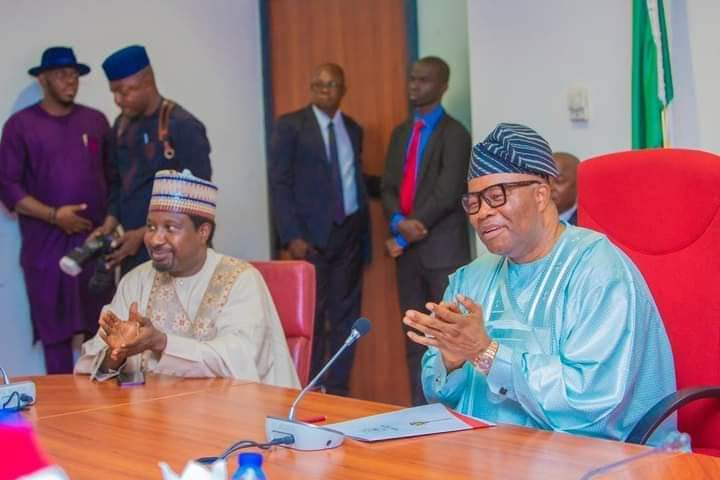 Senate Leader, Bamidele Opeyemi, says the N9.9 trillion recurrent expenditure in the N27.5 trillion 2024 budget proposal is too high, as it constitutes 43 per cent of the budget.
Opeyemi said this at the opening of debate on general principles of the budget at plenary in Abuja, yesterday.
He said that the total fiscal operations of the Federal Government would result in N9.8 trillion deficit, representing 3.88 per cent of estimated GDP, saying that this was above the three per cent threshold set by the Fiscal Responsibility Act, 2007.
Opeyemi listed highlights of the budget to include oil price benchmark of 77.96 dollars per barrel and daily oil production estimate of 1.78 million barrels of condensates of 300,000 to 400,000 barrels per day and exchange rate of N750 to dollar.
He said based on the fiscal assumptions and parameters, total federally-collectible revenue was N16.87 trillion in the budget, while total federally distributable revenue was N11.09 trillion
Opeyemi said total revenue available to fund the 2024 budget was N9.73 trillion, which included revenues from 63 government-owned enterprises, while oil revenue was projected at N1.92 trillion, with non-oil taxes at N2.43 trillion among others.
He said to finance the deficit would result in new borrowings totaling N7.83 trillion in addition to N294.49 billion expected from privatisation.
He said the deficit would also be financed from N1.06 trillion drawn from bilateral, multilateral loans secured for specific development projects programmes.
He, however, said there was a growing concern over continued borrowing, but the administration resorted to it to finance fiscal gaps.
"But let me state here that the debt level of the federal government is still within sustainable limits.
"Very importantly, these loans are used to finance critical development projects and programmes aimed at improving our economic environment and ensuring effective delivery of public services to our people," he said.
Contributing, Sen.Osita Ngwu (PDP-Enugu)said President Bola Tinubu had fulfilled his promises by capturing food security, poverty allivation in the budget.
He said there was need to ensure a review of Petroleum Industry Act(PIA) to ensure the continuous ramp up of oil production to fund the deficit in the budget.
Senators, who contributed to the debate, commended the President for the budget, saying it was a budget of renewed hope.
NDDC Laments Unpaid N2trn Allocation
The Managing Director of the Niger Delta Development Commission (NDDC), Sam Ogbuku, on Wednesday, said the interventionist agency is being owed remittances totalling over N2trillion by the Federal Government.
Ogbuku disclosed this when he appeared before the House of Representatives' Committee on NDDC, chaired by Ibori-Suenu Erhiatake.
According to him, the amount is the accumulation of 15 per cent of the allocation of the nine states that make up the region, due to the commission since 2000.
He noted that in spite of the passage of the agency's annual budget in 2021, 2022 and 2023; the funds were yet to be remitted.
"I want to raise an important issue. When we talk about funding, the NDDC Act says the monthly allocation from the Federal Government is 15 per cent of the allocation of nine states of the Niger Delta. But I can assure you that since the inception of the NDDC, it has not got that.
"The Federal Government only budgets what it wants to give to the NDDC for that year and they give it that year. If you look at the 15 per cent, we are not getting it. Even with the removal of fuel subsidy and with the increment of state allocation, the NDDC is still where it is. So, these are issues we want you to help us resolve and we have done our calculation that from 2000 to date we can say we are being owed over N2trn from what is supposed to be due NDDC.
"We also came in at a point when the NDDC never had a budget for 2021, 2022 and 2023. These budgets were before the National Assembly and we had to fast-track the passage of those budgets and those budgets were eventually passed in April this year. However, since the budget was passed, it has not been handed over to us up till now. We pray and plead with you to ensure that as fast as possible, you also facilitate the process for us to have the budget because the budget year is already coming to an end," he said.
In his own contribution, the Chairman of the NDDC Board, Chiedu Ebie, said the board would work together to reposition the commission in the interest of the oil-producing states and Nigeria at large.
Responding, Erhiatake said issues raised by the agency would be addressed in no distant time.
"It is very important we create a platform for synergy in the implementation of these policies and programmes for the general benefit of Nigerians and especially the people of the Niger Delta. I assure you that this committee is willing and ready to partner with you to make sure that the dividends of democracy are brought to the region and the narratives that had been set by the previous board are changed for the better."
Meanwhile, the Independent Corrupt Practices and Other Related Offences Commission (ICPC) has advised officials of the NDDC to be abreast of anti-graft laws so as not to step out of line.
The ICPC Zonal Commissioner for Rivers and Bayelsa states, Mrs. Ekere Usiere, gave the advice during a sensitisation programme organised by the NDDC at its headquarters in Port Harcourt.
A statement on Wednesday by the Director, Corporate Affairs of the NDDC, Pius Ughakpoteni, said Usiere spoke on the topic: "Understanding the Offences and Penalties Under the ICPC Act 2000."
It also quoted the Head, Legal Department of ICPC in Rivers State, Dr Agada Akogwu, as saying, "Every public servant should take the ICPC Act as a Bible and internalise all its tenets. That is why the NDDC deserves commendation for organising a sensitization programme for its staff."