Group Okays Military Occupation Of Oyigbo
The Ogbakor Oyigbo is pleased with the military occupation of Oyigbo Local Government Area of Rivers State even after the relaxation of the curfew occasioned by the #EndSARS protests that greeted the area and parts of the country recently.
This was part of the decisions reached by the Oyigbo people (Umualeke Na Umusia) during a public gathering on Wednesday in the area.
The group who spoke through its Traditional Prime Minister, High Chief Louis Okorie and Chairman, Chief Akobundu Nwogu, said that they were ready to assist the Rivers State Government and Military secure a permanent military base in the Area.
Their suggestion, they said, there was based on ugly experience during the #EndSARS protest in order to prevent similar occurrence in the future.
According to them, the idea was to ensure that the area remained peaceful in order to promote its budding economic and commercial activities.
They also explained that the continued stay of the military, would discourage some suspected members of the proscribed Indigenous People of Biafra (IBOP), from carrying out further attacks on the people of Oyigbo.
They maintained that the large scale violence in the area during the protest was executed by IPOB members and lauded Governor Nyesom Wike for the proscription of the group's activities in the state.
They further blasted those who address them as Obigbo instead of Oyigbo, and added that the correction must be taken seriously by all.
"Oyigbo and has taken certain steps to ensure Oyigbo remains peaceful and habitable. One of such moves is that Oyigbo remains Oyigbo and not Obigbo", they stressed.
Meanwhile, they have urged the government not withdraw the military from the area until total peace and tranquility return to the place.
By: King Onunwor.
Group Partners RIVSACA On Healthcare Improvement
A Non-Governmental Organisation ( NGO) in Rivers State, Association of Civil Society on Malaria Control Immunization and Nutrition (ACOMIN) is seeking the support of Rivers State Agency for the Control of AIDS (RIVSACA) with a view to enhancing access to quality health care by the citizenry.
State Programme Officer of ACOMIN, Mrs MaryJane Akwaka, who said this in an interview with The Tide after an advocacy visit to the RIVSACA office in Port Harcourt, said the move was to strengthen the healthcare system, especially in the light of the effects of COVID-19.
"We are here at RIVSCA to seek support for our project, COVID-19 response mechanism and resilience for sustainable system.
"We are looking at strengthening the health care facilities in the state in order to provide adequate healthcare service to the community people.
Akwaka said the project is being carried out in five Local Government Areas, which are Port Harcourt, Obio/Akpor, Eleme and Khana and Tai.
According to her, the focus of ACOMIN at the moment is to identify available health facilities at the community and local government levels.
"Our community-led monitoring team had actually taken off", she said, stressing that "some of the identifiable gaps observed including shortage of medical officers at the health care and lack of desks".
"We are looking at insufficient staff at the primary health care centers such that there are not enough of them to attend to patients when they come", she said.
Akwaka said ACOMIN is mobilizing all stakeholders to look into filling these gaps that were identified.
Also speaking, the Administrative Officer of the Rivers State Action Committee on AIDS, Mr Damiete Ben Sam Orugbani, said the groups are ready to work with any other group in the areas of reducing HIV/AIDS prevalence in the State.
He commended Mrs. Akwaka for her effort and stressed the need for more awareness on the need for people to access health facilities in their domain.
By: John Bibor & Adigun Oreoluwa
God Has Not Forsaken Nigeria -Bishop Ordu
The Anglican Bishop of the Diocese of Evo, Rt. Rev. Innocent Uchechukwu Ordu, says that God has not forsaken Nigeria in spite of various challenges facing the country.
He stated this during the 2022 edition of the Diocese of Evo's Praise and Prayer programme which was held at St. Jude's Anglican Church, Oginigba Deanery to mark Nigeria's 62nd Independence Anniversary.
"He has not forsaken us. He is set to redeem our nation. Nations and states are established by God for good ends, not for our destruction", he said.
With reference to Psalm 33:12, Bishop Ordu made it clear that a nation is only blessed when the leaders and citizens choose to make the Lord their God and serve Him.
He urged all Christians, especially Diocese of Evo's faithful to pray fervently for God's intervention in the 2023 general elections to produce a set of leaders that would make Nigeria a greater country.
The preacher, Rev. Canon Hosanna Naenwi spoke on 'Nigeria as a blessed nation,' from Psalm 33:10-12.
He said just like Israel, Nigeria is blessed; but Nigerians must serve the Lord obediently, be involved in the running of the nation as Christians and take a stand against evil.
Several praise and worship sessions were led by various music maestros and the St Jude's band while prayer sessions were led by various priests.
The event, which was moderated by Rev. Canon Ozioma Iheanetu ended with the singing of Nigeria's National Anthem.
Foundation Trains 350 Rivers Youths On Specialised Skills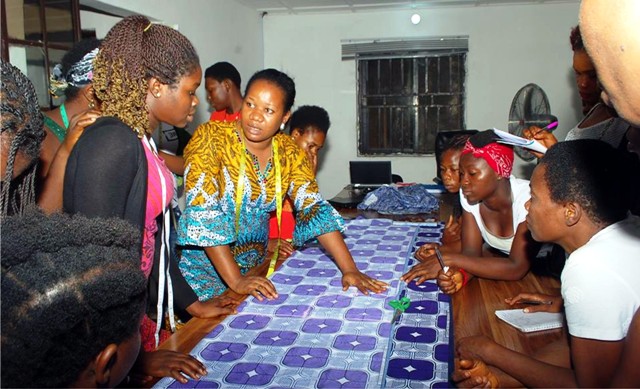 The Tonto Dikeh Foundation (TDF) has commenced training for 350 unemployed youths in Rivers State on vocational and specialised skills, to enable them open businesses and employ others.
Ms Tonto Dikeh, Founder of TDF and 2023 Rivers Deputy Gubernatorial Candidate of the African Democratic Party (ADC), flagged off the three-week training programme in Port Harcourt.
She said it targeted to provide vocational skills and empowerment to the beneficiaries in catering, culinary, fashion and design, baking, make up, interior decoration, air conditioner and satellite (dish) installations, among others.
"We have also included coding as we want people to learn how to code (applications) and become players in the Information Technology marketplace.
"We want to empower as many youths as possible with skills to enable them to earn a living, support their families, and create employment for others," she said.
She expressed optimism that the training with the theme, "Free Direct Aid Empowerment Programme for Rivers State," would generate many indirect jobs in the state.
Dike said she decided to give back to the people at a time most Nigerians, particularly the youths, were experiencing hardship due to the downturn of the nation's economy.
According to her, the economic downturn and high inflation have made many youths take to crime for their survival.
"So, when there is no employment, that is when you have increased armed robbery, violent crimes, insecurity, among other crimes and criminalities.
"At presently, every youth is now looking for a legal avenue to become more productive. Nobody wants to be a liability anymore.
"This programme seeks to give youths some sense of belonging through their acquisition of skills, to enable them to fend for themselves and become employers of labour," she added.
The Nollywood actress said at the end of the training the best five trainees from each vocation would be supported by the foundation to start their own businesses.
She said the foundation was also planning to organise another vocational training on technology related skills, featuring instructors from South Africa and the United States.
Speaking, the Paramount Ruler of Rumuagholu Community in Obio/Akpor Local Government Area, Eze Samuel Nyegwa, commended her for empowering youths from the area.
He said that people were proud of Dikeh for her several contributions to the state, describing her as an illustrious daughter of Rivers.
One of the beneficiaries, Joyce Amadi, said she was delighted to have the opportunity to acquire a skill in fashion and design for free.
Amadi said she had always wanted to learn the skill but had been unable to do so, due to the exorbitant fees charged by fashion houses in Port Harcourt.
"So, I thank Tonto Dike for giving me this opportunity to realise my dream of becoming a fashion designer and make a living from it," she said.