#EndSARS: Social Action Seeks Constitutional Reforms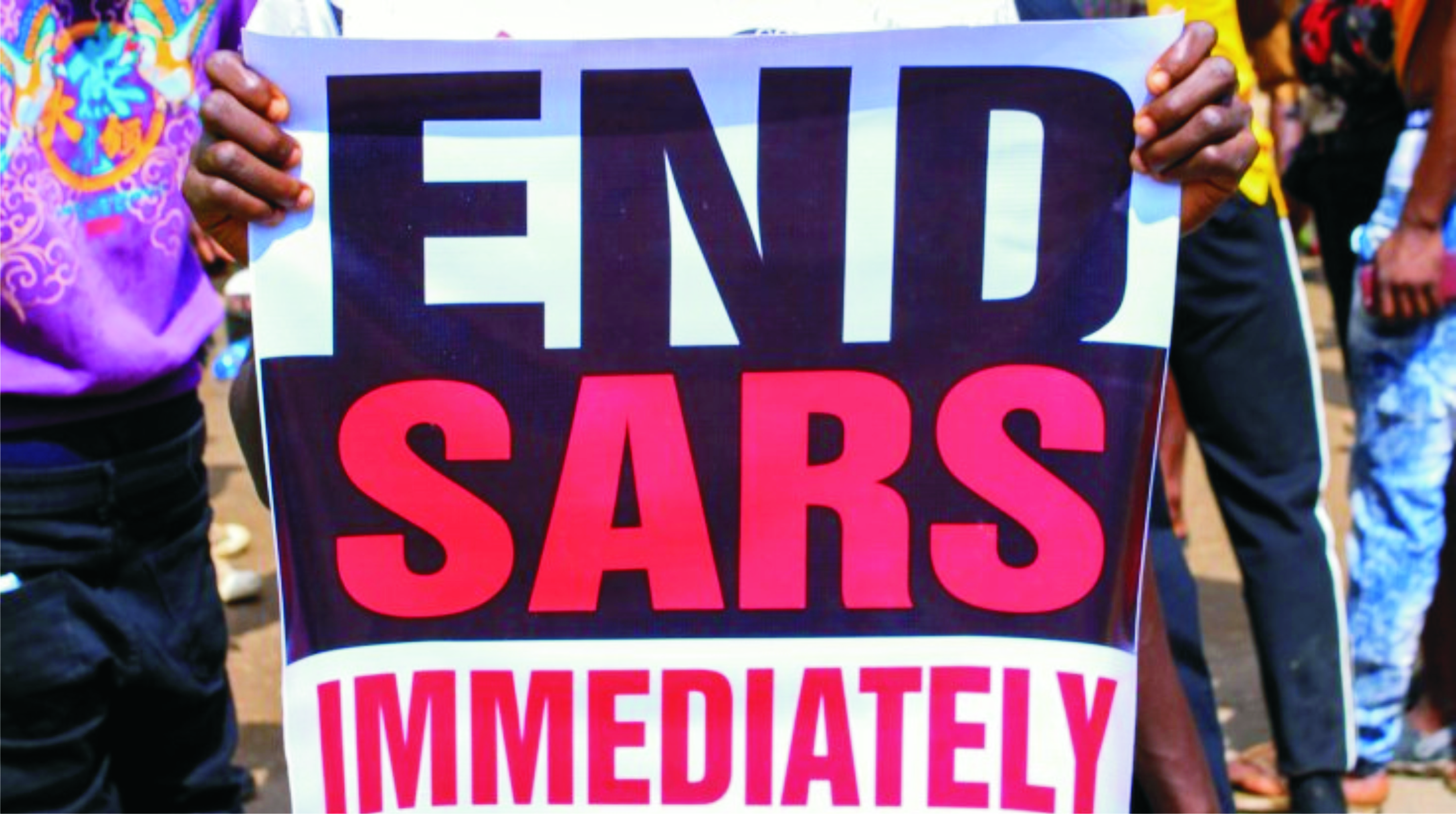 A non-governmental group, Social Action has advocated constitutional reforms that will cover restructuring and resource control.
In a statement made available to The Tide by its Communications and Advocacy Manager, Lilian Akhigbe, it condemned the use of force against protesters and other forms of repressions against the populace.
It declared that, "The peaceful clamour for police reforms, as well as electoral , constitutional review, restructuring, resource control, the passage of the PIB into law, and other legitimate demands of the people, must never be misconstrued by the government or any segment of the society as an attempt to subvert the government or truncate the present political system".
The body also condemned the deliberate use of the term "subversive" by the Federal Government in relation to young Nigerians whose #EndSARS street marches and sit-ins have been widely acclaimed to be peaceful and well-organised across the country, until it was hijacked by sponsored hoodlums.
It said, "we deem it highly condemnable for the government to regard peaceful protesters as subversives, as such a perception is capable of reinforcing the mistrust between the government and the citizens. In a democratic system of government where citizens have a constitutionally-guaranteed right to peaceful assembly and freedom of expression, such citizens and their supporters must never be treated as subversive elements when there is no evidence suggesting that the genuine, peaceful protesters had any intention to subvert or undermine the government in power. "
It urged government against actions that will threaten the freedom of the citizens and make legitimate demands to hold the government accountable.
In their words, "Government ought to encourage these young, patriotic Nigerians to engage in socio-political dialogues that could effectuate more citizens' participation in governance".
Adding that, "We strongly condemn the use of excessive force by some security operatives on peaceful protesters, in an attempt to quell the peaceful protests in several states across the country. This has led to the death of several persons, with some sustaining gunshot wounds; a situation that could have been averted with more proactive and suitable measures. "
Insisting that adherence to democratic norms is a responsibility of both the government and the governed, the body stressed that the rule of law allows all citizens of Nigeria to engage in political dialogue in order to demand for broader reforms in the governance of the country through extensive civic engagements.
The body urged that members of the society must be allowed the freedom to communicate their grievances to the government and influence public policies and programmes without delay, in order to prevent an escalation into violence.
Council Boss Vows To Uphold Oath Of Office
The Chairman of Ikwerre Local Government Council (LGA) of Rivers State, Engr Samuel Nwanosike, has said he and his team of executive believe in the oath of office they took in delivering dividends of democracy to the people.
Nwanosike, who stated this last Tuesday, at Ward 1, Isiokpo, when he financially empowered 50 people to go back to farm, 20 people to go back to school, and 10 people to start up small scale businesses, said his administration believes in the oath of office after being re-elected.
He assured the people of his administration's determination to continue what he called the good work of his administration in the local government, saying that "because I took Oath of Office to protect lives and property of the people of the local Government, stand on that oath.
Nothing, no political party, no friends and well wishers would make me to derail from making sure that that oath is upheld".
The chairman noted that the empowerment programme was aimed at giving back to the people in order to continue their farm works, go back to school and establish small scale businesses.
"We are here today to give back to our people because, as Ikwerre people, we are traditionally farmers. We are not in mechanised agriculture yet, but we have a culture and tradition and a custom in which a lot of our dignitaries and big men have been trained, which is peasant agriculture.
"That's what we have been doing as a people. Before Mr President will bring his tractors and the seedlings from IITA and other mechanised equipment, let's continue what has been keeping us alive by assisting our people to do the peasant farming they are used to and make life easy for them.
"We are here to say that despite the going back to farm programme, we are also going back to school, because a community that has abandoned there people from education has created room for crisis.
"So, we are saying because we have fought insecurity in Ikwerre Local Government, Isiokpo in particular, we must send our people back to school.
"The Councillors and F & GPC have also approved that we should send Ikwerre people back to school. That is why you can see that Ikwerre people came out in their numbers, those that will be writing JAMB and those that will also be writing WAEC in different schools.
"Whether they attended those schools or not, we have made arrangements for the principals of those schools to give our people opportunity to write JAMB and WAEC", he said.
Nwanosike also disclosed that his administration is supporting the people to improve in their businesses with "little capital".
The Council boss charged the beneficiaries to utilise what has been given to them, stressing that no government in the world can provide all the people's need at once.
"To those who were not part of the beneficiaries now, we encourage them to wait for next turn of the empowerment programme.
"Despite the infrastructural development we have done in the 13 Wards and in the Local Government Headquarters, we also believe that we need to impact in our people", he noted.
While revealing that his administration has successfully destroyed 284 illegal refineries in Ogbodo Community of Isiokpo, and ensuring at oil bunkery become a thing of the past in Ikwerre LGA due to the war declared by the State Governor on illegal refinery, Nwanosike beseeched the member representing Ikwerre/Emuoha at the National Assembly, Hon Barr Boniface Sunday Emerengwa, to take the gospel back to Abuja.
By: Ike Wigodo
NYCN Begs Wike To Fulfill 5,000 Youths Employment
The National Youth Council of Nigeria has appealed to Governor Nyesom Wike to fulfill his promise to employ 5,000 youths to fill vacant positions in the state civil service.
The chairman of the National Youth Council of Nigeria (NYCN),Chijioke Ihunwo made the appeal at a media conference as part of activities lined up to mark this year's International Youth Day.
Ihunwo, while commending Governor Wike for his investment in infrastructure, said there is a need for him to shift gear and pay attention to social welfare and economic empowerment.
Speaking ahead of the 2023 general elections, the chairman of the National Youth Council of Nigeria advised youths to go about the electioneering processes peacefully and shun violence and thuggery.
He also urged Governor Wike to give more youths the opportunity to serve.
By: Ike Wigodo
2023: Olumba Urges Religious Leaders To Pray, Fast
The Personal Assistant to His Holiness, Olumba Olumba Obu, of Brotherhood Of the Cross And Star (B.C.S), Brother Namnso Etukudoh, has urged religious leaders and churches in Nigeria to fast and pray as election period approaches in the country.
Speaking in Port Harcourt, Rivers State capital, Brother Etukudo said regular prayer and fasting has become necessary, particularly now that the nation is about to withness a transition to another civilian government.
Noting that he has continued to pray and fast for the nation, he urged other religious bodies to do so.
While making reference to Brotherhood's Thursday Weekly fasting and prayers, he said "years back The Holy Father, Leader Olumba Olumba Obu, had used a certain group of priest known as 'The 144s' to ensure that weekly fasting and prayers in the church is not neglected".
Etukudoh said fasting and prayer is also being held for those in Leadership positions at the local governments,, states, nations and the world at Large, adding that such prayers was not only for the kingdom, but a day in which members pray and fast for leaders and the whole world.
He explained that Brotherhood has always been ahead, "because in brotherhood, we believe so much in prayer and fasting".
The cleric stated that it is imperative that outside the usual church events, "those with spiritual insights must always go on their knees to pray and fast for God to direct our leaders, because, most of our leaders hardly have the time to pray.
"You see, believers must seek God's face if we want the right leaders, because failure to seek divine direction from the Holy Father and think we can do it ourselves means we would still be in what is happening across the nations and the world", he said.
On why B.C.S has not spoken for all this while, Brother Etukudo said, "if you are abreast with the doctrine of our Holy Father, you will find out that The Holy Father Leader, Olumba Olumba Obu, believes in talking less and doing more, because when people try to talk, one could talk out of God's divine direction, and you know the consequences".
He further explained that it is a serious issue for word to come out of religious circle without manifestation, "especially in the likes of Leader Olumba Olumba, whose words are always authentic", noting that "such spirit of talking any how is not of Brotherhood."
Etukudo continued that there is need for every Nigerian to remain consistent in prayer and fasting, noting that this is the only weapon to forestall some of the challenges facing the nation.
"Outside prayer and fasting, we would then be going for load bigger than us. Nigerians must not fail to exercise their franchise peacefully during election to elect the kind of leaders that they want", he emphasized.
On the Muslim/Muslim ticket,the B.C.S priest siad he wouldn't speak much on that because he doesn't know the will of God for the nation, adding that in fairness, he thinks that in the presence of God, he believes that there is nothing like Muslim, Pagan or otherwise.
"I wouldn't like to talk more on this issue, because in the sight of God, there is no Muslim or Christian or pagan, but it is those that does His will", Brother Etukudo explained.
He insisted that in the presence of God righteousness prevails and not the other way round, but disclosed that in a rational way of thinking as human, he believes that things should be done harmoniously for peace to prevail.
"By rational thinking, the right thing should be done to avert provoking the thought and wishes of other humans", he stated.
The priest, however, counseled Nigerias never to lose faith for a second in God because of His love for the nation, adding that "in the face of all challenges in our country, one can still look back that truly God really loves our nation".
By: John Bibor & Oribim Ibama