Activist Sues Yesufu, Adeyemi, Davido, Others Over #EndSARS Protests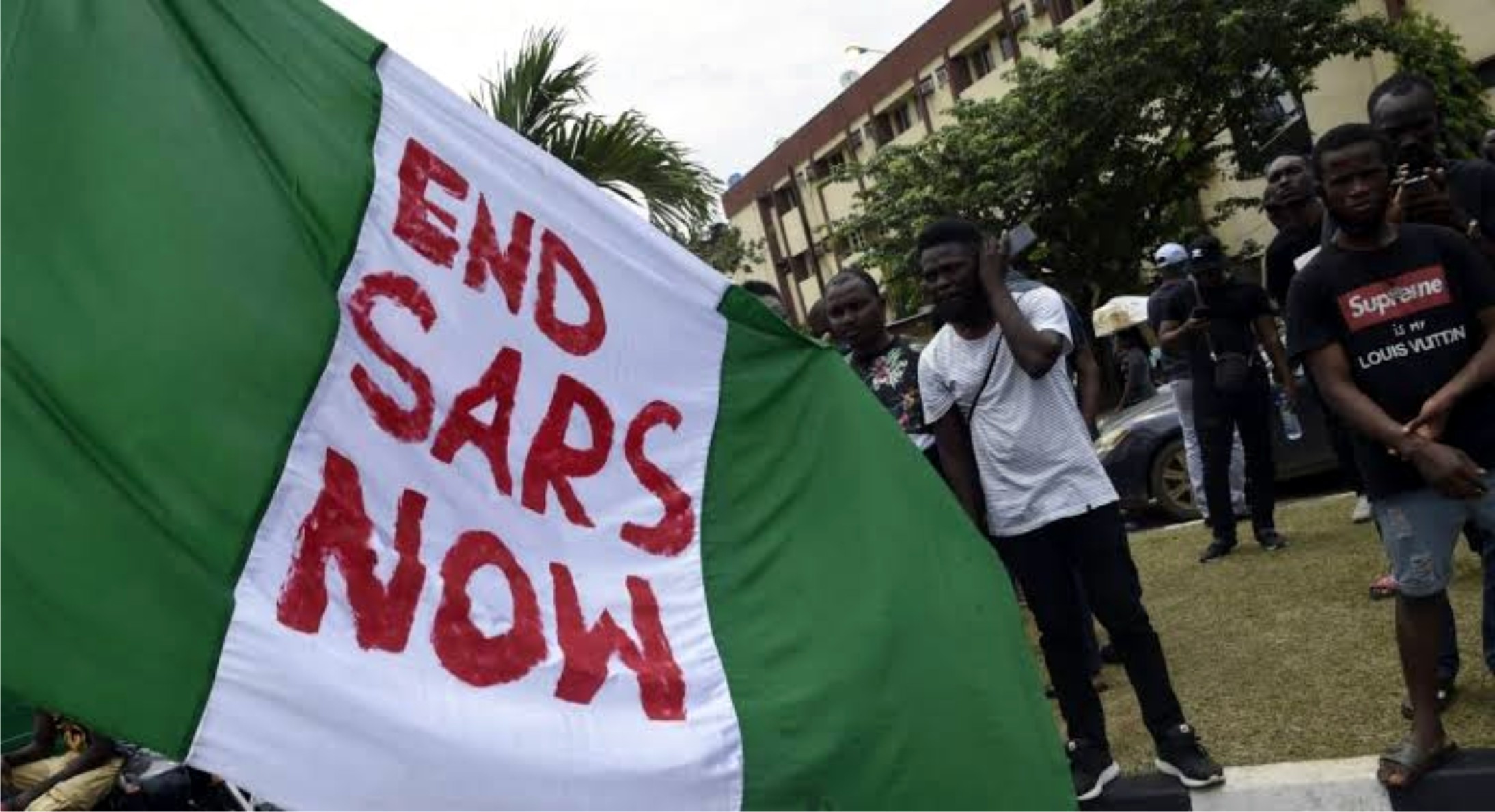 A human rights activist, Kenechukwu Okeke, has lodged a criminal complaint against 50 persons over the alleged roles they played in the #EndSARS protests that rocked the nation, last month.
In the suit he filed before an Abuja Chief Magistrate's Court, last Monday, the complainant, who identified himself as a tax-paying Nigerian citizen that is "committed to ensuring the peace, security, as well as good government of the Federal Republic of Nigeria", alleged that his properties were destroyed during the protests.
He, therefore, urged the court to sanction all the listed Defendants for allegedly spearheading the #EndSARS protest that led to the destruction of his properties.
Among those he cited as Defendants in the matter included former Super Eagles legend, Kanu Nwankwo, Senior Pastor of Daystar Christian Centre, Pastor Sam Adeyemi, vocal female activist, Aisha Yesufu, a former Director-General, Bureau for Public Sector Reform, Dr Joe Abah, as well as a journalist, Kiki Mordi.
Other celebrities that were joined as Defendants in the matter are Musicians – David Adeleke popularly known as Davido; Folarin Falana popularly known as Falz; Innocent Idibia aka Tuface, Peter and Paul Okoye; Bankole Wellington popularly known as Banky W, Tiwa Savage, Yemi Alade and Michael Ajereh aka Don Jazzy.
Also listed are social media comedians/influencers and actors – Debo Adebayo aka Mr Macaroni, and Maryam Akpaokagi aka Taoma, Yul Edochie, Uche Jombo, Feyikemi Abudu, Olorunrinu Oduala, Pamilerin Adegoke, Japhet Omojuwa, Ayo Sogunro, and Deji Adeyanju.
Specifically, the complainant, in the suit he anchored on Sections 88, 109(a), 110(1)(c) of the Administration of Criminal Justice Act, 2015, insisted that all the Defendants instigated the #EndSARS protest that eventually led to violence and wanton destruction of public and private properties.
In a supporting affidavit he filed in support of the suit, the Complainant, averred: "That the 1st to 50th accused persons between the 3rd day of October, 2020, and the 28th day of October, 2020, using Twitter, an Internet web source with URL https://www.twitter.com within the jurisdiction of this honourable court, did conspire amongst themselves to commit a misdemeanour, to wit, promoting and acting in such a manner, with intent to assist in the promotion of #EndSARS and thereby committed an offence punishable under Section 97(2) of the Penal Code Act, C53 Laws of the Federation of Nigeria, 2004.
Get Involved In Politics, NYCN Urges Youths
The President of the National Youth Council of Nigeria (NYCN), Mr Solomon Adodo, has urged youths to get actively involved in politics and governance, in order to chart a better future for the country.
Adodo said at an award ceremony organised by the NYCN in Abuja that it was important for the youths to lead the change they desire in the country.
The award was to recognise the contributions of some Nigerians to youths development as part of activities to mark the International Youths Day themed, "Intergenerational solidarity: Creating a world for all Ages."
The NYCN President urged youths to focus on building partnerships for innovative leadership, economic growth and efficient security in Nigeria.
He noted that the youths were the centre of the various crises in Nigeria and across the world.
"As such, they should strive to lead in finding solutions to the security, political and economic crises.
"It is therefore critical that greater attention is paid to youth development to help them uphold the social rhythms.
"Let me salute the gallant Nigerian youths who have continued to soldier into glory not withstanding the excruciating political and socio economic conditions," Adodo said.
He challenged the youths not to bow to the current challenges, "but work through it in partnership with Nigerians of all ages in achieving the Sustainable Development Goals."
The NYCN President decried what he called the "systematic exclusion of young people in the critical sectors," saying it was unacceptable.
He, however, commended President Muhammadu Buhari for carrying the youths along in his administration, but said "more needed to be done to get things right."
The Patron of NYCN, Dr Ibrahim Dauda said the day was to re-evaluate and renew approaches on leadership, governance and developmental strategies that will guarantee a better society.He said that youth occupy the largest demography of the global population and advised them to join political parties as well as be active players.
"Youths must seek leadership positions and serve with dignity and honour.
"The system must create friendly policies and level playing ground for youths to compete with people of all ages.
"Going by the theme of the day, it is pertinent to note that no demography can survive on its own," Dauda said.
"There must be inter-dependence on each age bracket to build  sustainable growth and maintain a progressive index.
"The place of knowledge and experience is not negotiable, the Nigerian youths must subject themselves to learning and mentorship,'' Dauda added.
A member of the House of Representatives, Saidu Abdullahi, said that the revolution in technology had availed youths the opportunity to advance interaction and learning.
"This must be embraced to better the society other than using it in promoting crime and criminality.
"While appreciating the energies that come with youthfulness, youths must embrace leadership and must demonstrate to be worthy leaders,'' he said.
Abdullahi, who represents Bida/Katcha/Gbako Federal Constituency in Niger urged the government should continue to create sustainable platforms.
This, he said, was to encourage infusion of the knowledge and experiences of senior citizens to help youths build carriers and exposure.
He said that this would help in bridging the gap created by age and front a renewed partnership to advance the course of humanity.
The lawmaker also urged youths in the country to ensure their votes count and good leaders were chosen in 2023.In his speech, King Hope Dan-Opunsingi, the Amayanabi of Opu Kula/Singi Ama in Rivers pledged his support to the youths at all times.
He assured them of his royal blessings, spiritual advice, financial and moral support to ensure they succeed in all endeavors.
The traditional ruler urged the youths to shun social vices, but "set goals aimed at developing themselves and moving the nation forward."
In his remarks, National Youth Leader of the All Progressives Congress (APC), Mr Dayo Israel, urged youths to get involved in grassroots activities to fast track national development.
"Our level of involvement in governance should go beyond social media activities and organizing protests.
"To get involved or be carried along for leadership, you need to be patriotic, smart, determined and show your self worth," he added.
Those honoured were Minister of Youth and Sports Development, Mr Sunday Dare and Dr Ramatu Aliyu of the FCT, among others.
Bureau  Poised To Improve Digital Literacy In Public Service
The Director-General, Bureau of Public Service Reform (BPSR), Dasuki Arabi, has reiterated Federal Government's support in strengthening digital services to providing timely and effective public service to Nigerians.
Arabi said this during a-one day training on National Digital Transformation and Data Protection Awareness, organised by the Institute for Information Management, in Abuja, Friday.
He said that the sensitisation training would help to improve digital literacy in the country.
"The awareness campaign organised by the Institute of Information Management (IIM) Africa, is to upscale and improve the digital literacy of the Nigerian public service.
"This gesture will no doubt improve transparency and accountability in the service and assist government with right quality and calibre of public service workforce relevant in this age,'' he said.
According to him, digital literary is critical to the growth and development of economies in developed and developing countries.
"It is also one of the most critical factors for enhancing good governance and service delivery.
"The national data transformation aims to improve the transparency, flexibility reliability and sustainability of digital services and to reduce digital service time and cost in line with the e-Govemment Master Plan," concluded.
Customs Generates N538m As FoB 
The Nigeria Customs Area Command (CAC), Katsina State, says it generated N538.4 million as Free on Board (FoB) value for the exportation of 10,827.40 metric tones of items such as cement, hibiscus flower, chilli pepper, animal feeds, tamarind, and beverages.
The Command also said that N99.7 million was generated as revenue from July to August 11, 2022.
The Controller, Katsina Area Command, Dalha Wada Chedi, who revealed this at a press conference in Katsina said the N99.7 million generated by the Command within the period under review was a decline from what it realised in June.
Chedi attributed the decline in revenue to the incessant banditry attacks experienced along Jibia axis in recent times.
Chedi, however,  said there was no cause for alarm revealing that the Command in conjunction with other sister security agents have adapted new strategies to curb the twin evil of banditry and smuggling experienced in the Jibia/Niger Republic border for legitimate businesses to thrive along the border corridor.
According to Chedi, smuggled items seized by the command within the period under review was to the tune of N73.6 million.
The seized items includes: food items, motorcycles, and reconstructed vehicles used as a means of conveyance for smuggled items.
Giving the breakdown, Chedi said: "During the period under review, we were also able to intercept different vehicles, including truck and grader caterpillar worth more than N45.5 million.
"We also succeeded in seizing one used motorcycle with the duty value of N60,000 and also 447 bags of foreign rice worth more than N13.2 million.
"We seized 337 cartons of Spaghetti worth more than N2 million, 32 cartons of Macaroni worth N192,000, 115 kegs of petrol and 89 kegs of diesel amounting to more than N1.7 million.
"Other items seized were 126 bags of 50kg and 25kg bags of foreign flour worth more than over N1.9 million, and seven cartons of milky creamer milk worth N141,750.''
Others, he continued, included eight bags of foreign milky creamer, 450 bags of potash, 13 bags of tiger nuts and 1,000 pieces of hides and skin.
Chedi said the Command would not relent in ensuring that the environment was made  uncomfortable for smugglers, resulting in huge loss for the offenders.
"And what they are thinking of gaining, I am sorry for them, instead of gaining it, they will lose because the country must definitely win this fight," Chedi said.