Lifting Of Ban On Sports Activities Excites Coaches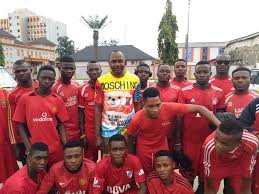 The manager of Ajagun Football Academy (AFA) of Port Harcourt, Olaniyi Odumo has expressed joy over the lifting of ban on sporting activities by the Presidential Task Force (PTF) on covid-19.
Odumo said this, in a telephone interview with Tidesports, saying that Covid-19 has setback sporting activities in the world.
According to him, he is very happy that sports is back on stage.
"I am happy we will now go back to our duties" Olaniyi Odumo said.
Following, the outbreak of Coronavirus the PTF on Covid-19 ban sporting activities in Nigeria since March this year.
The manager explained that his target is to prepare for competitions and advice coaches and players to observe the covid 19 guidelines by frequent washing of hands and social distancing.
Odumo used the medium to appeal to the Rivers State Football Association (RSFA) to initiate football competitions that will keep youths off the streets.
"Now that football is back, I want the state FA to start preparing for State FA cup competition" Odumo stated.
In a seprate interview the Head coach of Dominion sports Club of Port Harcourt Dominion Egwurugwu, also expressed happiness on the resumption of sporting activities in Nigeria.
According to him, because of the ban Cn contact Sports for so long the attitude of some of his players has changed.
"I am one of the happiest men, because off pitch has turned some of my players to change their attitudes" Egwurugwu said.
By: Kiadum Edookor
PH Club Amateur Open Golf Tourney Tees- Off, Oct 9
Preparations are in top gear as this year's edition of the Port Harcourt Club Amateur Open Golf Championship tees off on October 9, 2023.
The Chairman of the Tournament Organizing Committee, (COC),Dr. Patrick Ohia, who made this known while addressing sports journalists in Port Harcourt, said the championship will take place at the Golf Section of Port Harcourt Club 1928.
Dr. Ohia hinted that over 220 amateur golfers have registered for the tourney, adding that the theme of this year's championship is "Golfing for Healthy Living".
According to him, the tournament will feature mostly golfers within the South-South and South-East region of Nigeria, and hinted that registration had since been closed.
He maintained that every necessary logistics have been put in place for a hitch-free championship, adding that this year's edition of the Port Harcourt Club Amateur Open Golf Championship will be unprecedented in the annals of the golf section.
The Organising Committee Chairman further disclosed that professional golfers will also participate in the championship as mouth-watering cash prizes have been earmarked for them as they play sorely for monetary gains.
He said that the Caddies will play on the first day, while the seniors and the elders will take their turn on the second day of the open, which will precede the Lady Golfers, Professionals and Amateurs tee-off respectively.
Meanwhile, he said the tournament is being bankrolled by Polaris Bank and a list of other sponsors.
NYG : Coach Expresses Disappointment Over Over-Age Players
The Head Coach of Team Rivers   Hockey  team, Comfort Nya has expressed disappointment over the fielding of over aged players at the ongoing National Youth Games (NYG)  in Asaba Delta State.
She praised her team for their performance, adding that she was disappointed with her opponents, especially, Kaduna state for fielding overaged players.
Nya said this yesterday in an interview with sports journalists shortly after they lost 5-0 against Kaduna state at the ongoing NYG in Asaba Delta state.
According to her, she has been with the team for only three months. She expressed optimism that in another 12 months, the team will turn things around.
"I believe in the team with what I have seen so far, they will do well in next edition.
" The team started brightly at the game but were overpowered by their opponents.
"I think we still have one game to play against Niger.  I am assuring Rivers state that they are  not going to do bad in the game.
By: Kiadum Edookor
Athlete Advises Parents To Encourage Wards In Sports 
The first gold medalist of Team Rivers State at the ongoing National Youths Games (NYG) in Asaba, Beauty Jumbo, has advised parents to always encourage and not to give up on any child that chooses or gets involved in sports.
According to her, she fell in love with gymnastics through the advice of her sister and today she is able to do well in the game.
Jumbo made the assertion on Wednesday while speaking with sports journalists shortly after she won a gold medal in gymnastics at the ongoing NYG in Asaba, Delta State.
She expressed joy over winning the gold medal, adding that she wants to be the next generation gymnast.
" I want to advise parents not to lose hope in any child that is participating in sporting activities because sports pay.
" My aim is to be the next generation gymnast. I love the game because my sister developed my interest in the game.
" I want to make my parents and my country, Nigeria proud", Jumbo said.
The former  bronze medalist in the sixth edition of NYG and student of Dominion Noble Global Academy of Port Harcourt said that her coming to the seventh edition was to win gold which she has done adding that she wants to win more in the game.
"I am very excited because my plan has come to past.
" I want to thank my coach, Tamunosaki West, for what he has been doing during our training," she said.
By: Kiadum Edookor