Anambra Speaker Makes Case For Girl Child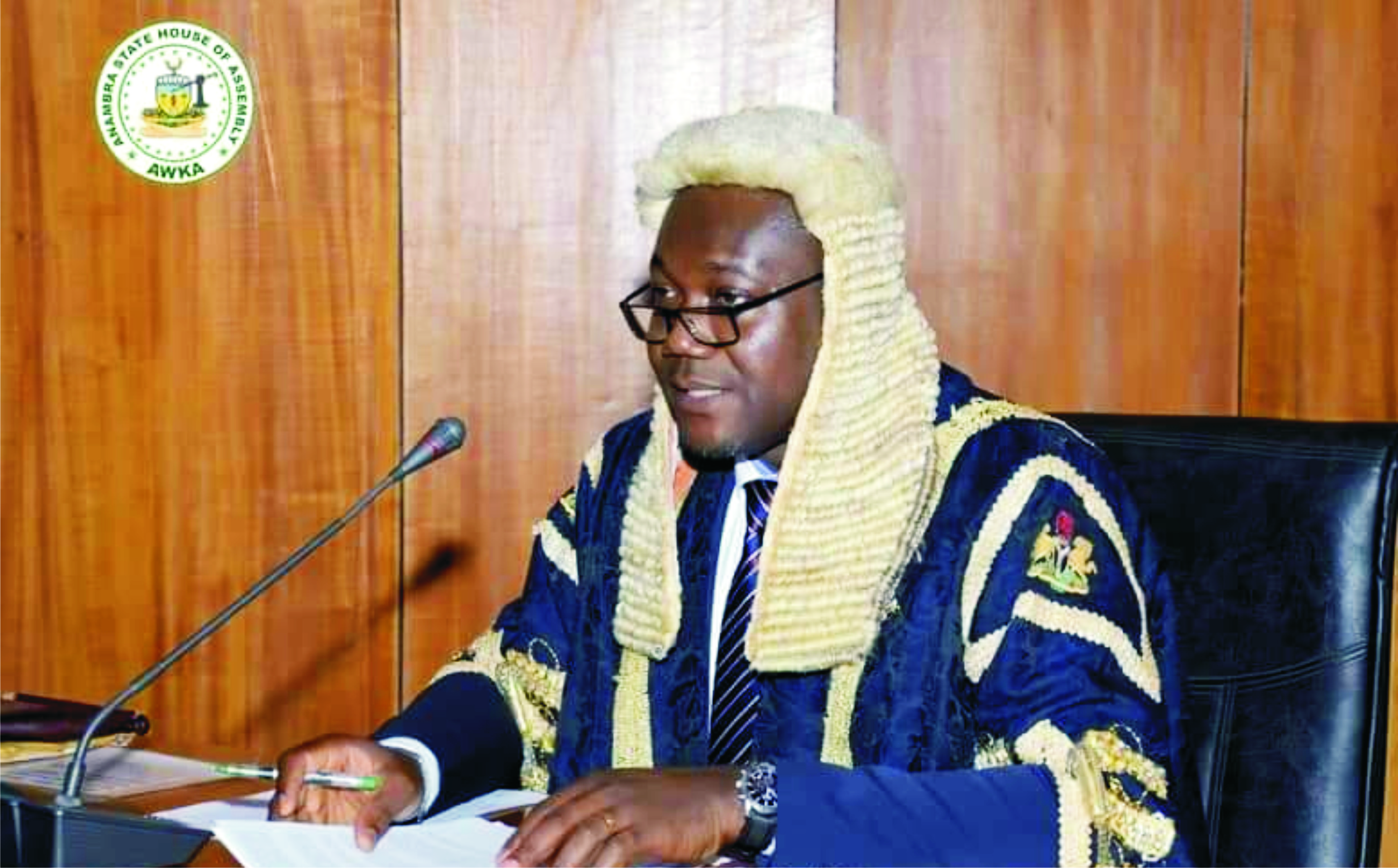 The Speaker of the Anambra House of Assembly, Mr Uche Okafor, has advised parents to provide the girl-child the opportunity to harness and realise their full potential in life.
The speaker gave the advice in his goodwill message issued in Awka to commemorate the 2020 International Day of the Girl-Child yesterday.
He described the theme of the celebration: "My Voice, Our Equal Future" as apt and encouraged every girl-child in the state to remain confident and focused in the pursuit of their goals in life.
He admonished parents and government to create an enabling environment for the girl-child to occupy her rightful position in society.
Okafor urged parents to pay priority attention to the future of their girl-child because of her potential as a future mother.
He warned parents against exposing the girl-child to negative cultural practices and hawking during school hours.
According to him, such actions often affect the moral and academic disposition of the child.
He restated the commitment of the legislature to always make good laws meant to eliminate all forms of discrimination against the girl-child in the state.
Okafor lauded the efforts of the Wife of the Governor,  Dr Ebelechukwu Obiano, to improve the socio-economic status of the girl-child in Anambra through quality education and skills acquisition.
He urged mothers and other well-meaning indigenes to join hands with her to create a better future for the girl-child.
Okafor urged community leaders and other social agents to prescribe severe punishments for those who maltreat or endanger the happiness, security and safety of the girl-child.
A chieftain of the Peoples Democratic Party in the state, Mr  Godwin Ezeemo, appealed to government at all levels to take the welfare and security of the girl child seriously.
Ezeemo told newsmen that "the girl child all over the world is demanding a life free from gender-based violence, access to health, skills, recognition and investment as leaders of social change.
"We need to make laws to reassure our girl-child how much we truly care about giving her a voice in the political space and career," he said.
He said that although some progress had been made in ensuring the girl-child grew and developed in good health, she still battled with early marriage, rape and other challenges.
Mr Christian Mbachi said that the right of a girl-child to inheritance and decision-making process on issues affecting her should be respected.
Mmesoma Chiadikaobi, 18, canvassed for policies that would allow the girl child the liberty to freely and regularly speak on issues that affect her wellbeing outside the international day celebrations.
"A girl-child should be able to discuss freely with her parents on which course or relationship she wishes to follow without undue parental or societal interference," Chiadikaobi said.
The day focuses attention on the need to address the challenges girls face and promote girls' empowerment and fulfilment of their human rights.
Ex-Women Affairs Minister, Tallen Felicitates Tinubu's Wife @ 63
Former Minister of Women Affairs and Social Development, Dame Pauline Tallen, has felicitated First Lady, Sen. Remi Tinubu on the occasion of her 63rd birthday.
Tallen, who congratulated the President's wife in a statement on Friday in Abuja, eulogised the First Lady, who she described as "a rare gem and rare gift to the nation."
She prayed for more years of God's exceeding grace on Mrs Tinubu, describing her as extremely humane, an epitome of humility and an indispensable strong pillar of support to her husband.
Tallen said, "Your Excellency, on this milestone and auspicious occasion of your 63rd birthday, I join millions of your well-wishers across the globe, especially the womenfolk, to celebrate with you, while thanking God for His exceeding grace upon you, while wishing you the best that life can offer in the many decades ahead.
"As a wife, mother, fervent preacher of the gospel, as well as an iconic political leader, who exemplifies the struggle for women in politics, you will remain a veritable source of inspiration and pride for women for generations yet unborn.
"Indeed, we could not have asked God for a better First Lady at this time, considering your rare track record of achievements, as your life has been a gift, not just to Nigerian women after your breaking of many barriers for women and setting a perfect example for young girls over the years."
The former Deputy Governor of Plateau and one-time Minister of State, Science and Technology, said that the people of Plateau would remain eternally grateful to Mrs Tinubu, particularly for her recent visit to the state and donation of a whooping sum of N500 million to families of crisis victims in the state.
She said that through her Renewed Hope Initiative, as Nigeria's First Lady, Mrs Tinubu has demonstrated her empathy, humanity and philanthropic gesture by pursuing the well-being of others with unquantifiable compassion and zeal to help the less privileged, the challenged and those in need.
Tallen, therefore, prayed for long life, good health, increased grace and wisdom for the First Lady and her entire family.
Tani Olorun Not Against Out-Of-Court Settlement, Says Lawyer
The legal team of embattled Isese advocate in Ilorin, Kwara State, Abdulazeez Adegbola, alias Tani Olorun, has said they are open to an out-of-court settlement of the case of criminal defamation brought against him by the police.
Tani Olorun's lead counsel, Ademola Bank, disclosed this in an interview with The Tide source.
Tani Olorun is standing trial on five counts of alleged criminal conspiracy, inciting public disturbance, disturbance of public peace, criminal defamation of character, and intentional insult before a Kwara Chief Magistrate Court sitting in Ilorin.
In a separate case, he is also standing trial before the Kwara Upper Area Court sitting in Ilorin, alongside the Oluwo Nla of Tede, Chief Ademola Olawoore.
The offence, according to the prosecution, was contrary to sections 97, 210, 392, and 114 of the Penal Code Law of Nigeria.
Speaking in an interview with our source in Ilorin on Saturday, Tani Olorun's lead counsel, Bank, said, "If an agreement for an out-of-court settlement comes up, why are we not to agree? The court allows it, the law allows it, and wisdom allows it. The law does not frown on it, the court does not frown on it, and wisdom does not frown on it. Parties can agree to an out-of-court settlement at any time. If it comes, so be it, if the situation allows it."
He was, however, silent on whether the agreement for an out-of-court settlement would come from the defendant, saying, "It is the situation that dictates it. If it comes from the parties, we will not stand against it. The lawyer will not stand against it. No lawyer will oppose any bid for settlement by parties; it is for peace to reign."
I'm Not Afraid Of Appeal – Gawuna
The All Progressives Congress (APC) candidate in the March 18 governorship election in Kano State, Nasir Yusuf Gawuna, has said he is unafraid of the appeal challenging his victory at the tribunal.
The Kano Governorship Election Petition Tribunal had, last Wednesday, declared the APC candidate winner of the election and sacked Governor Abba Kabir Yusuf.
The three-man panel ordered a certificate of return to be issued to Gawuna and the withdrawal of a certificate of return presented to Yusuf.
The court noted that ballot papers of 165,663 votes were not stamped or signed and, therefore, were invalid and deducted the 165,663 votes from Yusuf's total.
Speaking with BBC Hausa in an interview while commenting on the tribunal judgment, Gawuna said, "I am grateful to Allah for our victory in the Kano State election, which was affirmed by the court today (Wednesday). I thank Him for His will, which chose us to lead. I also thank our lawyers and the general public for their prayers and support."
He noted that the New Nigeria Peoples Party (NNPP) was initially declared the winner of the election but believed that Allah had already decided the outcome, saying they had the right to challenge the results in court, and they did so.
Gawuna said that anyone who believes that nothing happens without Allah's will will never worry or take governance as a do-or-die affair, stressing that whatever happens to them, they believe it is the will of Allah.
According to him, "We are not intimidated or afraid, because we know that whatever happens is for the best. Allah never makes mistakes."