ASUU Shuns School Reopening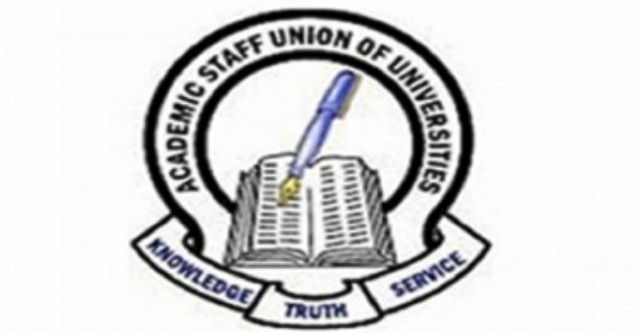 The Academic Staff Union of Universities, ASUU, has said that it has not called off its ongoing strike despite the Federal Government's directive urging universities to resume
ASUU in a statement by its Chairman, Prof Biodun Ogunyemi disclosed that the ongoing strike would continue until the federal government meets their demands.
Ogunyemi said that members of the union went on strike before the outbreak of the COVID-19 pandemic in the country, and that all the issues they had raised were yet to be addressed.
" Government is free to open their schools just like our members are also entitled to their duties
"As we speak, our members are being owed between three to six months of salaries. The government's so- called fund saving platform, the Integrated Personnel and Payroll Information System,IPPS,is a colossal failure. Apart from that, the government is yet to take any step to revitalise education sector among others," he said.
Atiku, Nnamani Task FG On ASUU Strike
The Peoples Democratic Party (PDP) presidential candidate, Atiku Abubakar, and a former Enugu State governor and the senator representing Enugu East, Dr ChimarokeNnamani, have urged the federal government to "urgently resolve the prolonged Academic Staff Union of Universities (ASUU) strike."
They also charged the government to provide the enabling environment for the youth to realise their potentials.
Atiku made the call at a programme organised by the PDP youth wing, in commemoration of the 2022 International Youth Day (IYD) celebration, Friday in Abuja.
The United Nations declared August 12 every year as international youths day to address global issues concerning youths.
Atiku, who described education as the most important fundamental right of any youth, lambasted the President Muhammadu Buhari-led administration's inability to resolve the lingering ASUU strike.
He said, "It will never happen under a PDP government or under my administration when I am elected. Do you know why I say that? I have been investing in education for the past 30 years. In the nursery I started primary, secondary, and university, we have never gone on strike for even one day.
"So, if I, Atiku Abubakar, can establish nursery, primary, secondary school and university and yet no strike for one day, why should we have a strike by university teachers? I want to pledge that I will work with university authorities and government to make sure we end this incessant strike by ASUU.
"I have the public pronouncement of my intention to have a youth inclusive government. This is because it is our responsibility to provide you with the opportunities to acquire the training and also the experience to take over from us."
Also, a former Enugu state governor, Nnamani, urged the youth to be united, stressing that with unity of purpose they could achieve anything.
Senator Nnamani, in a statement to commemorate the 2022 IYD, also charged the youth to get involved in governance and take leadership responsibilities.
In doing so, he told them to "deploy their energies, intellects and skills towards positive engagements.
He, however, ''cautioned against criminal activities or vices that could undermine their pursuit for excellence."
Groups Offer Scholarship To Indigent Pupils
As part of efforts to bridge the nation's literacy gap, a non-governmental organisation, Executive Initiatives, has partnered with a financial tech company, Chipper Cash, to offer scholarships to 20 pupils of Glory Montessori International School, Tarkwa Bay, Lagos.
Speaking at the event, Chipper Cash Marketing Manager, Goldie Iyamu, said education is the key that unlocks the world of possibilities, while football is now the world's biggest sport with the ability to unite all human beings, irrespective of status or creed.
According to him, football is a unique unifier that connects children's love for learning as well as sports.
Iyamu said education has been shown to significantly impact a child's outcome, adding that many underprivileged children lack the resources they need to aid their learning.
He said everyone deserves to be great, and education is the key that opens possibilities, adding that the initiative aims to target the United Nations Sustainable Development Goals 1, 2,3,4 and 16.
He said Tarkwa Bay was chosen because in 2020, thousands of residents in the community were displaced with no alternatives provided for them.
In a community where people lack basic amenities, Iyamu said the effect of the eviction was unimaginable on children born and raised in the community.
Founder, Executives Initiatives, Dare Asobele, said the organisation is proud to partner with Chipper Cash to put smiles on the faces of the youngsters, adding that there are plans to create a chain reaction of love that will promote collaboration and philanthropy.
Expressing his appreciation, a teacher with Government Senior Secondary School, Mr Okolo Joseph, who spoke on behalf of the principal, acknowledged the effort of the two parties.
He urged them to continue the commendable gesture and not rest on their oars.
Nigeria's Spending On Education Above 26% UNESCO's Recommendation -FG
The Federal Government has admitted that the education sector in the country is facing enormous challenges but insisted that the quantum spending on education in Nigeria is far above the stated 26 per cent recommended budgetary allocation to the sector.
This came as the United Nations (UN), has tasked Nigeria to ensure that educational institutions are made safe and affordable for children in the country.
Minister of State for Education, Goodluck Opiah, Permanent Secretary, Federal Ministry of Education, Andrew David Adejo and Mamadou Lamine Sow, Senior Education Advisor, united Nations Educational Scientific and Cultural Organisation (UNESCO), spoke on Thursday in Abuja at Transforming Education Summit: Second National Consultation organised by National Universities Commission (NUC) in partnership with UNICEF and UNESCO.
Opiah in his brief remark at the event, which is a pre-UN Summit, acknowledged that the challenges facing the education sector in the country were enormous, requiring all hands to be on deck to address.
He commended the contributions of the global stakeholders, especially, the World Bank, and United Nations agencies including the United Nations Children's Fund (UNICEF) and UNESCO among others, to the development of the education sector in Nigeria, adding that the summit was the right step in the right direction.
Following disruptions in the education sector by the COVID-19 pandemic, the United Nations Secretary-General is convening a Transforming Education Summit (TES) in September 2022, aimed at mobilising action, ambition, solidarity, and solutions to transform education between now and 2030.
The Permanent Secretary, Adejo in his presentation entitled "Transforming Education in Nigeria: TES and beyond, said the neglect of the sector over time led to the unimaginable crisis being witnessed currently.
He disclosed that the quantum spending on the education sector in Nigeria, was far above the recommended 26 per cent by UNESCO, for countries to allocate between 15 to 26 per cent of their national budget to education.
Adejo argued that education is on the concurrent list with responsibility for basic education largely in the hands of State Governments, while the Federal Government provides intervention through Universal Basic Education Commission (UBEC), Tertiary Education Trust Fund (TETFund) among others, saying the spending by States and intervention at the Federal level are not reflected in the national budget.
He, however, noted that public financing was no longer sustainable, urging the private sector to continue to invest in education in Nigeria.
On the transformation of the teaching profession, Adejo disclosed that President MuhammaduBuhari had already approved robust incentives for teachers and students studying education in universities and colleges of education in Nigeria.
He particularly revealed that the Federal Government is doing all it could to ensure that scholarship awards to students studying education courses in tertiary Institutions come into effect in 2023.
He noted that there was the need to ensure full recovery from COVID-19 education disruptions, address educational exclusion, safety and health, renew curricula and pedagogies while also steering the digital transformation for just and equitable learning.
Senior Education Advisor, UNESCO Abuja Regional Office, MamadouLamine Sow, on his part, urged the Federal Government to ensure that children in Nigeria are safe on their way to and from school and while they are at school.
Sow said: "Our collective commitment and action are urgently needed to wipe out the scourge of school attacks inNigeria.
"We must make education affordable for all learners – the poor, vulnerable, excluded, and marginalized children, through the removal of both direct, indirect and opportunity costs of education.
"Nigeria must mobilise and significantly increase the part of domestic resources allocated to education and ensure that funds are used efficiently and effectively to support the disadvantaged children, to develop and maintain school infrastructures, and to support the quality of teaching and learning for better learning outcomes.
Deputy Executive Secretary of the National Universities Commission (NUC), Mr Chris Maiyaki, said the inclusive national consultation, in advance of the September 2022 Transforming Education Summit, is necessary to develop national statements to feed into the Summit.
He also tasked stakeholders to take advantage of the opportunity to renew commitment to the Education 2030 agenda by mobilising cross-sectoral stakeholders in support of education.