Anaemena Explains Rivers United's Move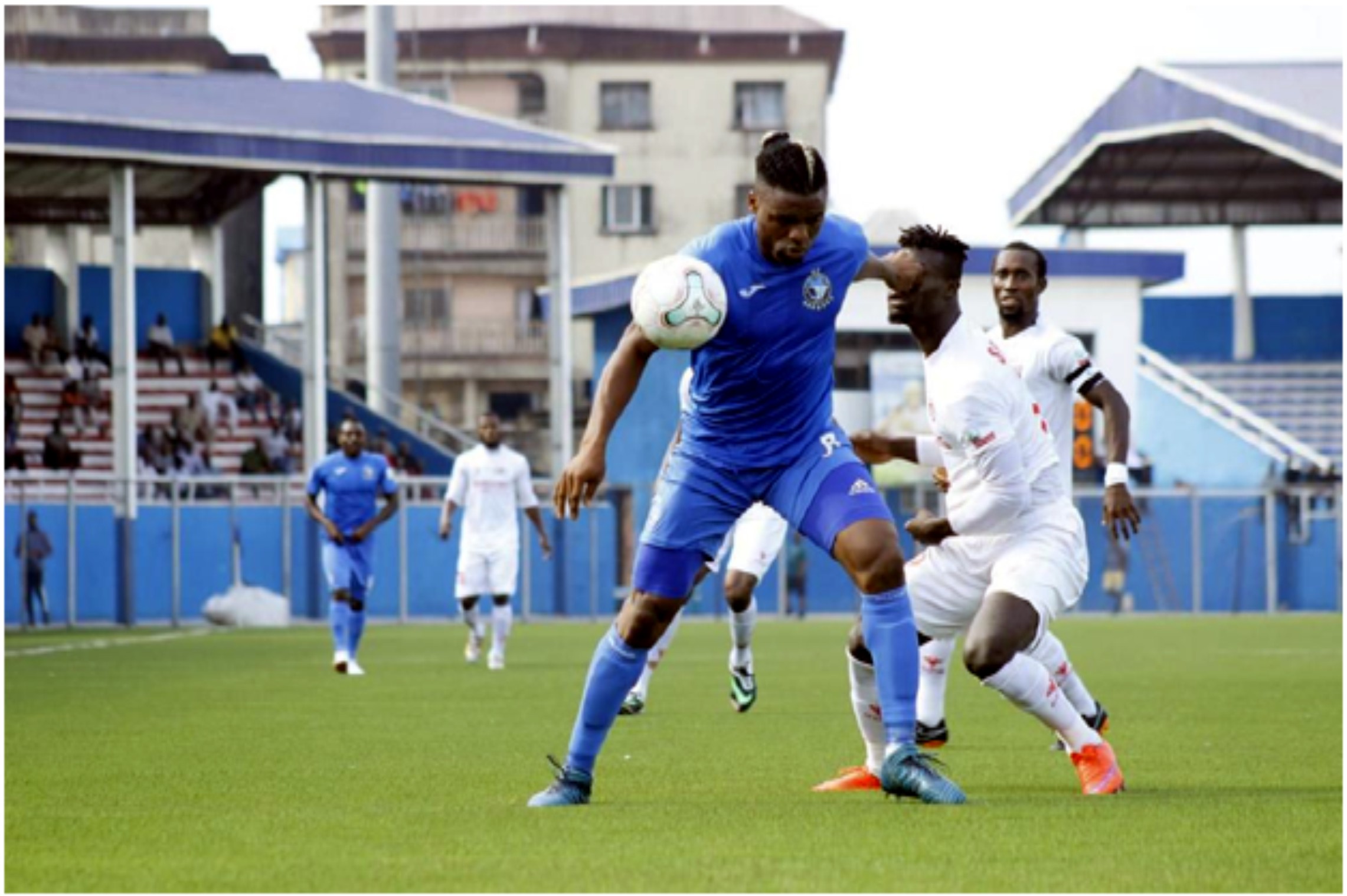 Enyimba centre-back, Ifeanyi Anaemena has explained the reason behind his decision to leave Enyimba for league rivals Rivers United.
The defender was unveiled on Tuesday alongside goalkeeper and former Enyimba teammate Theophilus Afelokhai as Rivers United's latest acquisitions in an epic move that generated ripples across the country.
But he said to Tidesports source  in an interview that much as he loved playing for Enyimba who gave him his first taste of topflight football as a 24-year-old, he felt his time at the club had run its course and it was time for him to make a move and gain other new challenges.
"I can say that my experience in Aba, my stay there for the first few seasons were good memories, a very exciting one, and they also brought me to the top flight of the game,"
"I've been at Enyimba since 2014, and it's a privilege for me to be reckoned as one of the legends in the team. And having contributed my quota so far, and I so much appreciate the team, I love the team, when I'm playing for Enyimba I'm always (passionate), determined, focused, playing as if the team was owned by my father. But then, I know that there is always room for change.
"When it is time in football for you to move, you have to move, because you don't know, you can never tell what the situation would be. So, I've contributed my quota and I think it's time for me to move on."
"It's true that a lot of fans will be happy for my movement, for my move to Rivers United. Some will feel disappointed that I shouldn't have left Enyimba, knowing that I'm the captain of the team," he said.
Commissioner Advises Youths To Take Sports As  Career 
The Rivers State Commissioner for Sports, Barrister Christopher Green, has advised youths of the State  to shun social vices in the society and take sports as a career for their livelihood.
According to him, sports should be an advantage and attraction for them to shun social, vices in the society adding that in his younger age, he went to school and he took Sports very seriously.
Green said this in a chat with sports journalists shortly after a basketball tournament in Port Harcourt.
He stated that he started playing basketball when he was young and he was mentored by good coaches both in character and the game.
"The youths should see sports as an advantage and attraction for them to leave those vices.
'When I was younger like them, I went to school and I played basketball.
'I had good coaches; they mentored me in character and even in the game.
'So they should see the opportunity of the game as an opportunity to better the society,''he said.
By: Kiadum Edookor
NFF Must Pay Me N157m With Interest – Rohr
Former Super Eagles Coach, Gernot Rohr, has said that Nigeria Football Federation (NFF) would have to pay him his outstanding salary with interest along with the current dollar rate following their delay in making the payment.
The Franco-German was relieved of his job as the Eagles gaffer last December, following a series of underwhelming performances by the three-time African champions.
Despite moves by the NFF to pay his salary until the end of his contract, which should have expired in December, Rohr, the Eagles' longest-serving coach took the case to world football bod,y FIFA, demanding an additional £1m for breach of contract without just cause but FIFA instead approved $377,879.46 (N155million as of December 2021 and N157m at the current official dollar to naira rate).
A ruling by the FIFA players' status chamber in May ordered the NFF to pay Rohr the money within 45 days, after ending his contract abruptly adding that the country's football governing body would be sanctioned if Rohr was not paid in full within 45 days.
"If full payment (including all applicable interest) is not made within 45 days of notification of this decision, the respondent (the NFF) shall be imposed a restriction on receiving a percentage of development funding, up until the due amounts are paid," said the FIFA decision.
However, 85 days after the ruling by FIFA, the former Bordeaux manager told news men that he was yet to get payment from the NFF.
Speaking with Tidesports source  Rohr said, "Since the FIFA judgment, they (NFF) didn't pay anything.
"FIFA paid me a part of the sum they owe me and that is normally (from) a part of the development budget they pay to African federations.
"My lawyer reminded them, FIFA and NFF, that interests have to be paid. The dollar amount will grow with time and this is the law."
Asked whether he would be taking the NFF to the Court of Arbitration for Sports, the gaffer added, "No, because normally FIFA gives a guarantee for payment.
Ahoada-East Loves Sporting Activities -Council Boss
The Executive Chairman of Ahoada East Local Governnment Area of Rivers State, Barr Benjamin Ekeh has explained the essence of the annual traditional wrestling in his Area,which he said is to usher in resting period after the farming season .
Speaking to journalists on the sideline of the opening ceremony of this year,s annual traditional wrestling festival at Ogbo-Akoh Community in Ahoada, the Council Chairman said everybody was happy and the atmosphere was electrifying.
Ekeh said that apart from, wrestling, Ahoada East also holds school sports where budding talents are discovered.
"School, do hold their inter-house sports annually.
According to him, council also holds football competition yearly, in the LGA.
"Apart from sporting activities,we also hold wrestling competitions among the three clans that make up Ahoada, namely Upata, Ehuda and Akoh.
"So it is the turn of Akoh this year to host the wrestling festival and as a council we support them financially.
"The wrestling festival marks the end of farming season for the year.
"What you are seeing here is the opening ceremony of the wrestling festival,"the chairman explained.
Ben Ekeh pointed out that his people love sports naturally.
He emphasized the importance of sports to include, physical fitness, wealth creation and redirection of youths from social vices.
"Ahoada people love sports, you can see everybody is happy.''