Rivers State COVID-19: Committee Begins Another Round Of Street-To-Street Campaign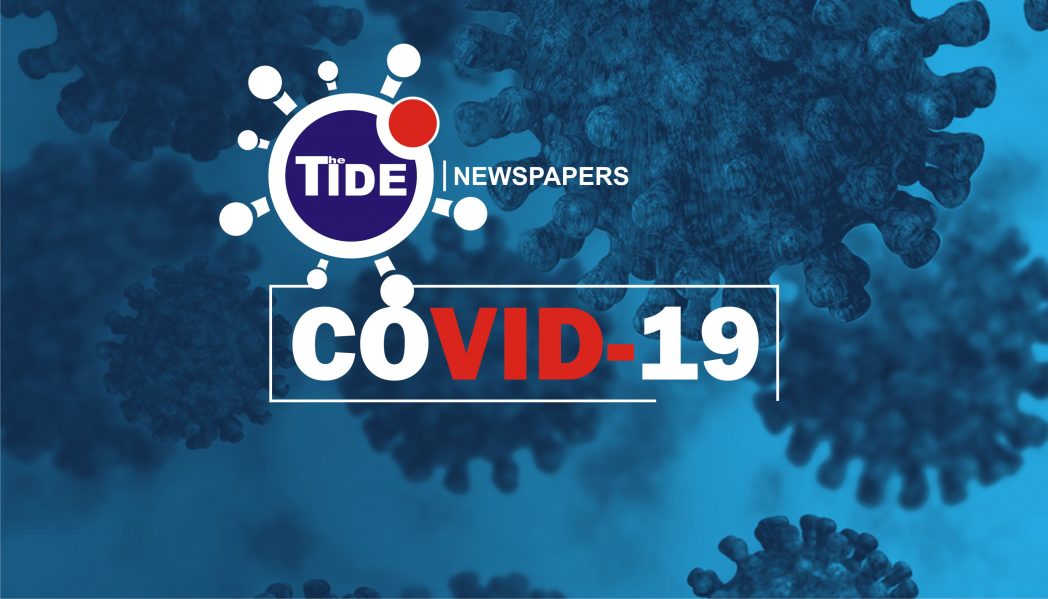 Chairman of the Rivers State Government Interministarial Committee on COVID-19 Enlightenment, Pastor Paulinus Nsirim, has charged  Volunteers on COVID-19 Mobile Enlightenment to see themselves as persons recruited to save the lives of people in the State.
Giving the charge on Wednesday, during the inauguration of the Team at the State Secretariat Complex, the Chairman charged the members to view their responsibility in the same spirit as the State Governor, Nyesom Wike, which, he said, is to save lives.
The Chairman, who is also the State Commissioner for Information and Communications, stated that just as the Governor's primary goal this season is to save lives, they should see their awareness creation on coronavirus as their own contribution to save lives in the State.
"You're part of the team that will be saving lives, and I pray that God Almighty will help all of you to discharge this duty creditably.
"All of you have been carefully chosen to carry out enlightenment and sensitisation for our State. The task before you is enormous.
"As a State we are recording new cases of coronavirus and the only alternative left for us now is to move from street to street to pass prevention messages to our people.
"You need to let the people know that the virus is with us and that they must practice social distancing, wearing of face mask and maintenance of personal hygiene," he said.
Nsirim advised  that people who have the symptoms of the virus which include dry cough, high temperature, loss of taste, body weakness and difficulty in breathing should seek medical attention.
According to him, people should not be afraid of the symptoms of the disease because it is not a death sentence.
"Our Governor has shown the right leadership. In fact, there's no State in this country where a Governor has spearheaded the fight against coronavirus like our Governor has done.
"Our Governor has committed his time  and resources of the state  to make sure that Rivers State," he  added.
We've Collapsed Other Parties Into PDP In Rivers, Wike Affirms
Rivers State Governor, Chief Nyesom Wike, has said that more politicians in the state were renouncing membership of their political parties in droves, and joining the Peoples Democratic Party (PDP).
They are doing so, he enthused, because they were delighted at ongoing infrastructure development by his administration, and believed the PDP was a better party to associate with.
Wike spoke, yesterday, at the flag-off of the 11th flyover project, which was performed by former Governor of Cross River State, Donald Duke, at the Rumuola-Ikwerre Road-Rumuokwuta Roundabout in Obio/Akpor Local Government Area of the state.
The Rivers State governor explained that the ongoing collapse of the membership strength of other political parties in the state was definitely an electoral advantage for the PDP.
"We have collapsed every other party. Every day people from All Progressives Congress (APC) are joining our party. We are here doing that and some people are in Abuja; ask them how many persons have they brought to the party.
"It's not to say I'm supporting our candidate. How many people have you brought to help your candidate?. We are here every day bringing people to join our party and you are there following your candidate from Abuja to Adamawa. Is it there you'll win the votes? Come back home."
Wike stressed that Rivers State is too strategic politically to be ignored by any serious minded politician who wants to win election.
He stated the futility of the claims by those who professed that they know the PDP presidential candidate, yet they are not at home where votes can be mobilised to secure electoral victory.
"This local government alone, Obio/Akpor, where I come from, we registered not less than 600,000 voters. This local government beats two states in their electoral strength.
"So, we are not a state that you can take for granted, not to talk about the local government where I come from.
"I believe that they must know us here because we have what it takes to deliver. They must come and know us. I'm not going to find anybody. You must come here. You can't take 600 and something thousand votes away from my local government. You can't take 3.2million votes from my state just like that."
Wike emphasised that the days are gone when supporters and electorate offer their votes and do nothing in return.
"If we were Father Christmas before, we won't be Father Christmas again? You must tell me what is there for me if I should vote. So, nobody should bother himself. At the appropriate time we will talk to our people and our people will understand.
"If you say we don't exist, we will tell you that you don't exits. I am not a son to anybody. I am a son of Rivers State. I am working to attract what will benefit Rivers State."
Wike said the infrastructural projects are evidences of how Rivers money has been expended by his administration to solving critical socioeconomic problems.
He noted that the 12 flyovers, in the next three years, would be more appreciated because they will sufficiently address traffic related problems.
Wike explained that everything has been done to ensure that funds are available so that every project started by his administration is not abandoned but completed.
"As at yesterday (Wednesday), I have released the money for the compensation of every property that will be affected here.
"We have paid for the relocation of the electric poles and property from Mgbuoba to Ozuoba. We have paid for the relocation of electric poles and property on Azikwe-Iloabuchi Road. So, the total compensation we have paid is N4.3billion.
The governor also informed that Julius Berger Nigeria Plc has started, in July, the deduction of N2billion from the Internally Generated Revenue (IGR) account of the state, and would do so for the next 10 months, to execute the 11th and 12th flyovers.
He also explained that 80percent of the contract sum has been paid to Julius Berger Nigeria Plc for the Azikwe-Iloabuchi Road construction.
Wike emphasised that his administration was determined to complete the Andoni section of the Ogoni-Opobo-Andoni Unity Road, and has charged the contractor to expedite work.
"Andoni must get road before I go there to campaign. I have told the contractor, Opobo has gotten road, Andoni people must drive by road before the administration ends.
"The Trans-Kalabari road, we have paid 100percent, that is over N13billion, we have paid and I believe by the grace of God, by this September, the first phase of Trans-Kalabari road will be completed.
"The one of Bori to Kono that CCECC is doing, which we have paid over N14billion, and finished paying."
Performing the flag-off, former Governor of Cross River, Donald Duke, said the leadership capacity demonstrated by Wike assures that there was hope for Nigeria.
Duke commended Wike for executing projects, particularly the flyovers that have made Port Harcourt liveable city.
He also noted the medical succour the Dr. Peter Odili Cancer and Cardiologist Disease Diagnostic Centre would offer cancer patients, because of the terminal nature of the disease.
Providing a description of the project, Rivers State Commissioner for Works, Dr. Dakorinama George-Kelly said the 11th flyover is 1007.5 meters long, stretching from the Ebony Junction on Rumuola Road to the Seventh Day Adventist Church on Ikwerre Road.
No Party Can Win Election Fighting Itself, Wike Warns …Inaugurates Government VIP Lounge For FAAN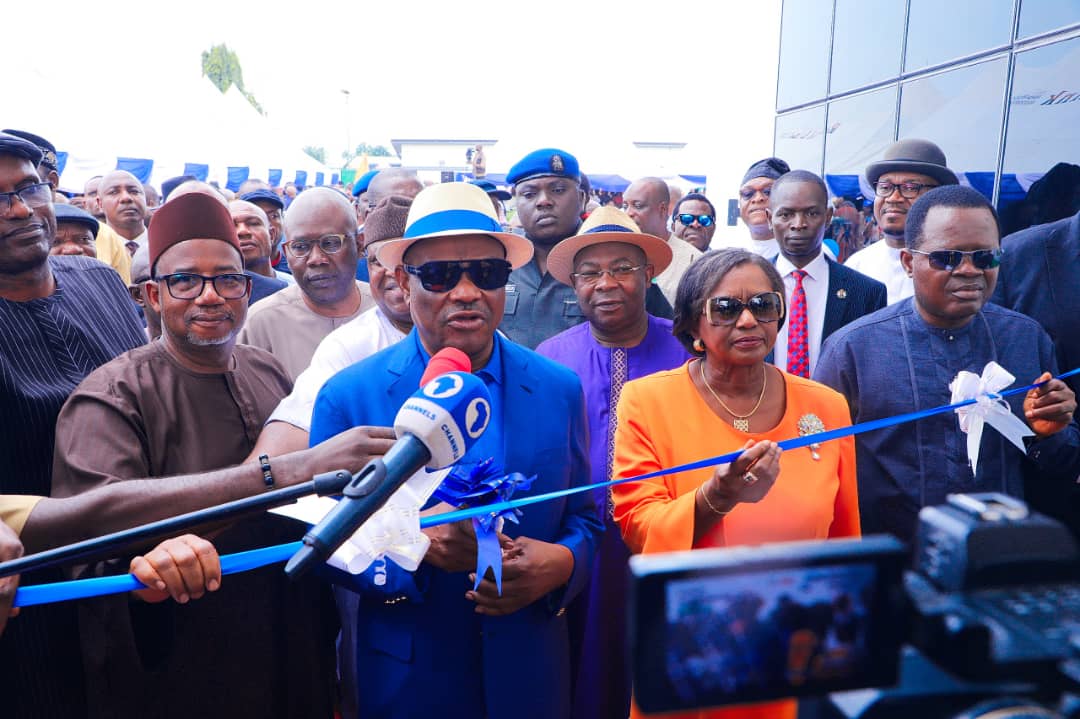 Rivers State Governor, Chief Nyesom Wike, has described as inconsequential confession of support by some politicians for Atiku Abubakar, if they are not working to mobilise grassroots voters to secure electoral victory for the Peoples Democratic Party (PDP).
Wike said it was the quantum of individual votes from units, local governments and states that would determine victory for the presidential candidate of the PDP, Atiku Abubukar, in 2023 and not rumour peddlers.
He spoke, yesterday, at the inauguration of the new Government VIP Lounge at the Port Harcourt International Airport, Omagwa in Ikwerre Local Government Area, built by the Rivers State Government.
Wike said it was unfortunate that some politicians now based in Abuja, derive pleasure insinuating something against him to curry favour from the PDP presidential candidate.
"We are busy campaigning with our projects on how our party will win election in the state. Other people are busy in Abuja carrying rumours and gossips. We are busy here (Rivers) from Monday, Tuesday, Wednesday, Thursday, Friday, and Saturday. We'll start Monday again, flagging off projects, commissioning projects that will sell our party.
"Every day in the newspapers, Wike did this, Wike did that, then, they will call the candidate, you see what I said about Wike today. Rent seekers. No job. Instead of you to do something that will make your party to win 2023 elections, you're only busy, everyday Wike said this. When you heard from Wike I do not know. Maybe in your dream.
"You want to support the candidate, you're not at home, and you're in Abuja. Come home and campaign and work for the party. Stop this Abuja politics of carrying rumours to the candidate."
Wike, who asserted that he was a practical and practicing politician, admonished that any party that wants to win election cannot be fighting itself.
"I think a party that wants to win election cannot, on their own, be causing problem for themselves."
Wike pointed to how his administration has continued to flag-off and inaugurate projects that serve as evidence of fulfilled electoral promises, which have sustained the trust that the people have for the PDP in the state.
The governor expressed the belief that it is the services and projects that his administration has done that would sell the PDP to the electorate.
"We have said that whatever promise we have made, we are going to fulfil them before we leave office on May 29, 2023.
"And let me say; only one person can be a minister from the state. I would not be a minister. I am not a liability. Rivers State is an asset. If you don't want to win election it is your business.
"I am not running for election. He who wears the shoe knows where it pinches. So, allow Rivers State to continue to do what they are doing by using our projects to campaign to our people."
Wike explained that though the Port Harcourt International Airport is owned by the Federal Government, his administration decided to build the VIP lounge in order to offer Rivers people the best.
He assured that the Rivers State government would cater to the maintenance of the building so that it can serve the people for a long time.
Wike also commended the indigenous contractor that handled the project for the tasteful structural work that was accomplished.
"And let me commend the contractor. Of course, he is an indigenous contractor from Rivers State and of Port Harcourt Local Government Area. This is a good job well done. See the quality of what has been done. You can see that the difference is clear.
"We are willing to support our own. But you must also give us that assurance that when the job is given to you, you will complete it without any problem."
Wike directed the Commissioner for Works to ensure the immediate arrest of a contractor handling a road project for the Rivers State Government in Trans Amadi Industrial Layout in Port Harcourt.
The governor accused the contractor of having collected 100percent of the project sum, but has failed to deliver the job.
In a brief, Rivers State Commissioner for Special Projects, Deinma Iyalla, said the edifice depicts the detribalised nature of Wike, and also serves to market the state positively.
According to him, the entire project comprises of a one storey building that has main lounge, bar, kitchen and administrative section on the ground floor.
He added, on the storey floor, there are Presidential Lounge, Governor's Lounge and Executive Lounge.
Iyalla further added that there was a screening building that has installed screening and scanning machines with office space for FAAN, and a security house that would serve as waiting place for drivers.
Buhari Signs Bills On Electoral Act, Money Laundering, Terrorism, Others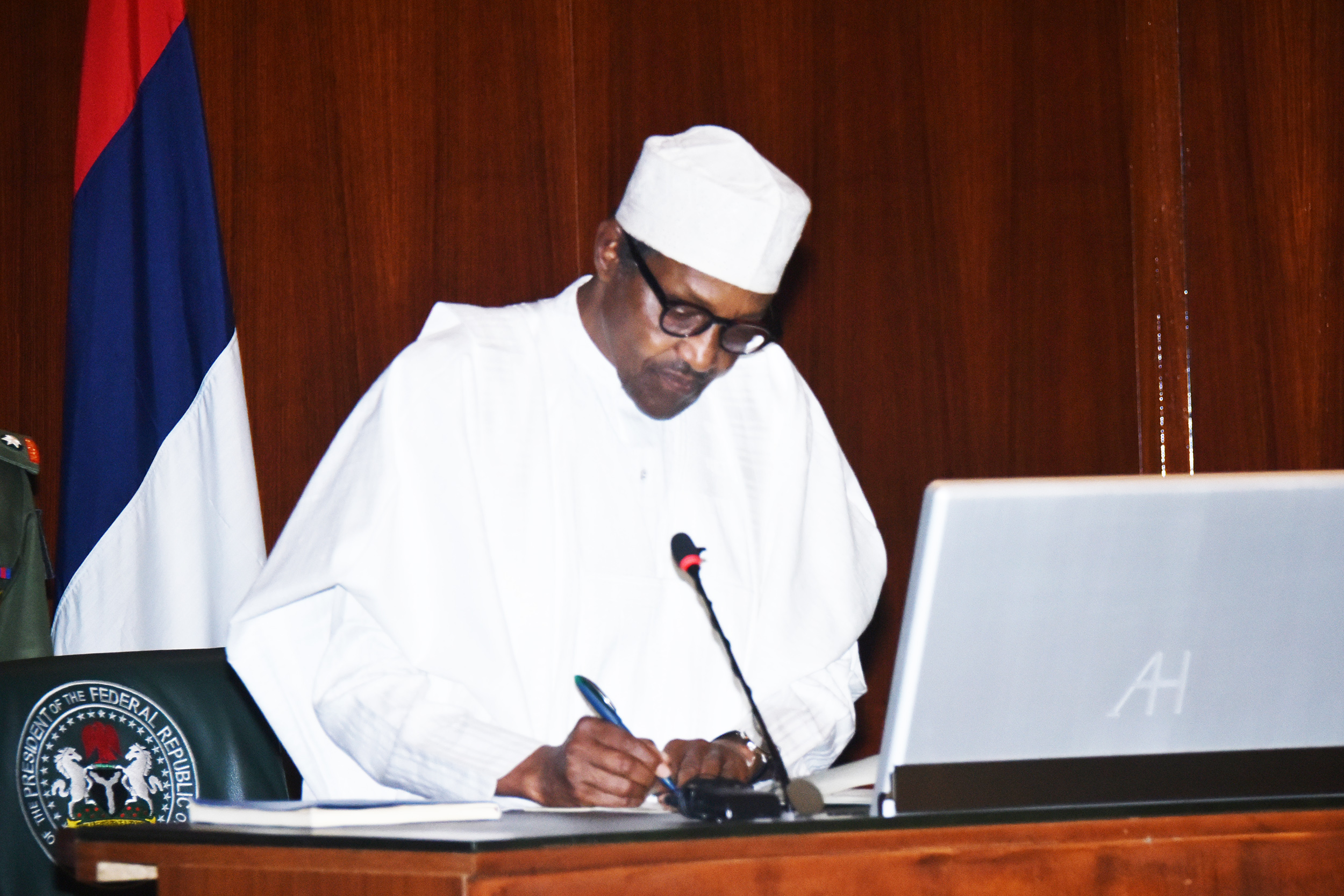 President Muhammadu Buhari has given assent to some major bills. The bills include: Electoral Act (Amendment) Bill, 2022; Money Laundering (Prevention and Prohibition) Bill, 2022, repealing the Money Laundering (Prohibition) Act, 2011 as amended; Terrorism (Prevention and Prohibition) Bill, 2022, which repeals the Terrorism (Prevention) Act, 2011 as amended in 2013.
Others are, Deep Offshore and Inland Basin Production Sharing Contracts Act, 1993 (Amendment) Act, 2019, for increased revenue; Asset Management Corporation of Nigeria (AMCON) Amendment Acts of 2019 and 2021; Proceeds of Crime (Recovery and Management) Bill, 2022, which approves the seizure, confiscation and forfeiture of properties derived from unlawful activity.
The rest include, Federal Competition and Consumer Protection Commission (FCCPC) Bill, the first legislation focused on curbing anti-competition practices, establishing the FCCPC; Nigeria Centre for Disease Control (NCDC) Establishment Act, 2018; The Plant Variety Protection (PVP) Act 2021; Mutual Assistance in Criminal Matters Bill, 2019.
The bill facilitates the identification, tracing, freezing, restraining, recovery, forfeiture and confiscation of proceeds, property, and other instrumentalities of crime as well as the prosecution of offenders in criminal cases regardless of where in the world they might be;
The president also signed an Act establishing the Police Trust Fund, which will improve funding for the Nigeria Police Force (2019). " Nigeria Police Act, 2020 – the first comprehensive reform of Police legislation since the Police Act of 1943.
He also signed the Repeal and Re-Enactment of the Companies & Allied Matters Act (CAMA), 2020, the first comprehensive reform since 1990; Not Too Young to Run Bill (2018), a Constitution Amendment Bill to reduce the age of eligibility for running for elective office in Nigeria; Nigerian Correctional Services Bill, 2019, the first comprehensive reform of prison legislation in close to five decades; Suppression of Piracy and other Maritime Offences Bill, 2019 – the first anti-piracy legislation in West Africa.